On June 7, Citi Field is going to host a Legends of Wrestling event starring Bret Hart, Ric Flair, The Nasty Boys, and more. Because of this, Hart took part in an #AskBret Twitter Q&A today through the @CitiField Twitter handle. And while a few of the questions focused on things outside of pro wrestling—for example, someone asked him about the Mayweather/Pacquiao fight and he said he "didn't pay to see it"—most of them dealt with his thoughts on WWE-related items.
The most interesting response that he gave was, no doubt, to a question about Hulk Hogan. Hart isn't a huge Hogan fan and has called him out for going behind his back and nixing his storyline ideas in the past. So when someone asked him about the Hulkster, Hart didn't hold back: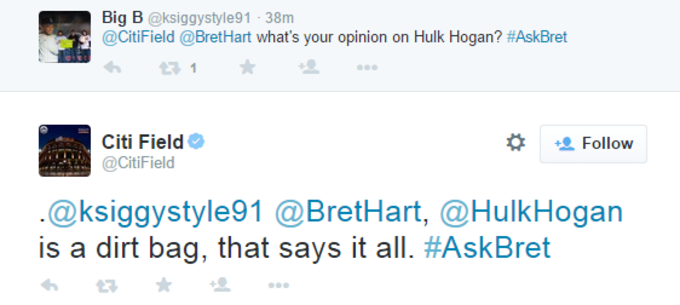 Well then.
Hart also reminded everyone that today would have been his brother Owen's 50th birthday:
Go here to read the rest of his responses.
Send all complaints, compliments, and tips to sportstips@complex.com.
[via Uproxx]