"This is nice."
Victor Cruz was right. As we stepped into a dressing room behind the scenes at the Samsung S6 & S6 Edge New York Launch Event in a sleek space in Chelsea, we all took notice to the spread that awaited the New York Giants' Pro Bowl wide receiver. There were the standard fruit plates and bottles of water, sure, but surrounding them were plenty of unhealthy and delicious-looking treats as well as a freshly-stocked bar. 
After being crammed in a sweaty downtown E train and walking three rainy avenues, some chocolate and a Grey Goose & tonic would've hit the damned spot.
None of that for Vic, though. Coming off a torn patellar tendon suffered in an October 2014 game against the Eagles, the five-year veteran is now totally focused on health and recovery. Finally cleared to run again, Cruz finds himself in grueling rehab sessions in preparation for the upcoming NFL season. Ignoring the Devil's temptations that surrounded us, the speedy Salsa-dancing wideout sat down with Complex to discuss everything from his recovery process to his favorite 2015 album to why Cleveland will win the NBA Championship.
Interview by Maurice Peebles (@tallmaurice).
Favorite Album of 2015 so far?
Oh, man, that's tough. Um...as much as I love Drake, I gotta go Wale.
Wale? No love for the Kendrick Lamar album just...
[Shrugs.] [Laughs.] That's a touchy subject. That's touchy. [Laughs.]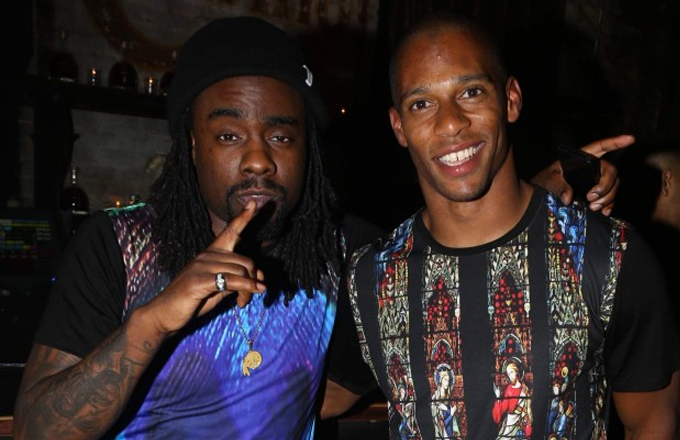 You're a Duke fan. Any comments on [the National Championship game's] officiating?
No. I think it was 10 times better than Kentucky/Wisconsin, I'll tell you that much. But I'll leave it at that.
Your thoughts concerning Tony Romo telling Jahlil Okafor that he guarantees him a Super Bowl if [Duke] won the game?
Nah, no comments on that. [Laughs.] That's irrelevant.
Mayweather or Pacquiao?
Mayweather. Landslide.
Landslide?
Mmm-hmm.
Beyoncé or Rihanna?
Rihanna, only because she's younger. Sole reason.
I believe I saw you at the Brooklyn Nets game on Instagram wearing the Red Octobers—
I was.
Can I get a quick ranking of the Yeezys?
I gotta go with the 2's. The Yeezy 2's were probably the best ones for me. Even though the 1's were a good silhouette and were slept on, I felt like when they first came out, the 2's really changed the game. Those three colorways really did some things for the sneaker culture.  
You're obviously going to have a new Samsung S6 or S6 Edge—
Already got it.
It's a beautiful phone. When you use that phone what app are you using?
Pssh, Instagram. Instagram pretty much has taken over all of our lives.
Obviously the Cleveland Cavaliers are taking it this year.
I was looking at your Twitter and like all your tweets are Instagram links.
It's all Instagram pictures! I gotta make a point to—I kinda lost touch with Twitter a little bit. I gotta get back to talking to fans and talking to people on that thing instead of them just seeing pictures of me coming up on Instagram and tagging it to Twitter.
Biggest misconception about playing in the NFL?
That it's easy. Or that we don't work each and every day. People think that we just practice and can be home by noon every day and play on Sundays. We're there from 8 in the morning until 5 in the afternoon every single day. [We] really put work into our craft and people think it's easy.
I gotta admit that I'm a big Eagles fan—
That's unfortunate.
I was expecting that. But having followed your career you've had some breakout games against the Eagles and you've also suffered an injury against the Eagles. Was this the most difficult thing you've had to deal with in your life? And a sidebar from that: Was it more difficult mentally or physically?
It definitely is one of the most difficult things I've had to go through in my life. Still currently going through it. It's not easy to come back from something like this and to work every day. I guess I'm in the parts right now when it's more [physical]. Physically getting it stronger, getting the muscle back. Literally when you have surgery on your knee, the muscles atrophy and just go [away]. Your muscles just go [away]. So physically is definitely the hardest part right now. I think the mental aspect was early and then it'll be late. "Early" meaning when it first happened, thinking you probably won't be able to even run again; and "late" when you are able to run and jump and mentally being able to connect to your knee, saying that you can do all these things and not being afraid to do it. I think that's both sides of it.
Do you expect to have to tell yourself to slow down a little bit near the end?
Yeah, I'm kinda there right now. I've started to do some things and I'm starting to feel my knee getting better and responding better, but I understand there's a long way to go and a process and I don't wanna rush anything. 
Quick word association. First thing that pops in your head.
Okay.
Cowboys.
Enemies.
Eagles.
Bigger enemies.
Redskins.
Respectable enemies.
Salsa.
King.
Let me get an NBA playoff prediction.
Obviously, the Cleveland Cavaliers are taking it this year. Out of the East, at least. The only team that scares me—and they're playing really well at the right time—is the San Antonio Spurs. No matter what seeding they have, no matter what type of season they have when playoff time comes around, with their wisdom and the guys that they have who have been there and done it they're always in the mix. That's the only team that scares me. But I think definitely Cleveland coming out of the East.
Is it only because of the dominant player LeBron [James] factor?
Well, I'm a LeBron fan, obviously. That's my guy. And I just think that he's got that team playing at a high level right now. And it's not just because he's my guy and I watch most of their games—I watch everyone for the most part. I just think they're coming together at the right time, and in basketball it's not always the best team, it's the hottest team. If you get hot at the right time, if you start gelling at the right time, I think great things can happen. I think Kyrie [Irving]'s one of the best point guards in the league. I think J.R. Smith and guys that are coming in shooting threes are really making some things happen off the bench. [Iman] Shumpert defensively. I think they got the pieces together to make a run at it.