"Who is this Grayson Allen kid?!"
If you haven't been following Duke basketball this season—or you've only been following guys like Jahlil Okafor and Tyus Jones—then you were probably a little bit confused when Allen, who is just a freshman, started going off during last night's NCAA National Championship Game against Wisconsin. He scored six points during a key stretch of the game and finished with 16 points overall to help propel the Blue Devils to a 68-63 win against the Badgers.
And you weren't alone in wondering who he is. According to Google, four of the five most-searched players during the title game were Duke players (Frank Kaminsky was the lone Wisconsin player on the list) with Okafor, Jones, and Quinn Cook all making the cut. But Allen actually landed at the top of the most-searched list last night and put himself on everybody's radar with his passionate play.
If you want to find out more about the Jacksonville, Fla. native, you can check out his entire bio here. Or you can simply watch the video above to get a better sense of who Allen is. He's only 6-foot-4, but he's a freak athlete and has won a number of dunk contests over the years. And during the 2014 Powerade Jam Fest, he went as far as to put on a Jay Williams Duke jersey before jumping over his future teammate Okafor and sending the crowd into a frenzy. It looked like this: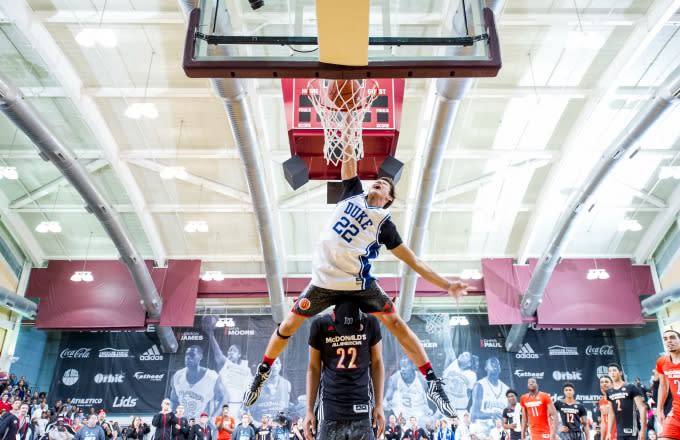 If you're a Duke fan, you're going to learn to love this kid, if you don't already. And if you're not a Duke fan? Well, you better get used to Allen making headlines. Because something tells us that last night was only the beginning for him.
Send all complaints, compliments, and tips to sportstips@complex.com.