American soccer still doesn't matter. You, as a sports fan, know this. I, as a soccer fan, know this. The United States Men's National Team is ranked 27th in the world. MLS has yet to lure an international star who's not washed or rapidly approaching the spin cycle stage of his career. American coaches, media members, and fans aren't regarded amongst the sport's foremost experts. As a nation, America's influence in idea-driven modern soccer commerce is fucking weak. Yet with the start of this MLS season following a ballyhooed World Cup year, there's, once again, a glowing optimism to combat the haters.
The unbridled positivity—the talk of "explosive growth"—surrounding the American game is irresponsible. In February, U.S. Soccer president Sunil Gulati told the Wall Street Journal, "There's a lot of exuberance and optimism in the market. That's a good thing." Gulati's words glow off the screen in with a bandwagon's headlights—as they should nine months after a World Cup where Americans were the event's top ticket buyers.
But to turn that "exuberance and optimism" into dollars and wins and status requires a fearless, progressive plan of action—a forging and forgiving of politics and tradition. We all need to be on the same page here. Right now, key points within MLS and American player development are too far off the rails for fans to revel in how far the game's been taken, because the needle is still flickering, and a tangible tipping point isn't within sight.
MLS had an opportunity in early March to set itself up for horizontal growth in league playing quality (as opposed to outright expansion for once) for remainder of the decade. They missed the mark, badly. On March 5, the league and the player's association stumbled into an 11th hour CBA agreement that'll cover the next five years. Immediately after the deal's announcement, Sports Illustrated reported that criticism of the deal from the players was sweeping, albeit anonymous. On March 4, the player's union reps from each team voted 18-1 to strike if they weren't accommodated by ownership. In the end, the union, choked out by owners and crippled by last-minute dissent, didn't have the balls to strike.
It was a disappointing result to an already tense issue. Player needs were categorically not met, or at the most, fractured by brutal compromise: They got a 5-year agreement (ownership wanted 8-years) and a nice bump in minimum salaries from $36,500 to $60,000, but the salary cap only received a $400,000 boost (that'll be quickly eaten up by the minimum salary increase), and a "limited free agency" was arranged—a softer way of saying "indentured servitude." Under the new CBA, MLS players can only achieve free agency after turning 28 years old and putting in eight years of dutiful service to the league. And what does a player get for sticking out those eight years? A capped, tier-to-tier increase on salary. It's MLS's equivalent of the Derrick Rose Rule, but for veteran players. Curt Flood didn't die for this, man.
The CBA's damage was reverberated by players. "Not only did this deal destroy the future of the American player, it barely helps the current group of players," an anonymous player told SI. Well, yes and no. An emerging American or MLS talent can now sustainably live on the minimum salary, and mustn't concern himself with looking overseas. The anonymous player must've been a member of MLS's large middle class, which got served by this CBA. The average salary for a non-designated player only increased by $60,000, all while MLS is out here collecting money from a new TV deal that's three times the old one. MLS only pays the 22nd-highest salaries in the world, but the globe's alleged seventh-best league also rakes in the 11th-highest revenues of all domestic professional soccer leagues.
Not only should the middle class be peeved, but the league should be ashamed. It's purposefully limited the quality of player it can attract (and retain!) to a degree that's seemingly inconsistent with Gulati's interpretation of the "market" and commissioner Don Garber's stated goal to be a "competitive with the world's best" by 2022—meaning a league in which MLS can expect to give Manchester United, Barcelona, and Bayern Munich a run in the transfer market and the FIFA Club World Cup.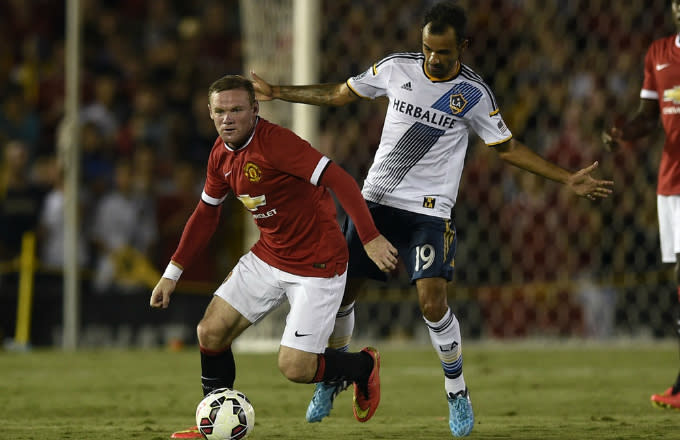 Under the new CBA, however, middle-tier players in top European leagues have little incentive to take the good part of their careers Stateside. The money hasn't been allocated yet. MLS has set itself up to remain as a revolving door for the same types of Kaka, Gerrard, and Lampard signings that drive replica kit and ticket sales and spin the same narrative: MLS is a place for aging European stars to collect one last payday, see Hollywood, and school lesser opposition with cleverness and class.
Retention of valuable young stars has been sapped as well. If the next Julian Green is in New Jersey, he's not sticking around MLS, a league that gets outperformed by the WNBA on television. Not when he blows up before he's eligible for free agency, and when his market value during his prime years is capped. Nope. When it came time to put up the risk and shell out new money to players—to aggressively pursue qualitative gains in the talent pool—the owners decided to keep profits up, and ability low. They're blowing smoke like they're the Sam Hinkie of North American sports leagues.
On the other side of the American soccer pasture, the USMNT remains a moot point. Getting better, but slowly and unpleasantly. We care a lot about our boys during the World Cup. For a month every four years, the team becomes American soccer's vanity mirror. That's awesome, but the rest of the world still thinks we suck at soccer, because watching the USMNT next to say, Germany or even Mexico, is like watching Stoke vs. Arsenal. Within the USMNT, trying hard outpaces technical skill and tactical understanding. With the retirement of Landon Donovan and the return of USMNT expats​ to MLS, the most significant impact an American is having in a top league is the damaging goalkeeping play of Everton's Tim Howard. A country whose best player is one of two MLS stars can't be considered a soccer heavyweight, or even a contender. 
Thankfully, God gave us the Great Blonde (and former coach of Germany's national team) Jurgen Klinsmann to drag everyone into the 21st century of soccer style. He's trying to get the boys (meaning our country's youngest footballers) and the USMNT to become creative soccer minds with the ability to play the ball cleanly on the floor. He's trying to push Americans to reach the third-lung fitness heights of the German national team. He's trying, so, so desperately to excavate​ the rubble of past regimes and build a foundation to impress the right ideas upon. Last December, U.S. Soccer announced Klinsmann's master plan to expand U.S. Soccer's reach—it's all about creating better coaches, and getting those coaches to train kids—not manage them with a reckless eye towards match victories—as often as possible from the earliest age possible. Many MLS, NASL, and USL teams have been expanding their youth academy systems as well, earnestly working to make the local lads into the next American star. The young American soccer player is far better off today than they were five years ago, and DeAndre Yedlin is living proof of that.
Compared to Germany's recent radical and financially prudent overhaul of their own developmental system, our gains are modest at best. The American player is at a technical disadvantage because overall, soccer in this country is still stuck within the traditional American professional sports developmental model. Kids play to win, not to develop; they forgo academy life for a high school sports experience with some club soccer on Wednesdays and weekends. No daily training. Just matches and wins and cheap medals. Even worse, some of the brightest American talents slip through the academy cracks and wind up playing amateur fucking college soccer, and DeAndre Yedlin is living proof of that, too.
While American soccer still doesn't matter, Americans matter in soccer though, but within more specific facets of the sport. Like how Migos bodied the Beatles, American invadership in English soccer clubs is somewhat startling. Manchester United, Liverpool, and Arsenal are owned by Americans. Serie A's Roma is, too. American soccer lacks in substance all while America's billionaires are throwing their hats into the hyperspending elite of European soccer. You see, over there, the risks are being matched with riches for the ambitious. American interest in overseas soccer extends to American soccer fans too. We care way more about professional soccer in Manchester, London, Barcelona, and Turin than we do than the product down the street. Last December, the New York Times reported that EPL matches were scoring higher ratings than NHL games were on NBC. We're hooked up on the good stuff, and anything less won't cut it. 
There may be no brand or style other than the USMNT's dour "run fast, work hard"—Americans within the sport (not the business of the sport) aren't coaching or playing or influencing for the best and most beautiful squads in Europe and South America—and that's ultimately where the buck stops. As basketball, baseball, and armored pigskin chase are woven within American popular culture, soccer within those continents is far more intrinsic.
It'd be foolhardy to expect more of American soccer in 2015 when our infatuation with the sport has been touch and go at best for the better part of U.S. Soccer's 101 years of existence. In the spring before last year's World Cup, Landon Donovan told me that he saw MLS expansion as "striking while the iron is hot." Is a heat-check coming? Yet as excitable as the cultural and athletic states of American soccer currently are, the road ahead hasn't been paved, or even fully planned out. American soccer still isn't shit. But, at this point, the MLS season is well underway, and with it, American soccer's adventure continues. There's no way out now.