DeMarco Murray hasn't decided whether or not he's going to re-sign with the Cowboys and spend the next few seasons of his career in Dallas. His agent is still trying to find him the best deal possible on the open market, now that he's a free agent. But early this morning, the star running back did something that has a lot of Cowboys fans out there very nervous.
At around 4 a.m. today, Murray—or someone on his team—jumped on Twitter and erased every single reference to the Cowboys from his account. So there are no Cowboys-related photos or tweets on his page anymore. It looks like this: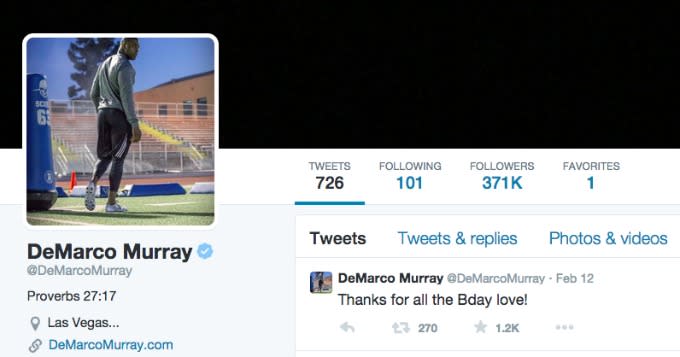 And while Murray didn't explain why he did it—he hasn't sent out a tweet in almost a month now—his message came across loud and clear: He wants a better deal than whatever the Cowboys are offering right now, and he's not going to settle for less.
The news gets worse for Dallas fans, too. It seems as though the negotiations between Murray's agent and Jerry Jones & Co. have stalled out. According to ESPN's Adam Schefter, the two sides haven't talked in a week:
So there are some Cowboys fans who are taking to Twitter right now to call the Cowboys out for not making a deal with Murray happen:
Does this mean Murray is definitely going to leave Dallas? No. But it does mean that he's going to have to spend a lot of time revamping his Twitter page if he does! Stay tuned to see what he decides to do.
Send all complaints, compliments, and tips to sportstips@complex.com.
[via SB Nation]