In 1997, at the Eighth Annual Rock N' Jock Softball Challenge, Derek Jeter, then a young shortstop entering his second season with the New York Yankees, decided to have a little fun. Even though his team, the Homeboys, were up to bat, he convinced the Awayboys to let him play catcher. At first he played it straight. Then he revealed his true intentions, deliberately launching a ball into left field allowing the Homeboys to score. It was a quintessential Rock N' Jock moment.
A descendant of ABC's 1970's Battle of the Network Stars franchise, MTV's Rock N' Jock turned the celebrity sports event sideways: Farm animals roamed the outfield, 50-point baskets rose above the court, and Gary Payton could get traded at halftime to the opposing team. It was a setting where Jeter, perhaps the most reserved athlete of his generation, could loosen up, and where a rapper/actor like Queen Latifah went one-on-one with Shawn Kemp. The fans, of course, were the real winners of every Rock N' Jock game, which gave them the rare chance to spot their favorite celebrities intermingling. The schadenfreude of watching famous people struggle to dribble a basketball was also quite real.
The little Rock N' Jock footage living on the Internet doubles as a time capsule from a specific time and space. A halftime performance of "Whoomp! (There It Is)" is something that could have only happened in 1993. Same for the "HillaryCare" joke uttered during a bit between Kareem Abdul-Jabbar and Michael Rapaport at the Third Annual B-Ball Jam. Nostalgia doesn't always play well, but Rock N' Jock lasted for over a decade, marked an important shift for MTV, and was an important part of the network's history. Now, as we approach the 25-year anniversary of the first Softball Challenge, Complex looks back at MTV's Rock N' Jock.
---


The Players:
Patrick Byrnes (Executive Producer)  •  Mitchell Kozuchowski
(Producer)  •  
Rick Austin
(Producer)  •  
Kevin Seal
 (MTV VJ)  •  
Kay Gee
(Basketball player, Naughty By Nature DJ)  •  
Dan Cortese
(Player/Coach)  •  
Jeff Hall
(Set Design)   •  
Gary Payton
 (Basketball Player, 2006 NBA Champion, The Glove)  •  
Bill Bellamy
(Player/Coach)  •  
Rick Krim 
 (Talent booker)  •  
Rick Mahorn
 (Basketball player, 1989 NBA champion, Bad Boy for life)  •  
John Gonzalez
(Director)  •  
Steve Albert
(Announcer)  
---
Rick Austin: At the time, MTV was trying to do anything that would get ratings. Playing music videos got zero ratings, no matter how they grouped them together by genre or countdown. You couldn't keep eyeballs on the channel for more than 10 minutes.
Patrick Byrnes: MTV was always about annual tentpole events like the Video Music Awards and Spring Break. Somebody thought an annual celebrity softball event would be attractive to sponsors.
Mitchell Kozuchowski: I think it came from [former MTV executives] Joel Gallen and Doug Herzog, who is now head of programming at Comedy Central.
Filmed in January 1990 at USC's Dedeaux Field, the First Annual Rock N' Jock Diamond Derby matched Sam Kinison's Aardvarks against the Salamanders, coached by Van Halen's Sammy Hagar. The rosters were a mix of future Hall of Famers (Eddie Murray, Barry Larkin), alleged steroids cheats (Mark McGwire, Rafael Palmeiro), actors (Keanu Reeves, Holly Robinson), rappers (Tone Loc, MC Hammer), Bud Bundy, Bobby Brady, a slew of hair metal acts, and one of the biggest movie stars in the world, Kevin Costner.
Rick Krim: It wasn't hard to book. We wanted the right stars—guys who didn't feel forced to be there and guys impressed to be around the baseball players.
Byrnes: Costner was a big get. He had been in both Field of Dreams and Bull Durham, two huge baseball movies, and was the most obvious booking. It legitimized everything. 
Krim: Costner made everything stop. He walked onto the field and everyone stopped what they were doing to watch.
Byrnes: My first meeting with Costner took place in the locker room while he was taking off his pants. I pitched him a comedy bit. We wanted him to step into the batter's box and pretend like he's hearing the voice from Field of Dreams. Well, he was into it. He was also into the game. I guess when you're Kevin Costner, you don't want to look like an idiot out there. He looked like he had some skills.
Krim: It took a lot longer than a regular game. Some guys got restless and antsy.
Kevin Seal: All I remember about the first game is looking across the outfield and Keanu Reeves is standing there perfectly still just like a plant, just perfectly still. I thought it was some kind of meditative practice. He seemed to be perfectly present in the sun. All that existed for him was that moment.
Byrnes: Keanu didn't know the rules. He yelled, "I'm a Canadian," after getting tagged out.
Austin: The first Rock N' Jock was a big hit. It helped expand everyone's mind at MTV as to what you could do on the channel—that it doesn't always have to be programming about music with only MTV talent, and that there is a place for sports.
Byrnes: The thing that kicked off MTV Sports was the first Rock N' Jock. Coming off that, everyone pretty much knew we hit a home run. Then the game became, OK, how do we expand it? The next year we did hoops.
Kozuchowski: Basketball allowed us to tweak the rules a bit. Baseball is a bit more structured. Also, it was easier to stage because the NBA players might have been a little more open to fun than the baseball players.
"KEANU DIDN'T KNOW THE RULES. HE YELLED, 'I'M A CANADIAN,' AFTER GETTING TAGGED OUT." - Patrick Byrnes
The first Rock N' Jock B-Ball Jam was filmed on September 15, 1991, at Loyola Marymount University with Magic Johnson coaching a team. Less than two months after the taping, Johnson held the historic press conference where he announced that he was HIV positive and retiring from the NBA.
Austin: We had this skit shot for the top of the show about how Magic was retiring from the NBA so he could play solely for MTV. It was light-hearted with fake reporters screaming, "Why are you retiring? How can you do this?" And then [weeks later], cut to this really sad moment in sports history. I couldn't wrap my head around it.
Byrnes: In 1991, Marky Mark was performing "Good Vibrations" at halftime and I was told he wanted to talk to the boss about an idea. So during rehearsal he rolls up with his team, meets me, and asks if it's cool if he takes his pants off. He was like, "What's up, B?" I literally had to cover my face from laughing. "When you say take your pants off, what exactly do you mean?" "I told you, B."
Kozuchowski: He'd already done that deal with Calvin Klein. Mark Wahlberg is a smart kid.
Austin: He was wearing baggy pants super low and I noticed them going lower and lower and lower. Then they dropped down to his ankles and he kept going. No one at MTV seemed to have a problem with it. I don't know if that would be the case now.  
Kozuchowski: The first and second basketball games were runaway trains. The players still had fun, but they could have been better shows.
Rock N' Jock hit its stride in the mid 1990s. Whereas producers induced the moments in earlier years—Hey, don't just go up there and hit the ball, talk to the pitcher, or Let's have a bench-clearing brawl before tip-off—now both the rocks and jocks knew what they were getting into. Also during that time, Bill Bellamy and Dan Cortese took center stage as players/coaches/antagonists/agitators/masters of ceremony/celebrity ambassadors. Why did the stars keep coming back?  
Gary Payton: Rock N' Jock was almost like a quiz game or something. It was more of a stage show. A regular celebrity game, you go up in there, play, have fun, but they didn't have other stuff to do. This was a lot different. They put together good concepts and good strategies like the 25- and 50-point shots.
Kozuchowski: The 25-point shot was my idea. I tried to institute that the first year but committee consensus shot it down. I brought that back in year three. Ric Lacivita, our brilliant director, said that if we had the 25-point shot all the time then it turns into a carnival game. So let's just bring it down the last two minutes of every quarter. We made a special moment out of it. The players would go out of their minds.
Byrnes: The 25-point shot is one of the things that makes it a Rock N' Jock event and not just a celebrity basketball game. You see guys taking full-court shots and it's like you're a little kid heaving a ball.
Jeff Hall: It was something that reminded you of the way sports were meant to be played. It was very human.
Dan Cortese: It was also that irreverence of not giving a shit and flying by the seat of your pants. I mean, that was when MTV was badass. We were doing what we wanted to do. Yeah, we could have a 50-point basket. Yeah, we could have a bull's-eye in center field and if you hit that you got 10 runs. We could do whatever we wanted, and that's what made it fun. That's what that generation at that time related to.
Austin: You couldn't take your eyes off it for some reason. Seeing these stars being themselves, out of the control of wardrobe and makeup and lighting, and behaving like real people was another big part of its appeal.
Bill Bellamy: It was a way for the fans to get to see their favorite sports heroes and celebrities laughing, having a good time.
Austin: The thing that I enjoyed most about Rock N' Jock was seeing how many of these stars actually had game. In 1991 or '92, the talent department told us about a little kid called Leo DiCaprio. Then they showed us a picture of him and he was like 80 lbs. soaking wet. It was like, This little runt is a good basketball player? But they were pushing Leo DiCaprio so hard on us it was like, OK fine, it will be funny to have this little weakling trying to guard John Salley. He was great. Marky Mark was a short dude but had amazing game. Flea surprised me more than anyone, though.
Payton: Flea was a pretty good basketball player.
Cortese: Flea has got major game. I would have loved to have seen a one-on-one competition between Flea and Prince. I might produce that as a pay-per-view.
Steve Albert: About a month ago, we went to Staples Center to play the Lakers, and Flea was sitting to my left in Jack Nicholson's seats. [Note: Steve Albert is now the Phoenix Suns play-by-play announcer.] I went over to him and reintroduced myself: "Flea I don't know if you remember me but I'm Steve Albert, I used to announce the Rock N' Jocks." He lost it. He said, "I used to love that. Do you remember when I won the three-point shooting contest? Do you know that was the highlight of my career?"
Cortese: Even to this day, David Duchovny, who is a friend of mine, will give me grief for taking him out of a Rock N' Jock basketball game with like three minutes to go and replacing him maybe with Dean Cain. He was so upset. It wasn't my choice. One of the producers was in my ear, like, "OK, let's get Duchovny out of the game."
Kozuchowski: There was a running thing between Michael Rapaport and Kareem Abdul-Jabbar. Michael wasn't a good basketball player even though he talked a lot of trash. After Kareem pulled him from the game, Michael said, "Why are you doing this to me, dawg?" Kareem says, "Because your mind is writing checks your body can't cash."
Rick Mahorn: Michael Rapaport talked more smack than anyone.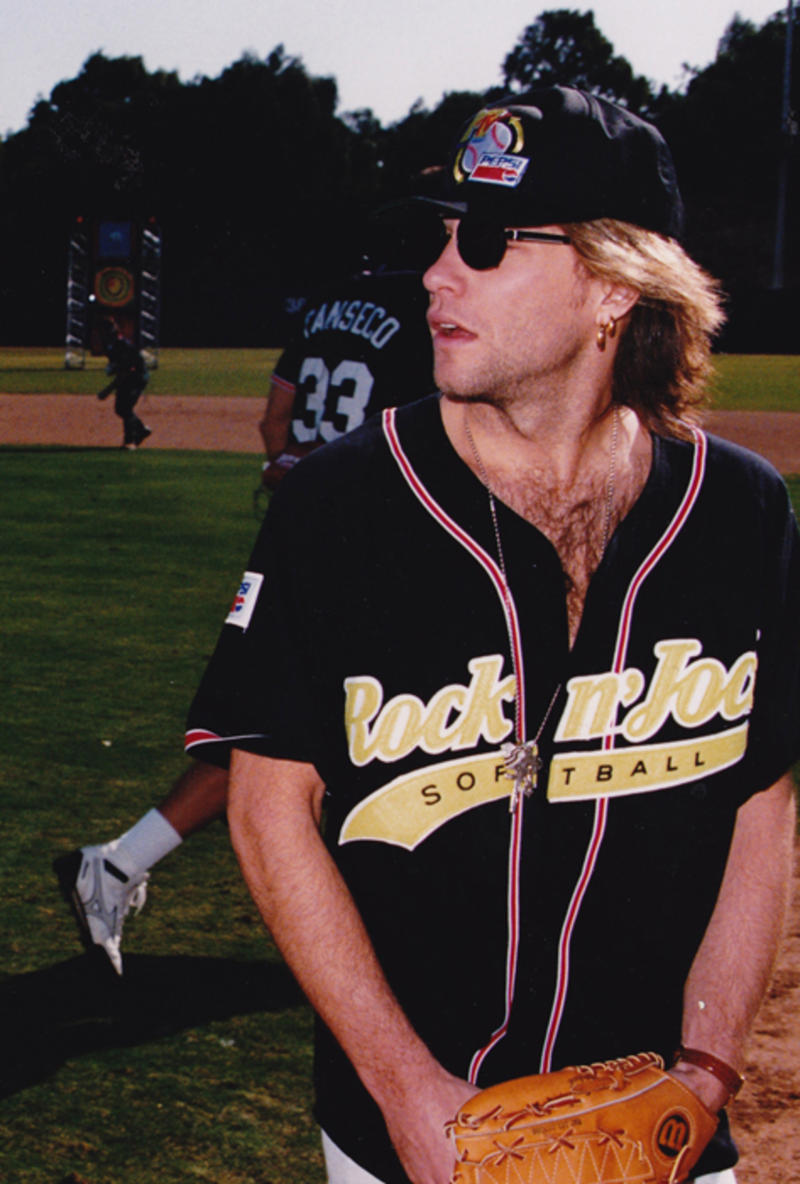 Cortese: What was great about it, whether it was the softball game or basketball, it would get close at the end of the game and everyone would get serious about it.
Kozuchowski: These guys are gladiators and they play to win. It doesn't matter that it's a pickup game. Same in baseball. The final innings or the last two minutes of the game, it's a real game. I think it was the third year, you would have thought Reggie Miller was playing for the NBA championship, because he had been on the losing team for the first two years.
Kay Gee: I remember being on Reggie Miller's team once and it was really close. I was making a lot of threes in the game, so Reggie was like, "Spot up. Make sure you spot up." I thought that was pretty cool.
Payton: Oh yeah, everybody wanted to win. We wanted bragging rights.
Bellamy: You know what was so dope, too? The celebrities were excited to be there. You could tell, everybody wanted to be a part of it. We had all A-list. I got pictures of Derek Jeter when Derek Jeter had all his hair. Gary Payton, Shaq, Kevin Garnett when he looked like a 12th grader. I got a picture with Pamela Anderson, so fine, fresh out the water.
Kay Gee: Every year I would tell my publicist, "You know Rock N' Jock is coming up. I want to play."
Mahorn: I kept coming back because you got to meet different celebrities. I remember playing pool once with Queen Latifah.
Cortese: Everyone there was star-struck.
Payton: We was in awe of them, they were in awe of us.
Bellamy: It was like being at camp, bro.
Cortese: The after-parties were off the hook—that was where shit really went down. You finished the game, everyone had met everyone, and then you got to have a great big giant party together. There are so many stories. No, I probably can't tell you any of them.
Bellamy: All I can say is thank God there was no Twitter, no Snapchat, and no camera phones.
More than just booking talent and playing a game, like all event television much of Rock N' Jock's success can be attributed to what went on behind the scenes.
Byrnes: We had some of the brightest minds in the world trying to innovate. Ric Lacivita, eight-time Emmy winner, was a great creative producer/director who helped capture the fun for a few years. ESPN's Doug Holmes did a lot of great basketball and baseball. And finally, NBC's John Gonzalez, a six-time Super Bowl director, was a Rock N' Jock friend, collaborator, and helper in creating the magic.
John Gonzalez: We had an open slate, like, "Hey, what do you want to do? Do you want to put mics on players? Do you want to put a camera on the court? Do you want to do this? Do that? Go for it."
Byrnes: We were the first to bury lipstick cameras for fun angles and use a lot of high-end equipment like jibs.
Kozuchowski: We were the first to use a Steadicam in the games. We were the first to mic players and umpires. We were the first to have announcers have conversations with players. We had a lot of room to play. We had a home plate camera—you can't do that in a real game. We mic'd bases. We did catcher cam five years before Fox did. They stole a lot of stuff.
Gonzalez: A lot of it has become standard coverage in certain things like the Slam Dunk Contest or Home Run [Derby]. Rock N' Jock was right at the forefront of all of that. I was the lead director for NBC when we lost the NFL in 1998. Then in 2000 we started doing the XFL. I said, "I want to cover the XFL just the way I do Rock N' Jock. I want to put mics on players; I want sky cams flying through the air. I want to put a camera on the field with the players."
Byrnes: The set design was also a big part of the Rock N' Jock fun. 
"ALL I CAN SAY IS THANK GOD THERE WAS NO TWITTER, NO SNAPCHAT, AND NO CAMERA PHONES." - Bill Bellamy

 
Hall: We kept adding to it every year and it would always be themed. We would just sit around and be like, "You know what would be really great? If we did an anime background or superheroes." And as soon as we got through one year we knew it had to get bigger. The ideas, the designs always had to get bigger. The budgets never got bigger, though. The budgets actually got smaller. For me as a designer, it was really tough. I had my vendors who loved the idea of doing it and they didn't mind losing money on it. It became a fun passion thing for them as well.
Byrnes: Hiring Steve Albert, Marv's brother, as our play-by-play man was one of the smartest things we did. Steve brought the right amount of gravitas and professionalism, but could also enjoy the stupidity of Tone Loc doubling up Keanu Reeves.
Albert: It was more preparation than you'd think. I approached the celebrities or rock stars as if they were athletes and did background on them. This was before Google, so you really had to research it. But the first time I saw Roger McDowell walk from the bullpen to the mound wearing a bra outside his baseball uniform, it put me right into the party. I knew where they were headed. I called it like I saw it. I also had good sidekicks like Ken Ober, who unfortunately passed away, and some guy named Jon Stewart. I wonder what ever happened to him?
Cortese: Rande Gerber, who is married to Cindy Crawford and is doing a tequila with George Clooney, sent me this picture about two weeks ago. It's Clooney, Jon Stewart, and me looking like Space Ghost with those Oakley shades and that hat. I said, "Yeah, two out of three ain't bad. I guess George and Jon did alright." That said, I did hit two home runs and walked out with the MVP that day.
In the late 1990s, Rock N' Jock continued evolving, adding football and bowling and turning the softball game into a real baseball game between the pros and celebrities. But with the music industry cratering and MTV focusing more on reality shows, Rock N' Jock, once one of the feature events on the MTV schedule, was cancelled in 2004.
Austin: Things just ran their course. MTV is all about being current. When there have been 10 years of Rock N' Jock and it becomes this "been there, done that" idea, it's not good for a channel that is promoting itself as being new, different, and cutting edge.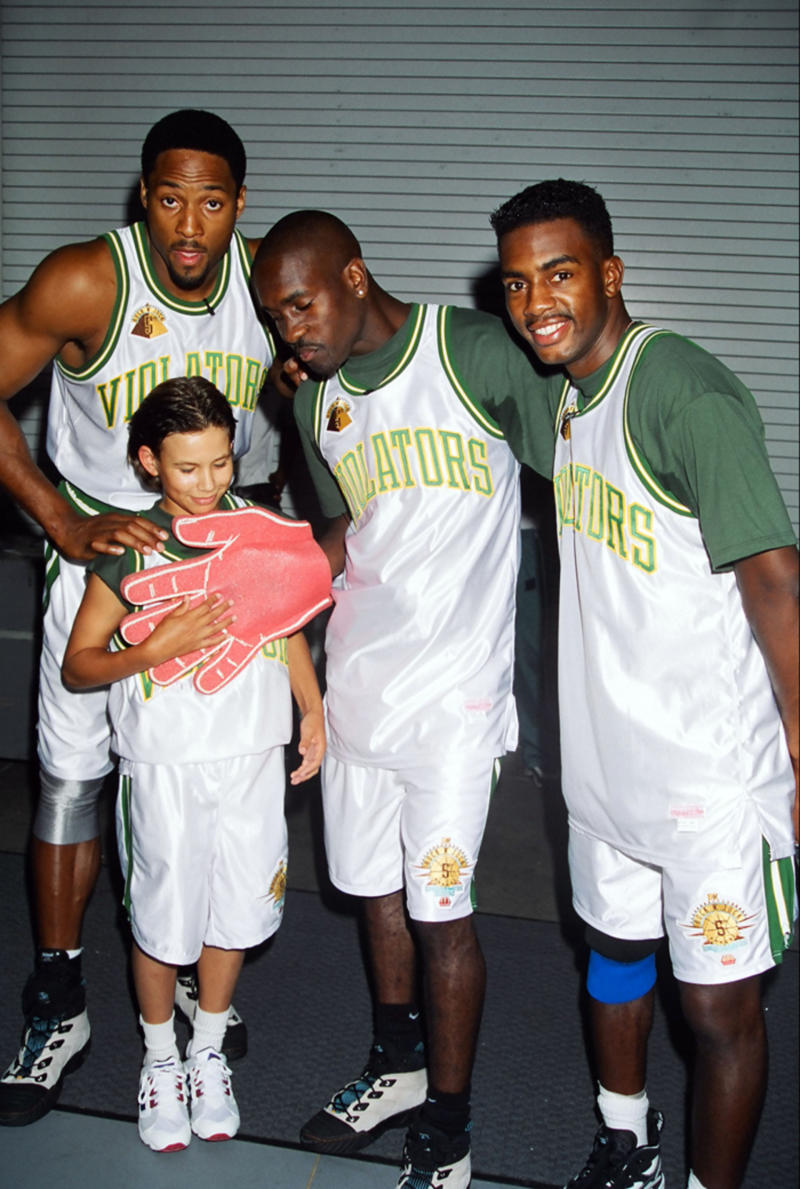 Byrnes: I wish I had that quintessential story, like, "And then in that meeting it was [cancelled]." People love their Rock N' Jock and their sports but it's not really what MTV is about now. MTV in the early days was about music. The sports stuff came alive through the love of the early executives, Doug Herzog and Joel Gallen. I don't think the guys running the company in 2001 were sports fans. I don't think they gave a shit. I think that money went to Teen Mom or some other stuff.
Kozuchowski: It was just a changing of the administration. People like Patrick and me, who were gung-ho on sports, left the company, and I don't think there was anyone cheerleading to do more sports programming.
Bellamy: MTV turned a corner and started getting away from music and doing more reality shows. Music was changing, too. Napster kicked the music business in the face.
Byrnes: I was at MTV for 16 years. One of the biggest lessons I learned was that things aren't meant to last. The fact that we started Rock N' Jock in 1990 and went into the 2000s shows that it was successful.
Kay Gee: Now that they don't do Rock N' Jock no more, the NBA All-Star Celebrity Game has become like the new Rock N' Jock.
Cortese: The NBA does its Celebrity Game and Major League Baseball does its [All-Star Legends and Celebrity Softball Game], and those are great and they're entertaining, and maybe it's just me being selfish, but I don't think they come anywhere close to what we had with Rock N' Jock. It's a straightforward game, pretty much. There's only so much I can watch in the NBA Celebrity Game with Justin Bieber taking threes.
In March 2014, Dan Cortese told TMZ that he and Bill Bellamy had talked about bringing back Rock N' Jock.  How realistic is a Rock N' Jock reunion? And is it something that could work in 2015?
Cortese: Whenever Bill and I see each other, we say, "Why don't we bring it back? We should bring it back." Life always gets in the way. It would be really fun to do. Also, I think we'd have a built-in audience.
Bellamy: MTV owns the name [Rock N' Jock], so it would have to run through them.
Cortese: We have not had talks with MTV. They kind of stay away from that nostalgia sort of thing. I think we would go in with a new perspective of how to do it where we could still attract the people who remember it. It needs to be taken more seriously if we're really going to go in, make that hard pitch to them and make it happen.
Bellamy: I went to MTV about it. It's a possibility. I think we can get it done. I don't think it has to be updated, but we would have more challenges than before. An obstacle course would be hot. But we would have to do basketball. We have to do softball. We have to do football. Now with social media it would be huuuuuuge! It's a lay-up.
Austin: I could totally see Rock N' Jock happening now. Maybe they'd bring old Rock N' Jock people to play new Rock N' Jock people. I'd watch it.
Byrnes: People would want to see Taylor Swift swinging the bat against Clayton Kershaw or having Bieber get rejected by Kevin Durant, or, I don't know, anybody.
Mitch Kozuchowski: I don't know if it would have the same magic. I think players and celebrities are so controlled by agents who are worried about having them look bad or be in an awkward situation or getting hurt. I don't think it would work to the same degree.
Cortese: I had a conversation with someone not too long ago. I said, "I'm trying to figure out if Rock N' Jock is one of those things where you just have fond memories about it and if you bring it back, would it be terrible?" My buddy was like, "Are you kidding me? It would be great."
Albert: They're bringing back Rock N' Jock? What's next? They're going to bring back the dinosaurs?