Dean Smith, Hall of Fame head coach of North Carolina and winner of two national titles, died "peacefully" at his home in Chapel Hill Saturday night at the age of 83.
"We are grateful for all the thoughts and prayers, and appreciate the continued respect for our privacy as arrangements are made available to the public," the Smith family said in a statement.
Smith, who coached Hall of Fame players like Michael Jordan, James Worthy, Bob McAdoo, and Billy Cunningham, led his students to 11 Final Four appearances and leaves behind a coaching tree that extends out to other famed leaders such as Larry Brown, George Karl, Mitch Kupchak, and Roy Williams.
His extraordinary impact also had a reach far beyond the painted lines on what is now known as the Dean E. Smith Center, where he left the game as the winningest coach in college basketball history. Smith was well respected for being one of the more vocal coaches politically, standing up for basketball integration after the Supreme Court's Brown v. Board decision and even going so far as to integrate a local restaurant and help an African-American graduate student move into an all-white neighborhood.
Before retiring in 1997, Dean Smith left college basketball with a record of 879-254 and had won at least 20 games in 27 consecutive seasons, which remains a Division I record. He is forever enshrined as a member of the Naismith Memorial Basketball Hall of Fame, the FIBA Hall of Fame, the National Collegiate Basketball Hall of Fame, the Kansas Sports Hall of Fame, and the North Carolina Sports Hall of Fame. He is survived by daughters Sharon, Sandy, Kristen, Kelly and his son Scott.
UPDATE: President Barack Obama has released a statement on the passing of Dean Smith: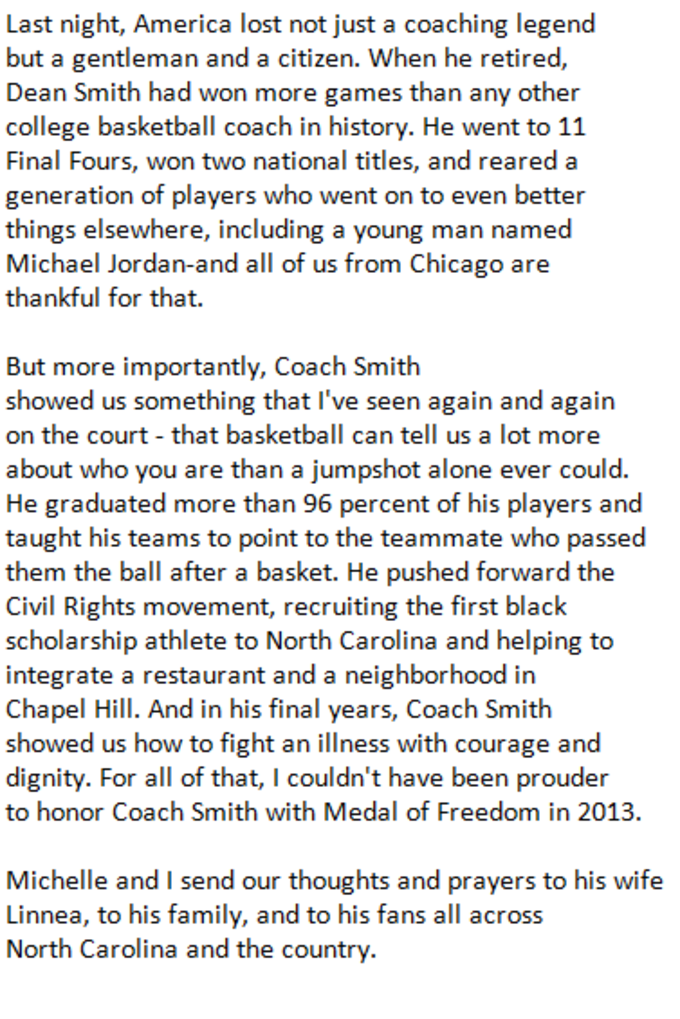 UPDATE #2: Michael Jordan has released the following statement: 
"Other than my parents, no one had a bigger influence on my life than Coach Smith. He was more than a coach – he was my mentor, my teacher, my second father. Coach was always there for me whenever I needed him and I loved him for it. In teaching me the game of basketball, he taught me about life. My heart goes out to Linnea and their kids. We've lost a great man who had an incredible impact on his players, his staff and the entire UNC family."