Last May, in Lisbon, Real Madrid and Atletico Madrid made history by competing in the first-ever derby in a European Cup final. Atleti's manager, Diego Cholo Simeone—an Argentine who had two stints at Atleti as a player—led his squad into battle on the heels of their first La Liga title since 1996. Carlo Ancelotti's Real entered the Estadio da Luz in search of an unheard-of 10th European Cup. La Decima.
Diego Godin opened the scoring for the red and whites in the 36th minute, and after expertly holding that lead for a while—as they'd done so many times throughout the course of the season under Simeone—Real equalized in the 93rd minute through Sergio Ramos. Gareth Bale, Marcelo, and Cristiano Ronaldo would all go on to score in extra time, and Real celebrated their 4-1 victory well into the night.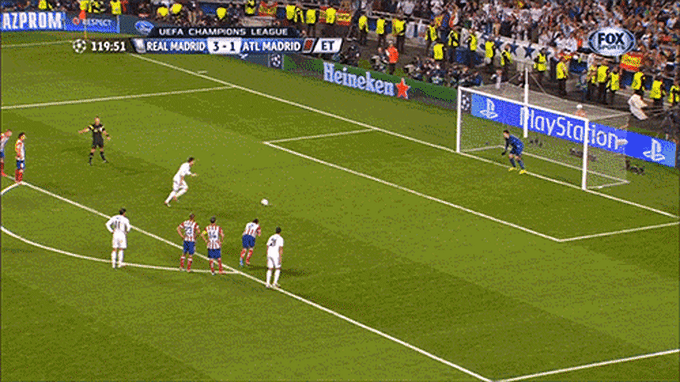 The history of these two clubs dates back to 1902 and 1903, when Real and Atletico were formed, respectively. And the widely-held perception is that Real Madrid have always been bigger, better, and richer than their local rivals, and that's pretty accurate. There have been claims and counter-claims that Atletico is Madrid's "working-class" team, and as most things that happen over the course of a 100-year history, claims aren't always necessarily the truth. Something about the red and whites initially being the team favored by Francisco Franco's government, and that changing due to the success and global marketability of Real in the 1950s...but we're not really here to discuss that. We're here to talk about how Atletico's rise to prominence, particularly on the European stage, is something that has been in the works since 2009.
Here's a look at Atletico since 2009:
-2010 UEFA Europa League Champions (defeated Fulham)
-2010 Copa del Rey Finalists (lost to Sevilla)
-2010 UEFA Super Cup winners (defeated Inter Milan)
-2012 UEFA Europa League Champions (defeated Athletic Bilbao)
-2012 UEFA Super Cup winners (defeated Chelsea)
-2013 Copa del Rey Champions (defeated Real Madrid, ending a 14-year winless streak in the Madrid derby)
-2014 La Liga Champions (First time since 1996)
-2014 UEFA Champions League Finalists for the first time since 1974 (lost to Real Madrid)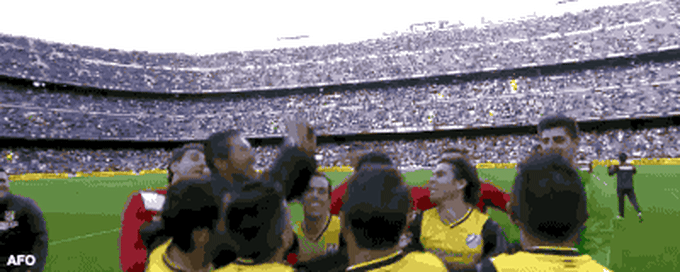 In October of 2009, Quique Sanchez Flores took over as manager of the club, capturing the Europa League and the UEFA Super Cup in 2010. A disappointing 2010-11 campaign spelled the end of Flores's tenure at the Vicente Calderon stadium. Diego Simeone, who plays as important a roll as any manager in the world of football at the moment, took the helm in December of 2011, and has never looked back. Simeone, who was a defensive midfielder during his playing days, omits a controlled aggression that endears him to his players, the Atletico supporters, and neutrals. One of the biggest obstacles to long-term success in modern football is creating a winning culture and mentality, and maintaining that status quo after a gifted player(s) is swiped up for mega-millions by the likes of Chelsea, Manchester City, PSG, Bayern, Real Madrid, or Barcelona. And in addition to creating that culture, Simeone, along with the Atleti staff, have done an excellent job of replacing players.
From 2009-2011, Atleti had current Manchester United goaltender David de Gea in between the pipes. After United bought the Spanish talent in 2011, Simeone, in an astute bit of business, brought in current Chelsea shot-stopper Thibaut Courtois on loan. Courtois, still only 22, came of age during his time in Madrid, and remained on loan at the Calderon for three seasons before returning to Chelsea.
The importance of the result is obvious, but the fact that these two rivals meet on the pitch as equals speaks volumes
Between 2010 and 2014, notwithstanding a loan spell at Rayo Vallecano in 2012, Diego Costa made 94 appearances for Atleti, scoring 43 goals. In 2014, Chelsea purchased the forward for an initial fee of £32m. Again, Simeone and the club showed an ability to make the Calderon an attractive destination, and make big-name signings. Atletico brought in French international Antoine Griezmann, and Croatian international Mario Mandzukic to lead the line. Along with Griezmann and Mandzukic, Atleti's core is made up of Diego Godin and Juanfran in defense, and a talented midfield of Mario Suarez, Koke, Raul Garcia, and Gabi.
This is how a club finds success. Players are in a constant revolving-door cycle, and a club has to be adept at selling and buying in a very short time frame. Such is the case with the newest face in the Atleti attack. That would be one Fernando Torres, who's got four goals in seven matches since returning to Madrid, and has been voted the best signing of the January transfer window, according to at least one poll.
For the longest time, La Liga was a two-horse race between Real Madrid and Barcelona. Aside from Deportivo La Coruna in 1999-2000, and Valencia in 2001-2002 and 2003-2004, either Barcelona or Real have been crowned La Liga champion since the 1984-85 season. And we haven't seen enough from Atleti to dispel that two-horse notion just yet. But since the 2010-11 season, Atleti have finished 7th, 5th, 3rd, and 1st, respectively, in La Liga. Last season, Atleti came agonizingly close to winning the double. This season, Simeone's men currently sit third in the Liga table, three points adrift of second-place Barcelona, and seven points back of leaders Real. They fell in the quarters of the Copa del Rey to Barca, but are set to square off against Bayer Leverkusen in the Round of 16 of the UEFA Champions League on February 25.
Today, in the latest installment of El Derbi madrileno, Atleti looks to continue a five-match unbeaten run against Real—in which they've conceded just four goals—as the two meet at the Calderon in a crucial La Liga clash. The importance of the result is obvious, but the fact that these two rivals meet on the pitch as equals speaks volumes about where Atleti has been, where they're now, and where they're going.