North America is host to one of the most insane sporting events in the world. At the Baja 1000, muscled-up off-road trucks bomb through the California high desert, throwing up dirt and gravel at every turn. It's heady high-octane stuff. 
The folks at Red Bull know it well, and in 2013 they had an edgy idea—a colder, snowier, push-your-vehicle-further-to-the-ragged-edge kind of idea. That spark became the basis for Frozen Rush. Red Bull wanted to take the nation's best off-road warriors, place them in those same 900-horsepower desert-taming trucks, and put them in an icy course that spans the snowy slopes of Maine's Sunday River Ski Resort.
Last year, motorsport icon Ricky Johnson took the inaugural frigid title. This year, the legend returned to face off against eight more hungry racers, and it was a battle to remember.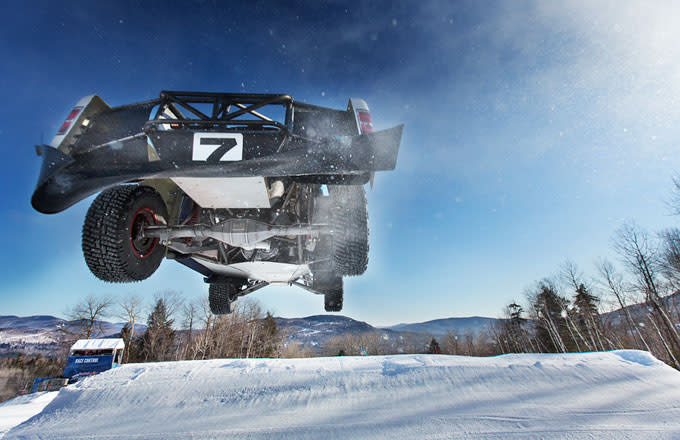 So, what is it like to drive a veritable 4x4 dragster up a ski hill in the dead of winter? These aren't your average pickups. 
"It's a combination of driving a boat and driving a dune buggy," Johnson said.
Known in the racing world as 'Pro 4' trucks, these four-wheel-drive monsters weigh in at around 4,000 pounds, boast 20 inches of suspension travel, and output a screaming 900 horsepower. The brutes can smooth out deeply rutted snow tracks and make the feat look as leisurely as a Sunday drive, at least from a spectator's view. On the inside, the drivers constantly work at the wheel and the pedals to keep all that power headed in the right direction. Challenging Johnson for his inaugural crown, nine competitors suited for the race. The event is set up in a backet. Two trucks race each other head-to-head under the stress of single elimination.
The day began with a blazing opening round from Todd LeDuc and Carl Renezeder, putting LeDuc's hopes of advancing on ice. Twenty-one-year-old RJ Anderson later gave seasoned pro Rob MacCachren a run for the money but eventually fell just short. Fittingly, the final race of the day would come down to teammates Ricky Johnson and Bryce Menzies. Off-road mentor versus protégé. Showing the poise of a vet, Menzies capitalized off an early error from Johnson and was able to maintain his lead over the champ through the gripping final event, finishing atop the Frozen Rush podium.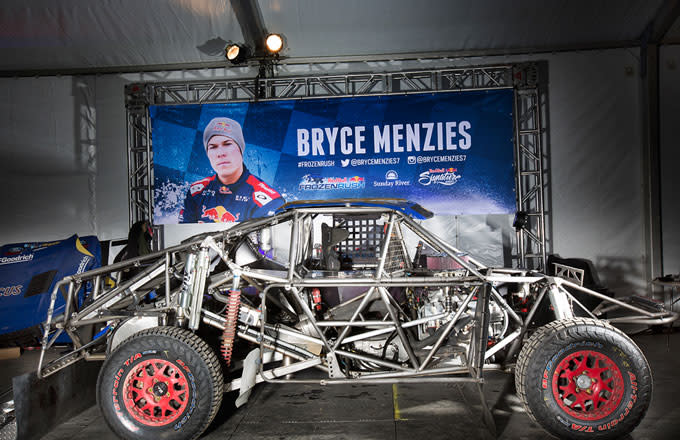 <span></span>
"It was six laps, but I feel like I raced a Baja 1000," Menzies said. "I'm glad it came down to me and Ricky, but I'm pumped to pull off the win."
Evolving track conditions during the course of the day began catching drivers off-guard more and more. Heavily packed snow and ice can only take so much abuse at the brunt of 900 horsepower and a total of 684 snow studs per tire...massive 35-inch tires at that. By the time Menzies and Johnson lined up for the title fight, the course was looking pretty haggard.
"The track had deteriorated quite a bit," Johnson said. "I was wide open, I went off the jump sideways, made one correction, couldn't get the truck right in time, and I slid off the track and lost a few seconds." 
The veteran driver had no shortage of praise for his winning teammate though. "When you're back you have to hope for the guy in front to make a mistake," Johnson said. "I've been Bryce's teammate for four years – he doesn't make mistakes when he's out in front."
"Going up against Ricky...he's one of the best out there," Menzies said. "I knew it was going to be a dogfight right to the end."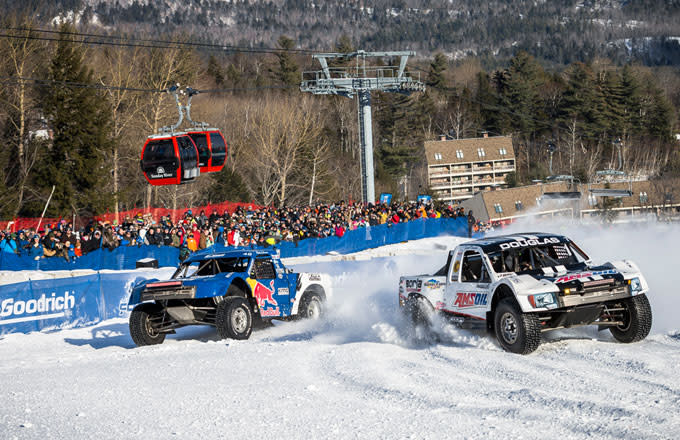 Missed the event? You can catch a replay in its entirety at RedBull.tv, or tune into NBC on March 1 for the official TV presentation.