Some of you may wonder where Denver Nuggets rookie center Jusuf Nurkic's story began. And the other 99 percent of you probably don't give a shit, but it's kind of an interesting tale anyway.
You see, Nurkic's dad is a cop in Bosnia and Herzegovina, and one day sports agent Enes Trnovcevic read a newspaper report that the elder Nurkic had been in a fight with 14 men and won. The next day he went to the policeman's home and asked if he had a son. Of course, the answer was yes and that's when Trnovcevic met Jusuf who was 14 at the time and had never played basketball.
That story may sound like complete internet BS, but (on some level) Jusuf confirmed it, saying:
"Yes, it is true, in some fight my father has beaten 14 people. My agent Enes found out about this and here I am."
Jusuf sprouted to a mere 6'11" and weighs a (comparatively slim) 280 lbs. He's become a fairly productive role player for the Nuggets in just his first year, chipping in 6.9 PPG alongside 5.3 RPG. It's not as impressive as beating up more than a dozen men, but then again not much is.
Here's a picture of the man at a recent Nuggets game:
And here's another one from a website we didn't think existed, a Jusuf Nurkic fan page. Note the hands:
Here's a final shot. See if you can figure out which one he is: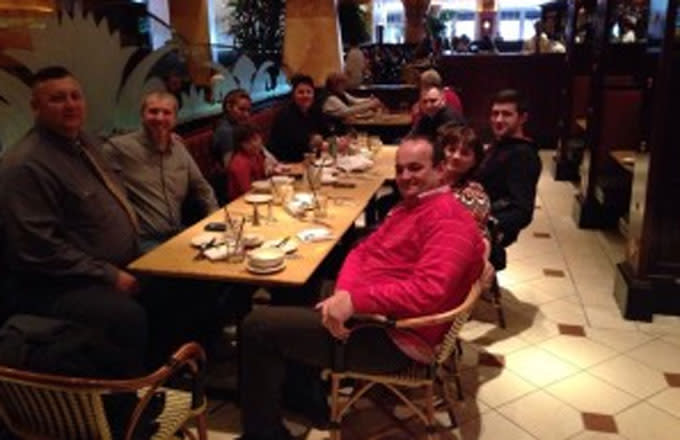 Send all complaints, compliments, and tips to sportstips@complex.com
[via SB Nation/Nurkic.com]