After scoring 24 points and dishing 21 assists against the Orlando Magic last night, it needs to be said: since the release of Josh Smith, Pistons point guard Brandon Jennings has been a legitimate All-Star. 

During that 15-game stretch, a brief glance at the statistics is enough to support the argument. The Pistons are 12-3 since Van Gundy waived Smith—a decision which I applauded for the wrong reasons here. At the time, I was ready for Detroit to jettison Jennings, trade away Greg Monroe, and submerge themselves deep onto the ocean floor of the Eastern Conference, along with the other bottom-feeders. They were 5-23.
However, Smith's departure has literally opened up an entirely new dimension to Detroit's offense: space. Without Smith, Monroe, and Andre Drummond simultaneously clogging the lane, Monroe and Drummond have had more opportunities than ever down-low. Since Smith's release, Monroe is averaging 16 PPG and 11.9 RPG, while Drummond is posting a 12.9 PPG, 14.1 RPG, and 1.7 BPG line. 
Those are good numbers, to be sure, and they've been boosted by some particularly strong performances: the 27 and 17 that Monroe posted versus the Mavericks on January 7; Drummond's 20 and 17 against the San Antonio Spurs the night before. For Drummond, Smith's waiver has prompted an accelerated development, allowing him to score more consistently and to develop stronger chemistry with Jennings (though, it must be said that Drummond's free-throw shooting is still the stuff of nightmares). Meanwhile, Monroe, who appeared on his way out by trade deadline, may actually have some interest in sticking around with Detroit for the foreseeable future. The word around the league is that Monroe never got along with Smith; clearly, Van Gundy's decision to ditch the poor-shooting small forward sat well with Monroe. 

However, no one has benefited from Smith's departure more substantially than Brandon Jennings. Prior to the move, Jennings appeared lost in Van Gundy's offense, Since then, he's been averaging 20 PPG, 7.2 APG, and 1.3 APG. Compare that to his season average of 15.4 PPG and 6.7 APG, and you can see that the change has been more than a little beneficial for Jennings. Or, better yet, take a look at this monthly splits. After enjoying a strong November, Jennings absolutely fell apart in December, averaging 9.3 PPG and 6.9 APG. 
Brandon Jennings vs. the Josh Smith release: Before: 12.6 pts, 6.4 ast, 36.8 FG%, 15.5 PER After: 20.3 pts, 7.0 ast, 47.0 FG%, 28.8 PER

— Tom Haberstroh (@tomhaberstroh) January 13, 2015
January has been a completely different story. Jennings is averaging less turnovers (1.8 per game) and more assists than any other month this season. Last night, he gave us the NBA's first 20-assist game in two seasons. A couple weeks ago, he helped Detroit topple the mighty Spurs with a game-winning floater. 

And let's not forget when he picked Kyle Lowry's pocket to seal Detroit's win against the Eastern Conference's third-best team, the Raptors.

In general, Jennings has been accomplishing these feats by becoming a complete maniac in the lane. The man is fast, slippery, and has a floater that any point guard would love to add to their arsenal. Plus, when you have Drummond waiting for an alley-oop in the post, or Monroe ready to bang out two points down-low, the kamikaze-like Jennings is a perfect pairing. It doesn't hurt that Detroit also has players like Kentavious Caldwell-Pope and Jodie Meeks on the wing, who have both improved since Smith's departure (by a less considerable margin, however). 
If Jennings played for any other team than the Detroit Pistons, all we'd be talking about is this 15-game span. Unfortunately, his turnaround is taking place in a smaller market that has only been shrinking since the team's mid-2000's heyday. So it goes. 
But you shouldn't sleep on Jennings' ascent just because SportsCenter is late to the game. Let's compare Jennings to the East's leading point guard candidates for the All-Star game right now: Kyle Lowry and John Wall. 
Again, on the season, Jennings is only posting about a 15 and 6—not terribly impressive stuff. But when you put his post-Smith numbers alongside Wall or Lowry's during that same span of time, he starts to look pretty good. During that time, Wall has been averaging 15.2 PPG and 9.3 APG, while Lowry has put up a 20.3 and 6.9—a nearly identical line to Jennings'. 
Obviously, 15 games can't change voters' perceptions. Nor can it do much to change your record when you're starting at 5-23. The Wizards and the Raptors are two of the East's best teams. Detroit will need to continue their impressive play if they want to nab a playoff spot from the Nets or the Heat. Wins always play a part in All-Star selections, making Jennings' campaign something of an uphill battle.
And Jennings, of course, isn't without his flaws. Despite his improved shooting percentages, he's a mostly poor shooter in the clutch. As Vorped.com points out, he's making just 28 percent of the shots he takes in the fourth quarter, a black sheep number compared to the previous quarters, whose averages hover in the low forties.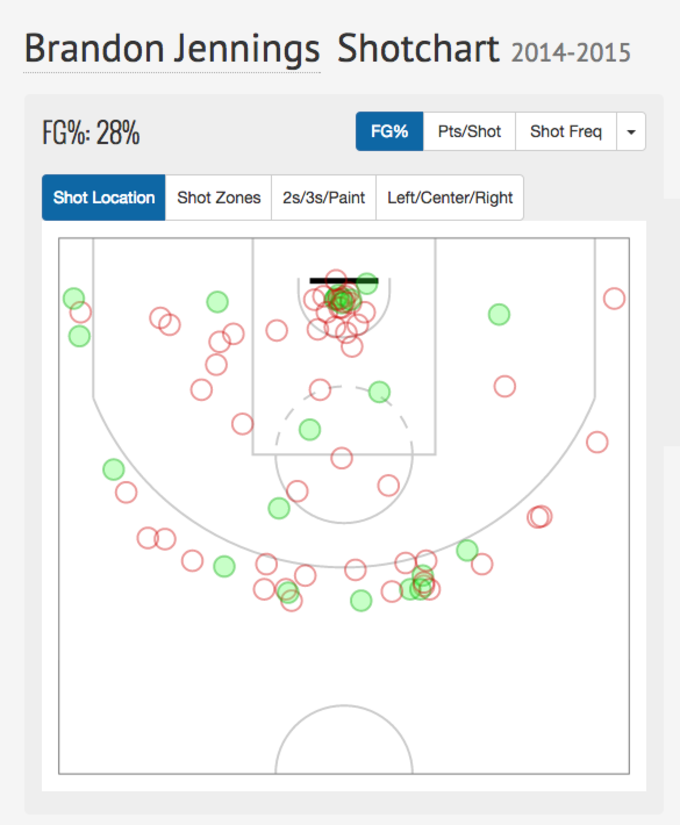 So, if you'd like to take a fire extinguisher to Jennings' small flame of hope, then you don't need to work too hard to do it. Yes, Jennings is far from perfect. Yes, the Detroit Pistons are still the tenth-best team in the Eastern Conference. Yes, it's only been 15 games. But times are good in Detroit for the first time since the days of Chauncey Billups, and that fact alone is a cause for a celebration, if not an All-Star selection.
Let's party.

Send all complaints, compliments, and tips to sportstips@complex.com.