To anoint Liverpool's Raheem Sterling as the best footballer the English have would be disingenuous. Not because it's not true—Sterling is most certainly breezy, and is unquestionably the best teenage player England has produced since a lad named Wayne Rooney started banging in Premiership goals for Everton at 16. It's because Sterling, or "Razza," is English by circumstance—not by birth—and when he scores, he reminds us.
After Sterling scored this well-earned tap-in against Tottenham in August, he peeled off to the sidelines, interlocked his middle and ring fingers, and covered his face, as seen above.
It's a goal celebration that many Liverpool fans are still confused by, but one that's pretty ubiquitous depending on your background. In fact, you've definitely seen it before:
Tupac and Raheem Sterling likely have different reasons for sharing that sign. For Sterling, it's an homage back to his Jamaican upbringing. Jamaican dancehall legend Vybz Kartel popularized the "Gaza" sign, which represents Kartel's music and the section of Kingston, Jamaica he hails from.
Sterling was born just outside of Kingston in Maverly. He began his soccer career by playing pick-up games on the same streets where gun crime and drug dealing was rife. At age 6, his family moved an area just outside of Wembley Stadium in London that wasn't totally free of the illicit activities that burdens poor urban communities, but nevertheless, Sterling was in England—a country that sort of fucking loves its football.
Upon arriving in London, Sterling immediately took to bodying any and all challengers. At school, he'd play with the adults who worked there. One of Sterling's early teachers described how Sterling would torment everyone else on the pitch, and take nothing but unbridled, maniacal joy out of it:
"Playing with Raheem was like having another adult on the team. He'd play the ball over my shoulder, through my legs and he would do it laughing. He would suck in 25-year-old men who played Sunday League."
From there, London club Queens Park Rangers brought him into their youth academy. By 14-years-old, the youth set-up had been nicknamed "Raheem Park Rangers," and crowds had started gathering during his matches. 50 interested QPR fans looking to nerd out over their U-18 squad quickly turned into regular crowds of 400 to 500 strong, all turning out just to get a glimpse of Sterling.
Scouts for the Chelsea and Manchester City began lurking, and that's when Sterling started becoming a real English attraction—not just a London street celebrity. Even with his QPR academy training, Sterling never stopped playing pick-up.
He'd often play in matches organized by influential English scouts. Sometimes they'd just happen in the park, but on other occasions, Sterling was sent off to play in the backyard of Tottenham technical director Tim Sherwood (who would later go on to manage Tottenham like a Football Manager team for half a season). The big clubs swarmed in like college football head coaches into the living rooms of hopeful recruits. Liverpool lobbied Sterling's mother for his signature, and at 15, he was sold for £1 million and sent up to Merseyside.
That was four years ago. Since, Sterling's been exposed to a style of training that—falling in line with a new globalized soccer economy—carries a heavy Spanish influence. Possession, passing, technical ability, and timely movements were the basis of Sterling's football education. Spanish manager Rafa Benitez was in charge of Liverpool when Sterling was bought, and under his stewardship, Liverpool's academy began restructuring itself to model Barcelona's famed La Masia. Benitez recruited Pep Segura and Rodolfo Borrell—two coaches who had cut their teeth coaching in La Masia, developing players like Lionel Messi, Cesc Fabregas, and Gerard Pique from a very young age.
Sterling, known for his coachability, has developed characteristics during his time at Liverpool that absolutely reflect the fast-paced, highly technical modern game, which stands in stark contrast to the highly physical but aesthetically slow and morbid "kick and rush" English style.
With boundless amounts of natural talent and a progressive football education, Sterling's become one of the Premiership's most dominating attacking forces. With the exception of the oft-injured Theo Walcott, Sterling's the fastest England national team regular, as well as the most versatile. He can play on the wing, through the middle, next to a striker, and can even deputize as right-back when needed. He'll pop up wherever the hunt leads him to. He did in Liverpool's dramatic 3-2 win against Manchester City last spring:
The scope of Sterling's influence can't be properly explained or diagrammed. Between his nose for the ball, his spatial awareness, and Liverpool's amoeba-like movements, you can't predict where Sterling will pull up and hit from.
First off, respect the handles and the range:
But then you're open for the dribble-drive: He'll play off a brooding centerback's shoulder and score like a proper striker.
Or just take it to the hole himself: This is just about the worst thing that a defense can experience. A lone dribbler taking the ball from midfield, scampering untouched into the penalty box, and then scoring with acute timing and precision. This is terrifying and harmful to watch (although Daniel Sturridge's dovetailing movement deserves a shout: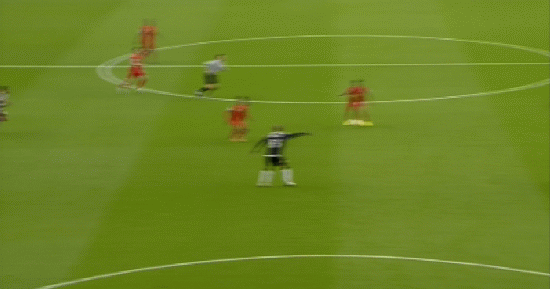 Which then makes you vulnerable on the boards: He'll bust his ass and steal goals off the boots of of his own strikers at the very last moment, because he can.
And you end up losing: He'll happily run away from Vincent Kompany (aka the best defender in the world, NBD), take a perfect first touch away from Kompany's incoming left boot, string him up and Joe Hart like piggies, and then hit the stanky legg:
Like, on the basketball court too. That speed:
So you see, the boy who Nike put on billboards during the World Cup is really, really, really good. As a teenager in the English Premier League, his productivity in terms of goal creation is only comparable to the early Everton and Arsenal careers of Rooney and Fabregas, respectively. Can you tell who's who?
Player A:
First 75 appearances: 8 goals, 10 percent conversion rate, and 9 assists.
Player B:
First 87 appearances: 15 goals, 10 percent conversion rate, and 9 assists.
Player C:
First 77 appearances, 17 goals, 20 percent conversion rate, and 8 assists.
Player A created 17 goals, Player B created 24 goals, and Player C created 25 goals.
A is Fabregas, B is Sterling, and C is Rooney. If Raheem Sterling isn't considered one of the best five players alive by 2021 (he'll be 26 years old), then someone messed up.
But to be honest, he's already England's best player, because there's no better Englishman with the ball at his feet, and apart from Belgian Eden Hazard, in the Premier League too. Look at how he's progressed as an attacker (on a per game basis) since becoming a member of the first team XI. All stats via Who Scored?
Premiership 2012/2013:
7th in dribbles (1.9), 21st in bad controls (1.8), 37th in key passes (1.5).
Premiership 2013/2014:
3rd in dribbles (2.8), 59th in bad controls (1.2). Luis Suarez and Hazard, the two players ahead of Sterling in dribbles, were also amongst the leaders in bad controls. Suarez was in the Top 3 (2.8) and Hazard was 15th (1.9).
Premiership 2014/2015:
Top 4 in dribbles (2.9) and Top 3 in fouls earned, but top 8 in bad controls (2.5), which is understandable, given the fact that Sterling's been like the only healthy and consistent attacker on Liverpool this season. For the first time too, Sterling's playing killer passes a lot: He's top 8 in key passes (2.5), ahead of David Silva, Alexis Sanchez, Mesut Ozil, and Hazard, and on par with Leighton Baines.
And, another first thing from this season that's awesome: His 12 tackles won this season at a 57 percent clip would make him the 4th highest tackler of all forwards. He's a missile in Liverpool's high pressing game.
Between his blazing fast pace, his El Clasico level of technical ability (a fixture which he may end up playing in one day. Real Madrid manager Carlos Ancelotti has called him "one of the best in Europe"), and his Caribbean flair, "Razza Gaza" is just too hot to touch. Just ask Howard Webb.