Any club wanting to prise Lionel Messi away from Barcelona will have to be prepared to obliterate the world transfer fee record.
According to Dutch football legend Johan Cruyff – who both played and managed for Barcelona – any club wanting to buy Lionel Messi would have to put up a fee of close to €200 million to even tempt Barcelona to sell. Messi's future has come under increased scrutiny since he revealed that he couldn't guarantee staying at Barca for the rest of his career.
Speaking to local radio in Barcelona, Cruyff said Messi's unhappiness and a colossal transfer fee would be the only two things to make Barca sell:
"These are personal matters, the only one who can make a decision is Messi. I imagine that there are teams that want to pay €200M for him, but Barcelona don't have money problems and he won't leave for that reason. The IRS has been investigating Messi for the past three or four years and it's bothering him. The problem with Messi and Barca will be internal. There, things can happen that neither you nor I know about."
A further report from today's Daily Express reveals that there are only three clubs who could afford to spend such a large amount of money on Messi: Manchester United, Chelsea and Paris Saint-Germain.
Lionel Messi's biographer also suggested that Barcelona fans should be worried about his future.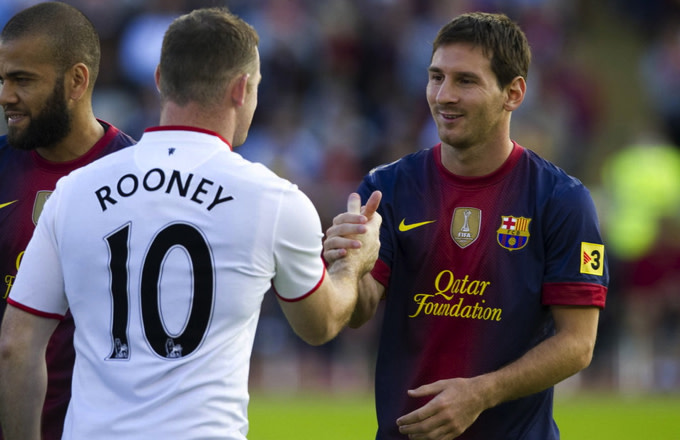 Writing for Bleacher Report, Guillem Balague – who famously made headlines earlier this month when revealing Cristiano Ronaldo's nickname for Lionel Messi – said that the Argentinian star is clearly making a play away from Camp Nou:
"Leo Messi is sending out a message. He is savvy enough to know what to say and how to say it for people to listen. At the moment he has made it quite clear that he is not a happy bunny and although that's still a long way from saying that he will be leaving sooner rather than later, he is also kind of saying that Barcelona and Leo Messi are not joined at the hip..."
Fancy another summer spending spree next year, Man United fans?
[via Daily Express and Bleacher Report]