File tonight's Bulls vs. Knicks matchup under "Most Hype Around Games That Probably Won't Matter in the Long Run." 
The NBA has done a tremendous job setting up the beginning of the 2014-15 season. Last night featured a matchup between the defending champion Spurs and possible Western Conference Final foe, the Dallas Mavericks. We also saw Mr. you-should-have-multiple-MVPs Kobe Bryant and you-definitely-will-have-multiple-MVPs Anthony Davis. Tonight the fun continues, as the NBA paired up Chicago vs. New York in order to highlight one of the biggest storylines of the free-agent frenzy: Melo snubbing the Bulls to stay home and up his cash flow. Then there's the whole D-Rose return thing. And that's not even mentioning the fact that Phil Jackson faces his former team in his first game back.
In order to pump up tonight even further, Madison Square Garden has a lovely line up of stars to kickstart the festivities. Joan Jett will be singing the national anthem, the Blue Man Group will put on a show during player intros, and Questlove will be the guest DJ for the game. Naturally, the Knicks City Dancers will also perform during halftime to Taylor Swift's "Welcome to New York." That certainly helps explain this: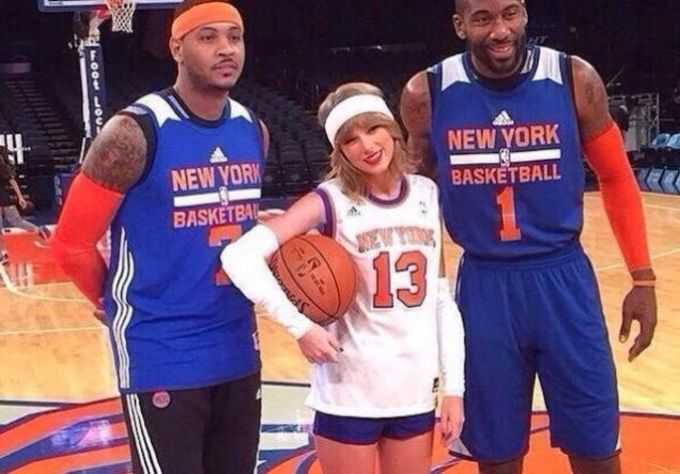 #KnicksTape. #ElbowSleeves. #WalkOn. #NewPointGuard. #WelcomeToNewYork. #LebronWho. 
[via MSG]