Last night, the Denver Nuggets beat the Detroit Pistons 89-79, starting off the year strong by spoiling Stan Van Gundy's Detroit debut. Nuggets star Kenneth Faried was the Denver leader in points and rebounds, posting a 22 and 17 to go along with four assists. On Detroit's end, Josh Smith was the Pistons' highest scorer, posting 25 points, as well as five rebounds, three assists, and two blocks. 
However, Faried was less than impressed by the fact that Smith managed to out-do him in the scoring category. Why? Smith's shooting, Faried said, when asked about the Denver's keys to victory during a post-game interview.
"Josh Smith, we let him keep shooting," said Faried. "And he ended up with 25, but he still kept shooting. He shot them out of the game."
The Manimal has a point. Smith's scoring was a result of 22 shots, nine of which he actually made, compared to Faried's highly efficient effort, in which he shot 8-12. Smith also posted a -13 in the plus/minus category, while Faried was a +4, meaning Detroit was 13 points worse with Smith on the floor, and the Nuggets were four points better with Faried. 
Furthermore, when you take a look at Smith's shot chart, it's hard to argue with Faried's logic. All that red space you can see below? That isn't a good thing. The yellow isn't too pretty either. In fact, Smith scored Detroit's first points from a mid-range jumper, which, statistically, is the least efficient shot in basketball. It's a telling omen.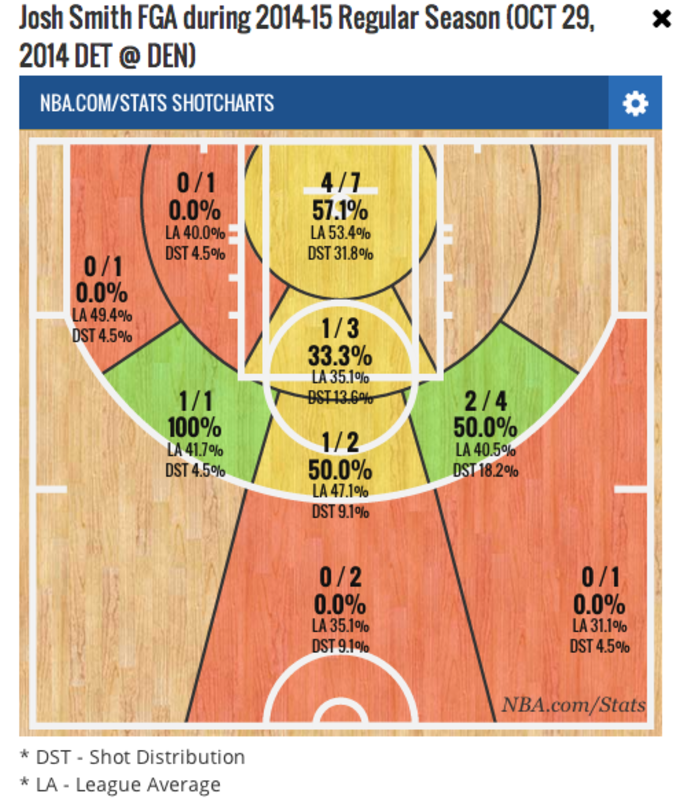 Smith is accustomed to taking garbage shots like this all the time. Last season, Grantland's Kirk Goldsberry created a revealing shot chart detailing all of Smith's horrid inefficiencies. If last night was any indication, things haven't really changed for Smith. He missed all three of his three-point attempts, and took nine mid-range shots. It's not really worth nothing that he was 5-9 from mid-range because, as Goldsberry's chart indicates, that percentage is something of an anomaly for Smith. Normally, he's bad from that territory. Like, really, really bad.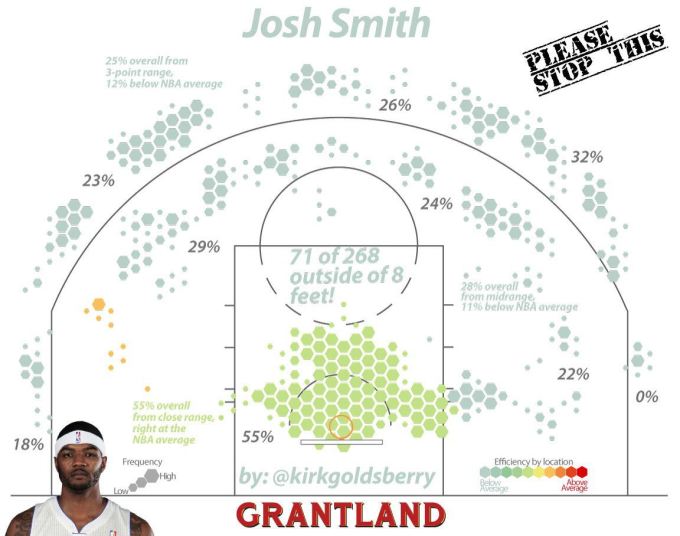 As both last night's numbers and Goldberry's chart suggest, Smith is much better off shooting close to the basket. Which, duh. Unfortunately for Pistons fans and Smith's teammates, Smith himself doesn't seem to understand where his obvious strengths lie. This is unforgivable. In fact, with power forward Greg Monroe out for the game, Smith should've only been more compelled to attack the basket, particularly now that he's been tabbed to play that position in front of Monroe for the 2014-15 season. Monroe, who is averaging 14.0 PPG on 50.8 percent shooting during his career, was missed last night for Detroit. At times, his shooting is less than perfect, but he's a beast on the boards (no Detroit player had more than nine rebounds last night) and when he's playing against a team's second unit, as he is slated to do this season, he should wreck havoc for Detroit. Like Smith's shooting percentages, there's a simple fix to the fact that he could only snag five boards last night: Play closer to the basket. Otherwise, Stan Van Gundy may soon switch Smith out of the starting lineup in favor of Monroe. 
Indeed, even when Monroe comes back, Smith will continue to shoot the Pistons in the foot unless their new head coach does something about it. Coming into Detroit, Van Gundy was praised as the give-no-fucks type of coach that the Pistons were desperate for. He's the type of guy who is willing to sit his stars. Wasting no time to prove this characterization to be true, he even benched Brandon Jennings during the fourth quarter last night. 
Unless Van Gundy takes the same hard-line stance on Smith's scoring approach (i.e. sits his ass on the pine the next time Smith so much as looks at the three-point arc), the Pistons are doomed to repeat the failures of last year's team—a squad clogged up by spacing issues, confusion on D, and too many terrible shots to count. And guys like Faried? They'll be able to keep on telling the truth that no Pistons fan wants to hear, the one Smith clearly can't handle: Josh Smith is a terrible, horrible, no good, very bad shooter.