2014 Bentley Continental GT Speed
Engine:
6.0L Twin-Turbo W12
Transmission:
8-Speed ZF With Quickshift and Paddle Shifters
Drivetrain:
AWD (40/60 rear bias)
"Holy shit …"
It was an appropriate response from a friend who was stepping into the the 2014 Bentley Continental GT Speed for the first time. It was also probably the only time the biggest dude of the group was pumped to cram behind a front seat for the ride home. That's the power of a $237,400 car.
Getting into any Bentley is an experience. Think back to that time you took your girl or man to an extravagant restaurant, got the best seat in the house, ordered the top dishes, and ordered the best bottle. You thought you were top-shelf, right? You thought you were fancy? Well, take that night, then add a one-on-one serenade from Justin Timberlake and Mariah Carey, bring in that $1,000 Golden Opulence ice cream Sundae from Serendipity 3 (even though it's a different restaurant), and call in masseuses to relax you as the roof opens up to an endless sea of stars. That's what it's like to be in a Bentley.
As most press cars do (because the companies want to stunt for auto writers), this particular model had the full interior fixin's. That included cross stitching ($3,610), "dark tint aluminum fascia panels" ($4,885), seat ventilation and massaging front seats ($950), leather paddle shifters ($710), contrast stitching on the wheel ($200), and matching trunk and interior carpet ($545). You have all of that among a sea of rich red that Bentley has coined "Hotspur."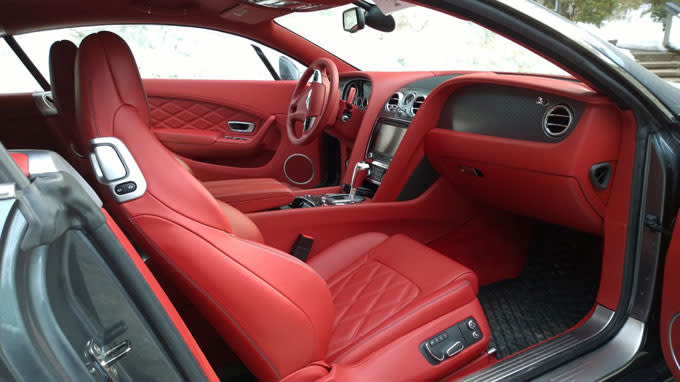 The cabin provided an interesting mix of emotions. From one angle, I looked at all that red leather and diamond stitching, all while I had the custom massage settings on high. I'd never felt more like Birdman than at that point. From another, the flat aluminum paneling, the circular gauges, and the push-and-pull air vents hint at an industrial environment. And then you have the high door lines (good luck putting your arm out the window comfortably), and the distinct Y-shaped center design that curves up and wraps the driver into the cockpit. They all work together in harmony to create a place that's pretty damn difficult to replicate.
From the exterior, I can't help but completely agree with my colleague Stirling Matheson. Opposite to the red interior, the outside of the Continental is extremely suave and doesn't need to scream at the public to note its importance. In a sea of vehicles, this car in this specific color isn't really going to pop out, but when you really focus on it, its lines are beautiful. Normally, on this breed of sports car, I love ridiculously long hoods, but the Conti's fastback controls the proportions of this car and creates a rear profile that I could stare at for days. I favor bigger hips in more than one aspect of my life.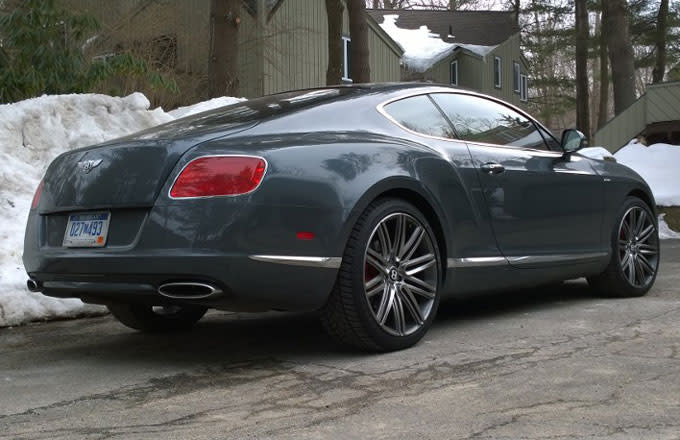 And even though it might be slightly less flashy from the exterior, a Bentley is still a Bentley. The gorgeous shape, the 21-inch 10-spoke wheels, and those signature headlights are still going to make the GT Speed an obviously expensive car that is going to hold the attention of gazing observers. Then once you're ready to skate out of sight, hit the gas and put that 616 hp to use.
The Continental range has five different models: GT, GT V8, GT Speed, GT V8 S, and GT3 R.
The base GT comes equipped with a 567bhp, 516lb-ft twin-turbocharged W12 engine. Coming hard with a tweaked version of that W12, the GT Speed kills those numbers with 616 hp and 590 lb-ft. That power is put into the ground with 40/60 rear-biased permanent all-wheel drive and an 8-speed transmission that is controlled by those hide-wrapped paddle shifters I mentioned earlier. This comes together for a car that can go 0-60 in four seconds and a top speed of TWO-HUNDRED-AND-SIX mph. 206. That's $1,152 per mph, if we're counting.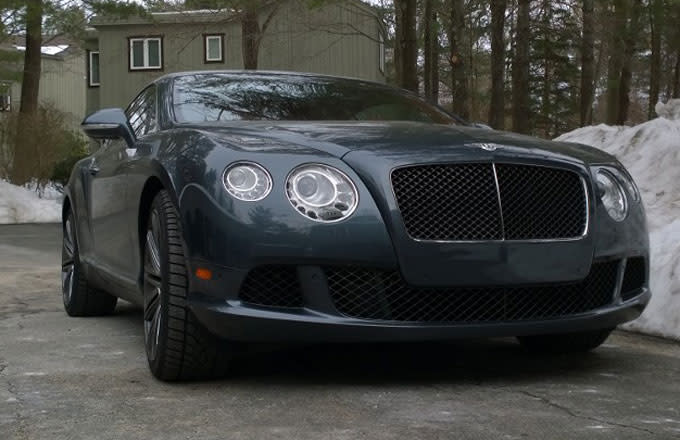 In the title of this piece, I called this car a safe house, because it's the most solid-feeling sports car, and one of the most solid cars period, that I've ever driven. When you're in it, you just kind of feel like you're untouchable. It has a heavier feeling (with a curb weight of more than 5,100 pounds, that's to be expected), the steering feels a bit weighted, and in a weird way, with it's low ride, it feels like you're in a plated vehicle that could destroy anything. Now, for a sports car, a lot of people would take all of that as a huge negative, but let me be 100 percent clear in saying that this thing can flat-out rocket off the line. 
I didn't have my passengers get out their iPhone timers to check it's actual speed from the jump, but flooring this thing using the paddle shifters takes full advantage of those hearty rear tires and sends you screaming. Depending on the condition of the road you're on, you might get a slight skip at a stoplight, but this thing grips fantastically, aided by a lowered sport suspension. Depending on what your intentions are, you can also change the damper settings between "Sport" and "Comfort" and alter the ride height. To be completely honest, I didn't notice a huge difference between the dampers, but the ride was consistently tight and smooth the entire time. If you're looking for a more hearty, mechanical shift, you're going to want to stick to the paddle shifters, as the automatic shifts with average smoothness. It's still noticeable, but it's not bothersome. 
In all of its glory, this gorgeous GT Speed can seemingly feed every desire. It's a beautiful piece of art, the interior treats you like royalty, it has an obnoxiously large engine and insane performance numbers for you to brag and show off to your friends, yet you can still take somebody out for an elegant evening. It's adventurous, classy, and still functional. That makes it worth the cash. 
Express your praise, hatred, or jealousy on Twitter @T_Marko.