When Jay Z revealed that he was starting a sports representation agency called Roc Nation Sports last year, there were a lot of people out there who thought that he was making a mistake. After all, he had very little experience in the world of sports and Master P had already proven just how how difficult it could be for rappers to make it as sports agents. So it seemed like Jay Z was going to face an uphill battle with his agency.
Since then, Jay Z has proved all of his critics wrong. He's helped Robinson Cano sign a huge deal with the Mariners. He's added athletes like Kevin Durant, Victor Cruz, and Skylar Diggins to the Roc Nation Sports roster. And he's even made it his mission to save the sport of professional boxing. So it's pretty clear that he does belong in the world of sports, which is a surprise to everyone who doubted him. And earlier today, Carmelo Anthony admitted that he was one of the people who didn't think Jay could do what he's done.
The Knicks star spoke at the Bloomberg Sports Summit and he revealed that, prior to Jay Z starting Roc Nation Sports, he actually told Jay Z not to do it. He called his idea "crazy."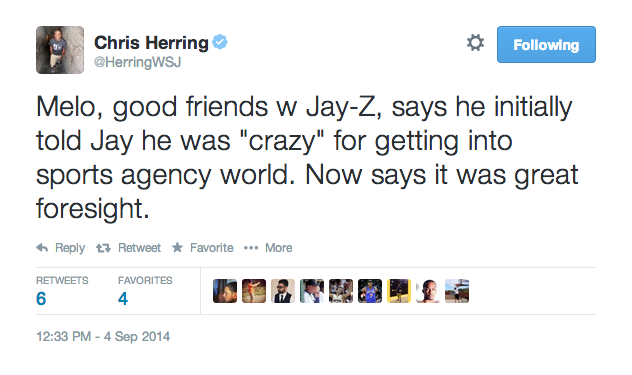 So much for that, though. Like so many other people, Carmelo was wrong. It just goes to show you that even Jay Z has his doubters—and even Jay Z has to work hard to make them look foolish.
[via @HerringWSJ]