A report indicates that Arizona Cardinals running back Johnathan Dwyer has been arrested for domestic violence. Arizona sports reporter Tyler Baldwin first broke the news a half hour ago on his Twitter account: 
According to source: Cards RB Johnathan Dwyer was just arrested for domestic violence @azfamily @AZCardinals pic.twitter.com/S9Kh0pgkfT

— TylerBaldwin (@tylerbaldwin) September 17, 2014
The arrest arrives at the worst possible time for the NFL. The league is facing criticism for domestic violence cases tied to Ray Rice, Greg Hardy, and Ray McDonald, as well as the child abuse allegations currently hovering around Adrian Peterson. Hardy was recently placed on the NFL's exemption list, along with Peterson, barring them both from participating in team activities. Rice was released from the Baltimore Ravens and was suspended indefinitely by the NFL. Meanwhile, neither the San Francisco 49ers nor the NFL has yet to make a decision on McDonald. 
It is unknown what course of action the league and the Arizona Cardinals will take with Dwyer. The Cards running back has rushed for 51 yards and 1 TD in two games with the team this season. Formerly, Dwyer was a member of the Pittsburgh Steelers for four seasons. 
UPDATE: 
KTAR.com reports that Dwyer was pulled from the Arizona locker room to be questioned in a domestic violence investigation, refuting Baldwin's tweet saying that Dwyer was arrested. It is possible that Dwyer will be charged, but specifics of the case remain unclear. 
UPDATE 2: 
A week before news surfaced of his arrest for domestic violence, Dwyer responded to someone on Twitter about his stance on "domestic violets."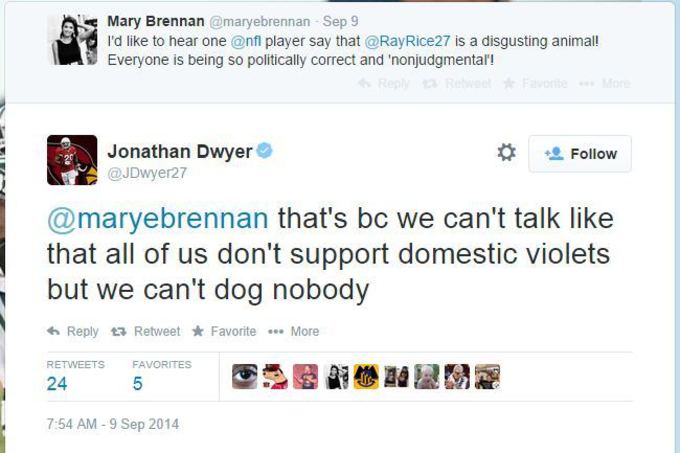 UPDATE 3: 
ESPN confirms that Dwyer was indeed arrested today and has been charged with multiple counts of assault and aggravated assault for two separate incidents involving the abuse of a 27-year-old woman and her 18-month-old child. 
Dwyer was interviewed by detectives today, and admitted to the incidents, but would not cop to physically harming the woman or her child. 
Said the Arizona Cardinals in a statement released today: 
Given the serious nature of the allegations we have taken the immediate step to deactivate Jonathan from all team activities. We will continue to closely monitor this as it develops and evaluate additional information as it becomes available.