Sooooooo…this is awkward.
On SportsCenter this morning, ESPN reporter Josina Anderson made an appearance to talk about Michael Sam's chances of making the Rams final 53-man roster this season. But rather than talk about how he's done on the field or what the Rams are thinking about doing with him, Anderson spent the majority of her time on-screen talking about how Sam is fitting in with his teammates. Or more specifically, she talked about who he has been showering with during training camp.
Anderson spoke with an unnamed Rams player who told her that Sam is "waiting to kind of take a shower as not to make his teammates uncomfortable." Anderson then talked about she'd also spoken with two of Sam's other teammates who "aren't tracking" his showering habits. But we have to ask: What do Sam's showers have to do with anything?
We get that ESPN is all over the Michael Sam story. And we get that they feel that they have to study it from every angle right now. But the guy can't even take a shower without making headlines? This has officially gotten out of control.
UPDATE:
Rams defensive end Chris Long has responded to ESPN's strange report in just about the most awesome way possible. Here's the tweet he sent out a short time ago: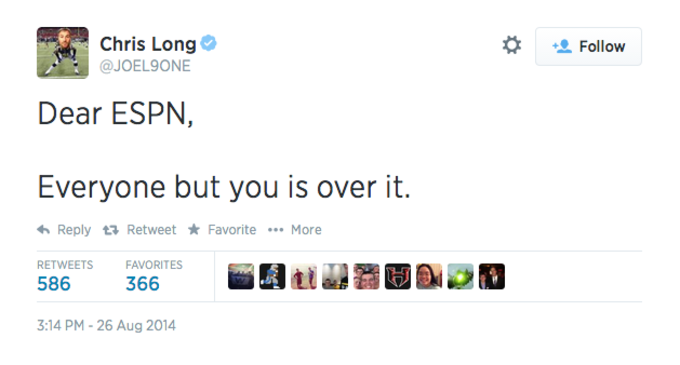 [via Dunk 360]