It's been a great summer for Cleveland sports fans. From the Browns drafting Johnny Manziel to the Cavaliers landing the services of LeBron James and Kevin Love, there has been a lot to celebrate. But recently, one Cleveland police officer took the celebration a little bit too far—and it was captured on camera.
In the photo above, which originally appeared on the website theChive.com, a Cleveland police officer who was later identified as Patrolman Carl Dooley was spotted helping a Browns fan chug beer out of a beer bong before a Browns preseason game. As you can see, the on-duty officer had both a beer and the beer bong in his hand when the photo was snapped. [Ed. Note: The can in question may actually be a Pepsi can as several Complex Sports commentators have noted.] Here's a better look at exactly what was going on when the photo was taken: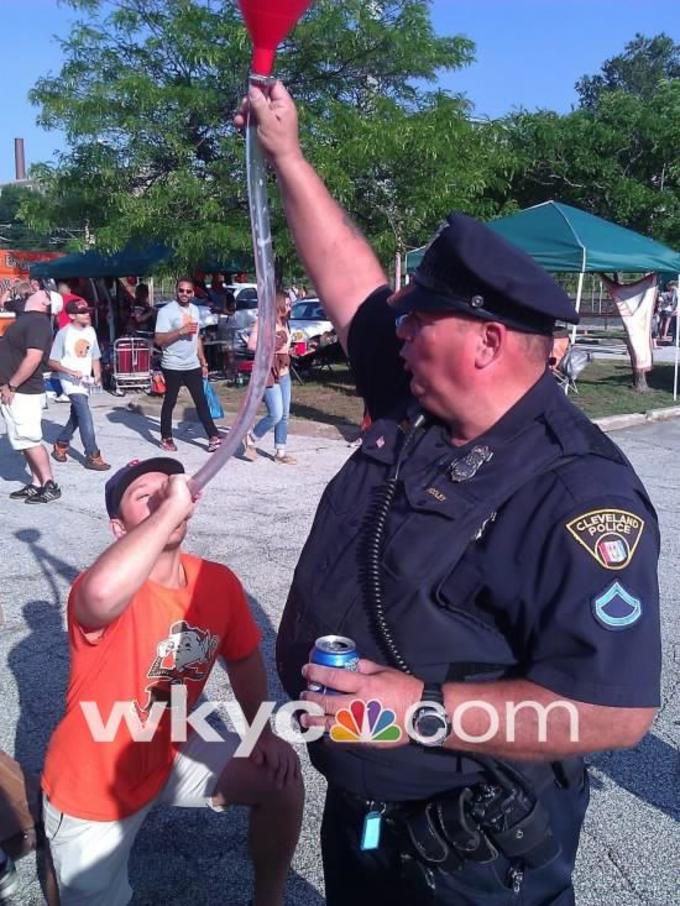 WKYC Channel 3 News in Cleveland has confirmed that the photo was not doctored in any way and they've also confirmed Dooley's identity. Further, they've spoken to Cleveland Police spokesman Sgt. Ali Pillow, who told them that he was a "bit shocked" to see what Dooley was doing in the photo. And to make matters worse for Dooley, the Cleveland Police have made enforcing the city's open container laws a priority this season. So…yeah. This isn't a good look for Dooley.
As of right now, Officer Dooley hasn't faced any disciplinary action. But the Cleveland Police are looking into the photo and it's likely that he will face some kind of suspension in the near future. WTF was he thinking?
[via WKYC]