The car you see above is the 1939 Mercedes-Benz 540k Streamliner. Based on the 540K Specials of that day, the car was originally built to be used in an endurance race between Berlin and Rome in 1938. It had a supercharged eight-cylinder engine and a custom built-for-speed body that was much more aerodynamic than the original 540. In order to avoid over-revving, the transmission was changed to run a higher top speed of 115 mph. Even the star logo was painted on in order to ensure the lowest drag coefficient (it was cut from 0.57 to 0.36). Unfortunately, however, the race was delayed, and the Streamliner never ran. Instead, it was rented out by Dunlop to test new race tires. 
Following testing, the car was actually used during WWII, returned to Dunlop, and eventually returned to Mercedes-Benz in 1948. It was unregistered, the exterior aluminum body was scrapped, and the guts were put into a museum, putting into a black hole that would hide its existence for the next half of the century. More than 60 years later, M-B historians came across the original drawings of the car and set out on a journey to rebuild the gorgeous piece of craftwork. And 4,800 hours of work later, panel by panel, the car was reborn. 
The recreated '39 Streamliner debuted this weekend at the Pebble Beach Concours d'Elegance, a show dedicated to showing off close to 300 cars that have similarly incredible histories. We took it all in and picked a few of our favorites. Grab a drink, it's story time.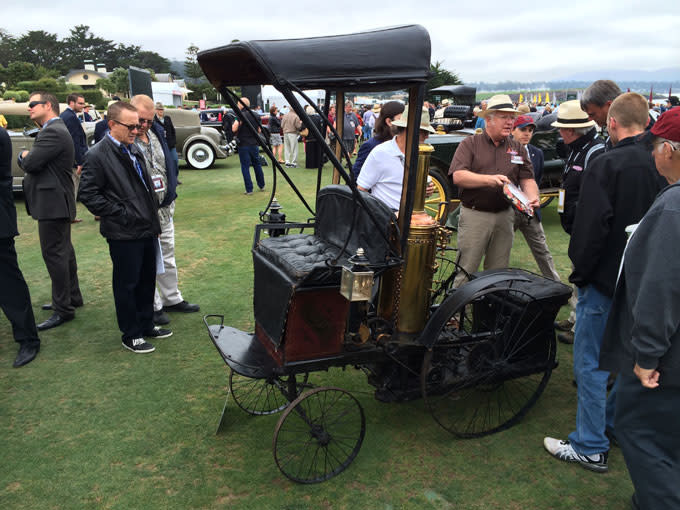 1892 Philion Road Carriage
If you get to the 18th hole at Pebble Beach somewhere are 5:30-6:00 a.m., you are one of the few people who can say you've attended "dawn patrol." This is when all the cars that will be showing drive in. It's kind of like when the teams announce the players at the beginning of a basketball, with the cars driving through a tunnel of people. I attended, and one of the coolest parts was seeing the numerous steam cars, including this Philion, sputter through the crowd, shooting steam out of the bottom of their carriages. This is one of the first original American automobiles and was first shown off to the public at the 1893 Chicago World's Fair. Drivers could zoom through at a zippy 8 mph.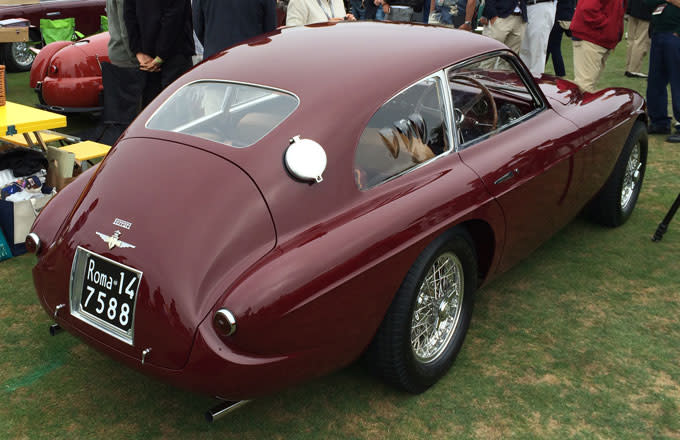 1951 Ferrari 212 Export Touring Berlinetta
Of the many Prancing Horses at the show, this one stood out, largely in part because it doesn't really striking me as looking like a Ferrari. This model earned the nickname "The Tailor's Car," because it was originally delivered to racecar driver and tailor Augusto Caraceni. Back then the House of Caraceni used to create suits for people like Enzo Ferrari and Yves St. Laurant. It was built for the 1951 Stella Alpina race.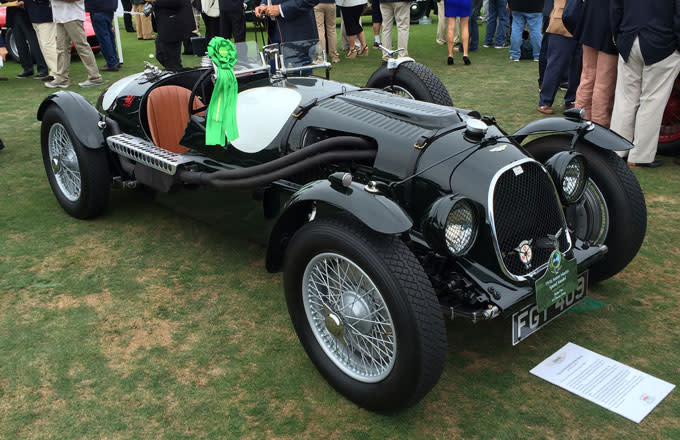 1936 Aston Martin Speed Model
This racer was the homologated version of the 2 litre 15/98 road car of the day. Twenty-three of these car were created in order to race the car for Le Mans.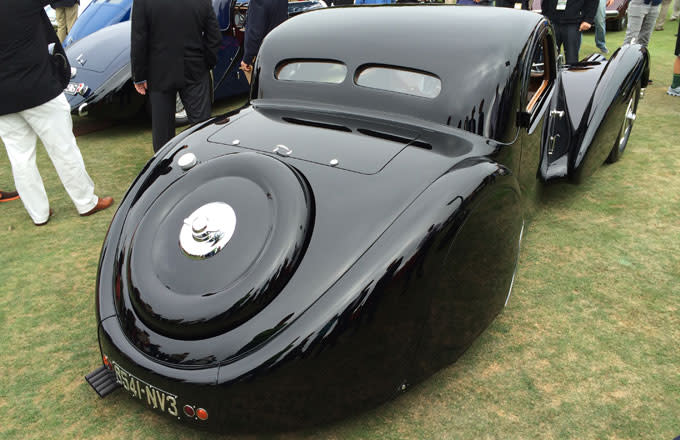 1937 Bugatti Type 57SC Atalante
When people think of old Bugatti's, most will gravitate toward the Atlantic (rightfully so, that car is stunning), but the Atalante is also one of the most sought-after Bugattis ever made. It's low, sleek design was paired with a supercharged engine. 
1967 Ferrari 206 Dino

Competizione

Pininfarina

Coupe

This concept was the first Ferrari to test the V6 mid-engined setup. Proving itself more than worthy in numerous race settings, the engine was named after Enzo Ferrari's son, Dino Ferrari, who was the first person to suggest a V6 to Enzo. This car set the stage for not only the future Dino racecars, but for all future mid-engined Ferraris. It was kept in Pininfarina's personal collection until 2006, when a private buyer surely paid a boat-load of money to take it off their hands.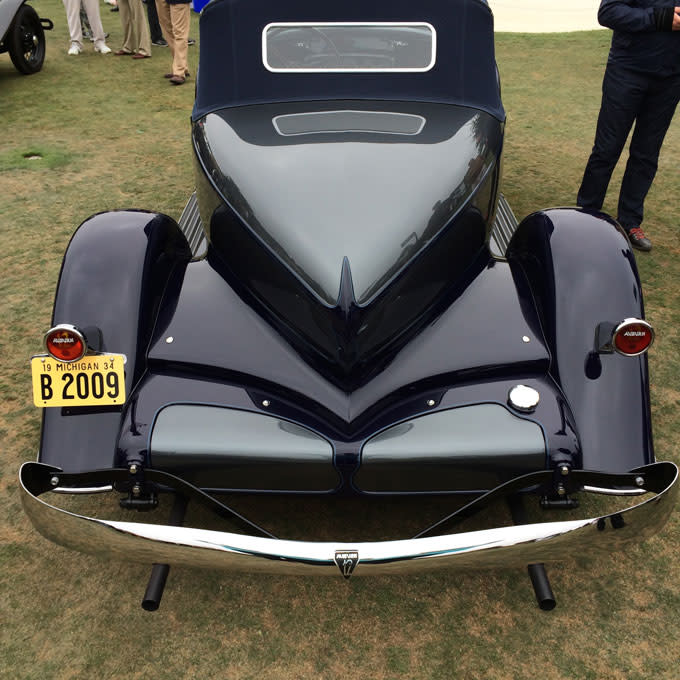 1933 Auburn 12-165 Salon Speedster
It is believed only six of this exact model, which has a 160hp V12 engine, are in existence. Plus, BOATTAIL. 
1939

Talbot-Lago

T150C-SS

Pourtout

Coupé

One of the four versions of this car sold at a Bonham's auction for just less than $5,000,000 recently, and it's absoultely phenomenal late '30s coachwork makes it easy to see why. The car was designed by Georges Paulin, who was originally a dentist, and was executed by Marcel Pourtout, who worked on other car designs for Delahaye, Delage, and Bentley. Unfortunately, the war ended any production from Talbot, and Paulin later became part of the British Secret Service and was captured and executed by the Nazis.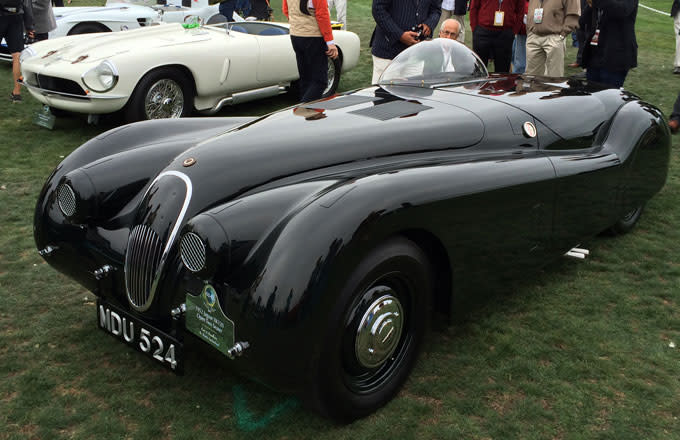 1952 Jaguar XK120 Open Two-Seater
Talk about driver-centric design. Most models of the Open Two-Seater were constructed as roadsters with full space for two people, however, this particular model, as you can see, is restricted to just the driver and literally has a bubble top.