Where do we go from here? 
Let's track back first. Coming into the tournament, Spain had won the last three major international tournaments. They took care of business at the Euros in 2008 and 2012, and in between that, they won a World Cup. All of this was done with their core midfield group of Xabi Alonso, Andres Iniesta, and Xavi leading the way. They built their core philosophy on the strength of that midfield: killer passing into open space, ball retention, and high pressing up the pitch. All the other pieces around them—fullbacks, strikers, wingers—came and went. But that midfield stood strong.
The Dutch, on the other hand, had been trending ALL. THE. WAY. DOWNWARD. Although they were 2010 World Cup runners-up, they hadn't really impressed anyone. On the whole, Holland played bad football in 2010, relying on insane Wesley Sneijder goals to catapult into the final. The poor stylings turned into poor results at Euro 2012, where they failed to win a match. Their core four of Robin van Persie, Arjen Robben, Klaas Jan-Huntelaar, and Robben are all supposedly on the wrong side of 30. They're playing with five defenders now. They're a "meh" side on paper.
And yet, we have this: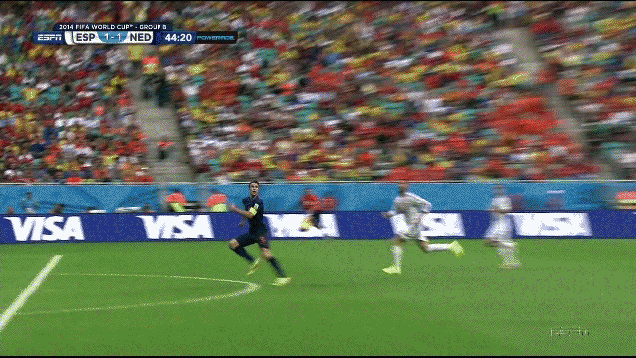 And according to history and statistics and science and the old gods and the new, this shouldn't have happened.
Last time #ESP were beaten this bad was 6-1 vs. #BRA ... here in Brazil in 1950.

— Juan Arango (@JuanG_Arango) June 13, 2014
5 - Spain have conceded 5+ goals in an international for the first time since losing 6-2 to Scotland in June 1963. Gubbed.

— OptaJoe (@OptaJoe) June 13, 2014
Per pregame SPI projections, 21% chance Netherlands would win this game. But only 0.4% chance (~1 in 236) they would score 5+ goals.

— Alok Pattani (@AlokPattaniESPN) June 13, 2014
Probably late to this stat but Spain conceded four goals at 2010 World Cup and 2012 euros combined.

— oh you beauty (@natefc) June 13, 2014
So what happened? Louis van Gaal. The newly appointed Manchester United manager had the Dutch lined up in a 5-4-1 (or a 3-4-1-2), depending on your eyes)—a far departure from the rigid 4-2-3-1 of predecessor Bert van Marwijk, who was sacked after that Euro 2012 embarrassment. Van Gaal doesn't have as talented or as deep or as young of a squad as Van Marwijk had from 2008-2012, but he's Louis van Gaal FFS. He's one of the godfathers of the signature Dutch totaalvoetbal. What Van Marwijk devolved the Dutch in to was closer to West Ham than the 1974 Dutch. Van Gaal has brought that Orange swagger back.
He had today's Dutchmen playing fast, physical, and vertical football. World class goals from Van Persie and Robben via Daley Blind's precise vertical passes were a masterclass in team cohesion, understanding, and finishing ability. Last minute clearances and perfectly timed tackles in the final third kept Spain at bay.
But what about Spain? How does one of the tournament's favored sides—the defending champs—get beaten so viciously? And so hopelessly?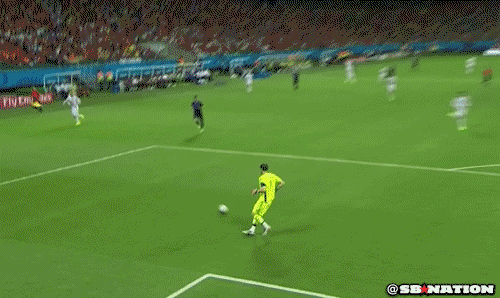 Spain can be criticized at times for their dull style of play, which to a more appreciative fan, can be seen as orchestral. They ping the ball back and forth and back and forth and back and forth until everyone—opposing players, all fans, most coaches—get lulled to a transient state of helplessness. And that's when Spain walks the ball into goal. They get lay-ups, yo.
Today though, they put themselves to sleep. Their once recognizable pressing and ball-winning efforts were inconsistent. Midfielders, defenders, and goalkeepers got beat 1v1. Individual marking, keeping, and organizational errors led to this 5 goal rout. For a team that's become a dynasty based on a complete, suffocating, and systematic maintenance of the ball, that (once again) should not be happening. 
We've written about how Spain's star has waned over recent years. They won all of their knock-out stage games in 2010 by slim 1-0 margins. They were the most above average of an average to poor crop of Euro sides in 2012. Tiki-taka's gone array as the preferred style in club football for a higher-tempo, more aggressive, super athletic set-up that lives on quick, high-risk passing to the wings and diagonal through balls off counter attacks through the middle. Bayern Munich's 4-0 defeat of Barcelona in April 2013 was confirmation of this shift. 
A pragmatic evolution from Spain would be needed for them to defend their World Cup title. Players like Diego Costa (finally, Spain has a real world-class striker, right?), Cesc Fabregas, David Silva, Jordi Alba, Javi Martinez, and Pedro were supposed to inject some fresh dynamism into a well-worn and established national squad. Fabregas, Martinez, and Pedro were left out of the XI today while Silva and Costa flopped. 
Spain still has a great opportunity to advance. The hardest test is done. Chile and Australia will be easier to unlock, but still difficult to put the sword to due to the physical nature of each team. Although only 9% of teams that lose their first match advance, Spain lost their opener in 2010 and made out pretty well. Wholesale changes aren't required from coach Vincente Del Bosque, but he must conjure a renewed focus out of his perhaps satisfied and trophy-fat old guard of players.