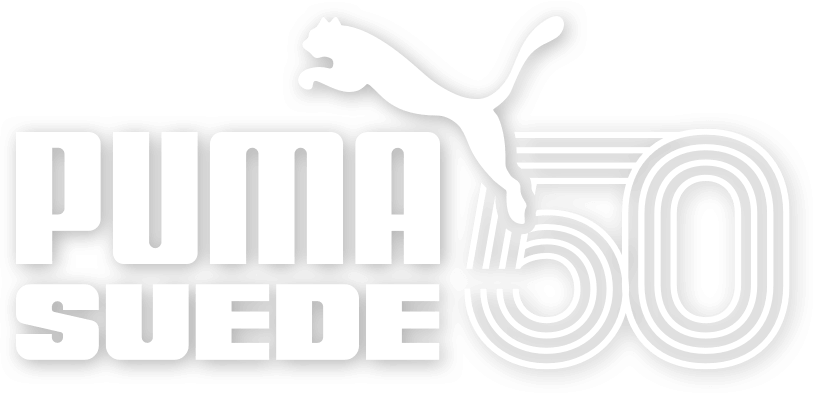 50 FOR 50:
The Year of the Suede
Throughout 2018 PUMA are celebrating the 50th anniversary of their iconic Suede shoe with 'Suede 50' – an ambitious, year-long programme of 50 collab releases with some of the biggest creative names in the game. Complex caught up with the brand and some of their collaborators to take a deeper look at the story behind the project and a few of our favourite drops.
The Suede 50 programme has seen the brand working with a remarkably wide range of talent across the year, including Karl Lagerfeld, MCM, Hello Kitty, Santa Cruz, Hikmet Sugoer of SONRA and Barbie, to name but a few. Complex caught up with Yassine Saidi, Global Head of PUMA Select, at PUMA HQ in Germany, to ask him about the thinking behind the project.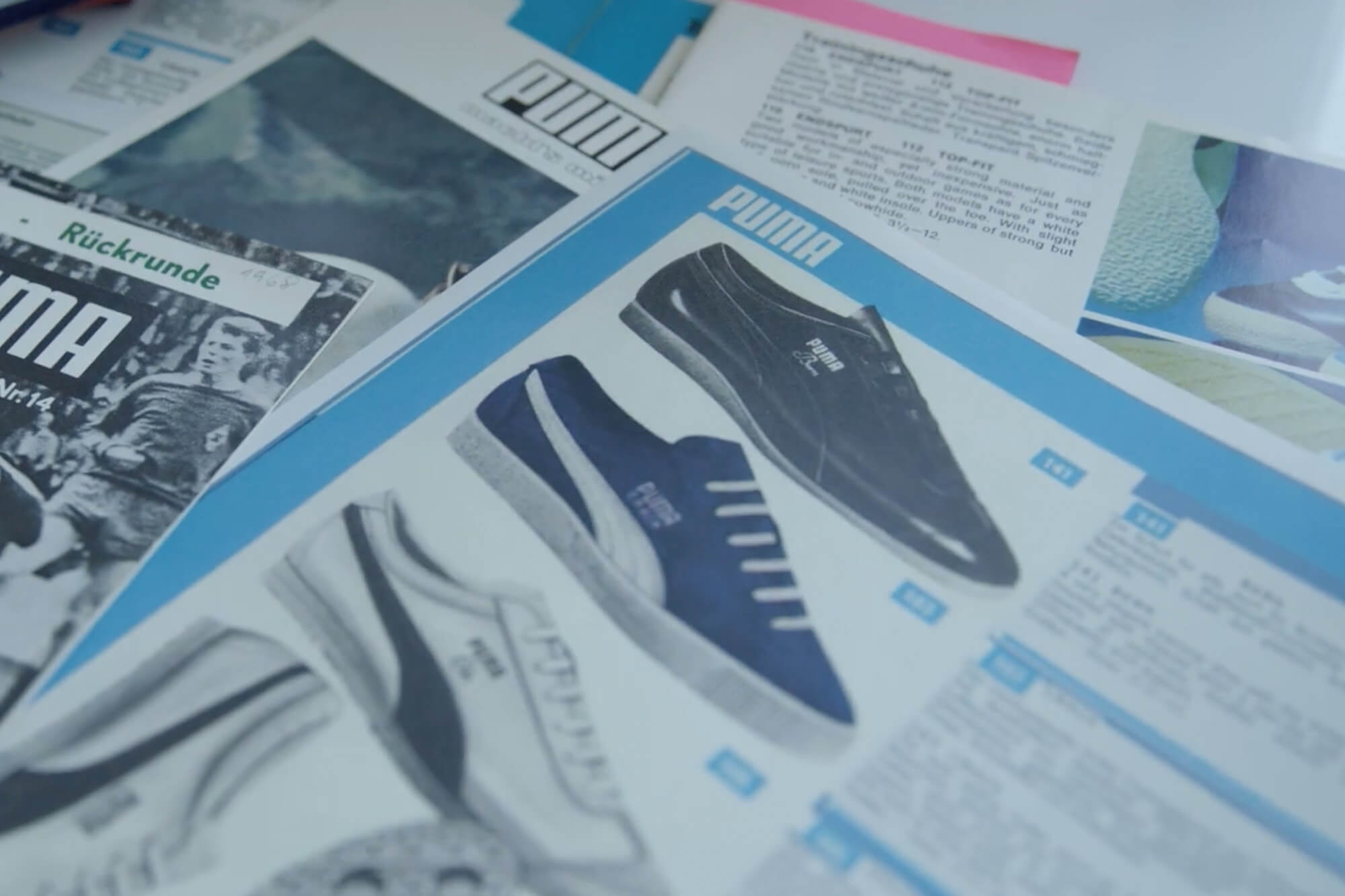 "The objective of Suede 50 is to celebrate, for one year, the 50 years of the Suede," he explains. "The Suede influenced style and fashion throughout five decades. So we wanted to work with people from different categories who have had an influence in this time, in sport, in music, in fashion, in style in general. They could have had an impact on the shoe directly, or just have been developing themselves in their field alongside the time that the shoe was growing."
Some of the collaborators PUMA has worked with before, others are new to the brand. How did you decide who to work with?
"The other day I was looking back at the list of all the people we have worked with over the last six years, and the list is gigantic – but we are still in touch with all of them," he says, with an air of pride. "We get projects come along and sometimes it's the right thing, the right time, for them and us, so let's just do it.
The objective we have at PUMA is not just doing a collaboration for the sake of doing a collaboration, it's building a platform for creatives. We are building a community. We want to invite creative people to work with us and to design the new classic – that's our objective. That's what makes us unique, and that's what makes most of our partners want to work with us. For us it is important that we partner with brands, institutions, individuals who understand who we are as a brand, that we are a sports company, our product is originally from sports and everything we do needs to be rooted somehow into sports."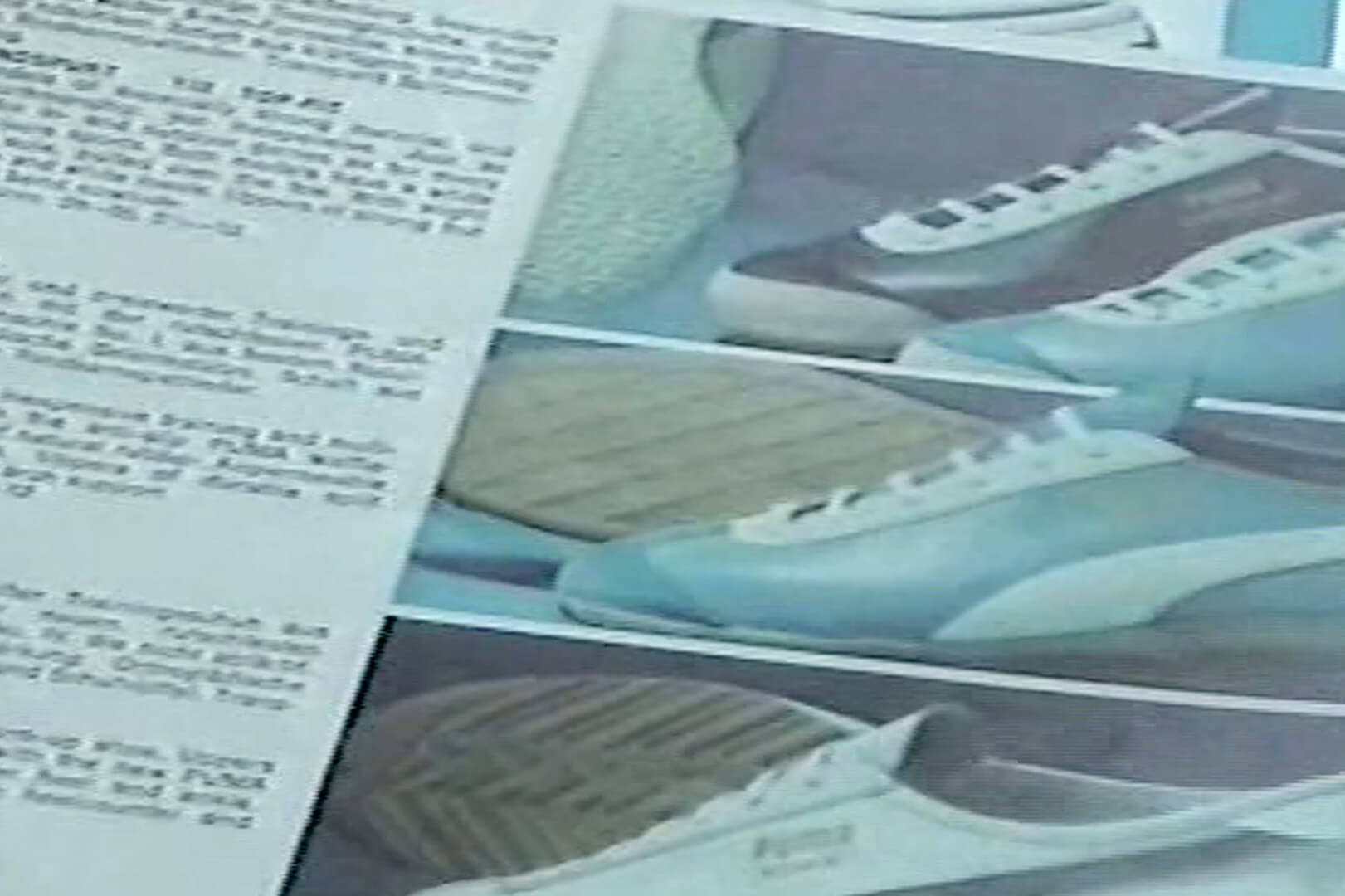 What role do collaborations play for PUMA generally?
"97% of everything you see from PUMA in the market is done in-house. The collaborations are what you see on social media, though, they're what gets attention. Because ultimately we are in the business of trading attention. We trade attention through meaning, and the meaning is the design itself.
Collaborations, and Select in general, are a lab for us, because we are working and partnering with free minds, from different art fields. The input on product is so unique and shared as a collaborative exercise. We take cues from the learnings we get from the partners, bring them inline and feed into everything we are doing at PUMA. For example, i like to remind people that PUMA was the first brand to sign a fashion house, when we did a collaboration with Jil Sander back in 1998. That day, without knowing it, we created a new industry. That day we created the industry of fashion sneakers."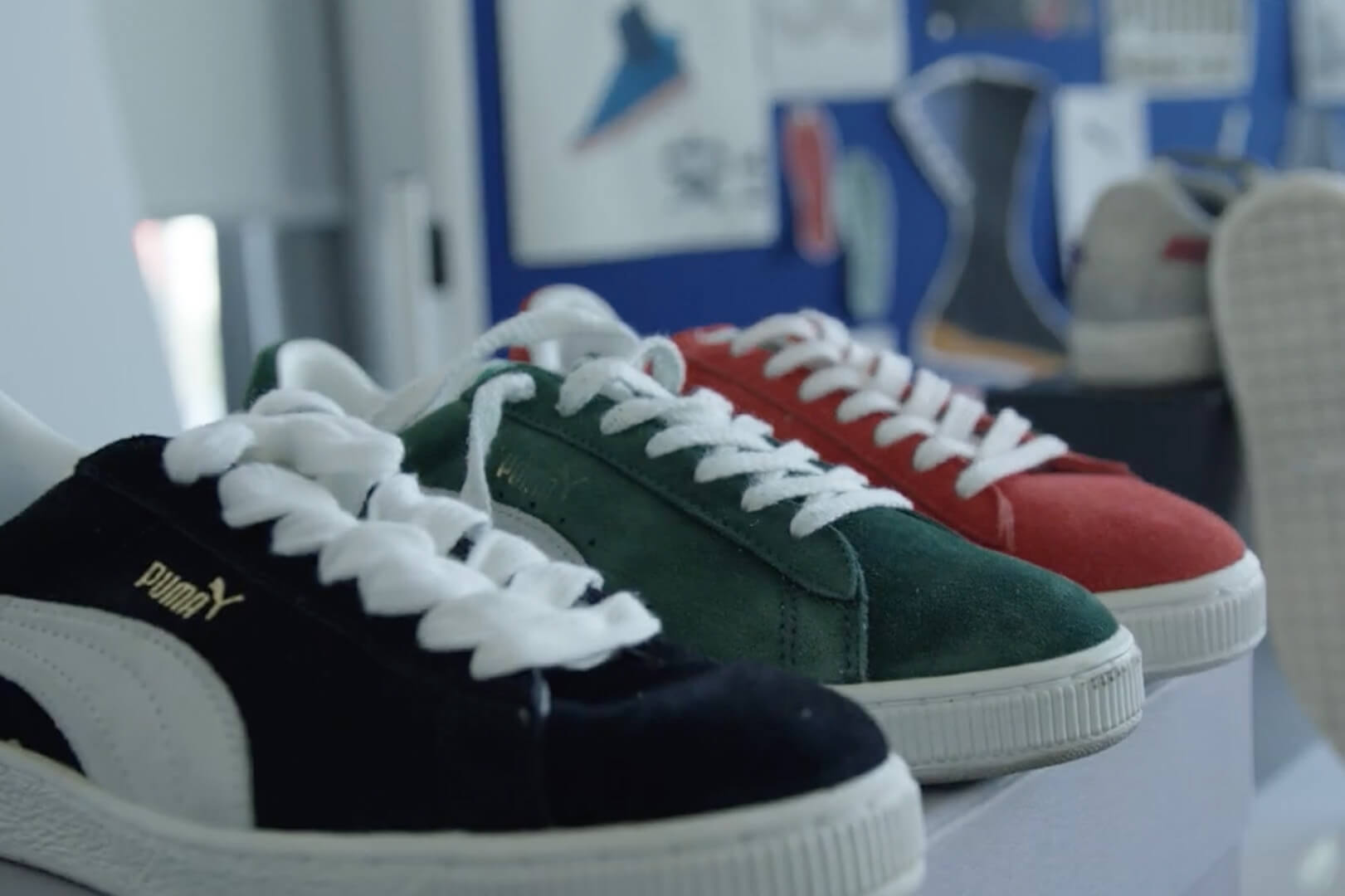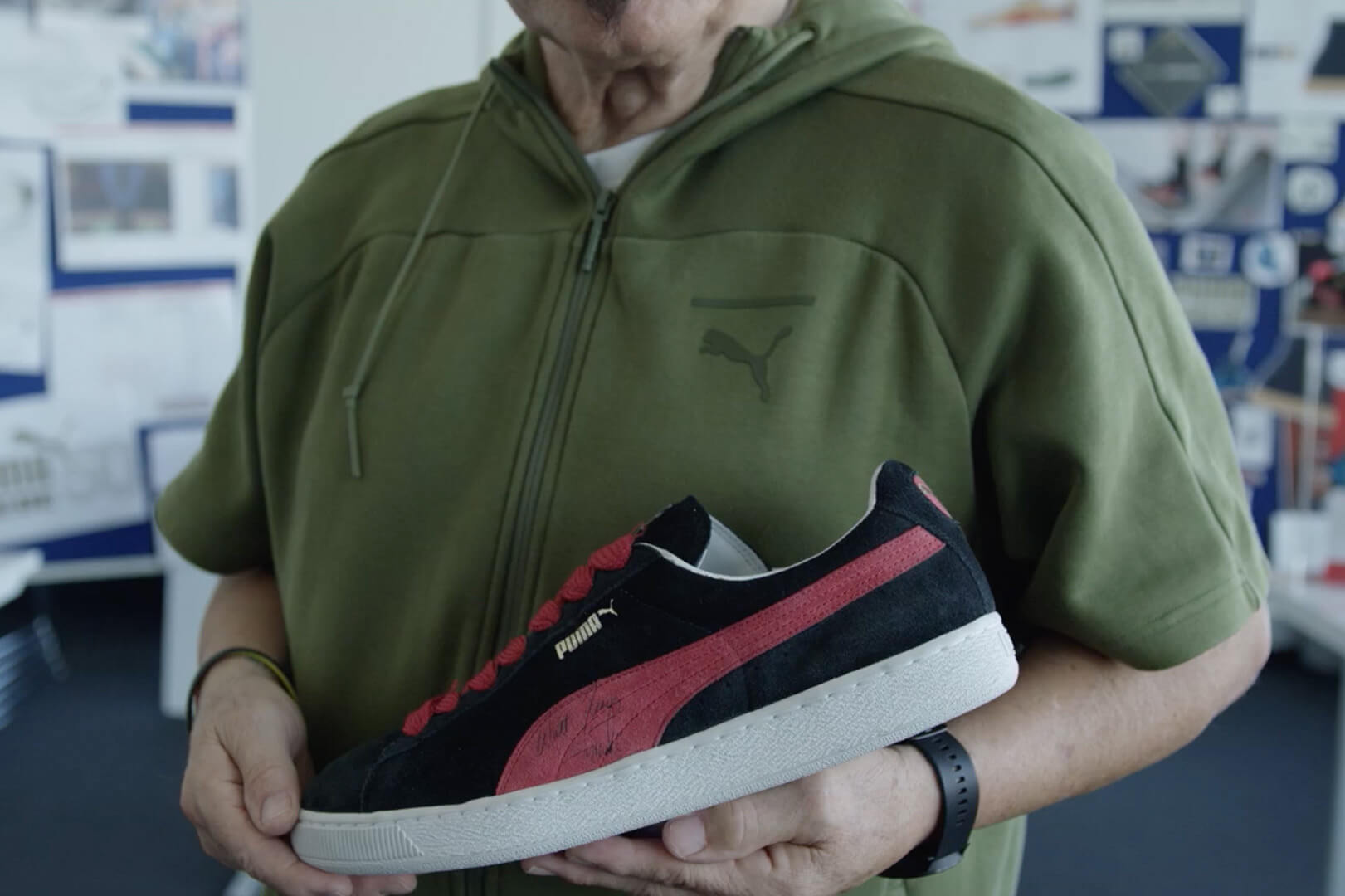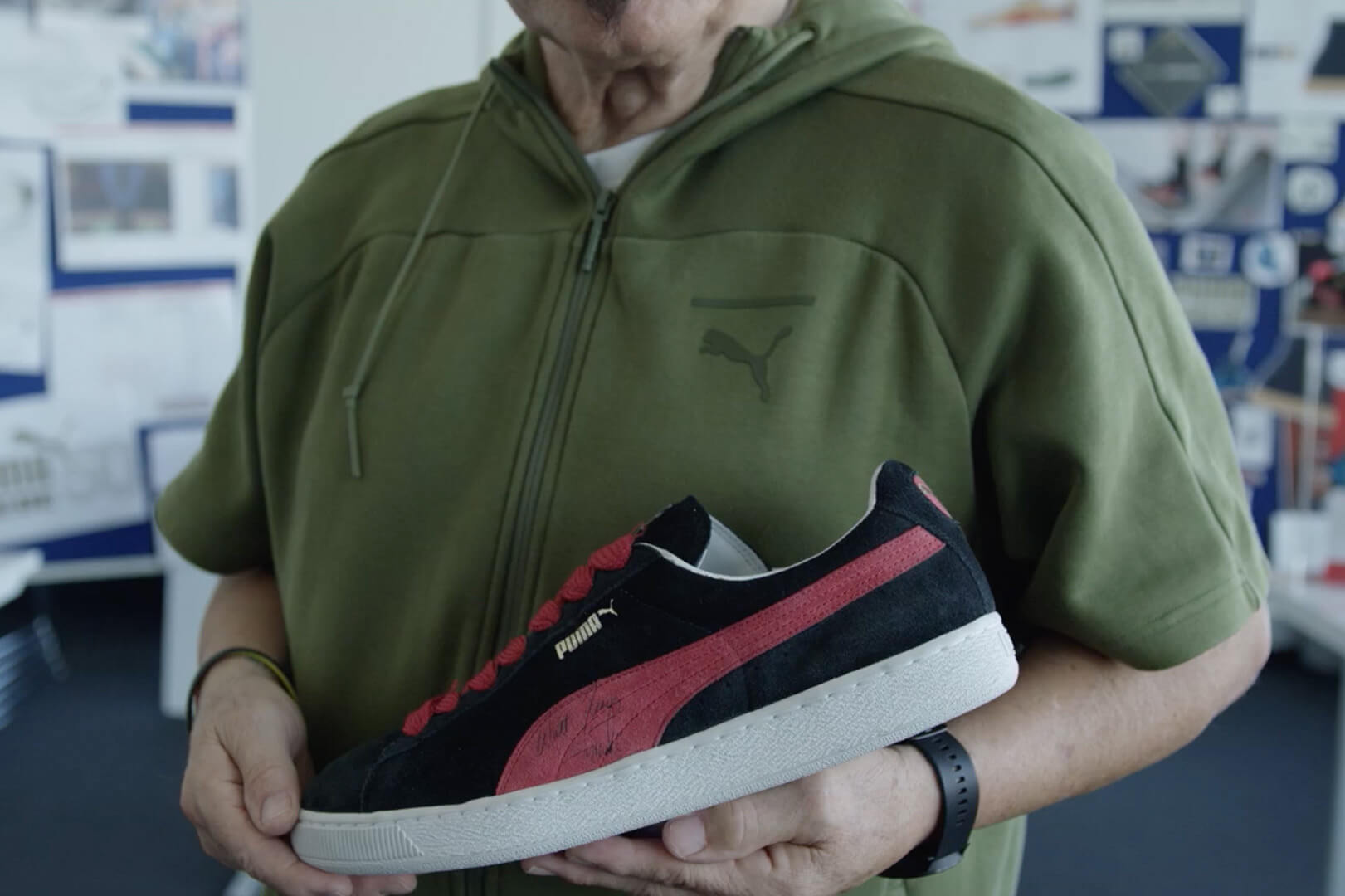 How was it working with such a variety of different types of talent?
"The creative process is the most exciting part of collaborations, because it's unique. So working with Karl Lagerfeld's team, or with STAMPD or with Poggy, it's extremely different. The way they approach product, the execution of product, the way they approach storytelling, every time it's different, because a fashion house, a designer, a small label, do not work the same way. But the common point is they are all passionate about what they do, and they were all passionate about the 50 years of Suede, and they were all proud being part of it."
What are the key challenges for Suede, and PUMA, going forward?
"So the key challenge for the future, especially now the market is moving so fast, is to keep it exciting and to keep telling stories that are meaningful to new generations. It's like building history around a shoe – the shoe needs to be in the right event, in the right moment of every generation. That's what will make the difference between a classic, and a regular shoe.
That's our challenge and that's what we're doing, and I think this 50 year anniversary has demonstrated the presence of the style, the Suede, not least because almost every second week we have something to say!"
PUMA x SONRA Suede Classic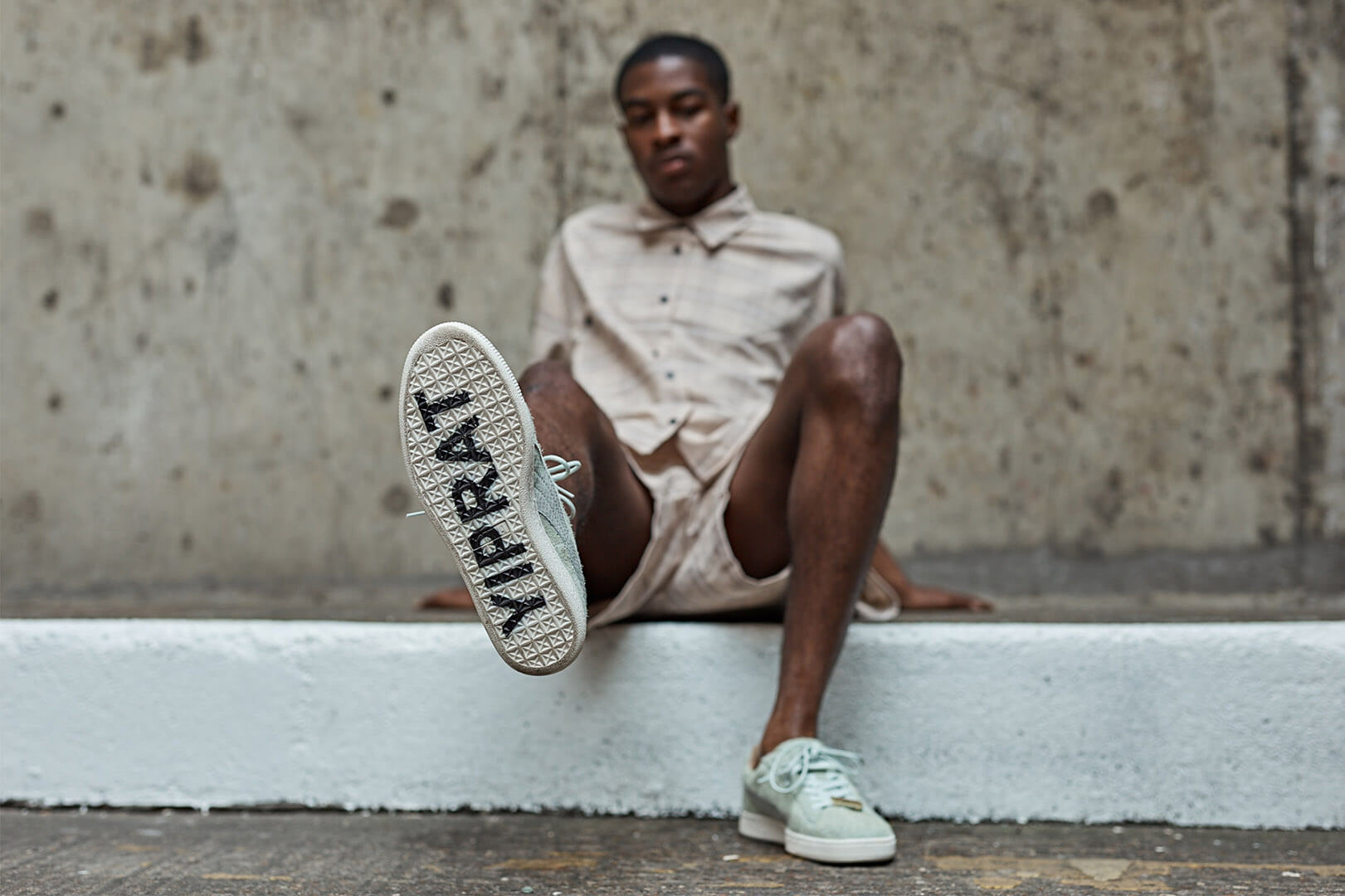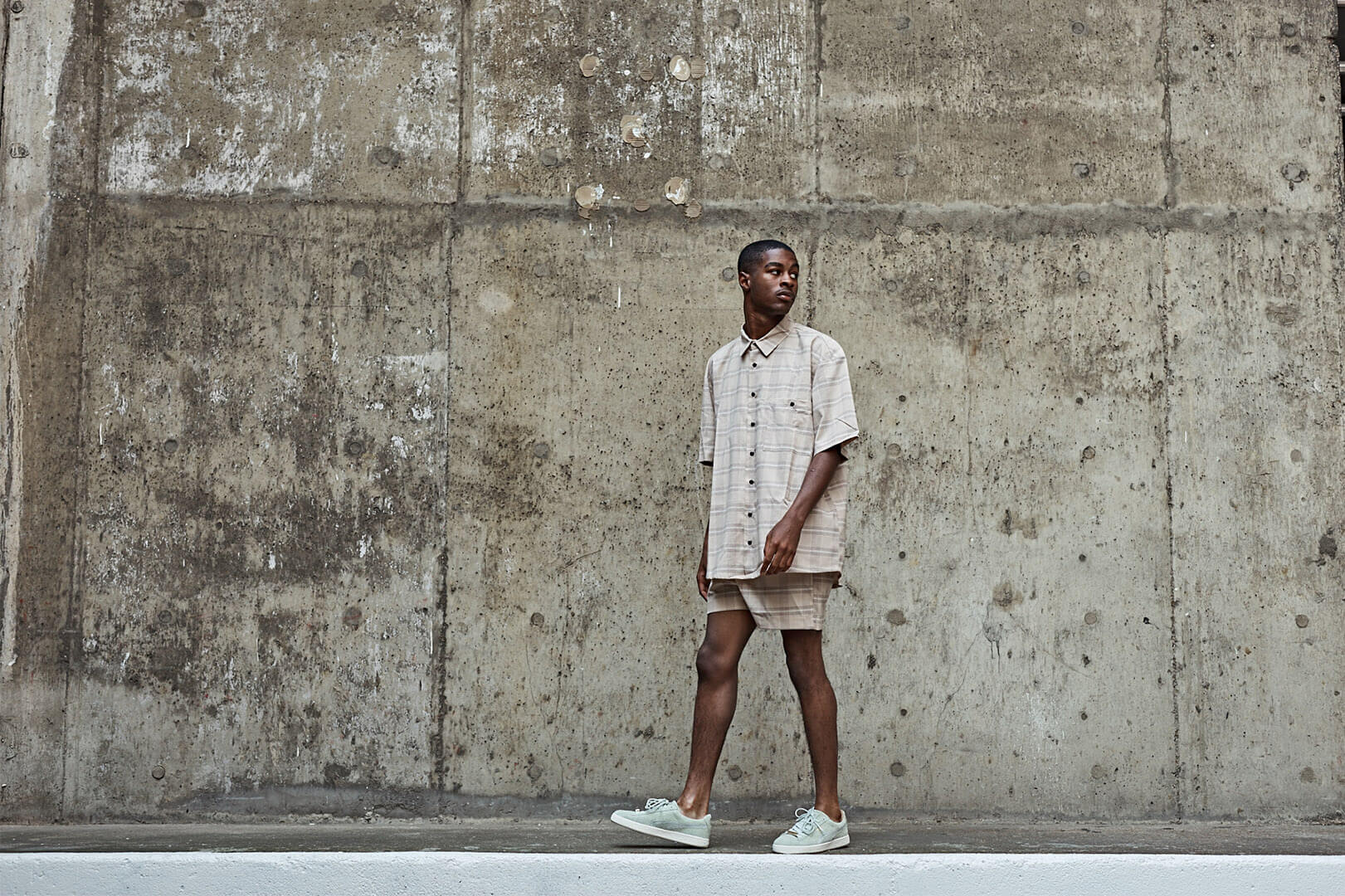 "The Suede is an icon, a pillar of the sneaker culture. With my shoe, the colorway is called 'Green Lily'. It's a mix between the typical PUMA green on vintage boxes, the official PUMA green and the green on the SONRA 'Grasshopper'. I transferred the materials and craftsmanship used on my SONRAs, to the PUMA Suede, to combine our DNAs.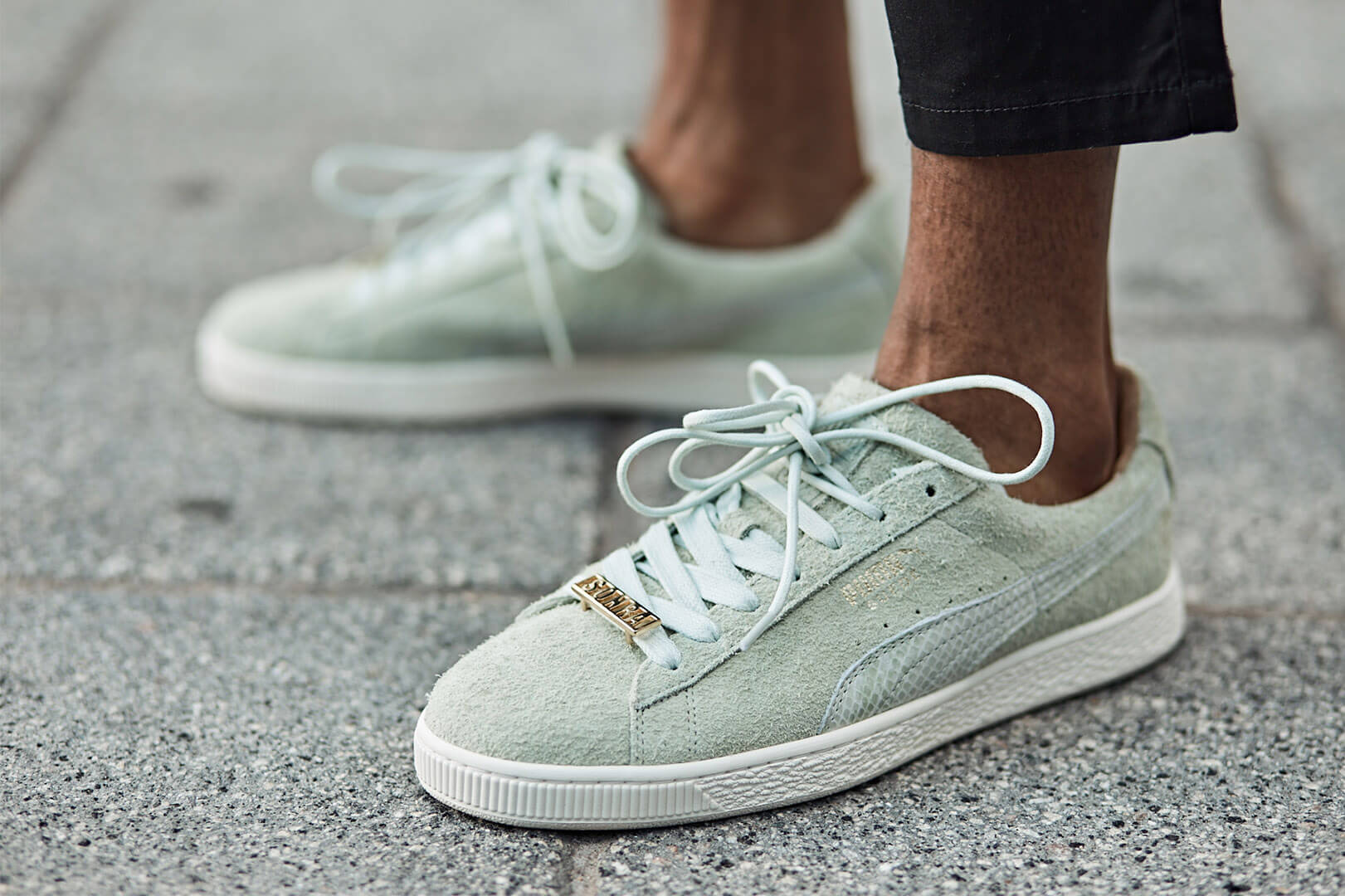 I also incorporated patterns from traditional Turkish 'kilim' rugs for the pattern on the box and on the canvas carpet inside. It symbolizes my last name, 'Sugoer', which stands for both 'water' and 'seeing'."

– Hikmet Sugoer, SONRA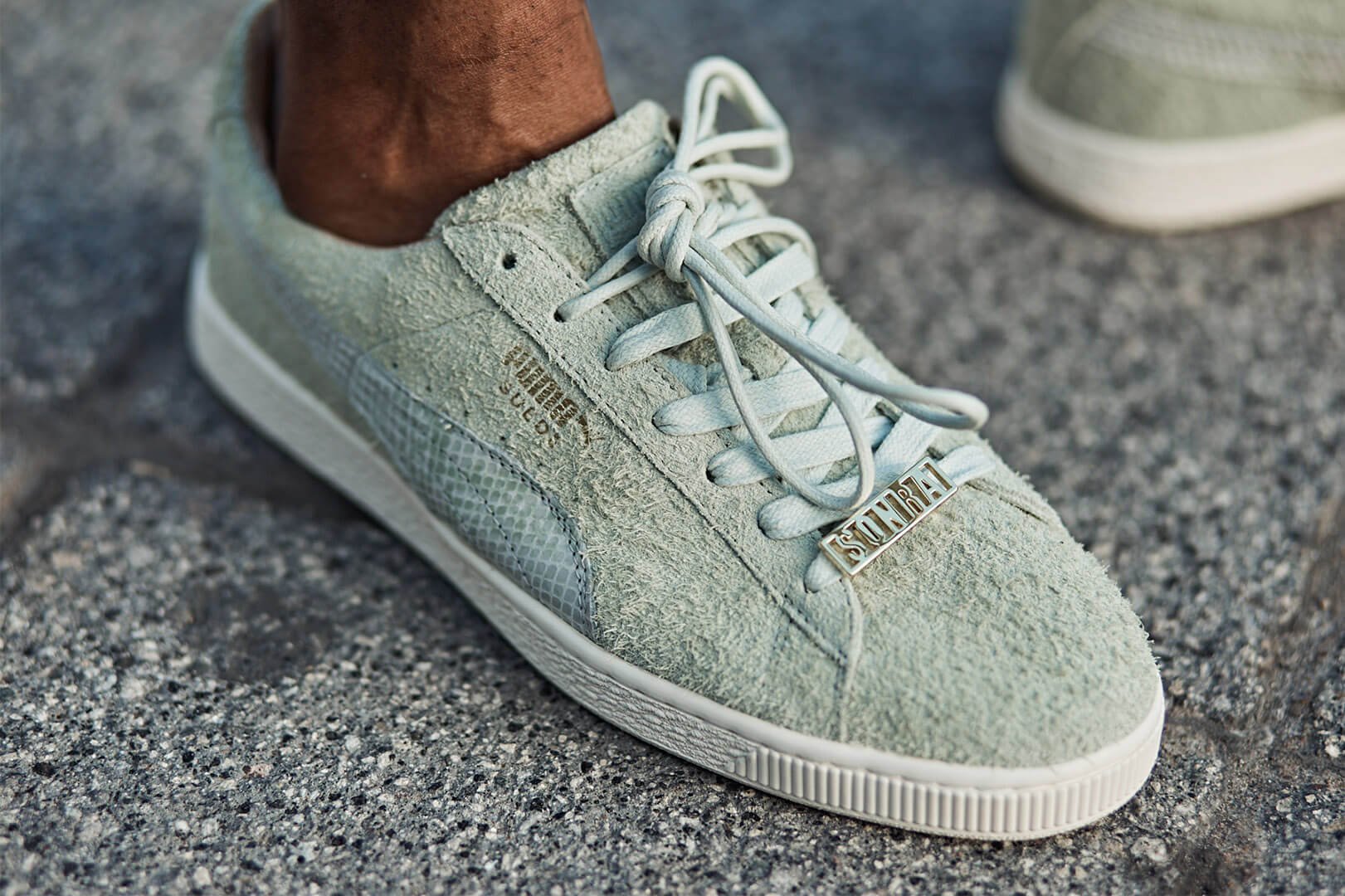 PUMA x POGGY
Suede Classic
"I like the Suede as it's the OG B-Boy sneaker – a sneaker masterpiece. I bought my first pair after seeing the Beastie Boys wear them in the 1990s.
Discussions on this project started last year during NY Fashion Week – I was very happy as this was my first time to collaborate with PUMA on a sneaker. I wanted to make it unique to suit my style – I particularly like working on denim material so I thought that it would be an interesting material for a sneaker, and of course being Japanese, I wanted to add a flavour of our culture.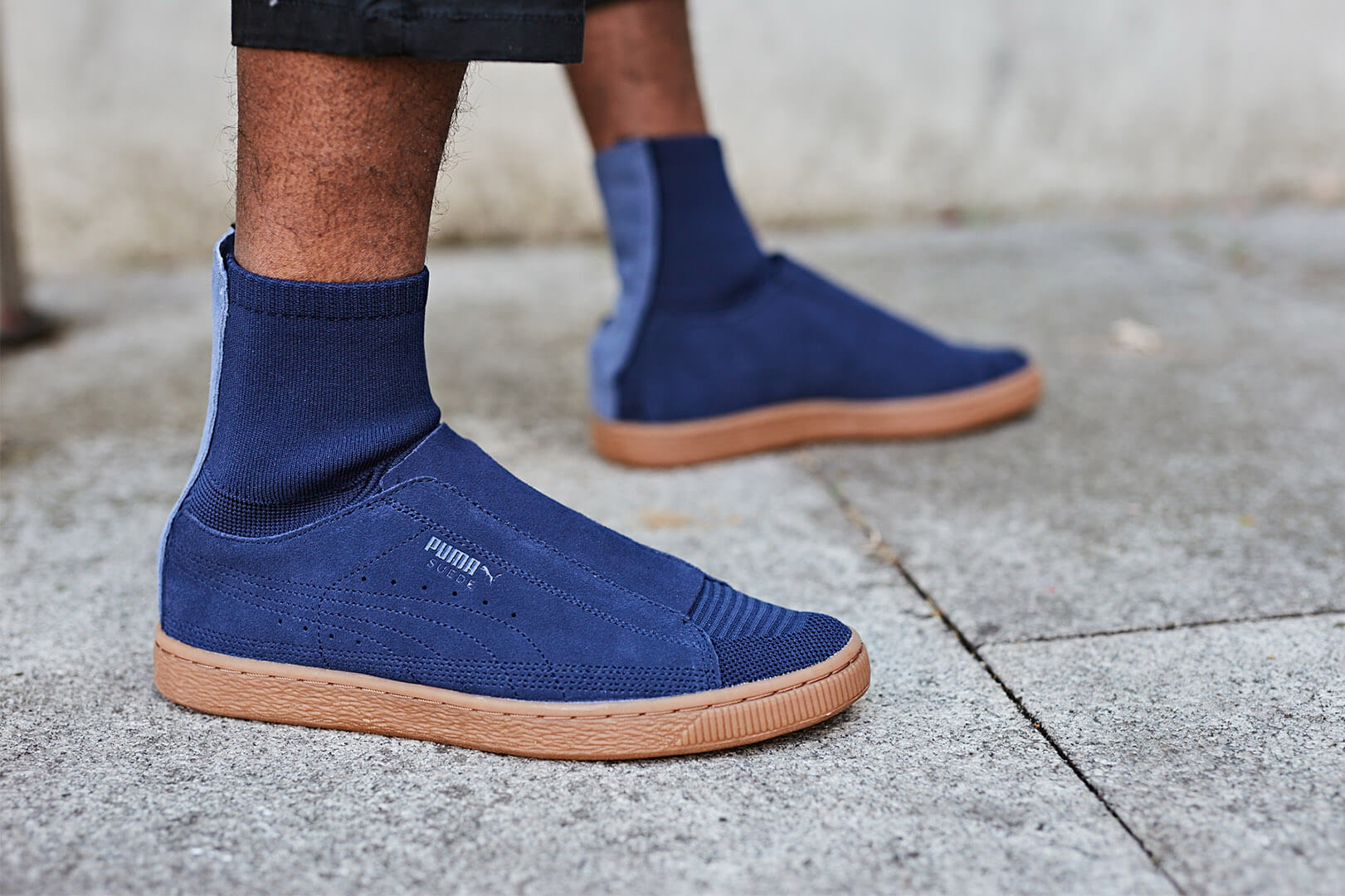 Originally I wanted to make the Suede like 'Tabi' [traditional Japanese socks], to separate the toes, but it was realistically difficult and I could not do it. However, I could design the sneaker's heel closure area using 'Kohaze' [traditional Japanese clasps], with each 'Kohaze' having the PUMA logo on, and focus on details – the stitching is made rough to give the atmosphere of a 'Tabi' sock."

– Motofumi "Poggy" Kogi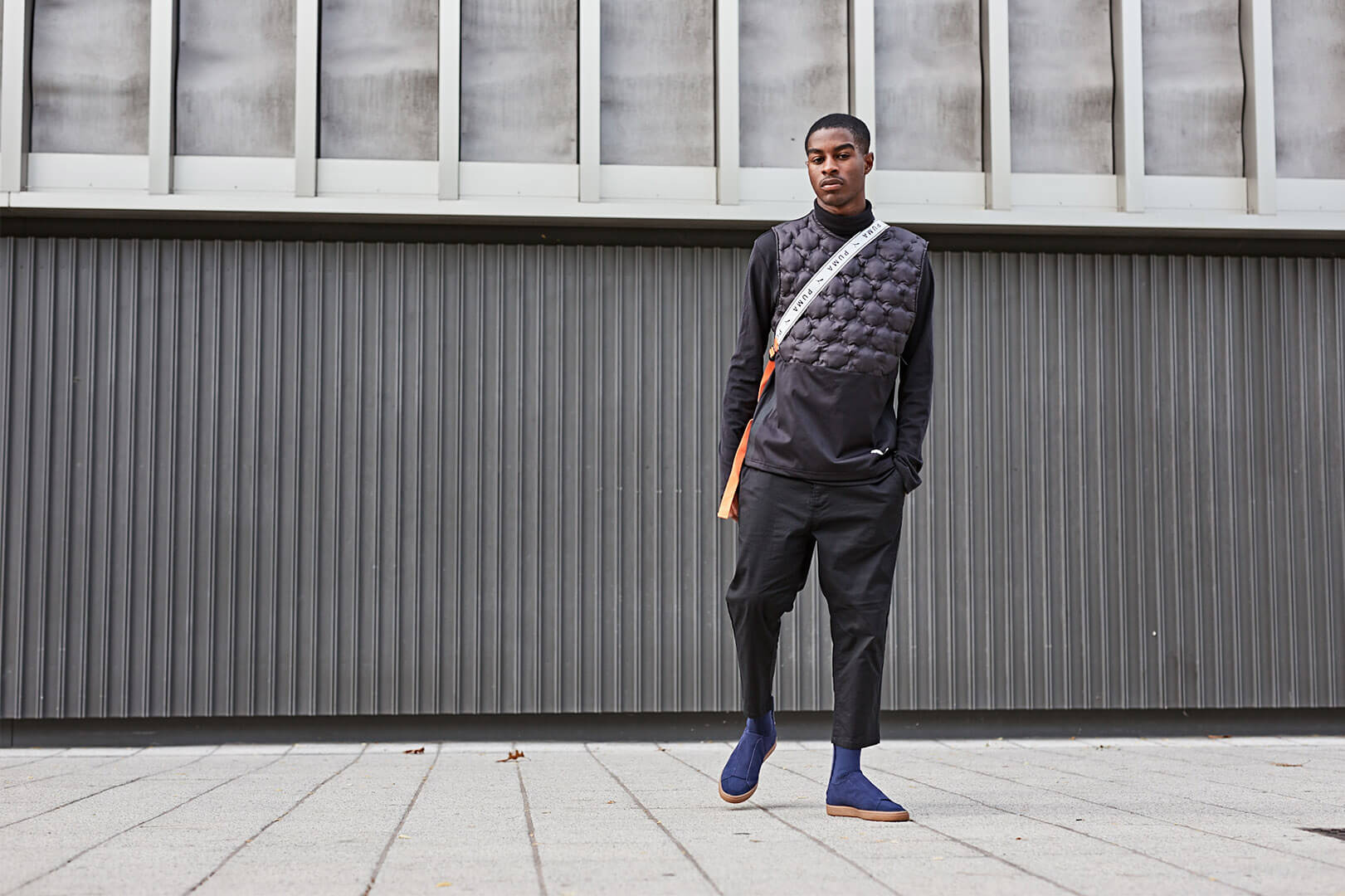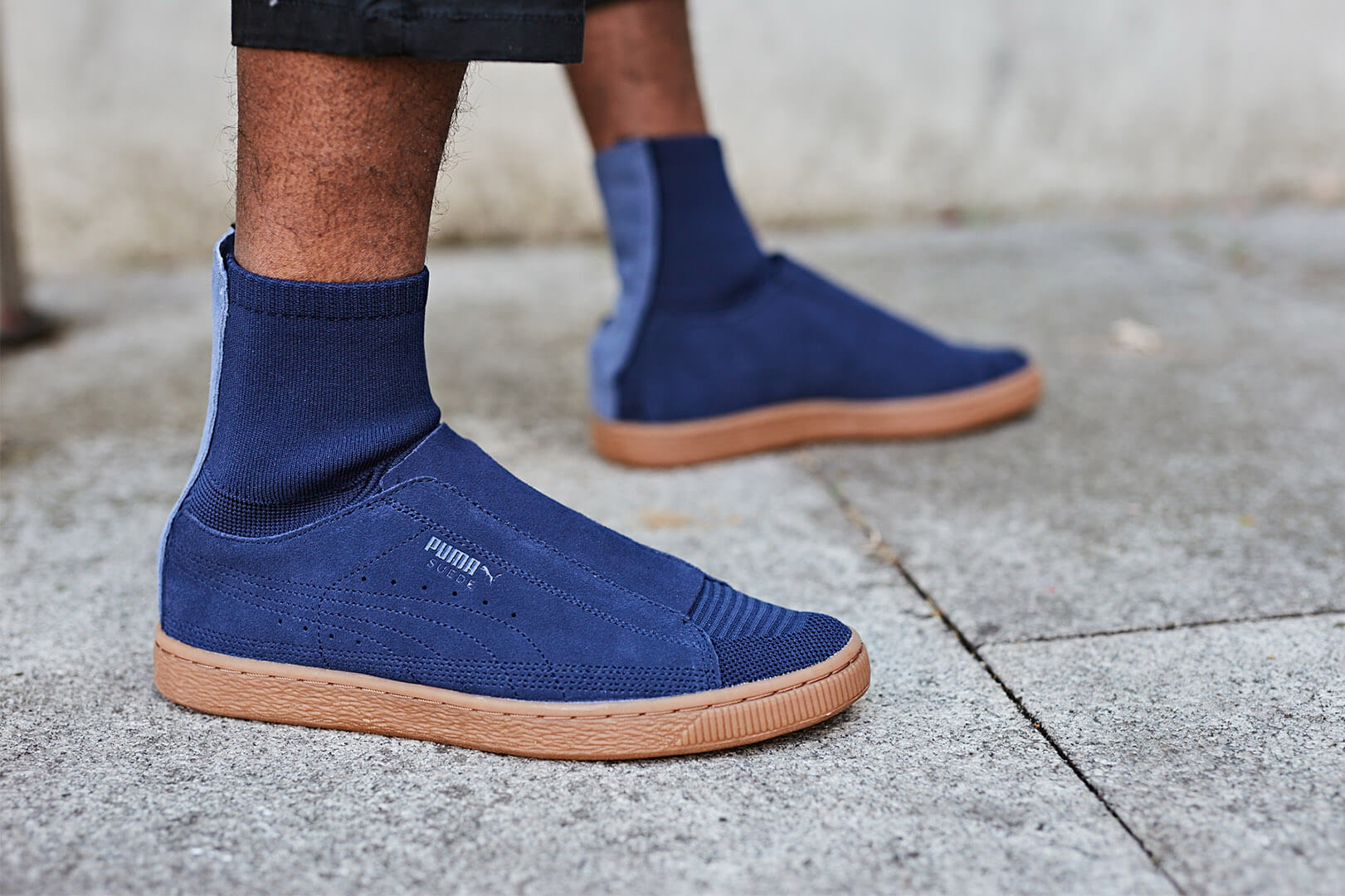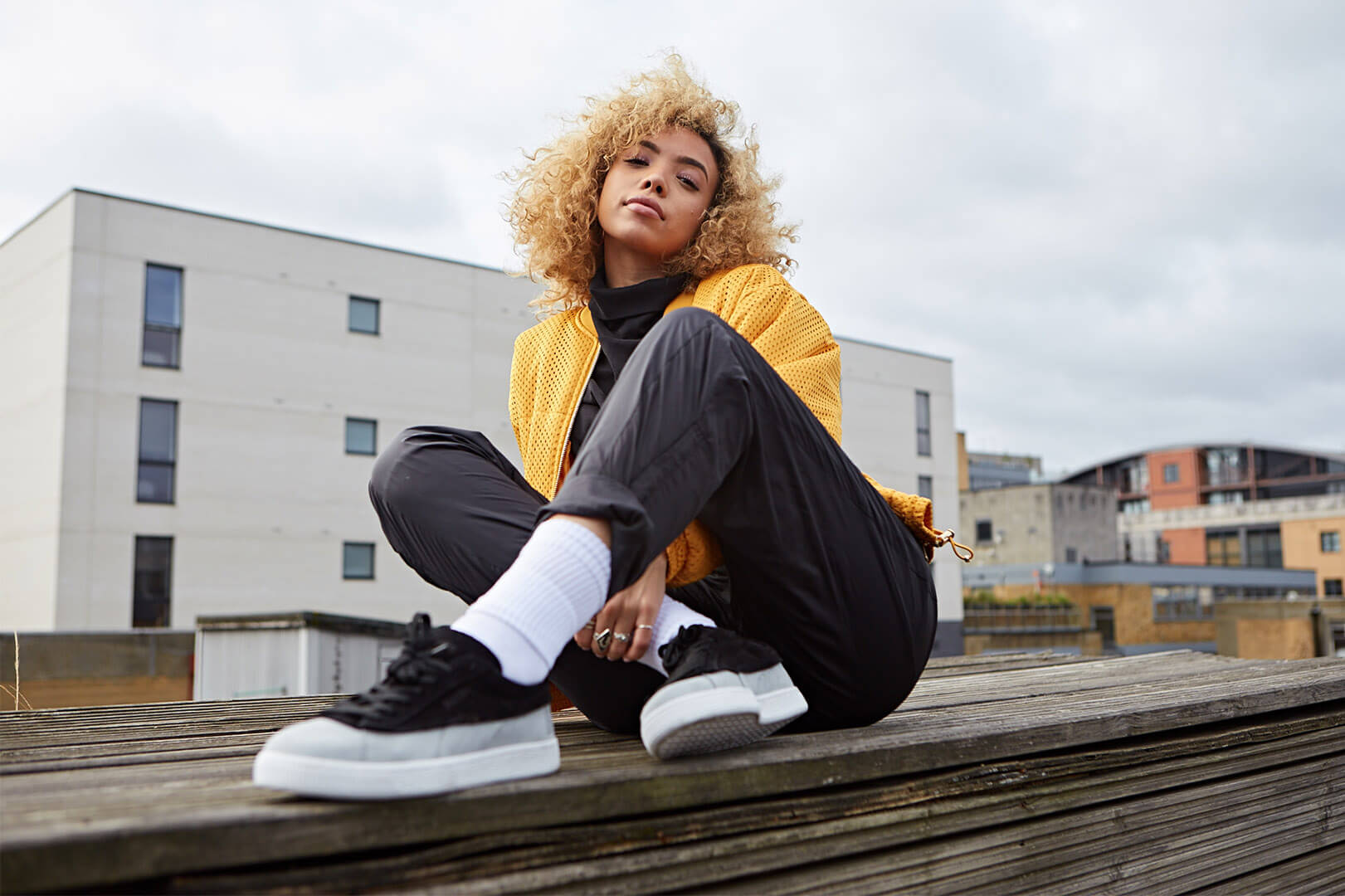 PUMA x STAMPD
Suede Classic
"Chris Stamp has been part of our PUMA Select journey for around five years. He's one of the first partners we signed and we always did extremely well with him. We like his LA, West Coast, creative input and thought the Suede was a natural fit for him.
He came up with a completely different upper execution – a double layer upper – which we've never done before. It's a creative process and you have to be positive, to try to make everything happen, but then you realise there are technical challenges in doing it. We had meetings where we said these are the challenges we have, maybe look at option B, but he was really for option A. So we pushed and challenged our factories and ultimately we managed to achieve his initial vision."

– Yassine Saidi, PUMA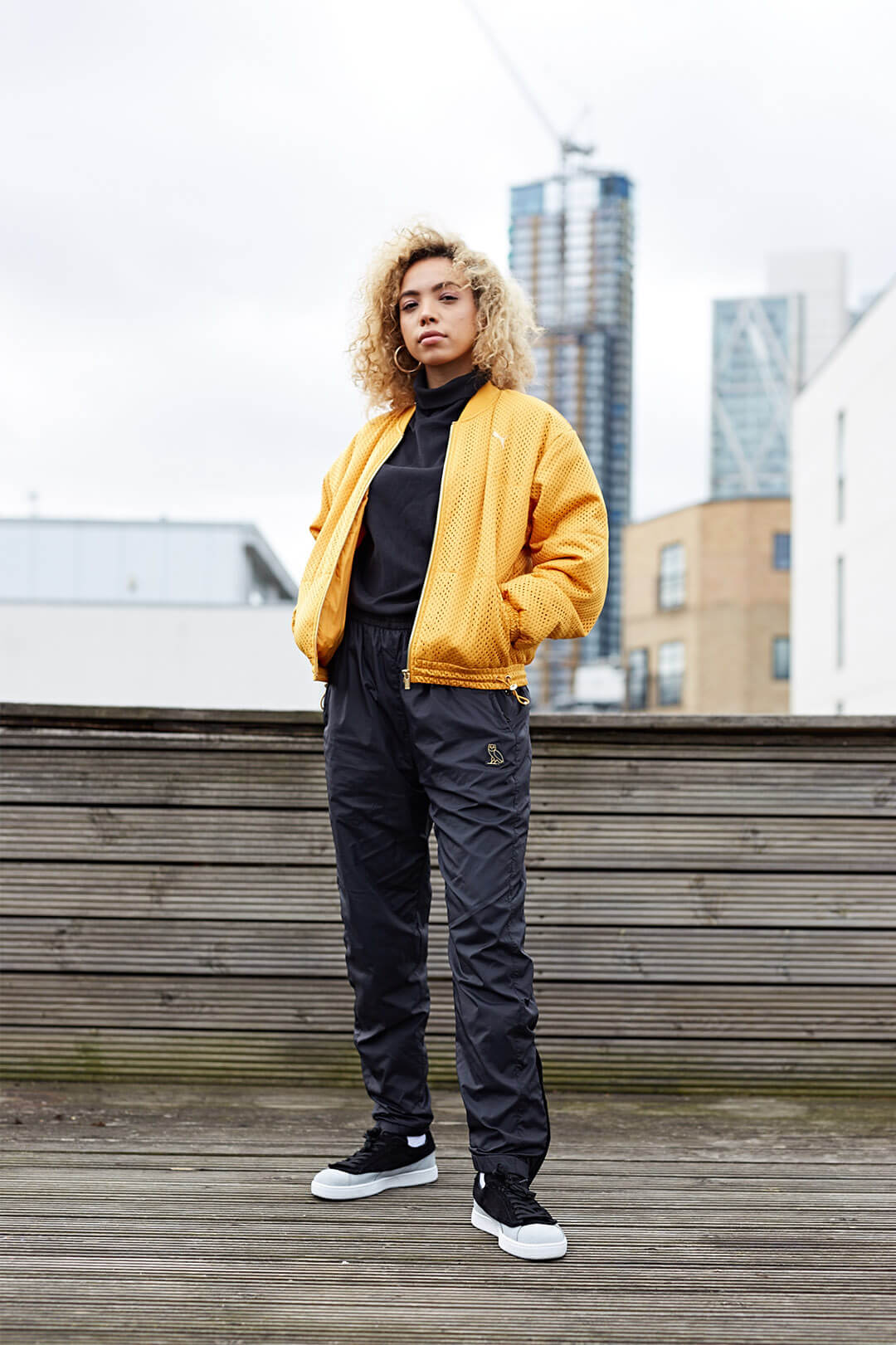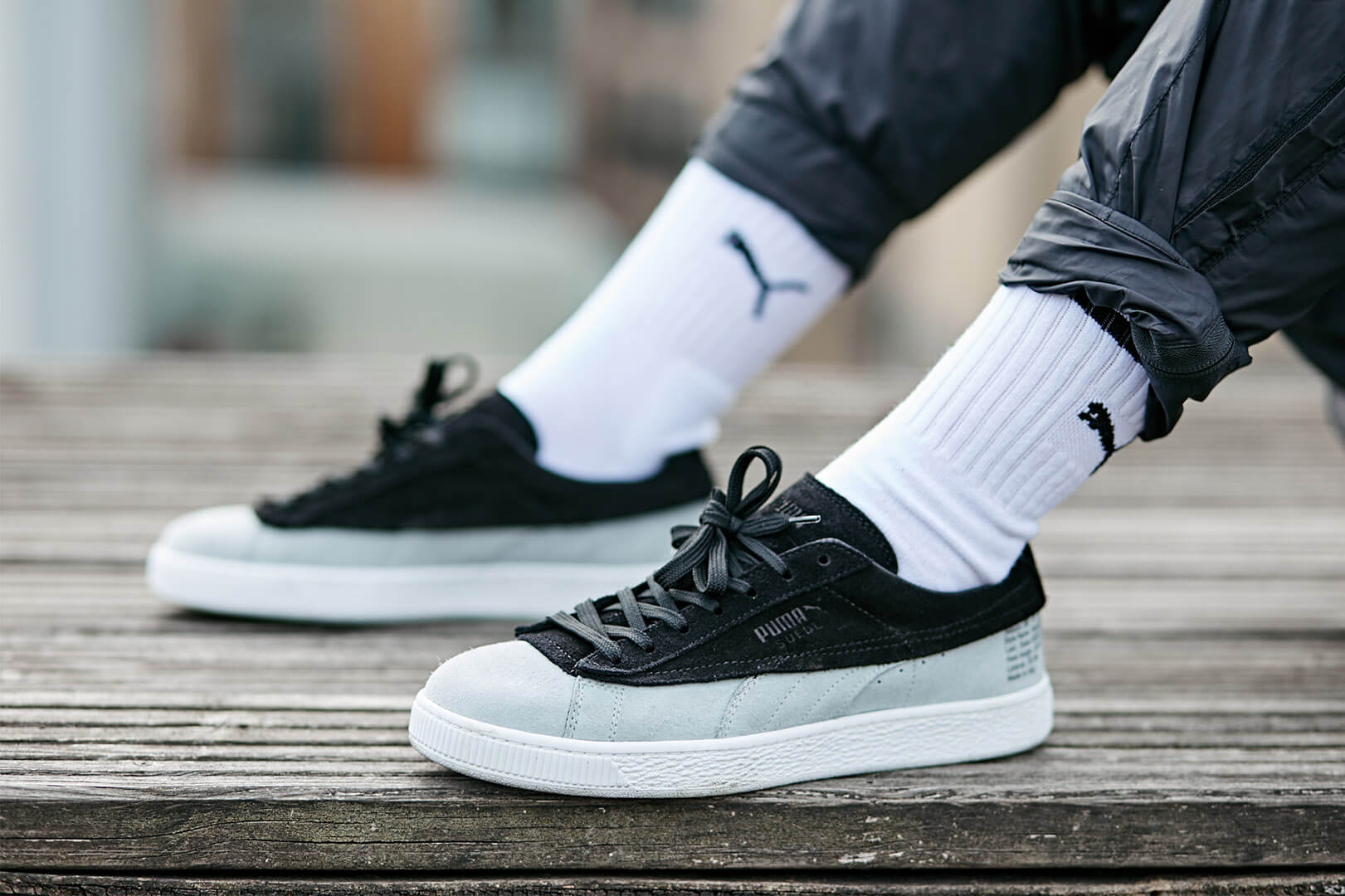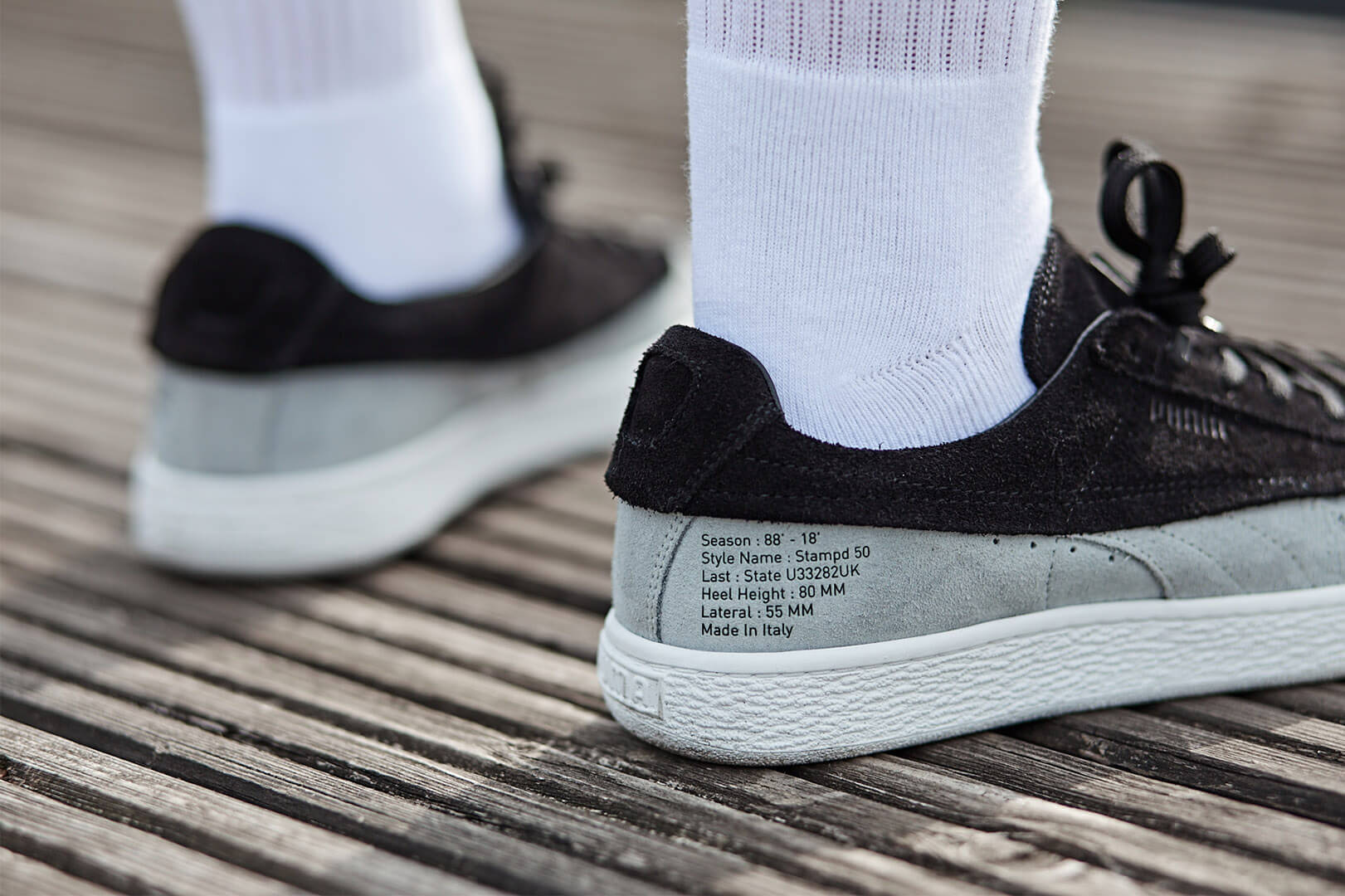 PUMA x KARL LAGERFELD
Suede Classic
"When we first started working on the line-up for Suede 50, we had a list of 150 names of possible collaborators, and then we narrowed it down and down. But there was one name that was always on top of the list – Karl Lagerfeld. Because when you talk about 50 years, often you're looking at people who impacted certain decades. Karl Lagerfeld, though, impacted all of them.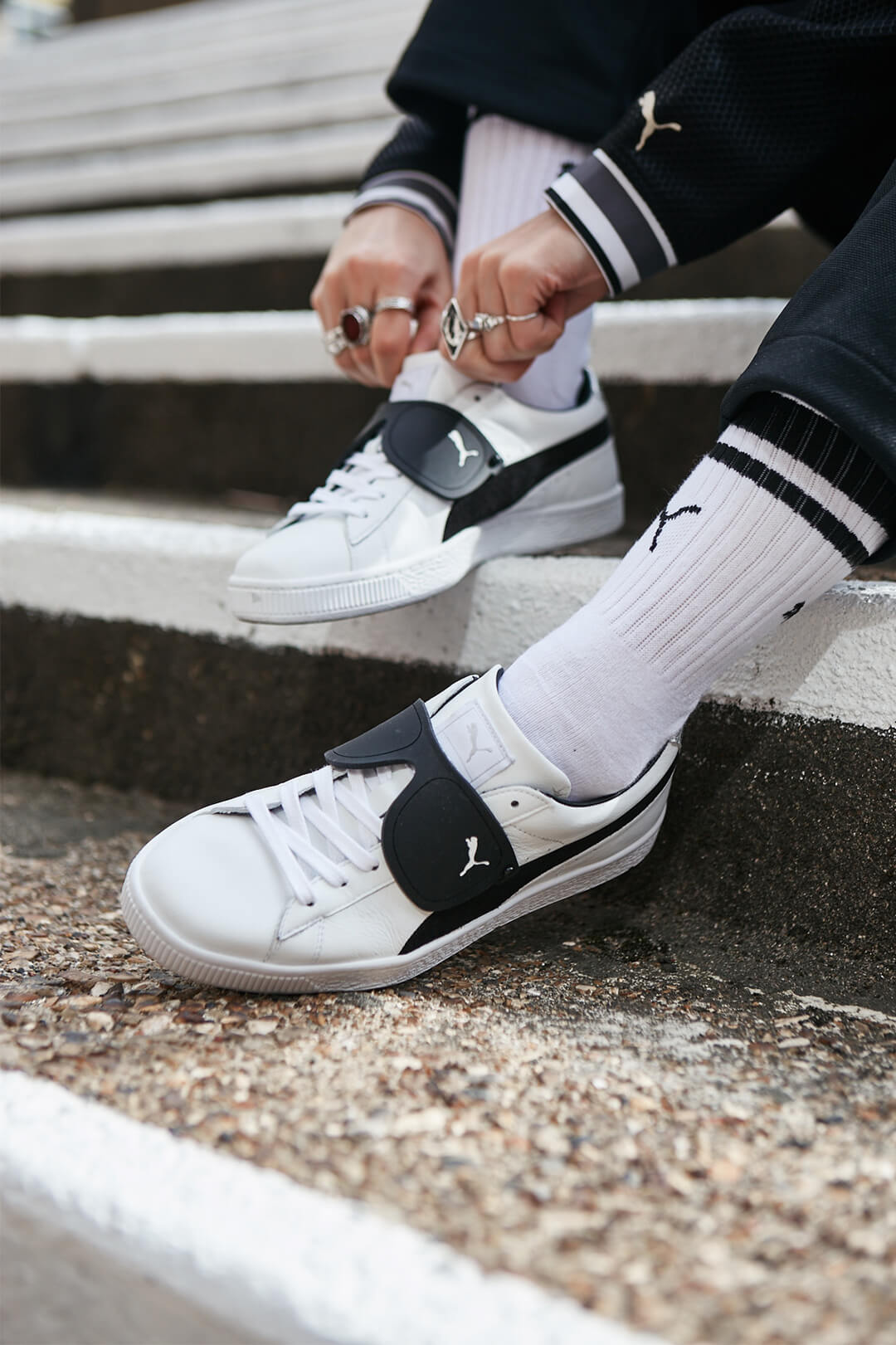 So we reached out to their team, explained what we were trying to achieve, and they were very excited. They understand the history behind the Suede and that it's not just a random shoe they'd be doing, it's a staple, it's a classic, and that is what Karl Lagerfeld is all about – reinventing the classic.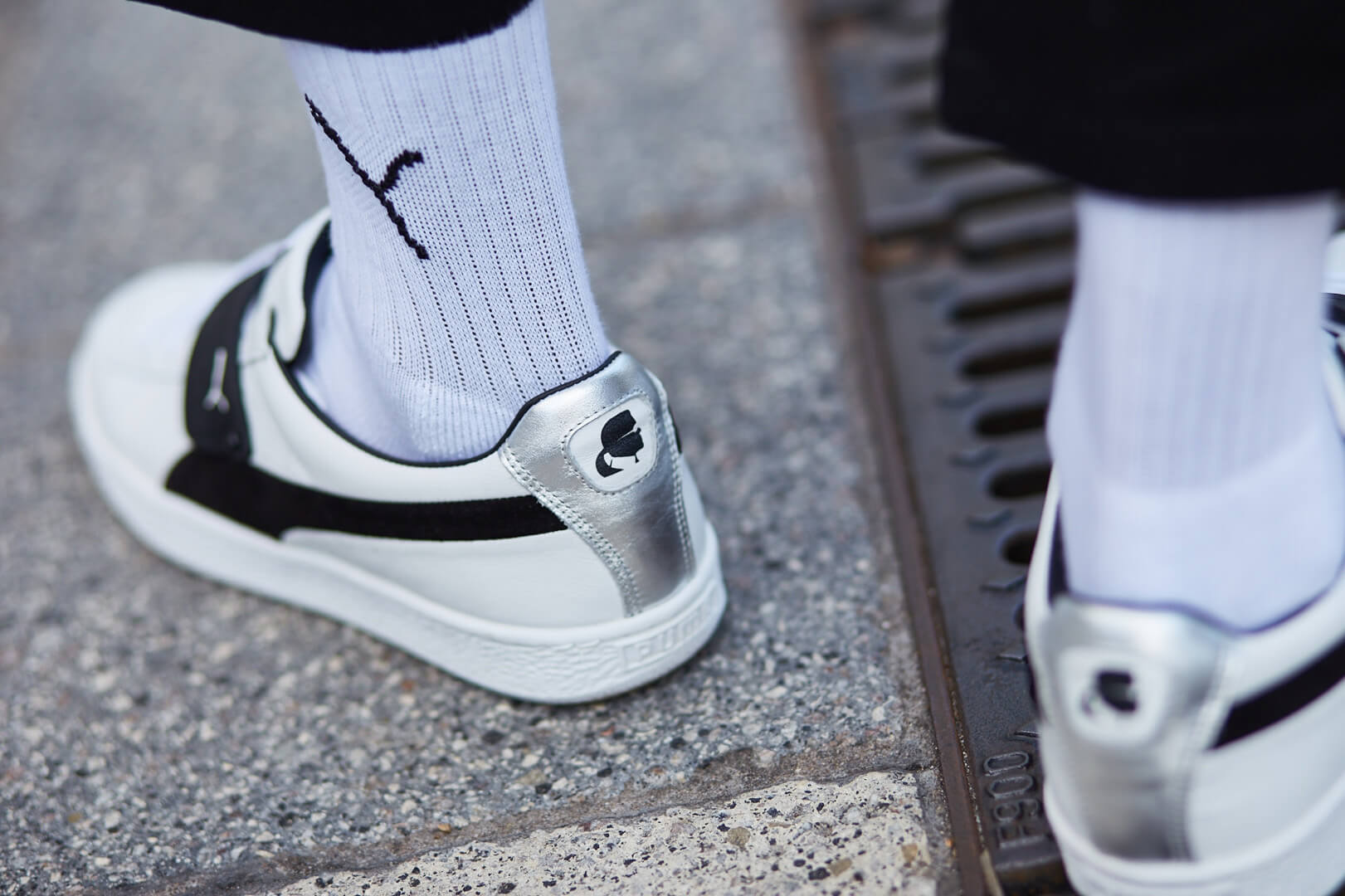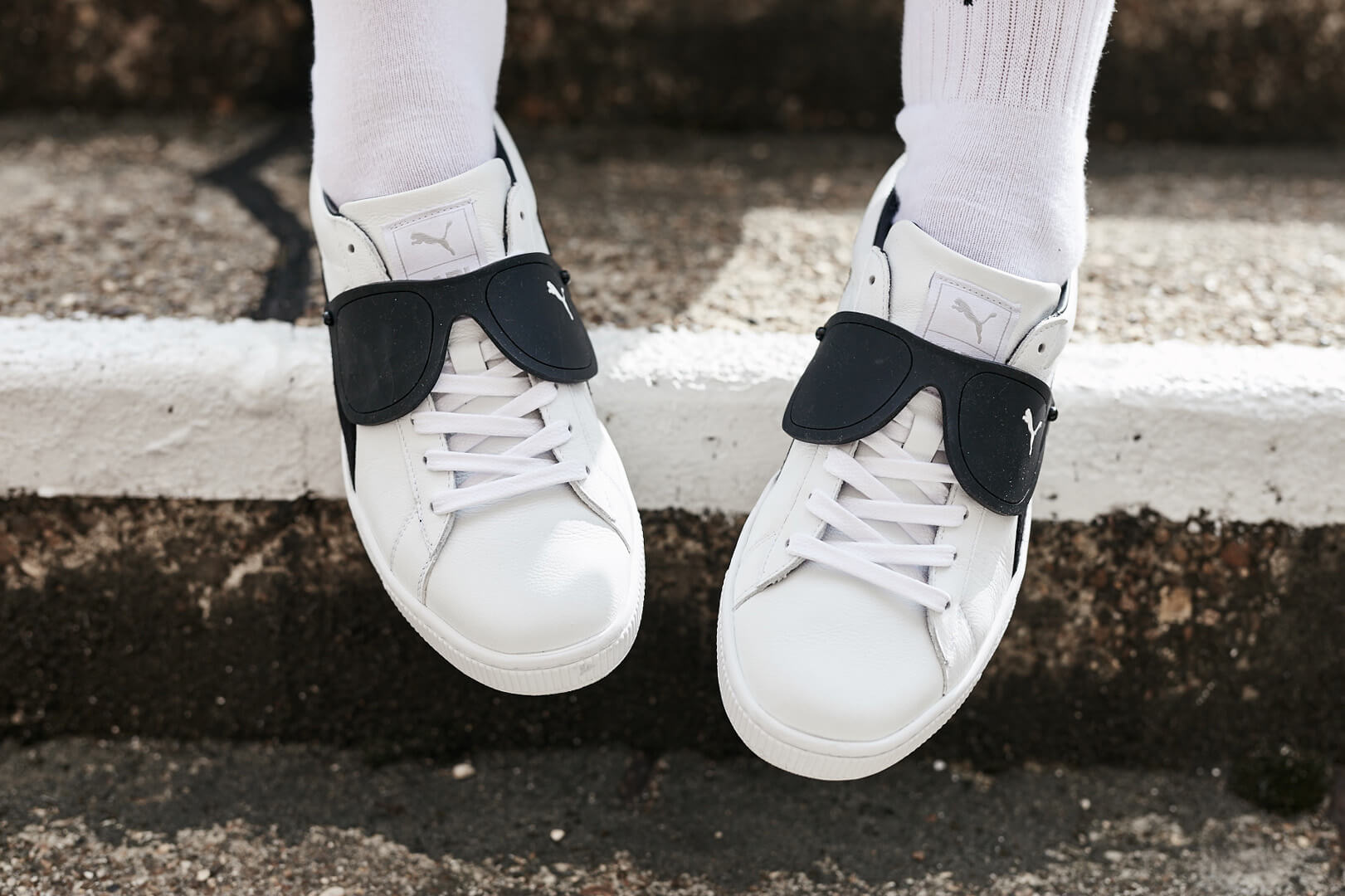 Usually, when we work on co-creation projects, before we meet our partners, the design team here start designing. Not designing with the intent to have it done, but to give a direction of what can and can't be done. When we arrived in Paris for our first meeting with their team, they had also designed everything. So we basically challenged each other – on the story, on the design, on everything – and then we built the collection.We initially went with the idea of doing one shoe, because that's usually how we work with partners.
But we ended up doing three – one will be exclusive to them – and apparel too, because the excitement was so high. The capsule collection is based on the T7 jacket, which came out at the same time as the Suede, so also has a 50 year history. As the co-creation process was so successful, we also agreed to extend our partnership, so there will be more to come with Karl Lagerfeld after this drop."

– Yassine Saidi, PUMA
PUMA x SANTA CRUZ Suede Classic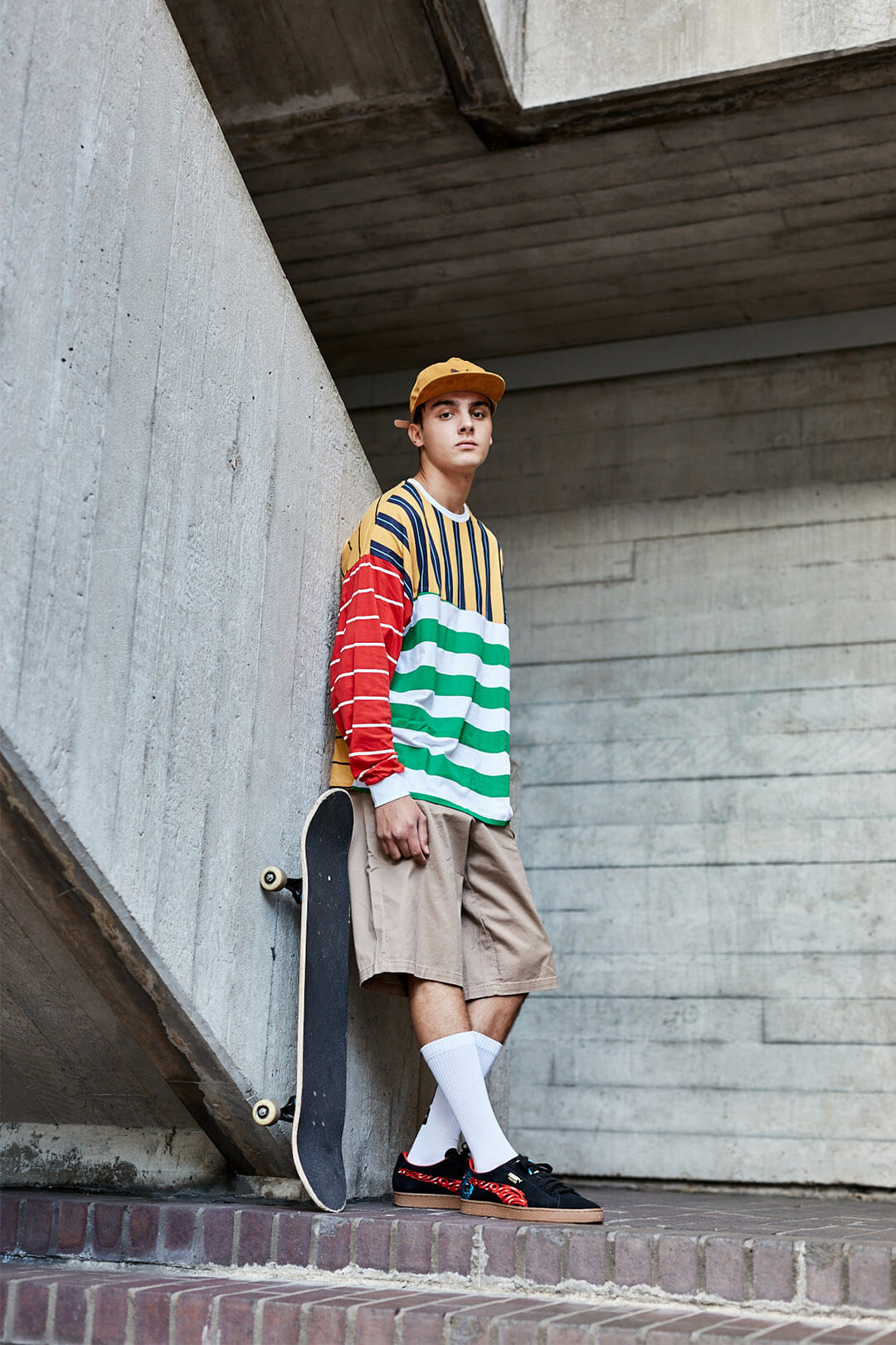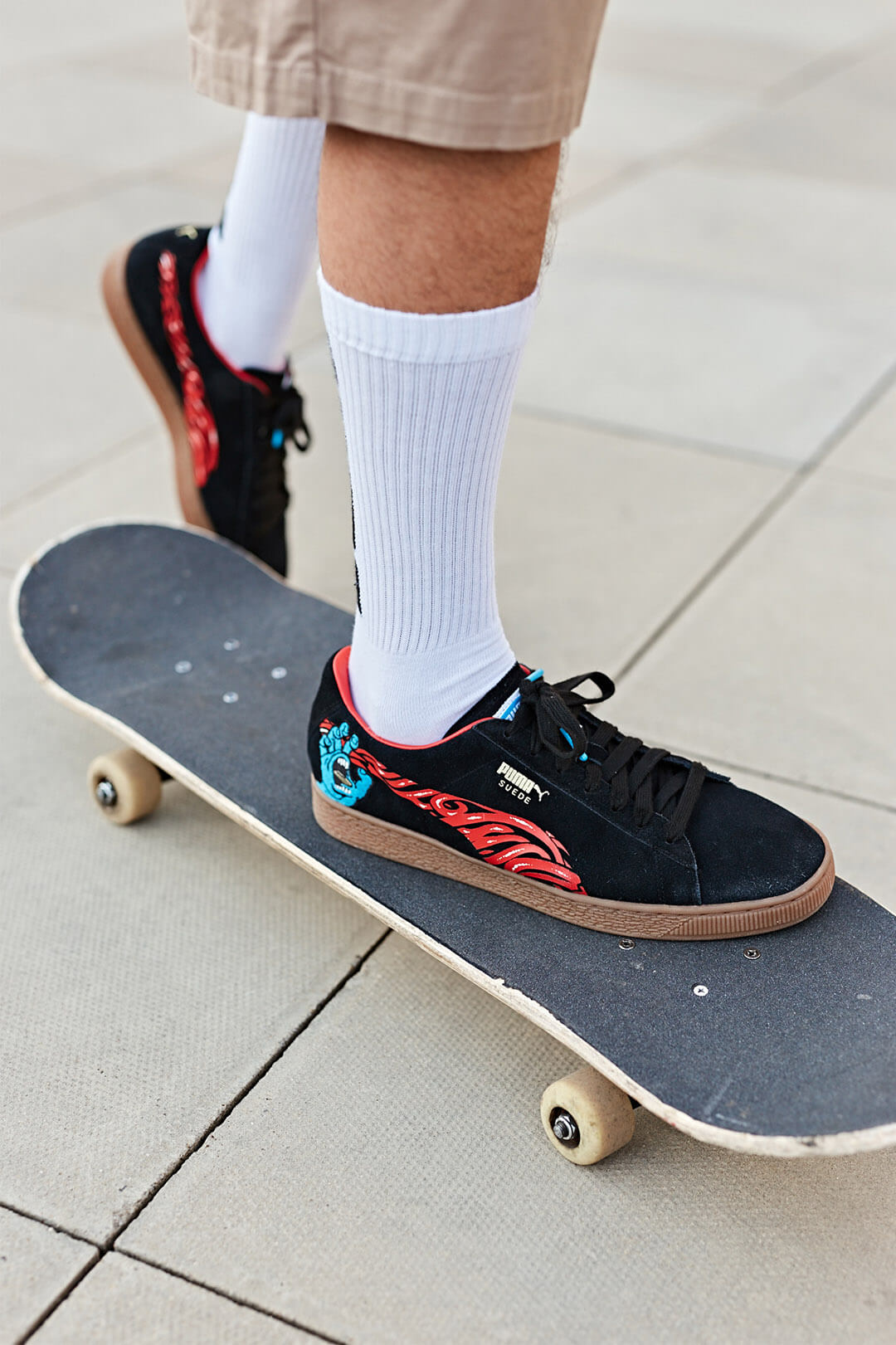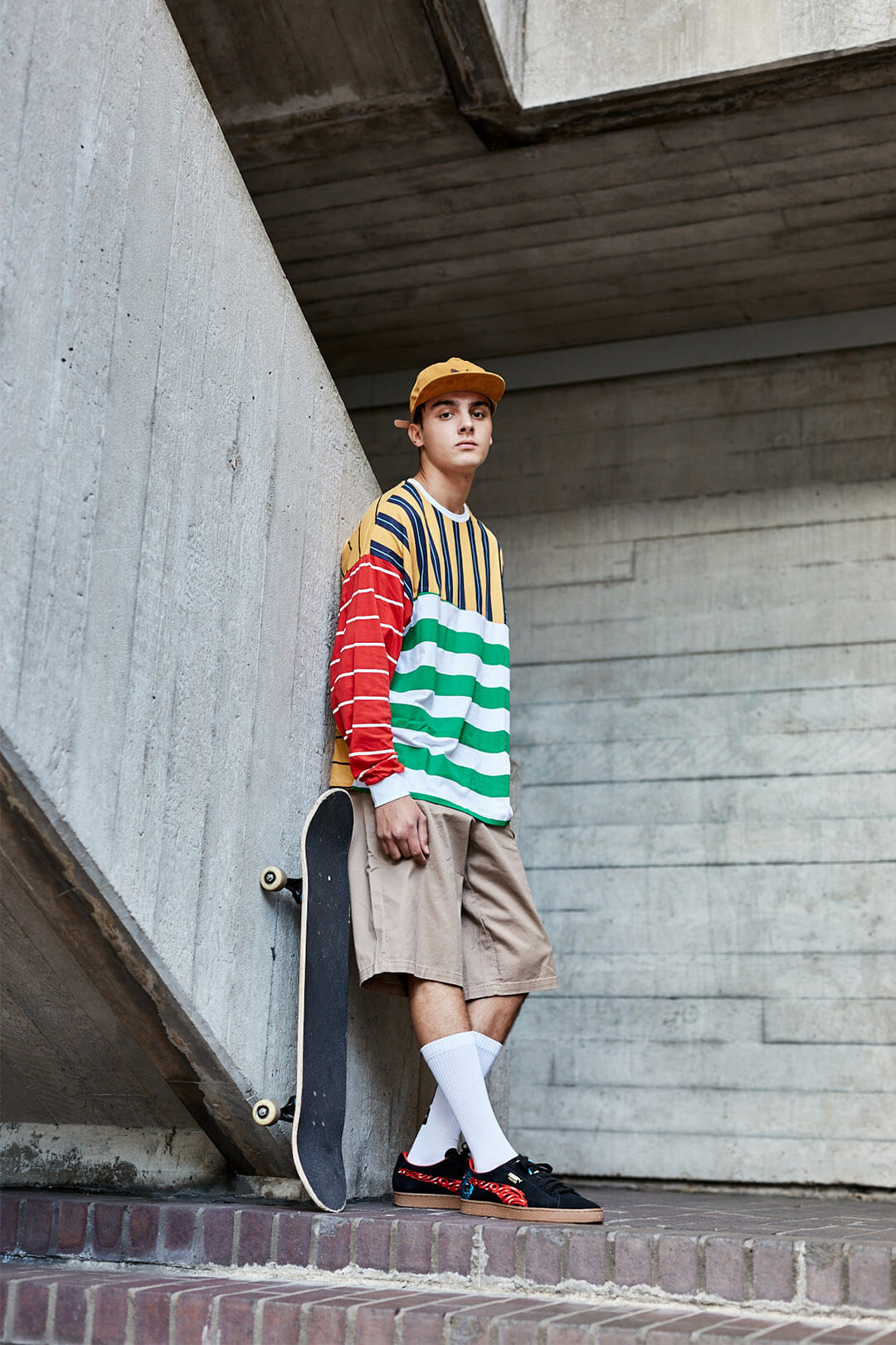 "Amongst other things, the Suede is also a skateboard shoe, so we wanted to reflect this in Suede 50. We could have looked to work with the new skateboard brands, but we thought no, let's go back to the roots of skateboarding. Santa Cruz is a brand that has had a huge impact on the sport itself and the culture around skateboarding since the beginning."

– Yassine Saidi, PUMA
"The position of designer was basically not existing for footwear and for sports product in the 60s, when the Suede was first created. Back then it was shoemakers or engineers building the shoes, and function was defining their design. So the Suede was originally built not to be a lifestyle product, it was built to be a sports shoe, to play basketball,"
"The key elements that define the Suede are the classic derby construction, the tooling on the sole giving the crepe-looking texture, the heel tab and of course the classic PUMA formstripe. Though it's a very simple, clean design, it's also incredibly flexible to work with. You can block it, you can make it sporty, and colourful, but also toned down. This has been a key part of its success, from the beginning – the different colours, plus the suede leather being sophisticated for a sports shoe, appealed to that whole flamboyant, 70s basketball look – to all the different Suede 50 products we see today. The Suede is the most important and most iconic shoe we have within PUMA. It's a very timeless product, with many possibilities."

- Heiko Desens, Creative Director, PUMA Sportstyle

Photography: David Townhill. Video: Elliot Simpson. Stylist: Jen Electro.
Models: Ethan Richards, Areej Osman, Sebastian Hoar. Site design and development by Plinth.
Privacy Policy | Terms of Use