So, you want to start running! One of the best things about running is that, with the right shoe, you can do it anywhere. Just open your front door and step outside. It's a great way to sightsee in your own neighborhood, get some fresh air, work on your tan, and catch up on music and podcasts.
It's worth a trip to your local sporting goods or running store to give these shoes a short trial run. You should go up somewhere between a half and full size from your regular street sneakers for running shoes. Look for at least the width of your thumb between the top of your big toe and the top of the shoe to avoid jamming your toes into the front of the shoe, which makes for a significantly more comfortable run.
This list of the best running shoes for women includes shoes that vary in the amount of cushion and support—but you can't go wrong with any of them, so make your pick based on what's most comfortable for you. Some people like a lot of cushioning and others like something lighter. There's no wrong answer.
Once you start running, it's worth keeping track of how many miles you're putting in, because it can help you know when it's time to replace your shoes. All of the shoes we picked can typically rack up between 200 and 500 miles before it's time to move on, but it's important to be aware of the miles you've put in, because overused running shoes can increase your risk of injury.
Like any shoe, new running shoes need a few wears to break in, so invest in a few good pairs of socks to help avoid blisters. You can't go wrong with Lululemon's High Speed Sock or just about any sock Smartwool makes. The other anti-blister secret is to use a thin layer of BodyGlide on your toes and the ball of your foot, which reduces chafing between your sock and skin. Regular old drug store Vaseline works perfectly well, too.
One last trick: If you have weak ankles (it's OK, so does Steph Curry) or get shin splints often, look into getting a pair of compression socks, which increase blood flow to speed up recovery and help with muscle soreness. Nike's over-the-calf compression sock definitely gets the job done. And now, on to the list of the best women's running shoes.
Saucony Ride 9
Best for: Neutral runners looking to put in a lot of miles
The Saucony Ride 9s can hold up for up to 500 miles. With all around cushion and support that takes the pressure off the forefoot, you can lace up and go forever with these babies.
$120, available at saucony.com
Saucony Freedom ISO
Best for: Performance runners looking for a light shoe
The Freedom ISOs are lighter and more flexible than the Ride 9s, but still boast plush cushioning. They make for a good secondary shoes for distance runners on race day or for shorter, faster runs. Also, they're pretty good looking.
$160, available at saucony.com
New Balance 880v7
Best for: The long haul
The 880v7s are excellent training shoes, made to take you between 300 and 500 miles. The fit and feel is similar to the Saucony Ride 9s, and they're perfect for training for a 10K or half marathon.
$125, available at newbalance.com
Nike Air Zoom Vomero 12
Best for: Runners looking for ankle support and a sleek look
The Nike Air Zoom Vomero 12 gives you the stylish Nike look along with a secure sock-like fit, plus built-in mesh keeps your feet cool.
$140, available at nike.com
Nike LunarGlide 8
Best for: Runners looking for a stable, but lightweight shoe
At 8.0 oz, the LunarGlide weighs nearly an ounce and a half less than its Air Zoom Vomero peer. The LunarGlide is light, but has supportive cushion and boasts a classic Nike look.
$120, available at nike.com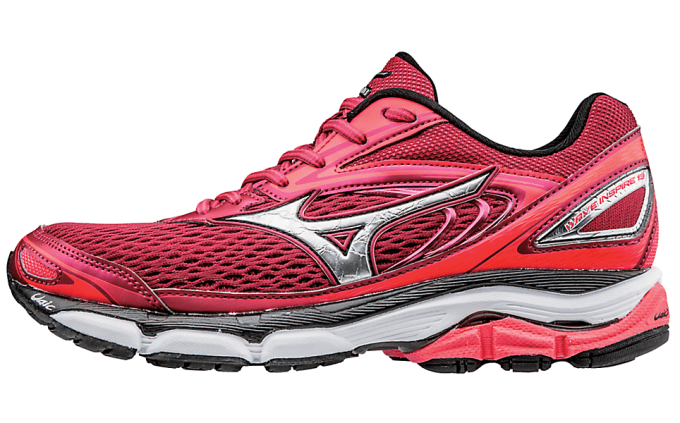 Mizuno Wave Inspire 13
Best for: Runners looking for something durable, but flexible
Mizuno does a great trail running shoe, and their road running shoes are inspired by that same balance of durable and flexible that makes for a great starter shoe.
$120, available at mizunousa.com
Brooks Ghost 9
Best for: All around balance
Brooks' Ghost 9 doesn't have too much nor too little of any one factor. It's flexible, light, stable, and cushioned all at the same time.
$120, available at brooksrunning.com
Asics GEL-Cumulus 18
Best for: A lot of miles with a little less shoe
The Asics GEL-Cumulus is in the same family as the Saucony Ride 9s and the New Balance 880v7s, although it's a little less cushioned than either of those. The GEL-Cumulus will still hold up for 300 to 500 miles, but with less plush, a trait some runners prefer.
$120, available at asics.com