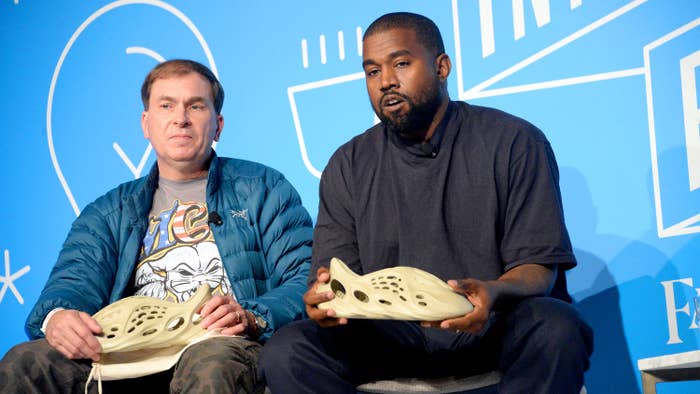 Over the summer, Kanye West gave one of his most revealing Yeezy-related interviews ever, detailing the past, present, and future of the line with Forbes. Among the highlights was the fact that he's been working on biodegradable sneakers made of algae. It wasn't clear which shoe would make use of the plant, but now we've got an idea of what to expect.
Appearing today at Fast Company's Innovation Festival alongside sneaker designer Steven Smith, West spoke more about the Yeezy brand and even came equipped with a pair of the aforementioned algae shoes. The sustainable design makes use of the upcoming Yeezy Foam Runner silhouette, although it wasn't clear if all upcoming Foam Runners will use the algae base.
West also touched on his desire to bring manufacturing back to the States, which he elaborated on weeks ago during an interview with Zane Lowe.
Stay tuned for more updates from West's appearance at the Innovation Festival.
UPDATE (11/08): Shortly after being unveiled at the Fast Company's Innovation Festival yesterday, more details regarding Kanye West's Foam Runner have emerged. By making the foam of the shoes from algae, the company can help clean the waterways to protect wildlife and drinking water, while also avoid using fossil fuels typically used to make the material. West also states that the company is exploring alternatives to harmful dyes. According to the Yeezy Mafia, fans can expect the Yeezy Foam Runner to arrive sometime early next year for a retail price of $75.