The opening night of each NBA season is a big to do for fans of the sport. The NBA highlights the matchups that heat up rivalries from the previous season and brings out the best players. Sneaker brands do the same and often lace their signees with eye-catching shoes.
To get a better look at why opening night is a big deal to sneaker nerds, we went all the back to 2002 and broke down the best sneakers worn for opening night, year-by-year. Kobe Bryant. LeBron James. Ray Allen. Names that ring bells in (soon to be) the Hall of Fame for both their on-court achievements and sneaker games. The season started last night, and there was plenty of action.
Here are the best. 
2002 - Air Jordan XI "Concord"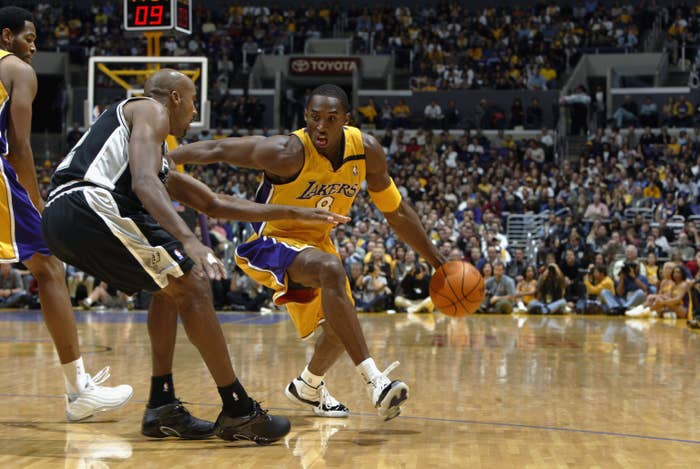 Worn by: Kobe Bryant
From the time Kobe Bryant left Adidas in the summer of 2002 to when he signed with Nike nearly a year later, he was the most coveted free agent in sneaker history. And with no deal, man did he flex. Bryant didn't build up to anything either, as he came out for the Lakers season opener in a pair of Concord Air Jordan XIs, one of the best Air Jordans ever produced. Over the course of the season he'd lace up everything from And1 Tai Chis to Reebok Questions—and even wear "True Blue" Air Jordan IIIs in the All-Star Game while lining up against Jordan himself. But going against the time-honored phrase, Kobe saved the best for first. —Russ Bengtson
2003 - Air Jordan XI "Cool Grey"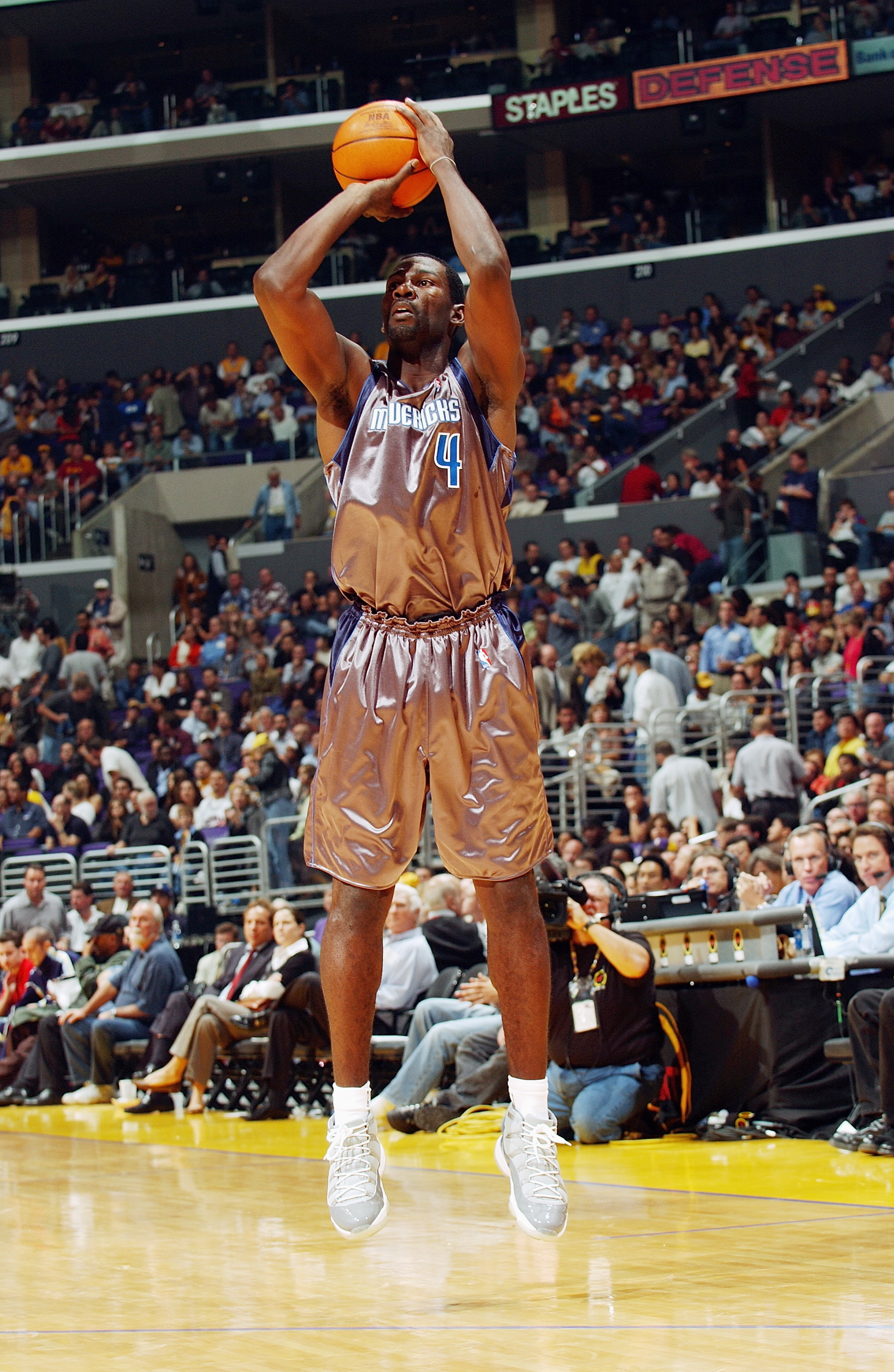 Worn by: Michael Finley
When the Dallas Mavericks opened the 2003-'04 season against the Lakers at the Staples Center, no one was looking at their feet. That's because they were wearing an all-new alternate road uniform, shiny metallic silver ones that would wind up only being worn the one time. They were, in a word, hideous. Michael Finley's shoes were not that. The longtime Jordan endorser (who grew up in Chicago) wore a pair of Cool Grey XIs, a style which had previously been worn on-court by Jordan as a member of the Washington Wizards. When Finley thinks back on this game, maybe he should just, uh, reflect on the shoes. —Russ Bengtson
2004 - Nike Air Force 1 Hi PE "Sheed"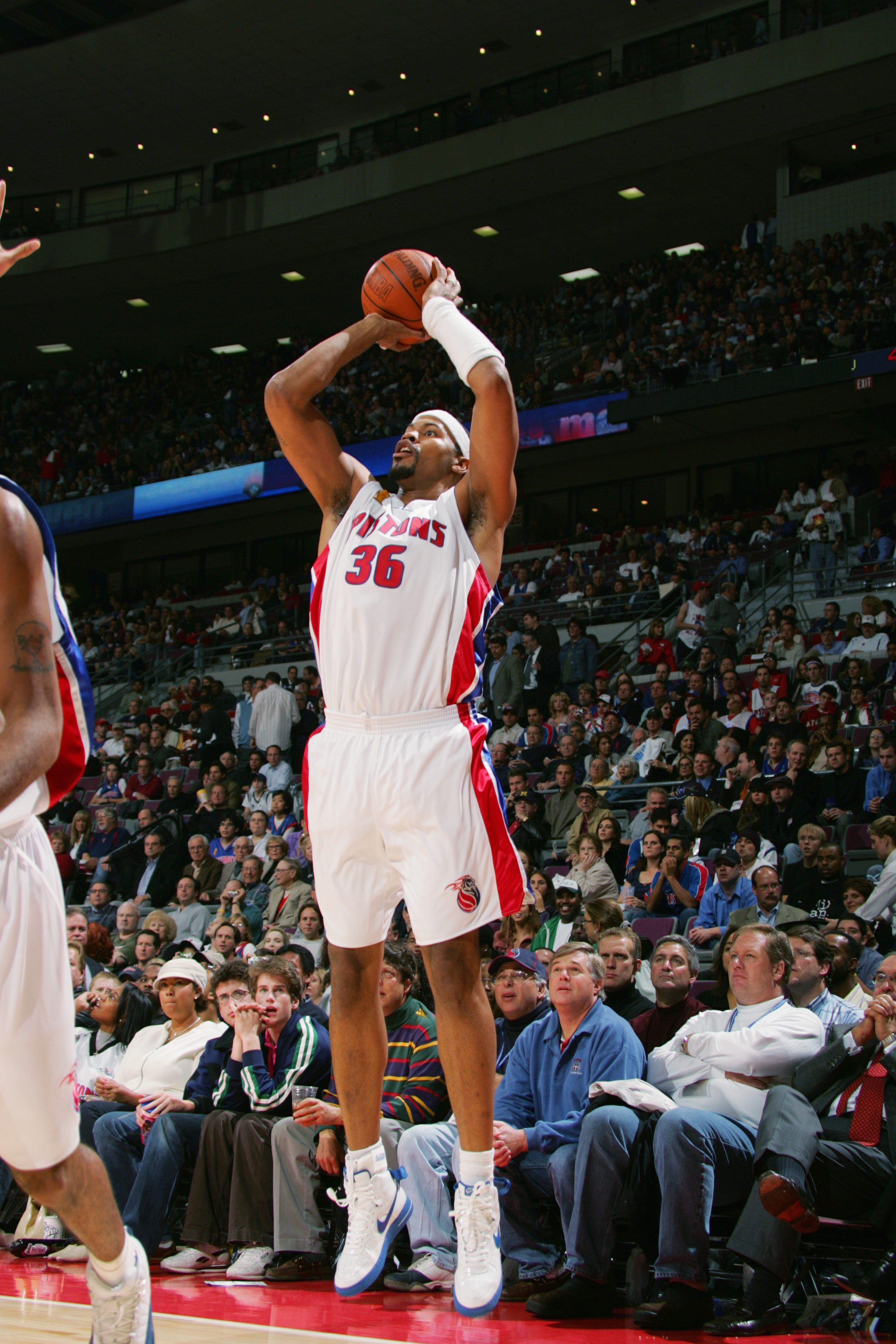 Worn by: Rasheed Wallace
In 2004, Rasheed Wallace was living his best life. He was coming off a season where—with a single game with the Atlanta Hawks in between—he went from terminal chaos in Portland to rock-solid stability with the Detroit Pistons, helping lead them to their first championship in 15 years. And, after years with Nike dating back to his time at the University of North Carolina, his sneaker closet was laced. As the only NBA player still playing in Air Force 1s, he had a wide array of choices, all different color combinations, most with his silhouette embroidered on the outer heels. His style was strap dangling, laced tight. These white joints with the solid blue midsole never dropped at retail, but at least we got to see them. Think of all the ones we didn't. —Russ Bengtson
2005- Mike Bibby Air Jordan XX ¾ PE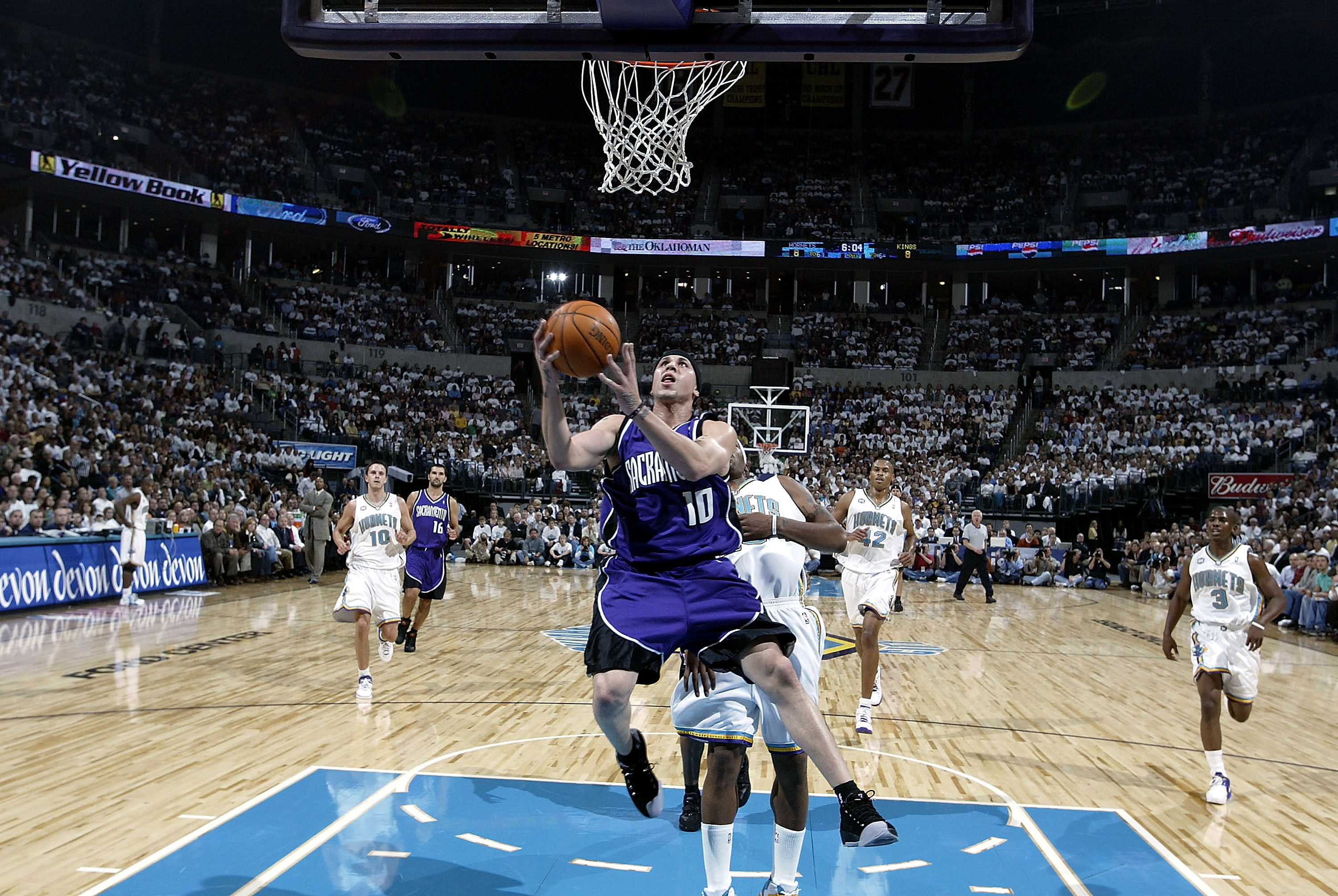 Worn by: Mike Bibby​
Mike Bibby would probably rather not remember opening night of the 2005-06 NBA season. His Sacramento Kings traveled to Oklahoma City to face the Hornets in their Katrina-relocated digs and got smacked by 26. Bibby had a rough night personally too, scoring just eight points on 3-11 shooting with four assists and two turnovers. But he had them Js though. Bibby was Jordan Brand's leading proponent of lowtops—he had lowtop versions of Jordans that hadn't even come out as lowtops yet—but here he chose to forgo his usual retro style in favor of the then-new Air Jordan XX 3/4. It was basically a low, going maybe one eyelet over Bibby's preferred height. Then again, giving his performance, maybe it was too high after all. —Russ Bengtson
2006 - Nike Air Zoom Flight '98 "The Glove" PE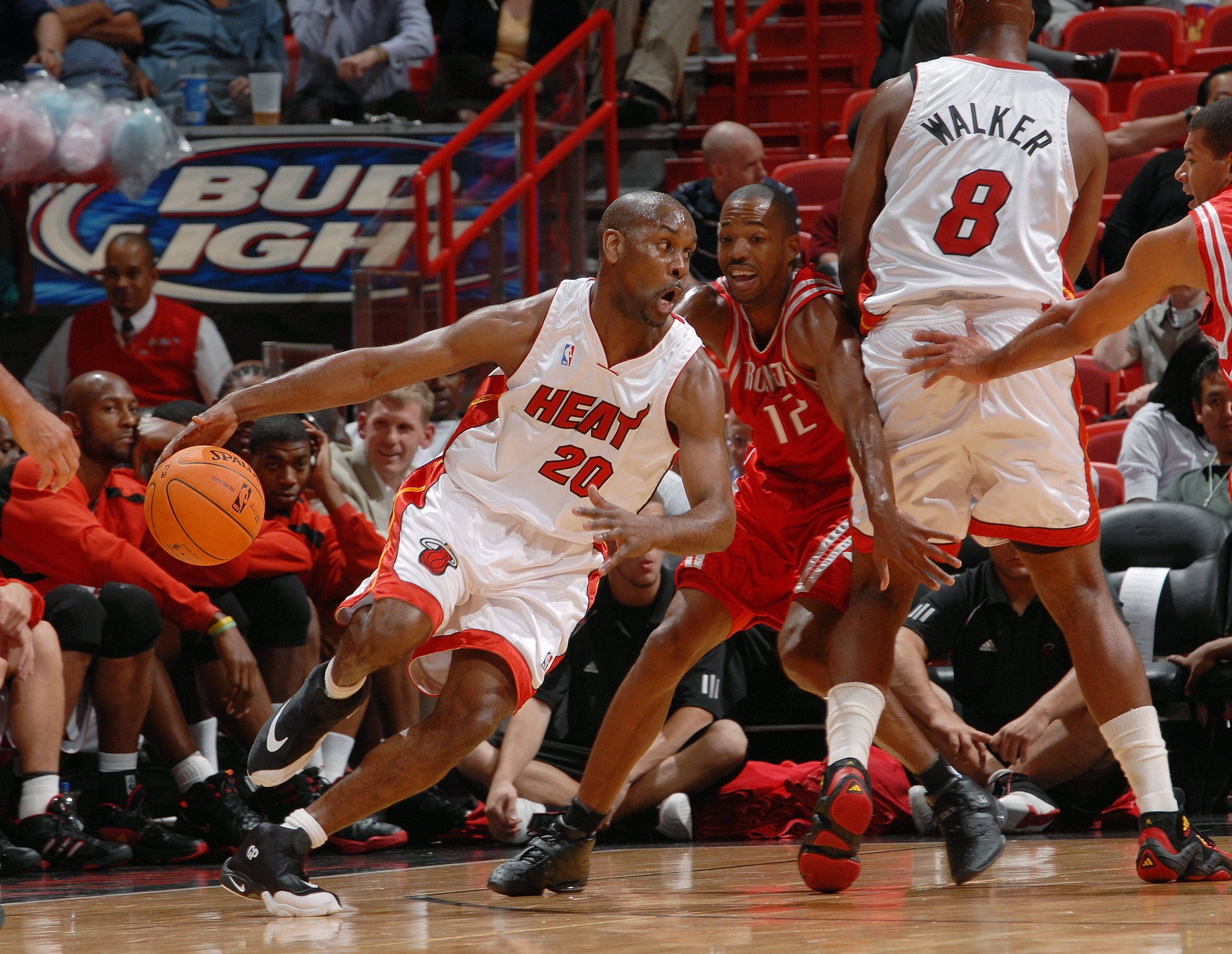 Worn by: Gary Payton
By the time Gary Payton joined the Miami Heat in the summer of 2005, he'd left his prime far behind. But that year he finally won his championship—one which had eluded him in Los Angeles two years earlier—and his Hall of Fame career was essentially complete. He'd regained some of the fire of his youth playing with the likes of Shaquille O'Neal and Antoine Walker (and Dwyane Wade), which was reflected in his footwear. Like teammate Alonzo Mourning, Payton had once had a Nike signature model, and during his Heat stints they retroed his most well-known one exclusively for him. And for his final NBA opener, the Glove wore the Glove. Perfection. —Russ Bengtson
2007 - Nike Huarache 2k4 PE "Lakers"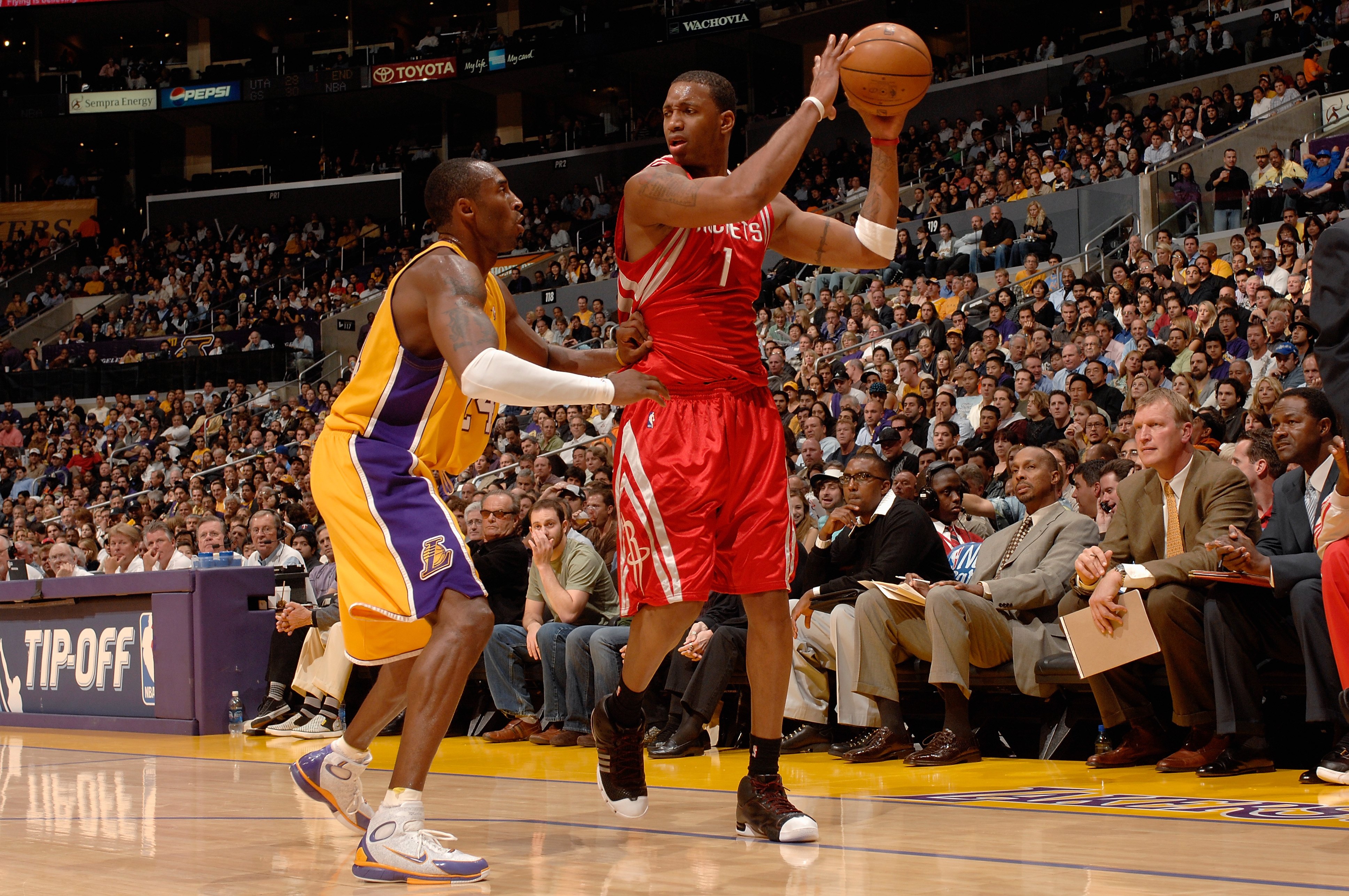 Worn by: Kobe Bryant
Kobe Bryant had been with Nike for less than five years by the time they started reissuing some of his shoes. He started off the 2k7 NBA season in a PE pair of Nike Zoom Huarache 2k4s, the first pair he wore as an official tissue Nike endorsee and, for a long time, his favorite shoe with the brand. Later he'd lace up one of his most polarizing signature shoes, the Zoom Kobe 3. But on this night he went with an old favorite and put up a historic performance to match, scoring 45 points—and taking 27 free throws!—in a two-point Lakers loss to Tracy McGrady and the Houston Rockets. —Russ Bengtson
2008 - Air Jordan XI PE "White/Gold/Green"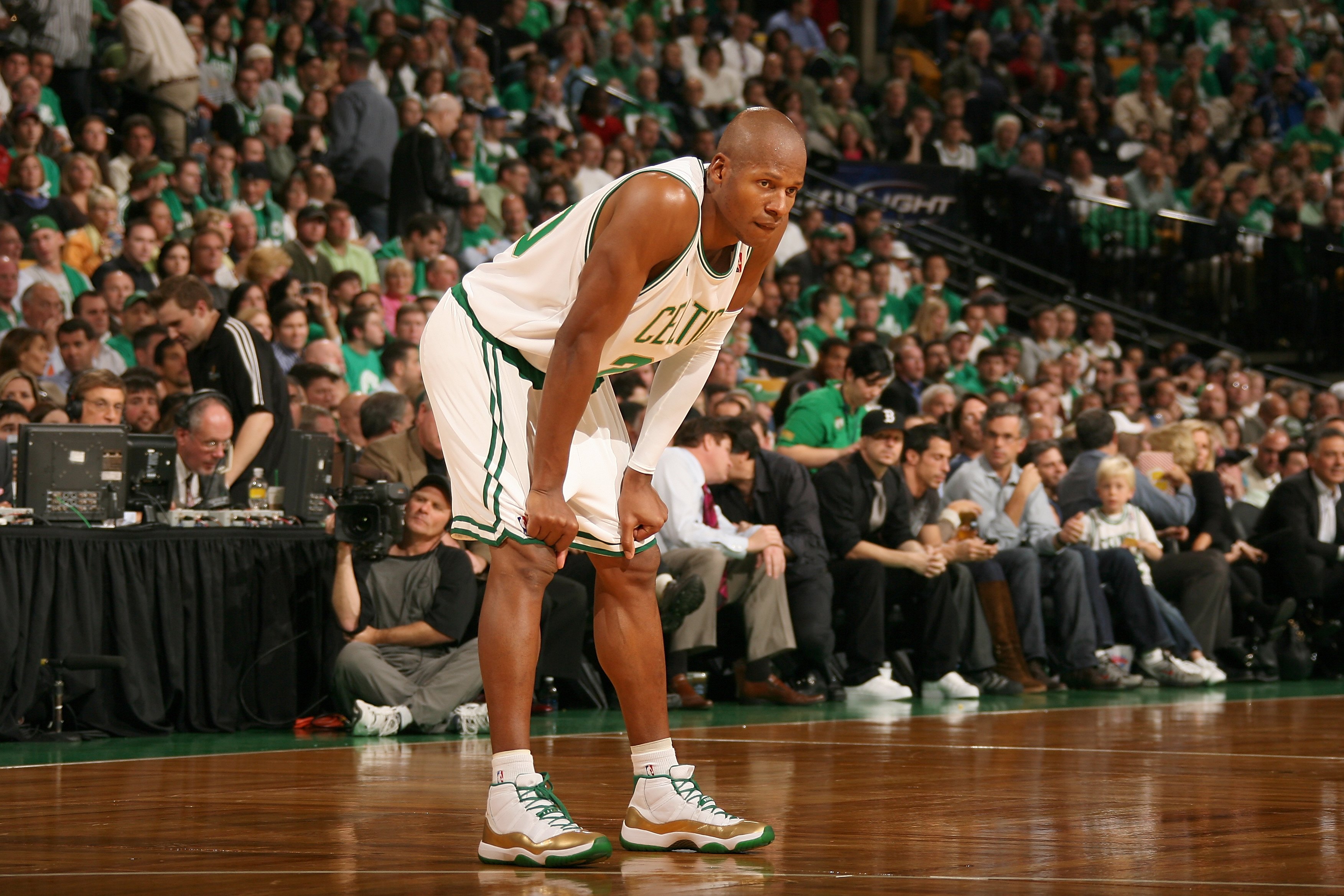 Worn by: Ray Allen
Anything was possible for the Boston Celtics and their Big 3 of Kevin Garnett, Paul Pierce, and Ray Allen in the 2008 season, as they won the NBA Finals that year. Anything was really possible for Allen when it came to which sneakers he wanted to wear on the court, and Jordan Brand made his dreams come true for the start of the following season with one of the greatest Air Jordan PEs EVER. And that's saying a lot for the man who's been one of Jordan Brand's top priorities over the years. The Air Jordan XIs that Allen received for the game were white with gold patent leather and had a green outsole. AKA something you'll never ever see in a store. Allen only scored eight points that game, but everyone still knew he had game. —Matt Welty
2009 - Nike LeBron VII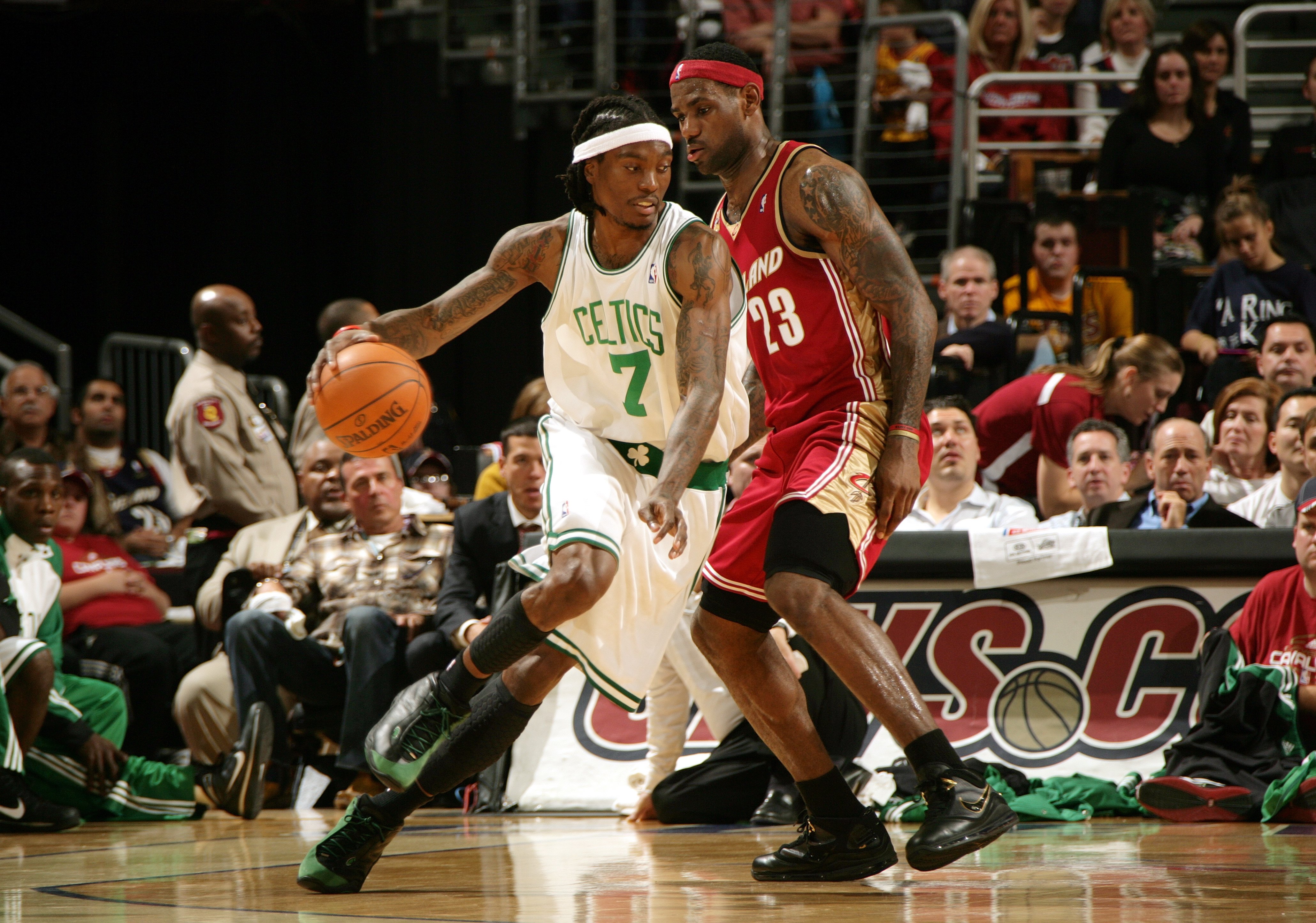 Worn by: LeBron James
The Nike LeBron 6 was an awful shoe that looked more like a boot rather than a basketball sneaker. But what happened to his signature line next changed the game for LeBron James and Nike. They linked him up with designer Jason Petrie and created magic. The LeBron 7 was a reimagined introduction of James' sneakers and had a full-length Air Max sole that was paired with a clean, Flywire-backed upper. LeBron wore the sneakers in a black-and-gold colorway for the first game of the 2009 season, the last he'd play with the Cleveland Cavaliers before ditching "The Land" for Miami. LeBron would score 38 points that game in a loss to the Boston Celtics, who would later crush his spirit in the playoffs and spur his decision to take his talents to South Beach. But this was a first for LeBron when it came to footwear, even if Cavs fans would like to forget this year. —Matt Welty
2010 - Nike Kobe V "Rings"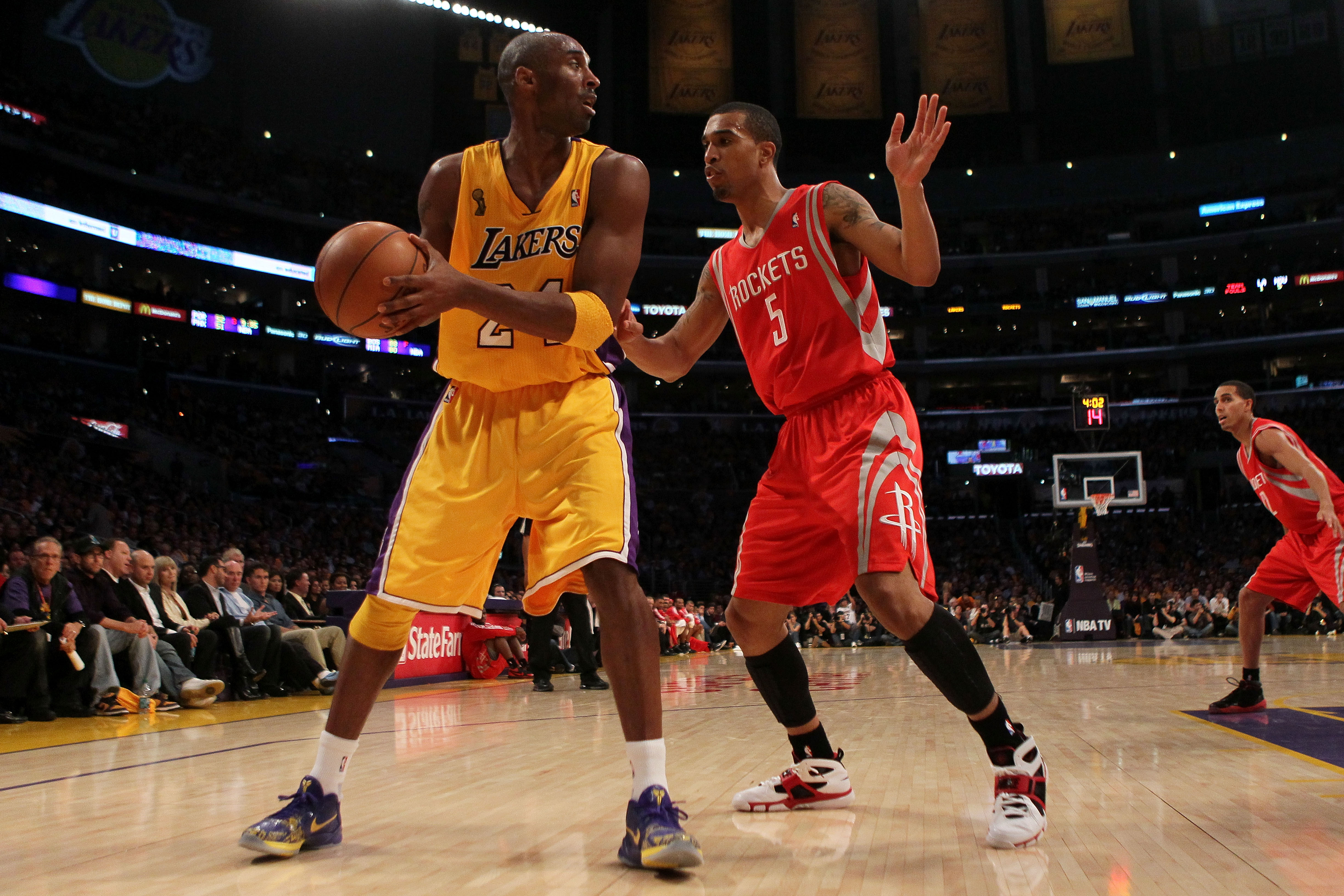 Worn by: Kobe Bryant
The 2010 NBA Finals really piss me off as a Boston Celtics fan. We should have won that series if Andrew Bynum didn't blow out Kendrick Perkins's knee in Game 6. That aside, Kobe Bryant and his Los Angeles Lakers won a ring that year, and they celebrated it the next season with a special edition of the Nike Kobe 5, the second run in the newly re-designed Kobe line. The shoes were black, purple, and yellow and had writing all around the upper. I want to forget about all of that. But the shoes were damn good. —Matt Welty
2011 - Nike KD IV "Chirstmas Day"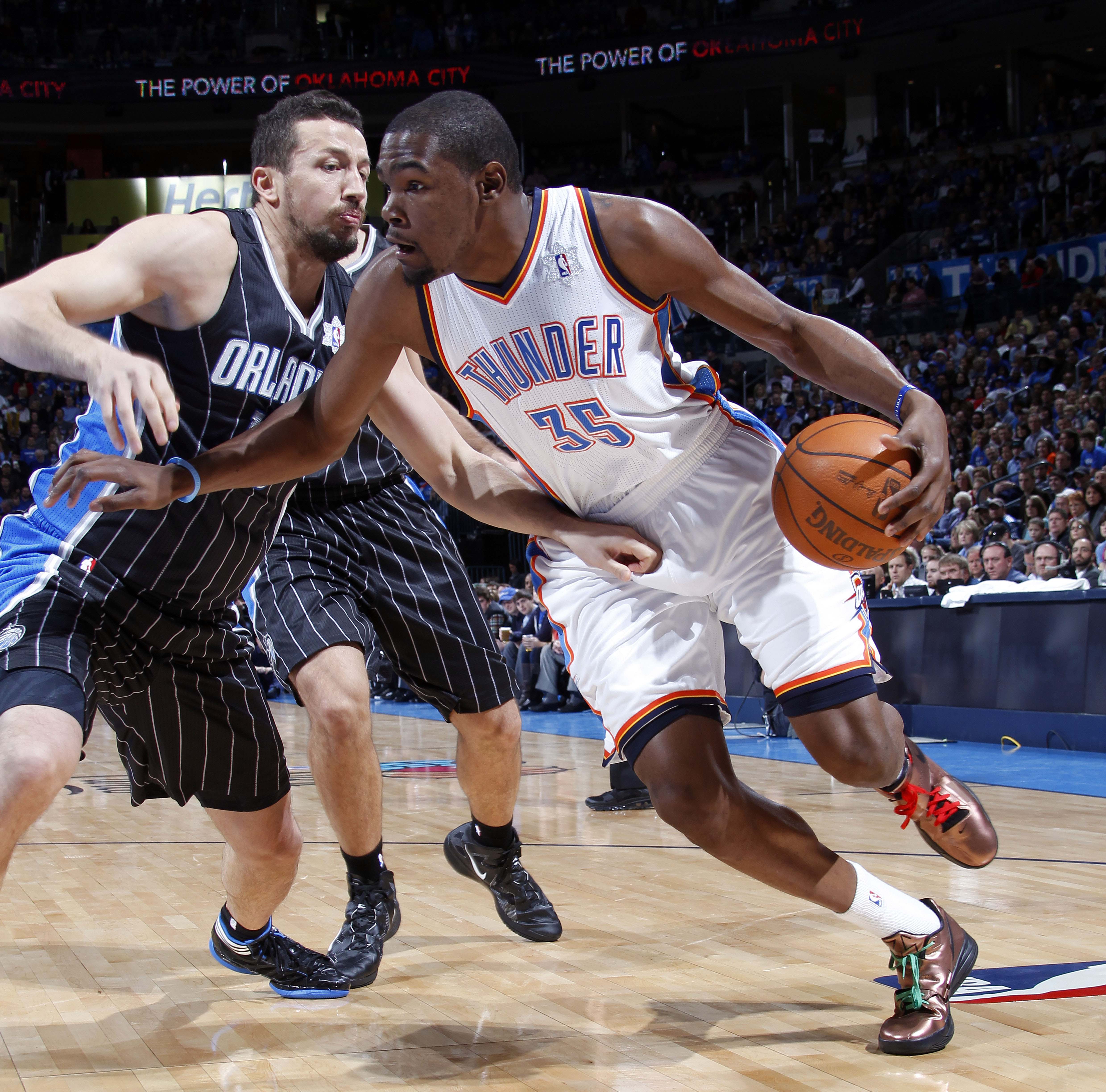 Worn by: Kevin Durant
The 2011-2012 NBA season is remembered for two things: It's the year that LeBron James won his first NBA Finals, and that the season started late due to a lockout and didn't tip off until Christmas Day. This means, for footwear fanatics at least, that all the star players had special editions of their shoes that day. This was also in the middle of Nike Basketball's strong run with LeBron James, Kobe Bryant, and Kevin Durant. The man who won that footwear matchup that year (although he'd later lose in the Finals) was KD. His KD IV was a fan favorite, with its low-cut design and zig-zag straps. The copper colorway of his Christmas Day sneakers were the real present that year. —Matt Welty
2012 - Air Jordan XVI PE "White/Gold/Red"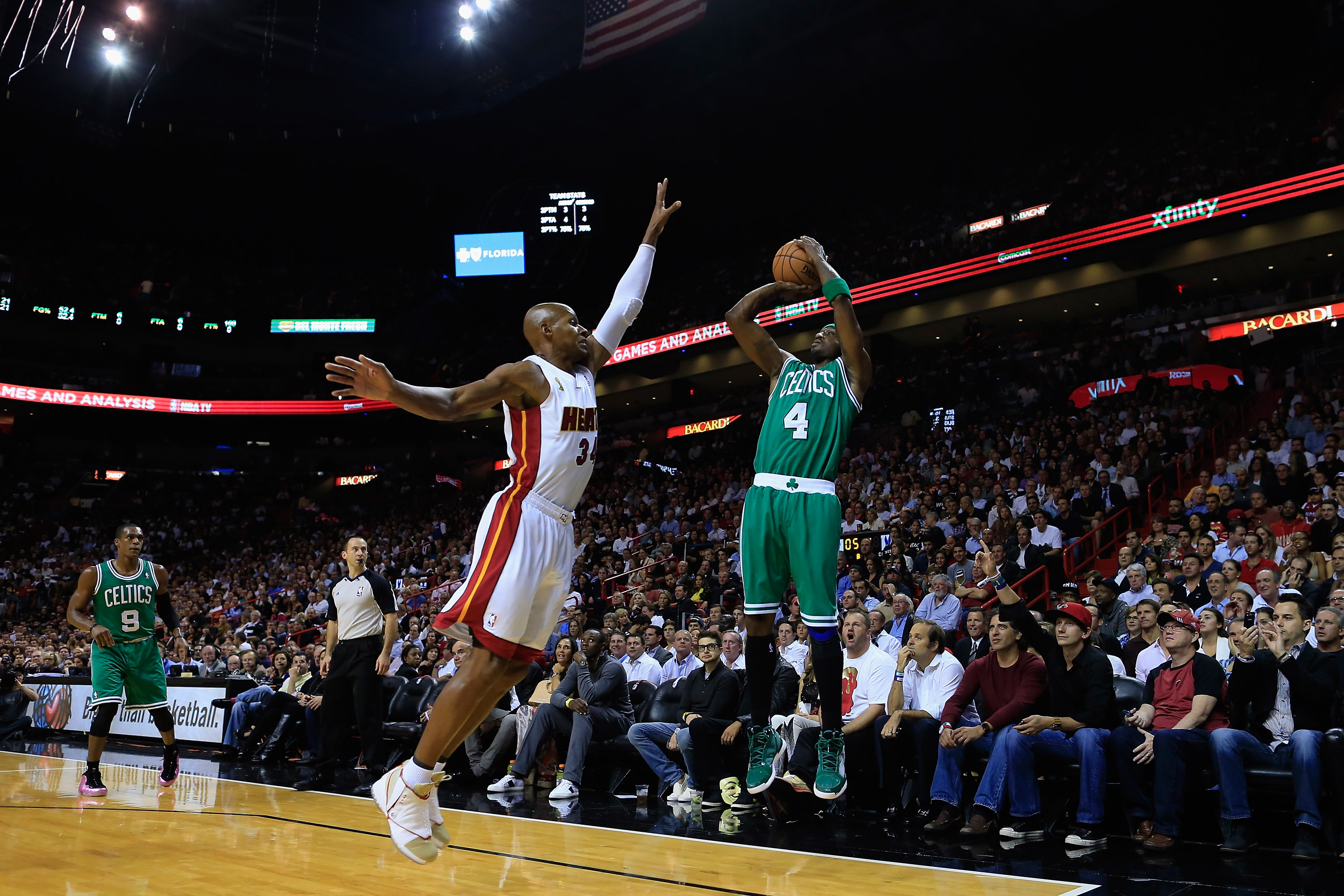 Worn by: Ray Allen
LeBron James and the Miami Heat beat the Oklahoma City Thunder in 2012 NBA Finals, and they celebrated the championship in their first game of the following season. Miami's Big 3, which included James, Dwyane Wade, and Chris Bosh, came out with special sneakers for the season opener against the Boston Celtics. But guess who had the best shoes on the court that day? Surprise: It was Ray Allen, who had become a very good role player by that point in his career. Jordan Brand laced him with an incredible PE in the form of a white, gold, and red Air Jordan XVI. It's really hard to beat that. The largest twist of it all was that RAY ALLEN PLAYED ON THE CELTICS THE YEAR BEFORE. The Heat beat the Celtics that game, too, only rubbing the salt in their wounds even more. —Matt Welty
2013 - Air Jordan XI PE "White/Gold/Red"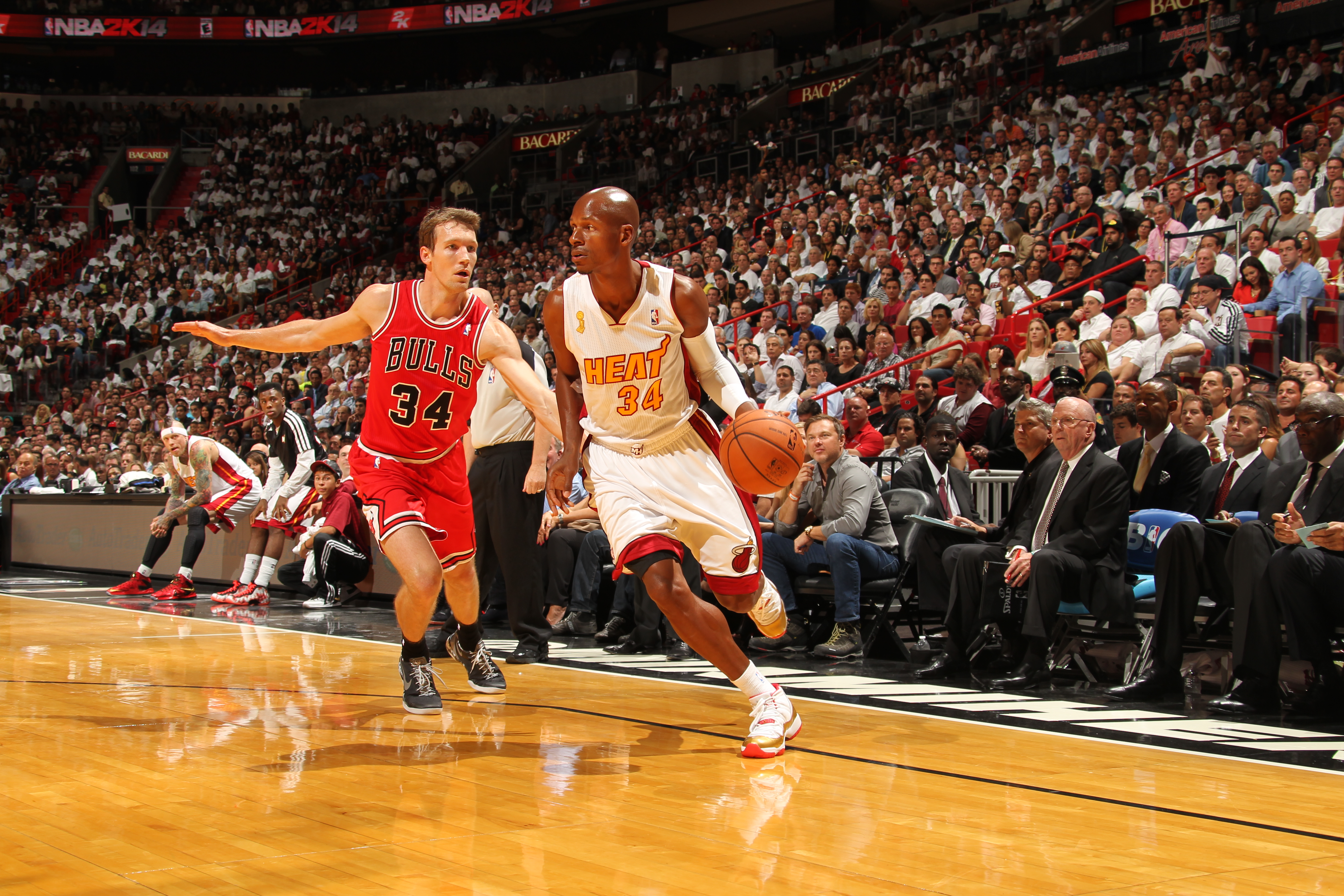 Worn by: Ray Allen
If it wasn't for Ray Allen hitting a last-second corner three-pointer, the Heat wouldn't have beat the San Antonio Spurs in the 2013 NBA Finals. And Jordan Brand celebrated this moment in the opening night game the following season, giving Ray Ray a pair of Air Jordan XIs in white, gold, and red to put an exclamation mark on the shot and ring. Allen was no longer the go-to guy when it came to getting buckets en masse, but he was still the best sneaker guy in the NBA, bar none. —Matt Welty
2014 - Nike Kobe 9 Elite Hi "White/Purple"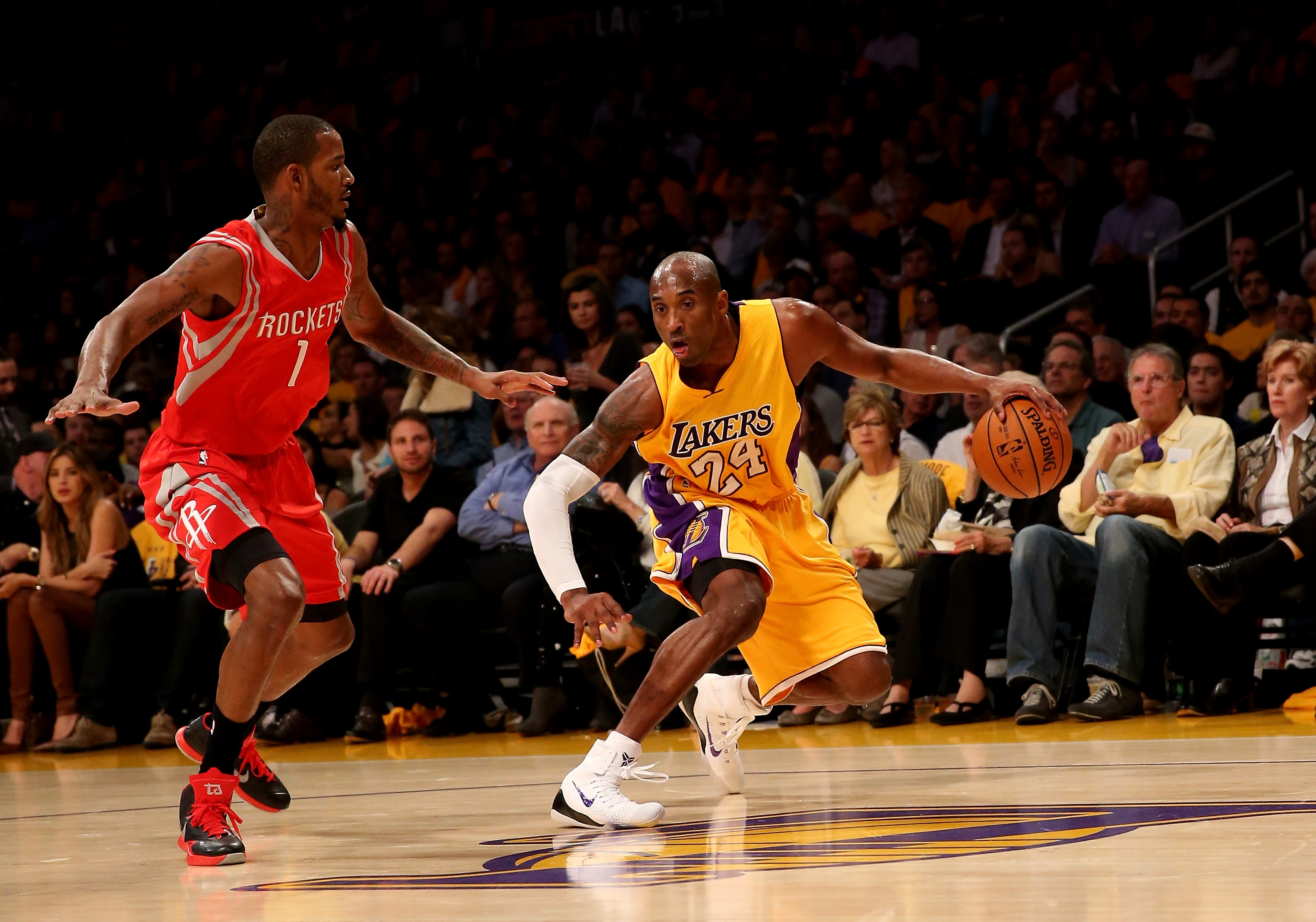 Worn by: Kobe Bryant
Kobe Bryant tearing his Achilles tendon in the 2013-2014 season was the worst thing that ever happened to him on a basketball court. He came back, though, with a new signature sneaker that had everyone talking on opening night the following year. The Kobe 9 Elite Hi was his first high-top sneaker since the Kobe 3 and, literally, the highest basketball sneaker ever. It solved the problem with his Achilles, and it also looked cool, sporting a Flyknit upper. Kobe broke out the white and purple shoes in a losing effort against the Houston Rockets, who had his former, short-time team mate in L.A., Dwight Howard. Kobe was on the last legs of his career, but his sneakers were still memorable. —Matt Welty
2015 - Nike LeBron 9 "Freegum"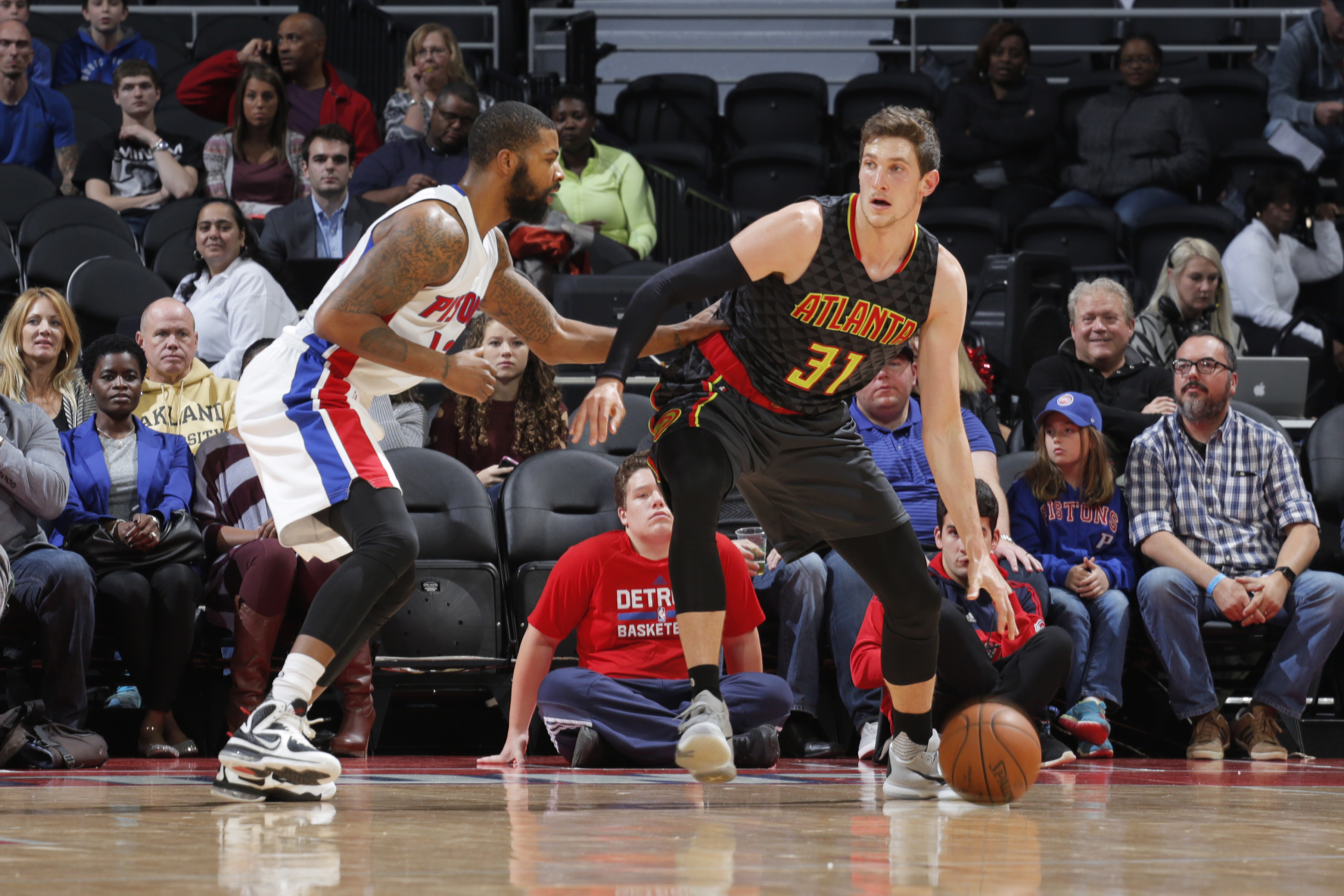 2016 - Nike Kobe X Elite iD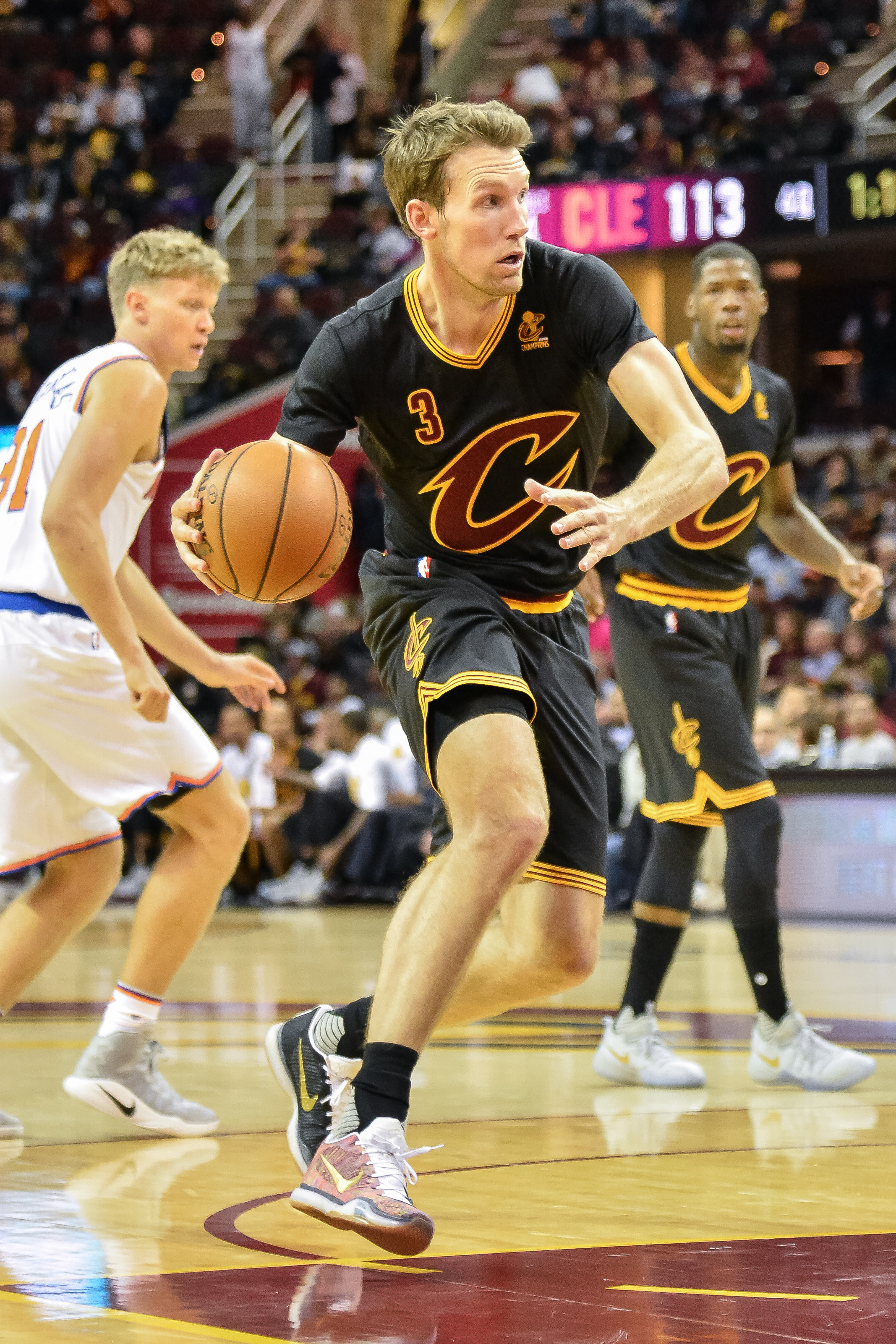 2017 - Nike LeBron 15 PE "Equality"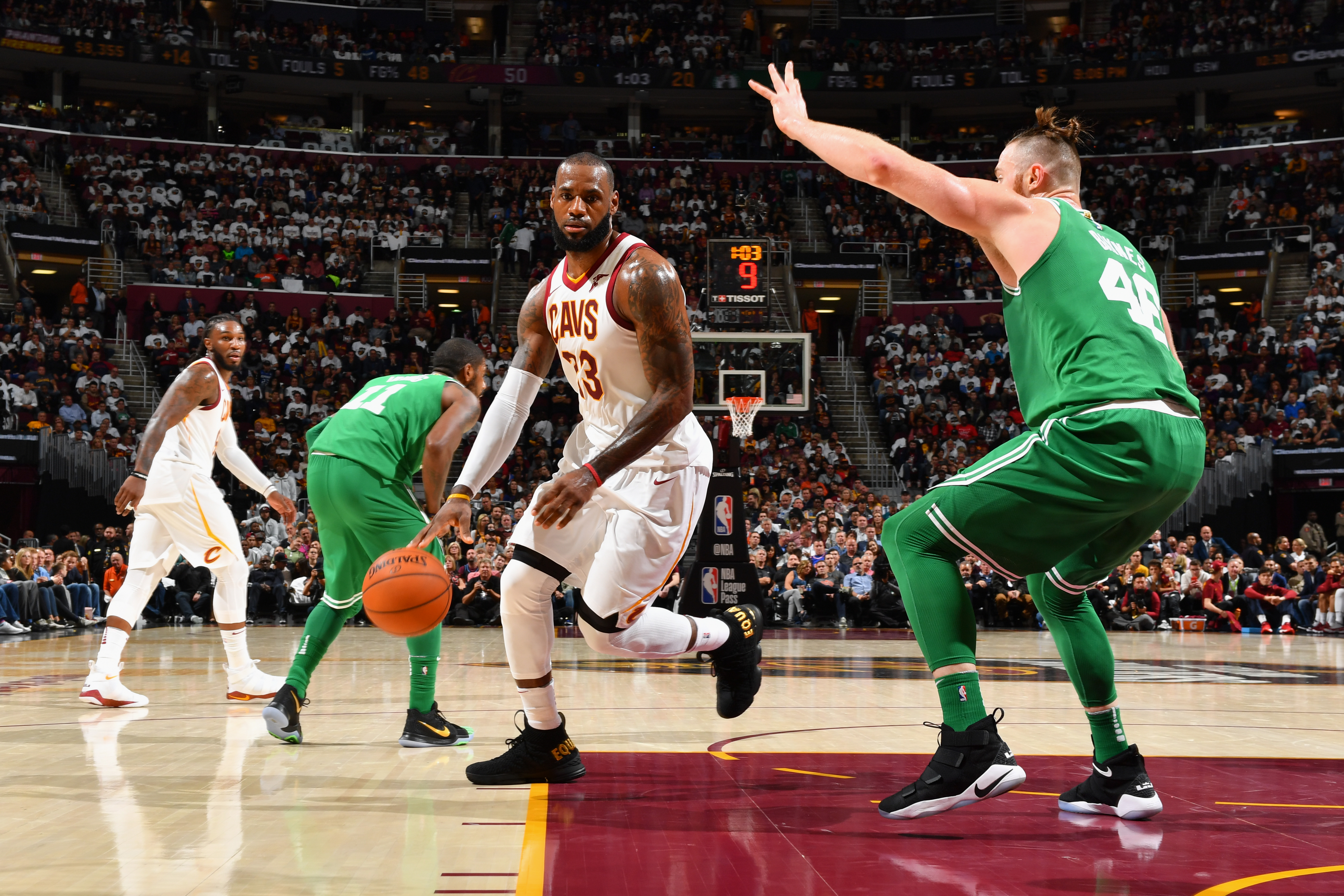 2018 - Packer Shoes x Adidas TMac 3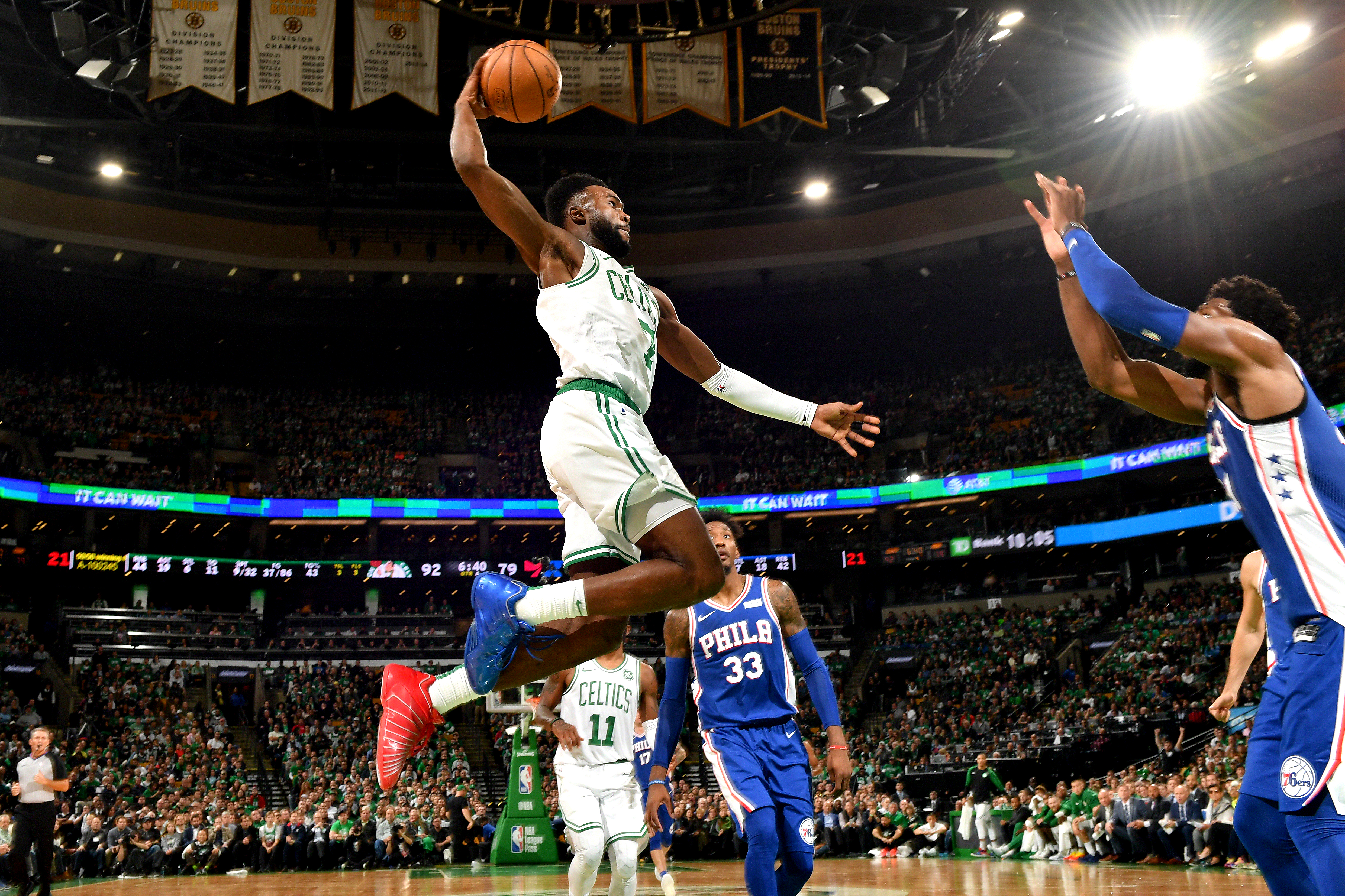 2019 - Nike LeBron 17 "Bron 2K"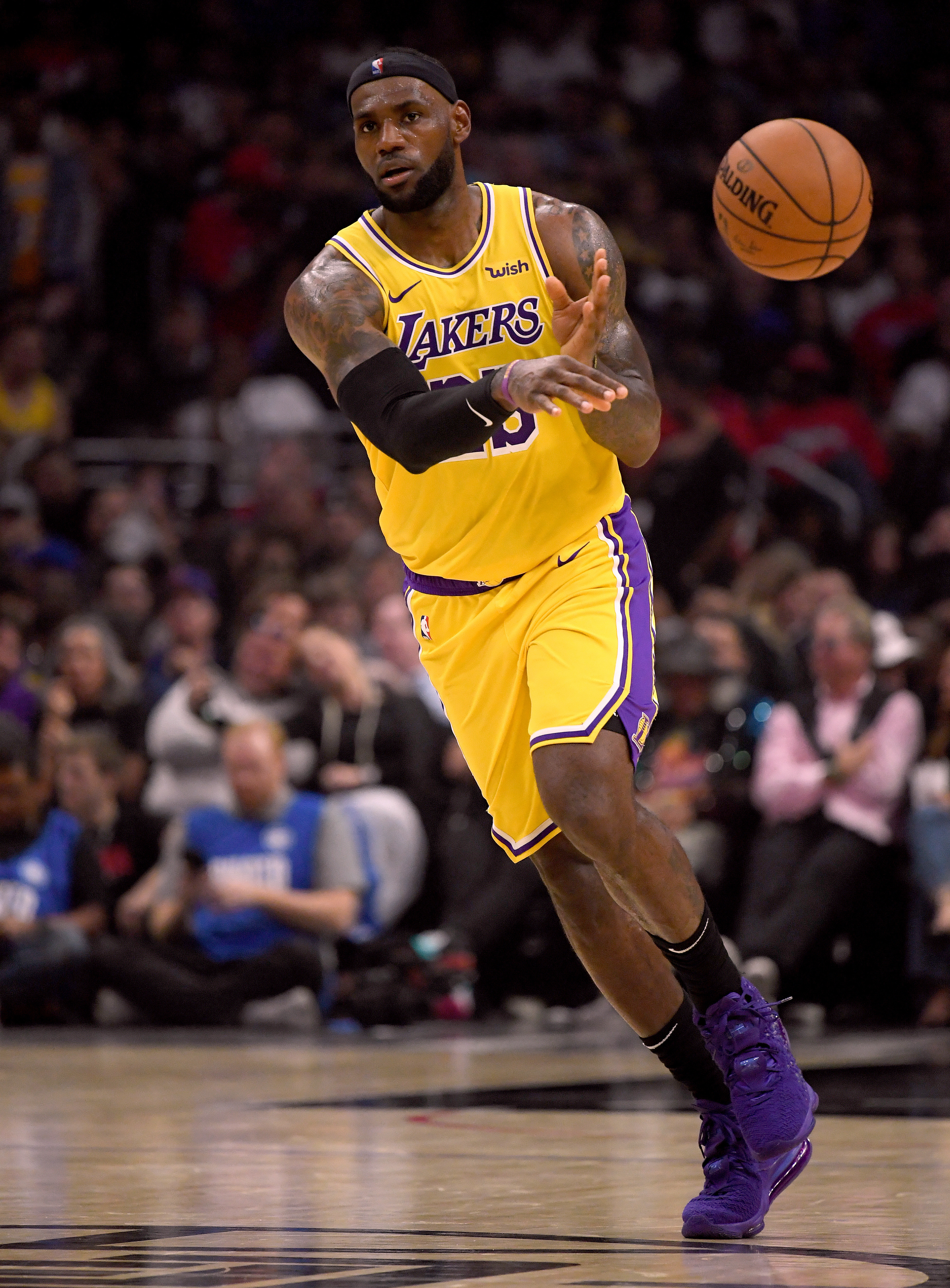 2020 - Nike LeBron 18 PE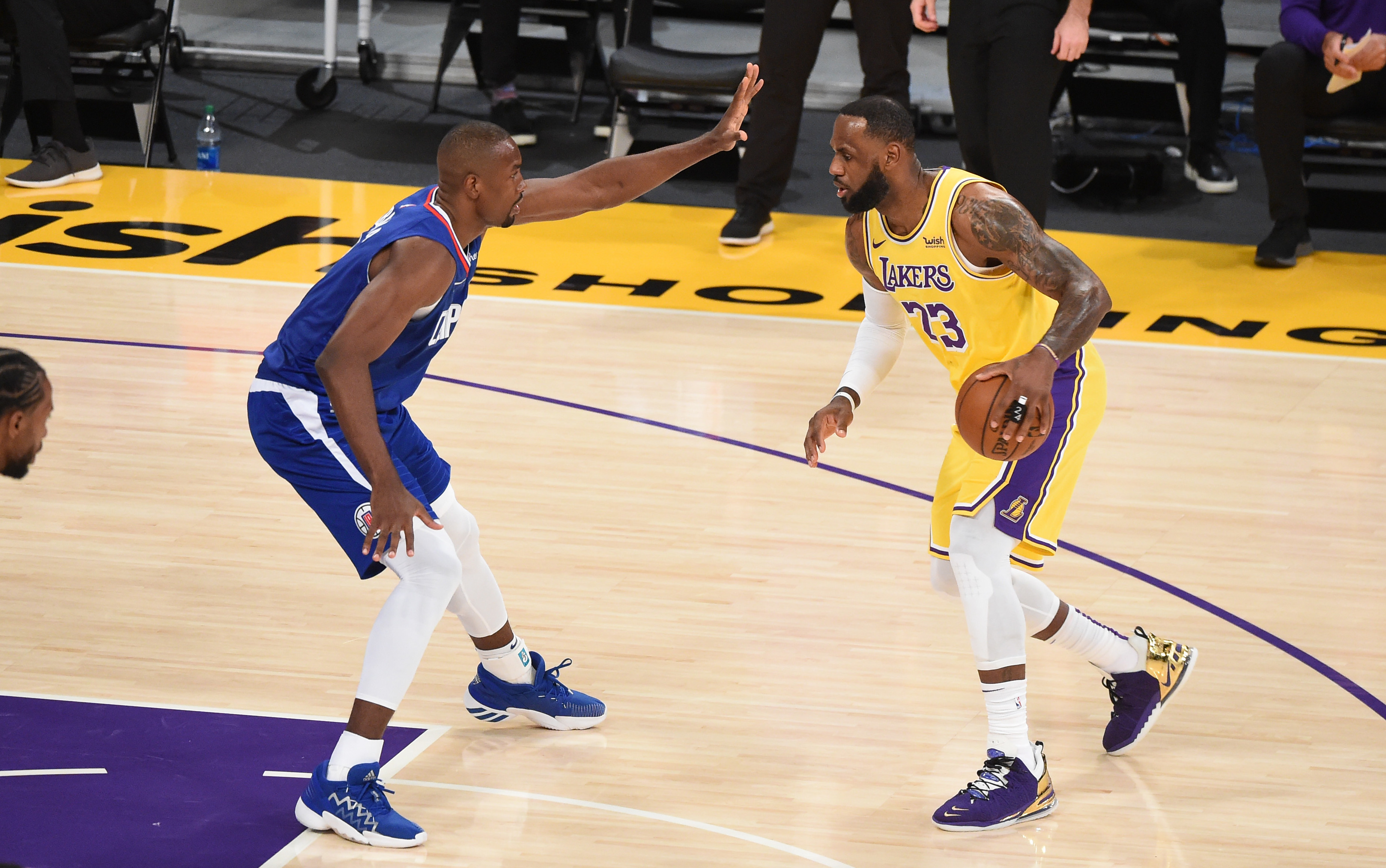 2021 - Nike Kobe 6 Protro PE