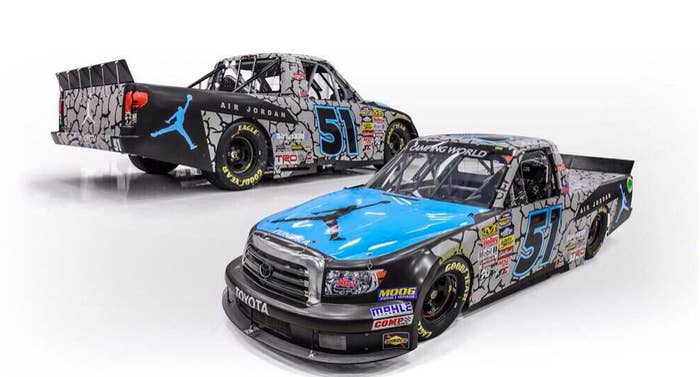 Close your eyes and try to describe the typical NASCAR driver. Odds are that it's a white guy from the South who listens to country music and is the furthest thing from being a sneakerhead. But 35-year-old driver Denny Hamlin is looking to challenge that image, and he someone helping him do it: Michael Jordan.
Hamlin is the only NASCAR driver sponsored by Jordan Brand, and he donned the Jumpman logo every weekend since 2011. This year he's trying to win the Sprint Cup's Chase, which is the equivalent of the sport's playoffs.
And it makes sense that Hamlin would be sponsored by Jordan Brand, considering that Jordan himself is a huge fan of motorsports in all forms. If you want catch Hamlin in action, you can tune-in to NBC at 2:30 p.m. on Sunday, November 20, for the Ford EcoBoost 400 at Miami Homestead to watch the Championship 4 race for the Sprint Cup.
In the meantime, get to know Denny Hamlin and how he's changing the perception of the sport and what it's like to work with the greatest basketball player of all-time.
Do you remember the first time you met Michael Jordan?
It was around 2008, the first year he came on as an owner of the Hornets. I was a season-ticket holder at the time, and I remember walking to the back area and he was sitting there. He actually got my attention. He said, "Hey man, good race over the weekend." I said to him, "You watch racing?" He said, "Yeah, my dad used to take me to races way back when. I've always watched racing, I watch it every weekend. Here's my cell phone number, give me a text, and we'll get up." The whole second half of the game we were texting back and forth, and I thought how cool and surreal it was that he knew who I was. Since then, we've struck a friendship and played golf and done a few events together.
What's it like to be a Jordan Brand athlete?
I get my monthly shipment which is really, really good. It's good to get things a month in advance before they come out. It's cool, I've got them on my suit, my shoes, my gloves. When you meet the celebrities who come out to the races for the weekend, you shake their hands and I'm the only guy with the Jordan logo. And they say to me, "Oh man, Jordan Brand, that's cool." It's because it's out of the realm of what people perceive Jordan Brand to do.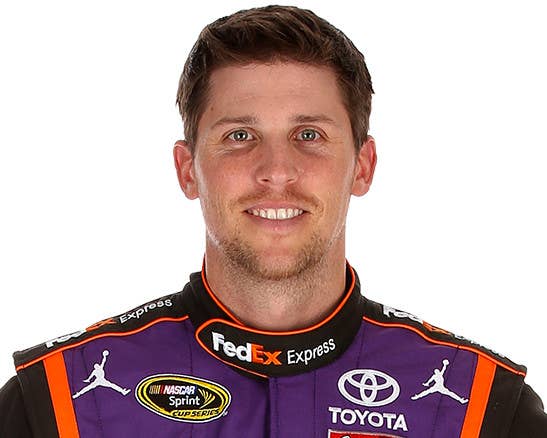 You had a truck once with the Jordan logo on the hood. What was that like?
That one was special. I really wanted to win in that truck, but unfortunately I didn't. My teammate at the time, Kyle Busch, and he came to me and said, "Do you want to run the truck race in Martinsville." That's my best track and favorite track, so I said, "Yes." He said to me, "We really don't have a sponsor for it, so I don't know if there's something you want to put on the truck." So I sent a text to Michael Jordan and said, "Do you want to sponsor me at Martinsville?" He said, "Sure this sounds good. Let me know what I need to do." We got the wrap down pretty quick and put it on the racetrack. It's something that my fans who follow me on a weekly basis talk to me about. I want to do another one.
Do other drivers ask you for free shoes?
Not with other drivers, but with crew members for sure. All the new stuff that comes out, we make sure we take care of them with all the Jordans that they need. I get one of everything that's made, and I can't keep it all. So I go through it all and give the rest to the team guys.
What's your favorite sneaker?
I'm a Jordan III guy. Maybe it's the one-of-a-kind stuff they give me that's very rare. I like the basic colors. I like to get wild sometimes with my shoes, but I don't venture too far out with shoe colors.
Do you spend time with other Jordan Brand athletes?
I've done some functions with Jordan Brand athletes. It's probably twice as many as when I started. I've had communications with other guys about doing things, but we haven't made any of that happen yet.
Do you play golf with Keegan Bradley since he's on Jordan Brand?
I haven't. If I play a round of golf with a pro, it's with Bubba Watson. I'd love for him to be on Jordan Brand. Hopefully we can get that done soon.
Is that something that's going to happen?
I'd like to. Some guys have shown interest in coming over to the Jordan Brand. They know I've got a good contact with Mike, so I'm trying to bridge that gap.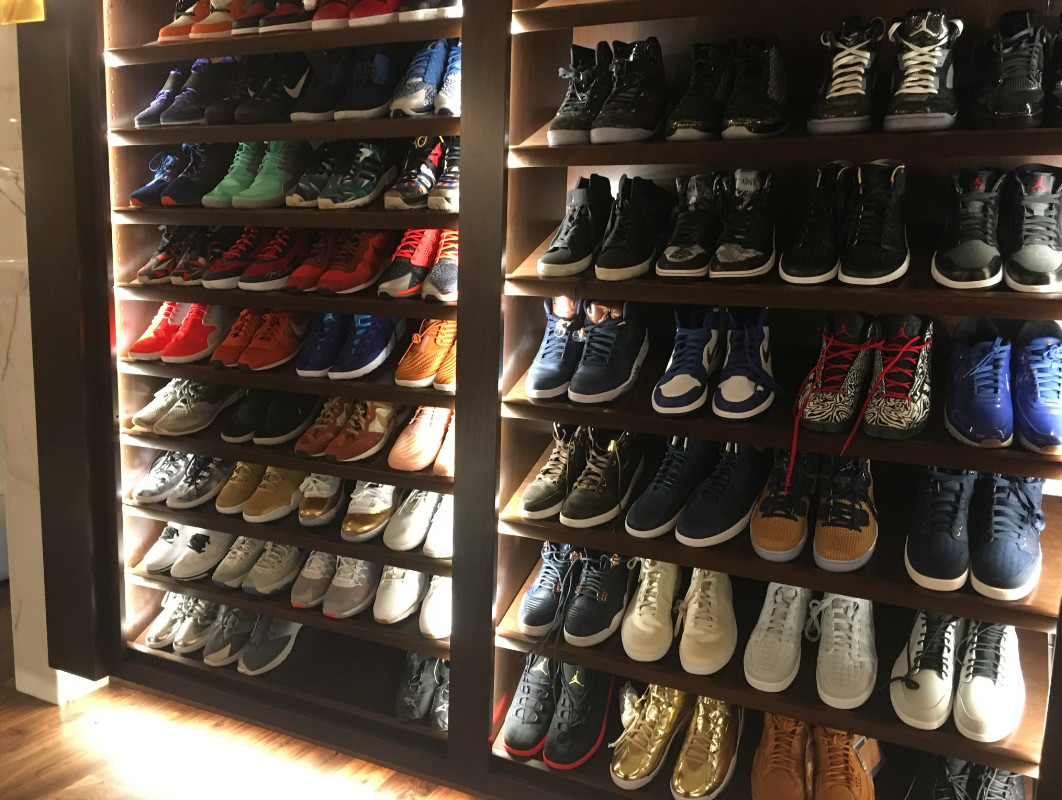 Have you ever drove any of Michael Jordan's personal cars?
I haven't got the chance to drive his cars. He had that motorcycle team for quite a while, it was almost self-funded because he loves racing so much. It's cool to me that he has a passion for racing, and that's one thing about him that most people don't know [about him]. He texted me two days ago wishing me luck on the weekend. He wanted to know how my car was doing and if we needed help with anything.
Do you think that your connection with Jordan Brand brings more people into the sport?
I think so, because anytime there's exposure from myself and the Jordan Brand, I get tweets from people and talk about how cool it is that I'm sponsored by the Jordan Brand. I get requests all the time to get Jordan Brand merchandise.
You have a big race coming up. Do you feel any pressure?
I always feel pressure when it's this time of the year.. It's an important time for me, there are two races to go. I've been so close throughout my career. Back in 2014 when I was racing for a championship, Michael hit me up and said, "I want to bring my family down and watch you race." They came hours in advance of the race. He hung out in my motorbus and we talked. I didn't win the race, I came in third. He came back and was standing on pit road and said to me, "You'll have plenty more shots. Keep focused." I looked up and everyone else was gone, but he was still there.
Do people think it's a big deal when they see Michael Jordan in the pits?
I think so. It was a big deal when NASCAR know he was coming to the race two years ago. He doesn't like to play it up, but he's done a few articles talking about his passion for motorsports. It's one thing to watch, but it's another thing to bring your family down to the race to support a friend.
Do people treat you like you're a big celebrity when you're out in public?
It depends where we are at. If we're in the town we're racing in, we get celebrity status. Here in Charlotte, where we all live, it's like being a country star and living in Nasvhille. Any time I go out around the race track, yeah it's tough to have a balance of doing your own thing and having fun. We're different than another athletes, because we represent brands and we have to answer to the owner of the team and the brands.
What's that like?
I tell my Twitter followers, follow me when I'm retired. I've paid hundreds of thousands of dollars in fines for Tweets and whatnot. I express my opinion. I'm different than the normal NASCAR driver, I listen to hip-hop music. I'm, I don't know, cooler than most of them? Some drivers have families and their hobbies, but you don't see them out. I don't have a problem going courtside to a Hornets game or going to a bar later. When I try to change that, I feel like I'm doing a disservice to who I am. I'll always be who I am and do what I want to do, but I need to keep it within reason.
Who's your favorite rapper?
All-time, it's Jay Z. Right now, I like Future a lot. Drake's still putting out really good stuff, too.
So, I guess you really like the "Jumpman"?
Yeah, no doubt.
Do you listen to that before a race to get yourself hyped up?
I would, yeah. I've got a hype playlist, I necessarily don't listen to it right before the race. As crazy as racing is, you need to be calm. You make more mistakes when you're not.
Are you going to get your own sneaker?
We've talked about that, doing a training shoe. Something like they did with Jeter. We've been with those guys long enough where they know my style. They do stuff with my racing shoe to make it different. So in a couple years time, we'd like to have something that people can go out and buy.