For a few lucky Coachella attendees, copping a pair of Donald Glover's long-awaited Adidas sneakers was as simple as pushing "accept" on their iPhones.
This afternoon in Palm Springs, folks who were hanging around the General Store at the Coachella Campgrounds were pinged with an AirDrop request. "'Donald Glover' Would Like to Share a Photo," it read. Those with enough faith to believe that a personal request from Donald Glover wasn't a late April Fool's joke—or some sort of elaborate scam—and who accepted the photo were treated to a coupon good for one free pair of Glover's first Adidas drop.
The photo instructed recipients to head to the Vintage Market on the campgrounds to claim their brand new Nizzas—which feature a frayed eggshell-colored canvas upper, brass grommets, and two-tone laces. Fest-goer Sean McHugh was one of the lucky few who snagged a pair. "In typical Glover/Gambino fashion, everything was subverted and random," McHugh said. "As I was walking through my Coachella camping lot, I rolled through the Vintage Market—which is crazy busy with different vendors and shoppers." That's when he got the spontaneous AirDrop from "Donald Glover."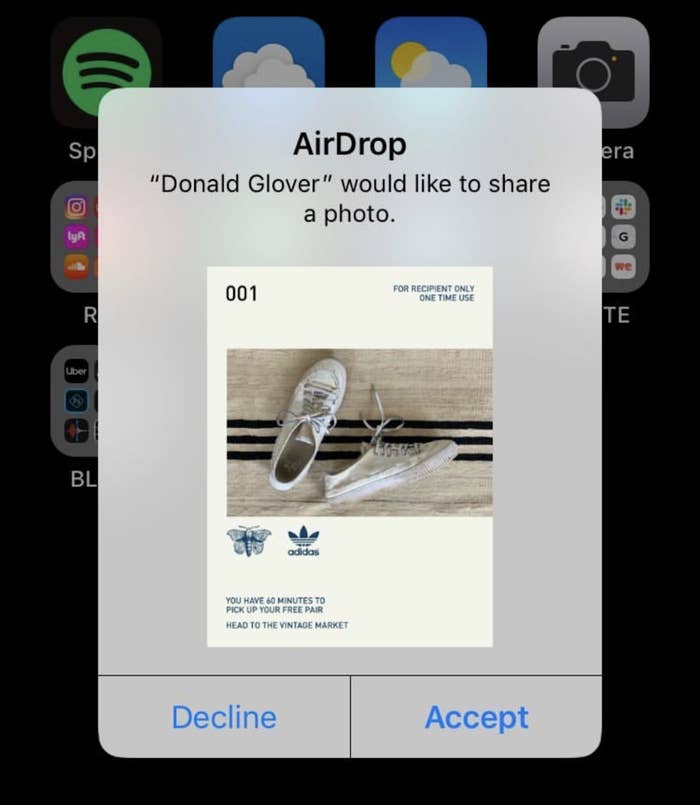 "Who says no to an airdrop from Donald Glover?" he said. "I opened it and the instructions showed a picture of the shoes and to redeem them from the Vintage Market within 60 minutes."
McHugh picked up his shoes, and was pleasantly surprised by the design. "It aligns pretty perfectly with Donald Glover's style," he said. "It…doesn't beg to be sold on the secondhand market, but is one that you keep for the long haul. It's a shoe that is built for perfect, all-around use while still looking more fly than everyone else."
The Donald Glover x Adidas Originals partnership was announced last September with a cartoon depicting Glover opening a shoebox and putting on a pair of white canvas sneakers. An early look surfaced last weekend, and now the once-animated shoes are walking around in the flesh at the Coachella campgrounds.
Along with an AirDrop and a pair of Nizzas, those who were fortunate enough to end up at the Vintage Market to claim their prize this afternoon also left with a responsibility to uphold. Each pair of sneakers came with a personal "contract" from Glover, encouraging those who picked them up to "wear the shoes," "come to the show," and "keep them on all weekend."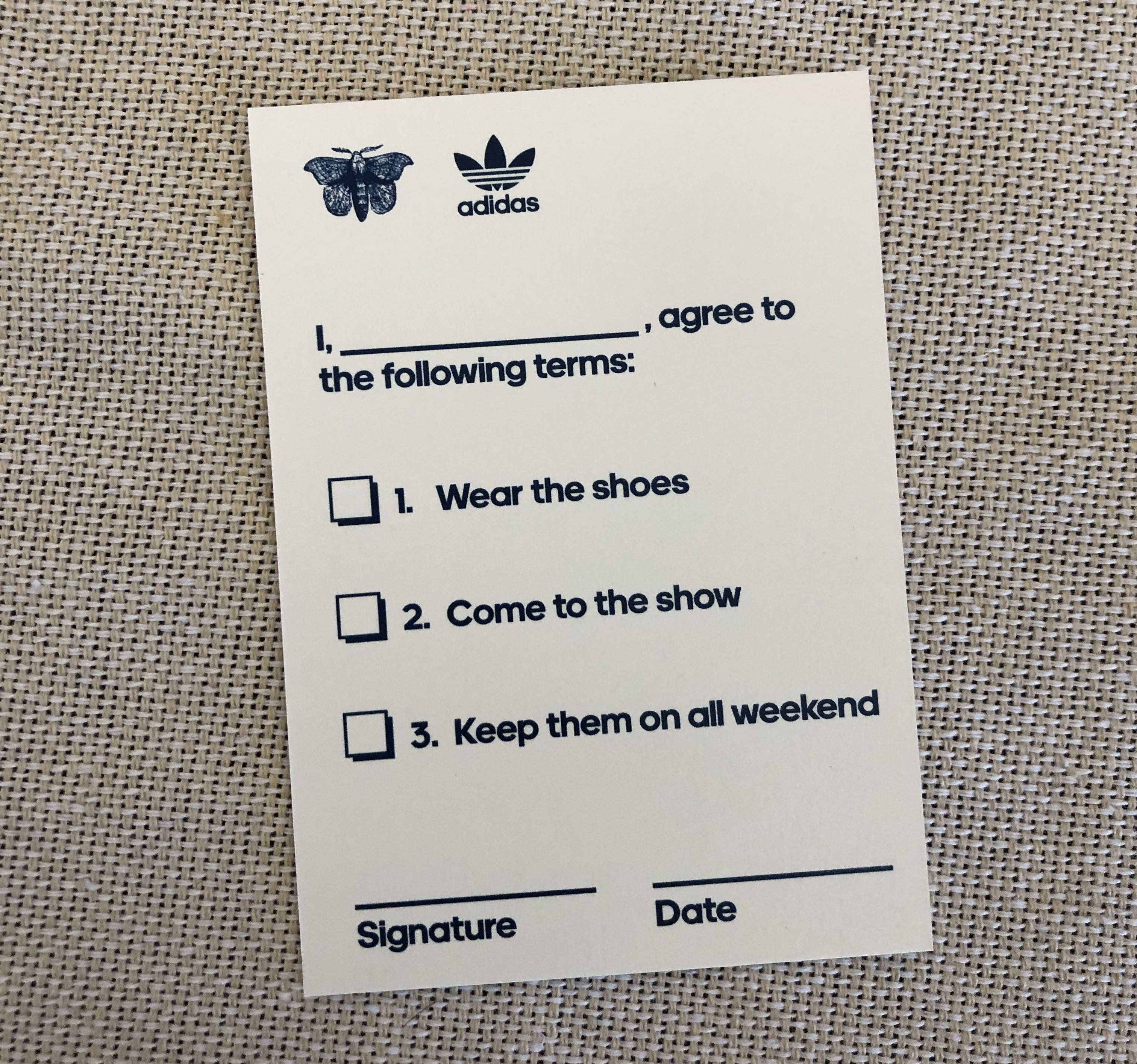 Glover's giveaway with Adidas isn't the artist's only experiment with tech this weekend. Gambino and Google collaborated on "Brighter in the Dark," a multi-sensory installation featuring Gambino's music that Coachella attendees can experience. It follows the Gambino Playmoji they debuted earlier this year.
In a world where collab drops lead to website crashes and mind-numbingly long lines constricting city blocks and crease-free, unstained shoes are protected like firstborns, this seems like a breath of fresh (albeit, festival-flavored) air. At the very least, it feels like a cool way to give away hot pairs of sneakers in a democratic way. And, if nothing else, a good incentive to trust turning your AirDrop onto "public."