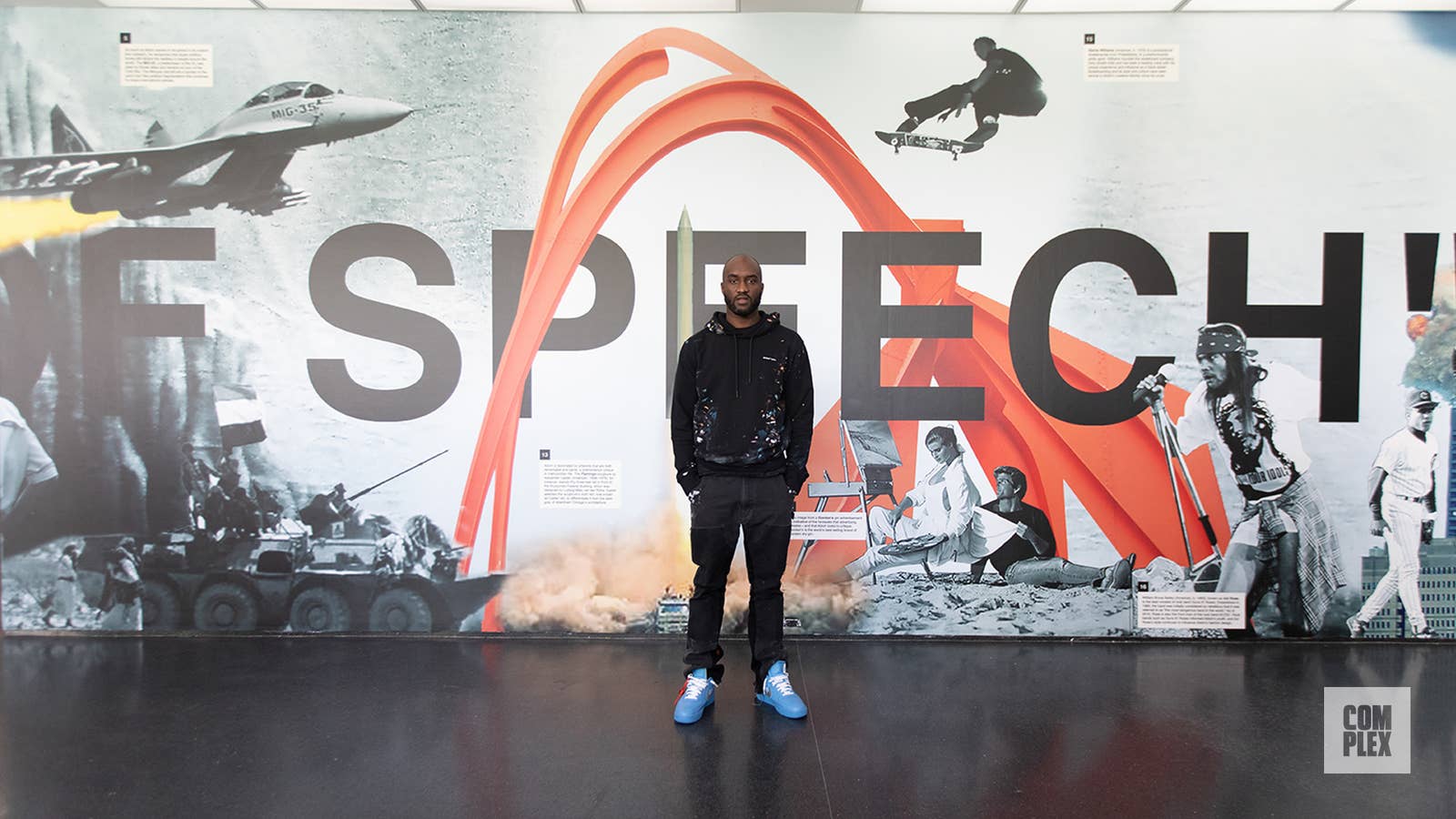 Virgil Abloh is done taking questions.
The 38-year-old multi-hyphenate behind everything from sneakers to furniture is standing at the entrance of his first solo exhibition at the Museum of Contemporary Art Chicago, titled "Figures of Speech," and he's swamped by reporters armed with queries about Kanye West and quotation marks.
"Have you guys seen the exhibit yet?" Abloh politely says in the middle of the scrum, while at the same time sending a subtle cue for everyone to walk in and leave him alone. "It's two feet away. All these questions can be answered inside."
"Figures of Speech"—which runs until September 22—closes a loop in Abloh's career, chronicling his ascent from Kanye's apprentice to accomplice and, finally, an aristocrat in his own right. It represents 15 years of streetwear, sneakers, music, and art. With his course coming full circle, Abloh is looking to help a new generation by diagramming his journey in a museum—something he never thought would've happened a couple of decades ago, much less be useful to anyone else.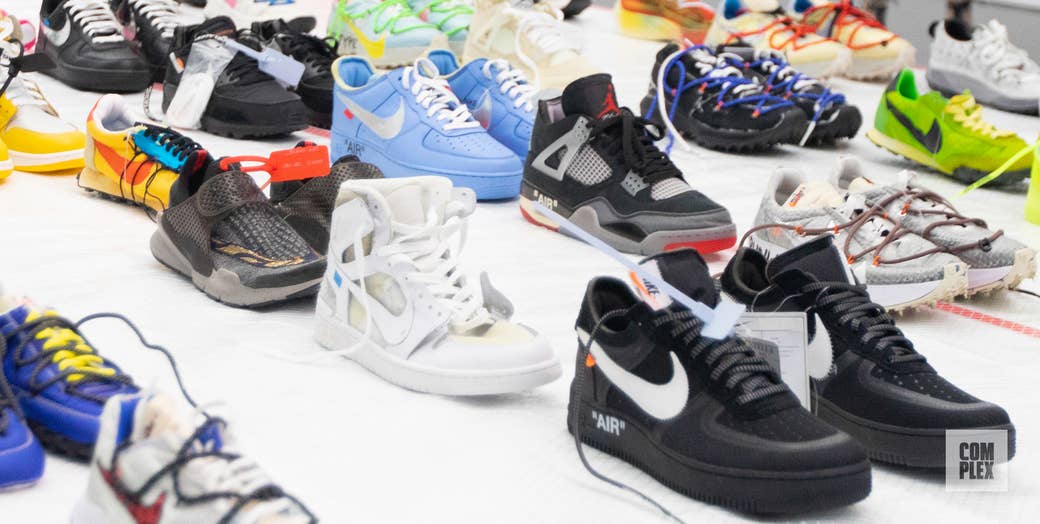 "I'm of a millennial trait that borderline feels like they don't need school, let alone to go to a museum," Abloh says of his old mindset. Now, though, with more skin in the game and a new generation of creatives watching his every move, he realizes the responsibility of using his megaphone.
With that in mind, he's gladly willing to field questions from the people he hopes will return to the exhibition.
"Nothing can replace travel," Abloh tells a design teacher who asks for one piece of advice to relay to his students. "One thing you can't cheat is seeing other parts of the world."
Specific projects he's had a hand in is not something Abloh wants to go into detail about on this promotional blitz. When asked what he learned from navigating the industry alongside West for his mentor's ill-fated stint at Nike, Abloh shares a short and enigmatic answer: "I always enjoyed any type of design opportunity that bled into my own projects."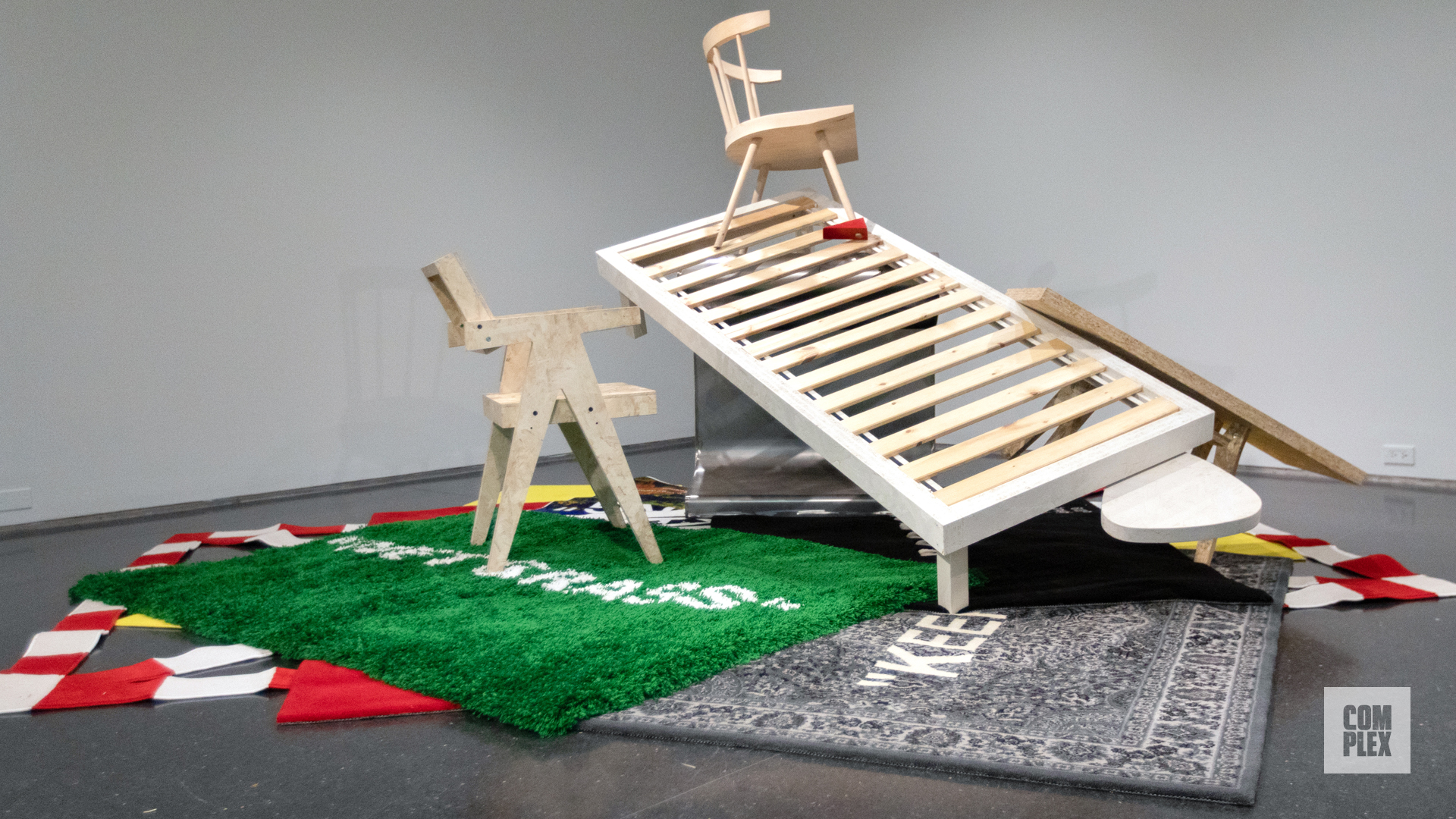 What's more important to Abloh at this point in his career is bigger than any particular sneaker collab. He's focused on leaving behind the cheat code for anyone who wants to follow his unique path.
"That journey is essentially what we're putting on display here so that kids coming to the city have a reflection of what they see in the outside world in a different context," he says. Not only will someone walking through see pieces from Abloh's personal archive of product samples and artwork, they'll also get a glimpse inside his process of "prototyping." It's a method that the space's designer, Samir Bantal, the director of think tank AMO, says comes from Abloh's background as an architect.
"Question everything—that's the train of thought we have as architects," says Bantal, who's a trained architect himself. "That context and that analysis gives you the tools to understand things like pop culture, media, and fashion."
There are two doorways to the exhibition, one labeled "Tourist," the other "Purist." Both are references that Abloh uses to describe the types of people he's encountered—and been himself—throughout his career.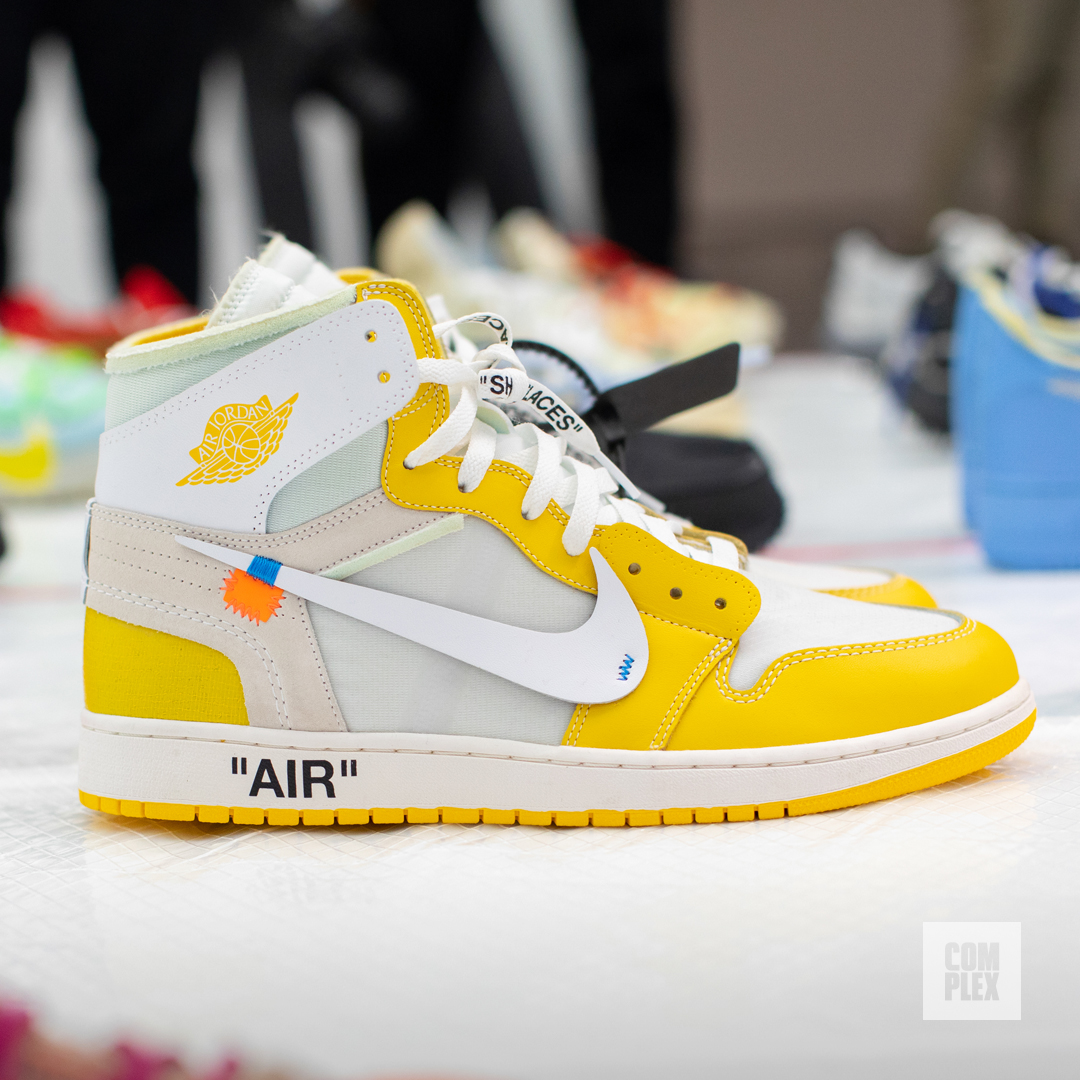 "HE DOESN'T JUST TAKE THE EASY ROUTE, WHICH IS COLOR AND MATERIAL. HE ACTUALLY ADDS TENSION WITH COUNTERINTUITIVE FORM AND COLOR AND PLACEMENT." - TINKER HATFIELD, NIKE/Jordan DESIGNER
Remember Abloh's first Paris Fashion Week, which was documented in an iconic Tommy Ton photo (also on display at the exhibition) and lampooned on South Park? He couldn't get into any fashion shows that year, and he says he was a tourist.
"We'd get all dressed up to go to the Paris fashion show and a security guard would make a point of saying, 'Your whole trip stops here.'" Abloh recalls. "We were so into the idea of fashion as a vehicle. It was our generation's way of speaking so much into that logo, or into that bag, or that belt."
Remember Abloh's first Paris Fashion Week as the men's artistic director of Louis Vuitton? He was a purist. Abloh suggests maintaining the curiosity of a tourist without losing the discerning eye of a purist is important—it's the person who can be both who can make meaningful art.
"It's the purist that says, 'I know everything about anything,' and that's what keeps the art world, fashion world, anything strong—by fending out any sort of tourist," Abloh said at a press conference for the museum in New York. "And I see a tourist as a segment of the population that's intrigued. Their interest is sparked. They're not too cool, and want to see the Mona Lisa even though they know the line is super long. I focus on the tourist and the purist because I feel like that's a segment of art that can actually change the world."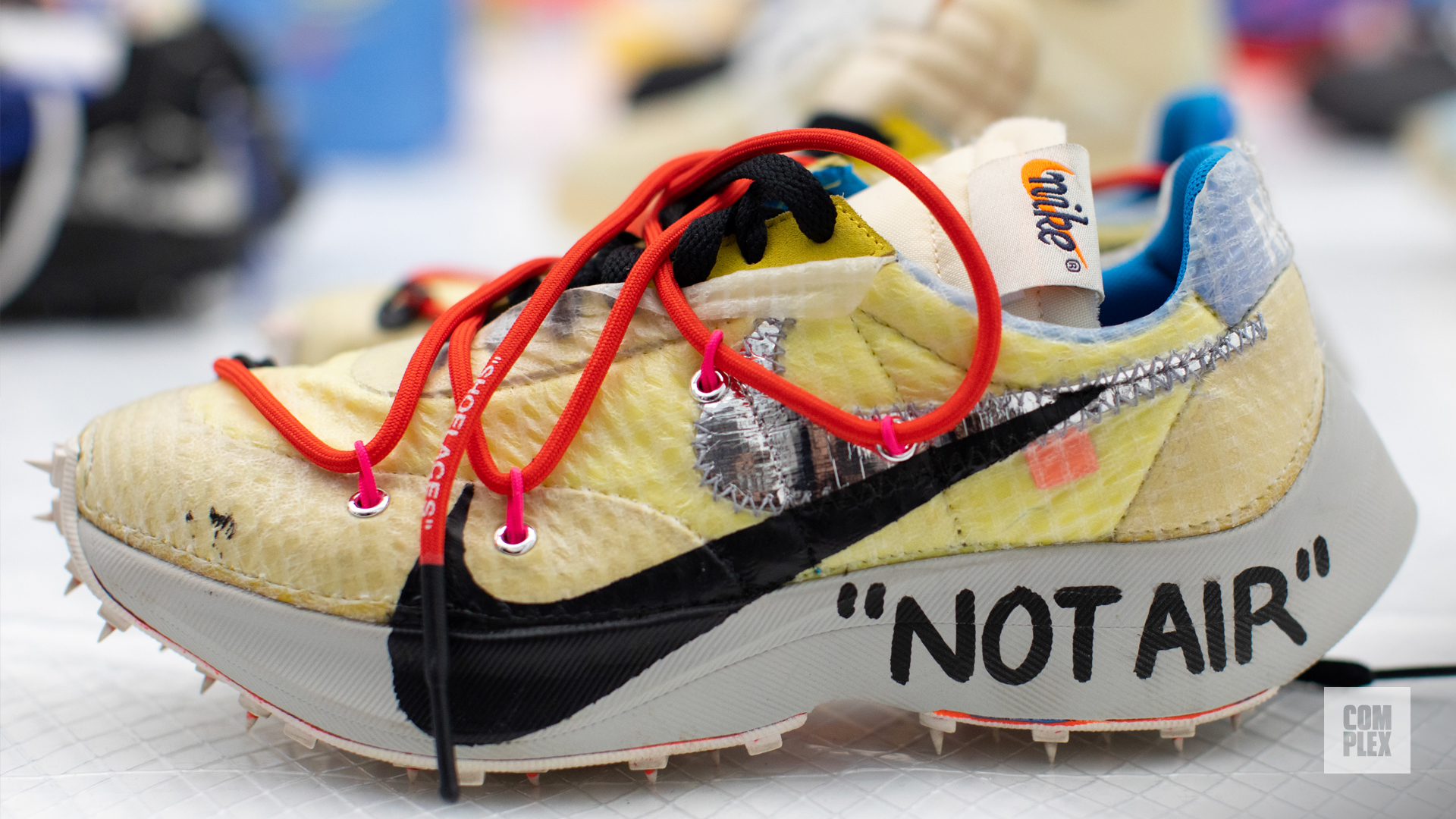 A hoodie or pair of sneakers with quotation marks on them may not solve the world's biggest problems, but it's evident that Abloh has affected companies that he's worked with. Now that he's a certified "purist" and part of the establishment, his M.O. isn't to overthrow the system, but to alter it from the inside.
Tinker Hatfield, the Nike design legend behind the Air Jordan III, Air Max 1, and countless others, has seen this firsthand.
"He made some revisions to some of my designs and some other designs at Nike, and those are really cool and refreshing because he puts tension into the designs," Hatfield says. "He doesn't just take the easy route, which is color and material. He actually adds tension with counterintuitive form and color and placement."
Nike insiders say Abloh's unique perspective on the culture has helped the company ideate and iterate on upcoming products. The company also says that its partnership with him has helped each party reach places they wouldn't have on their own. Last month, Abloh and Nike opened an experimental pop-up experience in Chicago a few blocks from the museum. Dubbed the Re-Creation Center, it's a hybrid retail store and creative space with mentorship workshops across different disciplines scheduled throughout the year.
"We were so into the idea of fashion as a vehicle. It was our generation's way of speaking so much into that logo, or into that bag, or that belt." - Virgil Abloh
Abloh's aesthetic and use of text on sneakers has also made its way onto other non-Nike x Off-White products, like the "Not for Resale" Air Jordan 1 and versions of the Nike Blazer. This proliferation of his design language is something he welcomes and even encourages. He also wants consumers themselves to take liberties with their sneakers, much like he did with Pyrex at the beginning of his career.
If someone can't get a pair of "MCA" Off-White x Nike Air Force 1s, he suggests that they go to Foot Locker to buy a general release pair, paint them blue, put a Home Depot hangtag on them, and call them "one-of-ones."
"That's what I would do, and I think that's what this exhibit is about. It's having a dialogue with what's in the institution. These are institutional Nikes now," Abloh says "But it's to make that journey shorter from what I had to do to get to this stage in my career, and make it 10 times shorter for those looking for that avenue."
Abloh's trajectory from outsider to creative director at one of the world's preeminent fashion houses is evident throughout the exhibition. While he looks at "Figures of Speech" as closing a chapter on this part of his career, he hopes the blueprint on display will help open a new chapter for someone else.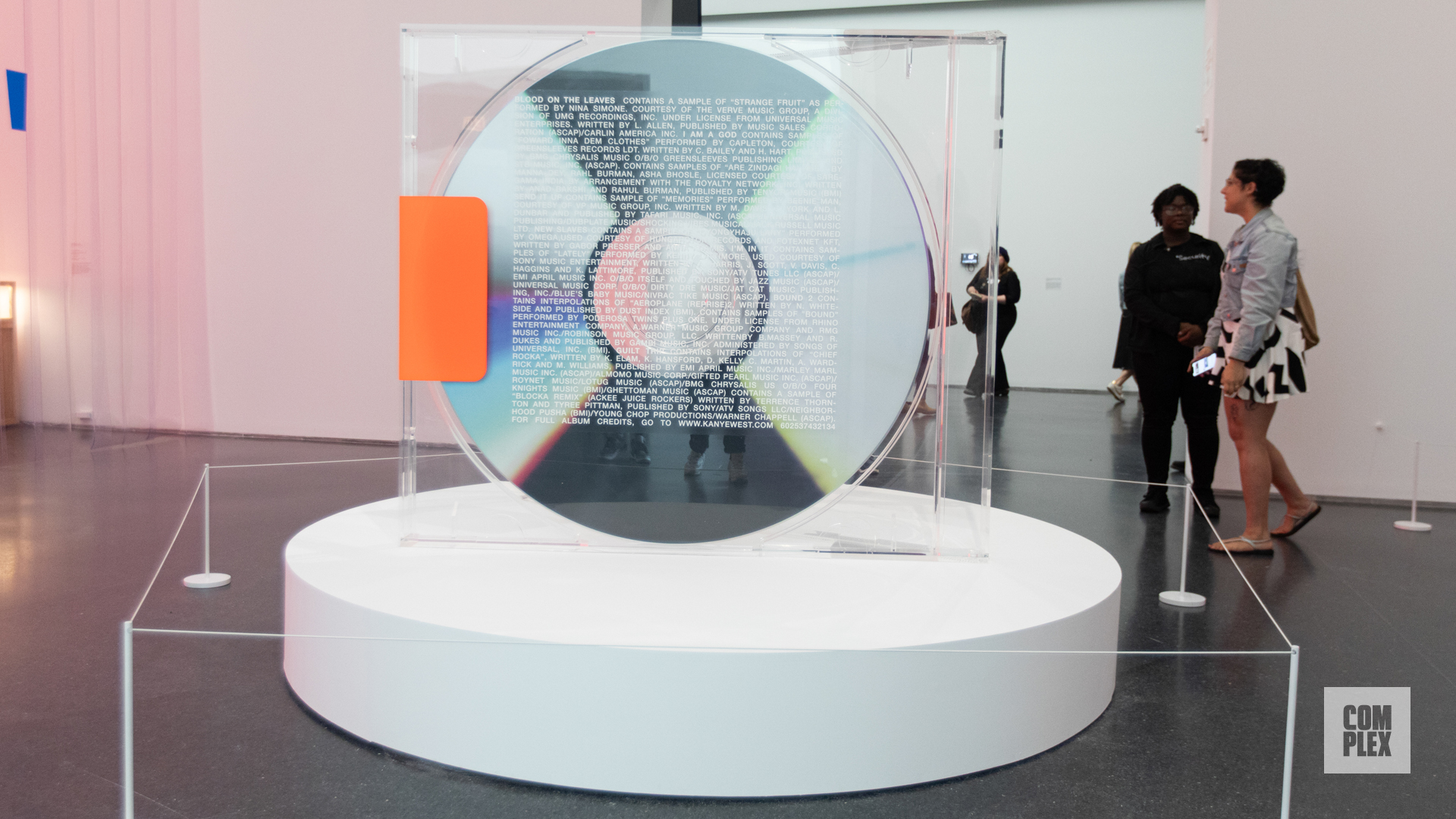 Abloh himself admits that, as a teen in Chicago, he wasn't going to the MCA. His museums were the luxury retail stores on Michigan Ave. He's hoping "Figures of Speech" will not only open up his work to a new audience of art purists, but also to a younger generation of kids who want to learn what's possible outside of the violent headlines Chicago has become known for.
"Essentially, you can choose a life that is devoid of that scenario. You could work at Louis Vuitton. You could make paintings about your circumstance. You could work at Nike," he says. "You could be a kid that looks like me, create something around it, and not be a victim to the statistics."
In tandem with the exhibition opening, Abloh and the MCA launched a design challenge for Chicago-area artists aged 14 through 21. The rules are fairly open. Contestants can submit 2D or 3D designs including anything from drawings to objects and clothing and accessories via Instagram with only the guidelines of, "Take something boring or broken and turn it into something extraordinary." The winner's work will be showcased outside the exhibition.
There will also be programming with Abloh and other local creatives, like Don C, during the summer that will be open to the public. For those who won't be able to visit the MCA in Chicago, the exhibition will be making stops in Atlanta, Boston, and Brooklyn in 2020. In addition, a companion book of the same name is available, with words from Abloh and the exhibition's organizers, as well as never-before-seen images from Abloh's archive.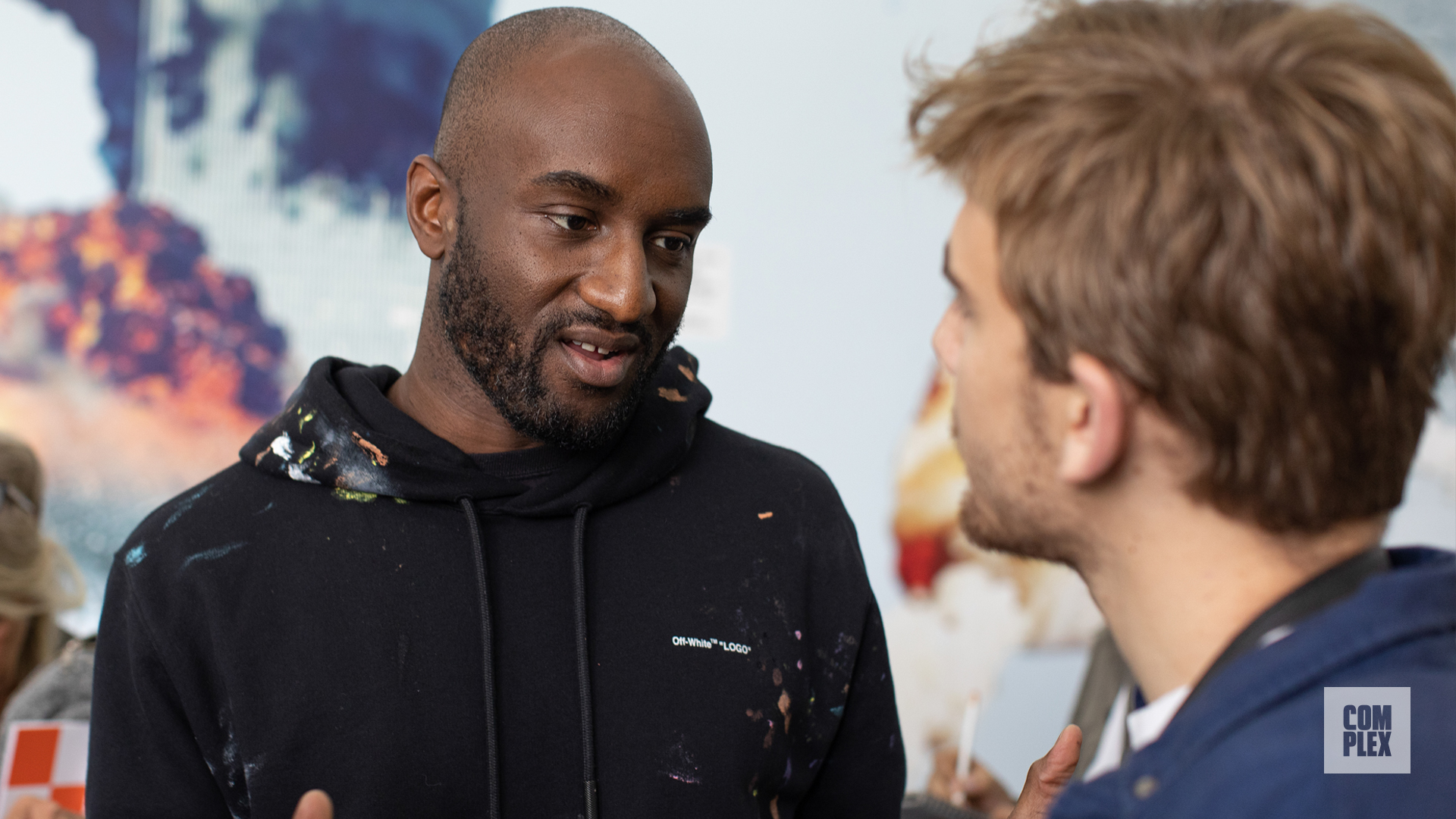 Don says witnessing Abloh's work ethic has stopped him from getting too comfortable.
"The reason we look at him as someone being successful is because he's someone that works hard. That's an attribute of Chicago. We are not lazy. We work," he says. "Virgil is omnipresent because he literally is everywhere. He is working every moment of the day, and even in his sleep."
In addition to the Nike custom space and the exhibition, Abloh opened a Louis Vuitton pop-up store near the museum. Running until July, it will feature his fall '19 men's collection. Both locations will also be working with the MCA to bring their consumers to "Figures of Speech."
Exhibition curator Michael Darling says he and Abloh hope to to draw younger visitors interested in fashion as an art form to the museum.
"We're excited about the audience and the younger people coming to the MCA who wouldn't have come otherwise," he says. "Maybe they'll learn something about Virgil they didn't know, aside from chasing hoodies and sneakers, and then hopefully meander through the museum and come across other things that are relevant to them."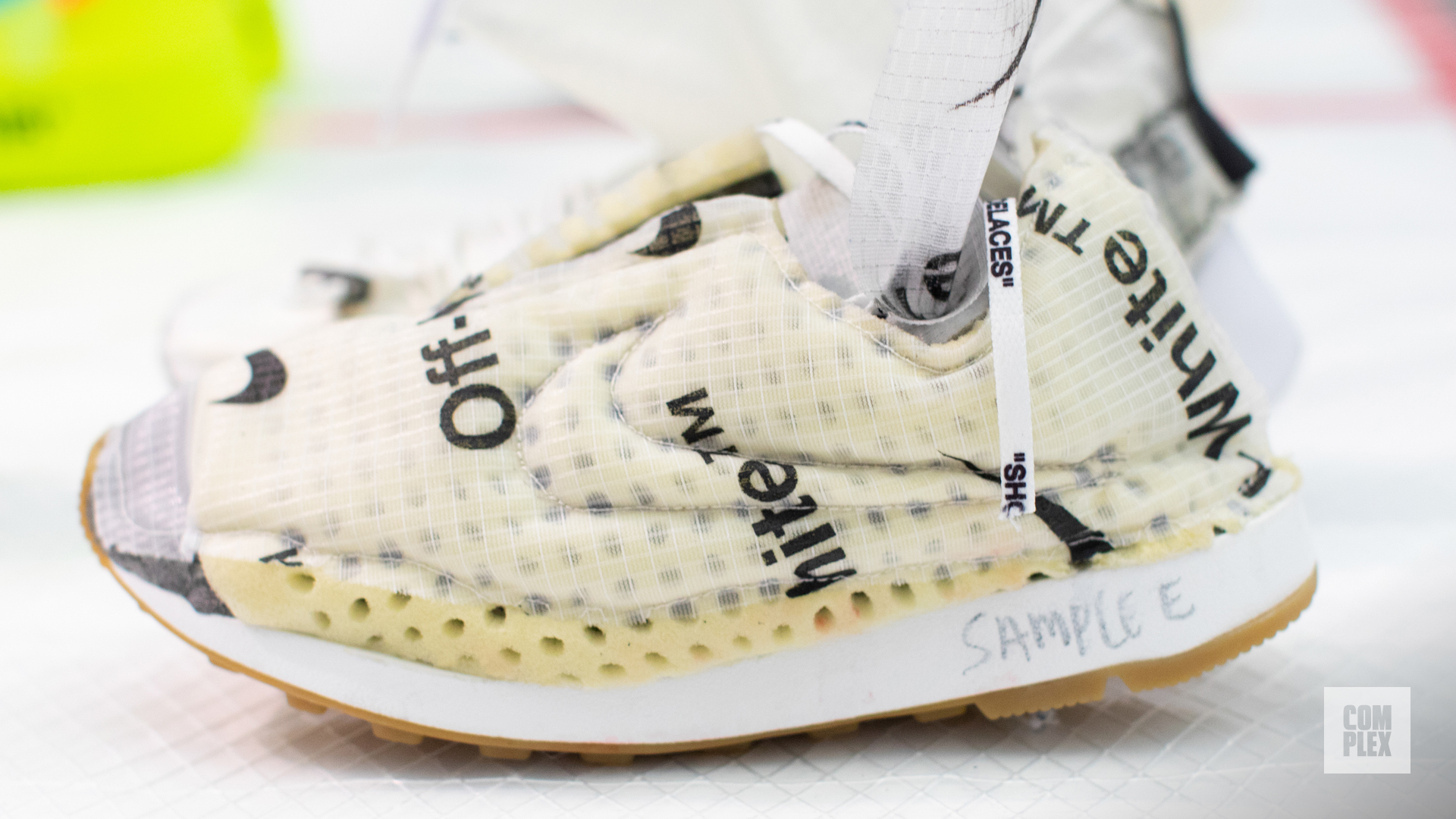 When Darling first cold-messaged Abloh about working with the MCA, Abloh thought the institution wanted him to DJ a party. When he found out it actually wanted to showcase his work, he saw it as an opportunity to reach a new generation.
"It sort of woke me up as a potential importance of organizing my work in a new museological way so that both the tourist and purist can understand my practice," Abloh says, "but also so a younger generation can see how vital the museum is and to think and experience outside of just their phone."