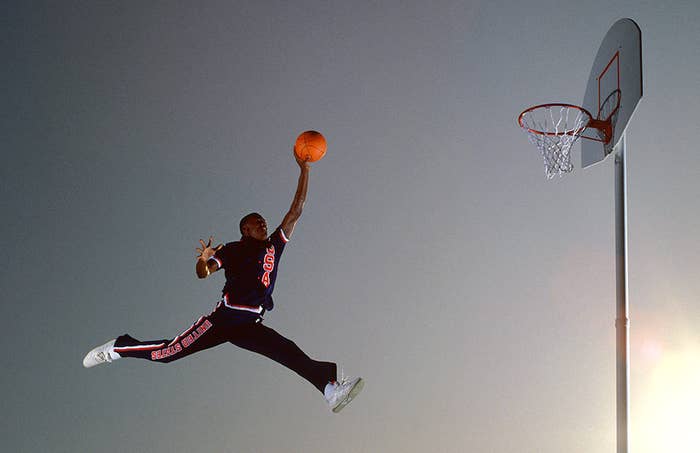 If you've watched the movie Air, which chronicles Michael Jordan's first sneaker deal and the creation of Air Jordan, then you know that he flirted with other brands before becoming Nike's all-time most important endorser. Adidas was his preference over Nike. In college, he wore Converse. Jordan took meetings with both brands before signing the deal that turned him into a sneaker superstar.
He wore New Balance on at least one important occasion too. One singular wear generally does not constitute sneaker history, but the image of Jordan wearing New Balances was immortalized in Life magazine, elevated to the Supreme Court by way of a copyright infringement lawsuit, and referenced on a sneaker collaboration this month by Chicago designer Joe Freshgoods.
The Photo of Jordan Wearing New Balances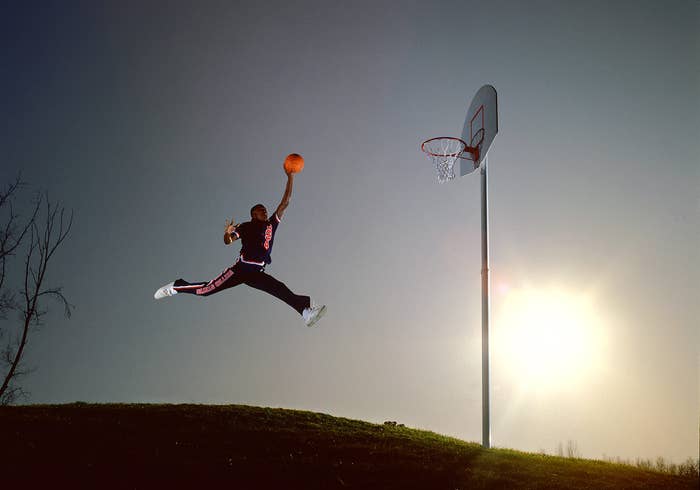 The image of Jordan in the New Balances was created by Jacobus "Co" Rentmeester in 1984 for a special issue of Life ahead of that year's Summer Olympics in Los Angeles. For the issue, Rentmeester shot photos of American Olympians like Carl Lewis, Greg Louganis, and Jordan, who played on the U.S. men's national basketball team.
The details of the photo shoot were laid out by Rentmeester's lawyers in the lawsuit against Nike that followed (more on that later).
Per that account, he traveled to the University of North Carolina campus in '84 and was told he had just 20 minutes to make images of Jordan. Jordan wore an obscure New Balance model in all white—opinion is somewhat split on whether it was the New Balance 425 or 480.
Rentmeester staged the shoot outside rather than on a basketball court, finding a grassy hill on campus and instructing his assistants to mow the grass low to "maximize attention on Mr. Jordan's soaring figure." The photographer's assistants assembled a basketball hoop adjacent to the hill, digging a hole in the ground to install its pole.
When Jordan arrived, Rentmeester explained his vision for the photo shoot using Polaroids he shot on set with an assistant as a stand-in. Jordan was to leap in the style of a ballet dancer, extending his legs in a grand jeté pose. "Mr. Jordan was enthusiastic and a quick study," the lawsuit reads. Jordan jumped and floated toward the basket as a shining sun beamed right at Rentmeester's lens. One of the resulting images, which shows a midair Jordan soaring through the sky with a pair of New Balances on his feet, was published as part of a two-page spread in Life for its Olympic issue.
The Lawsuit Over the Jumpman Logo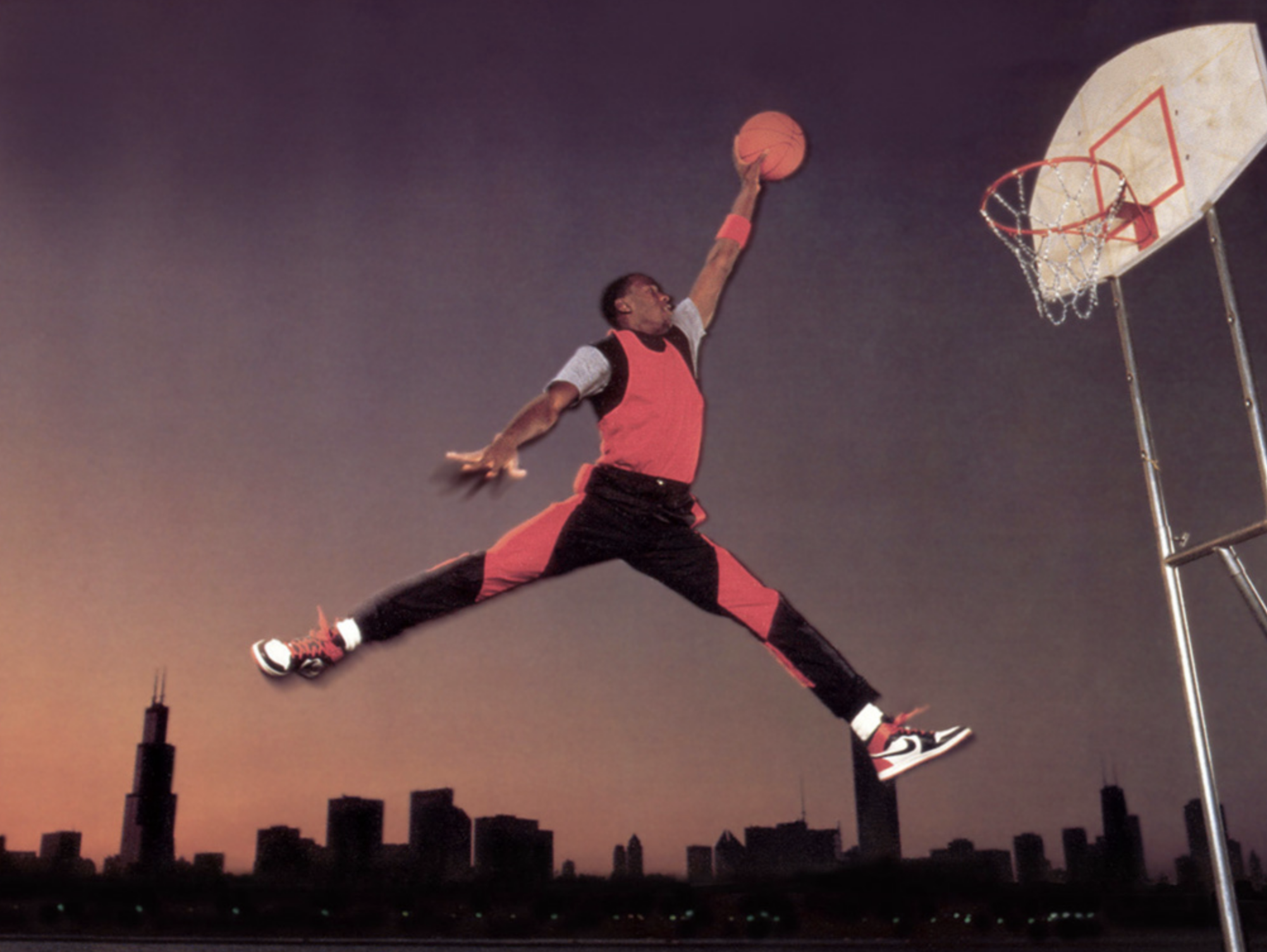 Rentmeester filed a lawsuit against Nike 30 years later, accusing the brand in January 2015 of copying his original image of Jordan in order to create the Jumpman logo. The complaint, filed in Oregon district court, traced how Nike allegedly borrowed Rentmeester's image of the flying Jordan from Life and created its own version that in turn birthed the famous logo of Jordan's silhouette that's adorned billions of dollars worth of sneakers.
Nike took interest in the photo of Jordan from the Life Olympic issue early on, according to Rentmeester's lawsuit. Peter Moore, Nike's creative director who was instrumental in the Air Jordan deal, facilitated a payment to Rentmeester of $150 in order to grant Nike limited use of two transparencies of the photo in August 1984. Nike was allowed, per the invoice, to use the images "for slide presentation only, no layouts or any other duplication."
After obtaining the transparencies from the photographer, Nike made a similar image, replacing Jordan's New Balances with sneakers from his signature line and replacing the Chapel Hill backdrop with Chicago's skyline. Jordan has nearly the same pose in the Rentmeester original and the Nike version, his left arm extended and legs scissored out.
Rentmeester reached out to Nike when the brand used its Jordan image in promotional materials around the launch of the Air Jordan line circa 1985. "Nike initially refused to speak with Mr. Rentmeester regarding the issue," the 2015 lawsuit says, "and only responded to his repeated requests when Mr. Rentmeester threatened litigation." The brand paid Rentmeester $15,000 in March 1985 for a limited license to use its version of the Jordan image for two years.
Rentmeester's lawsuit contended that Nike wilfully infringed upon his copyrighted images of Jordan by exceeding the scope of their original agreement. It accused Nike of ripping off his work to create the Jumpman logo, a world-famous brand mark that shows Jordan in a pose similar to the one Rentmeester instructed him to do for the Life photo shoot in 1984. The lawsuit was ultimately unsuccessful; it was dismissed in June 2015, and the Supreme Court rejected an appeal in 2019.
The New Balance Collaboration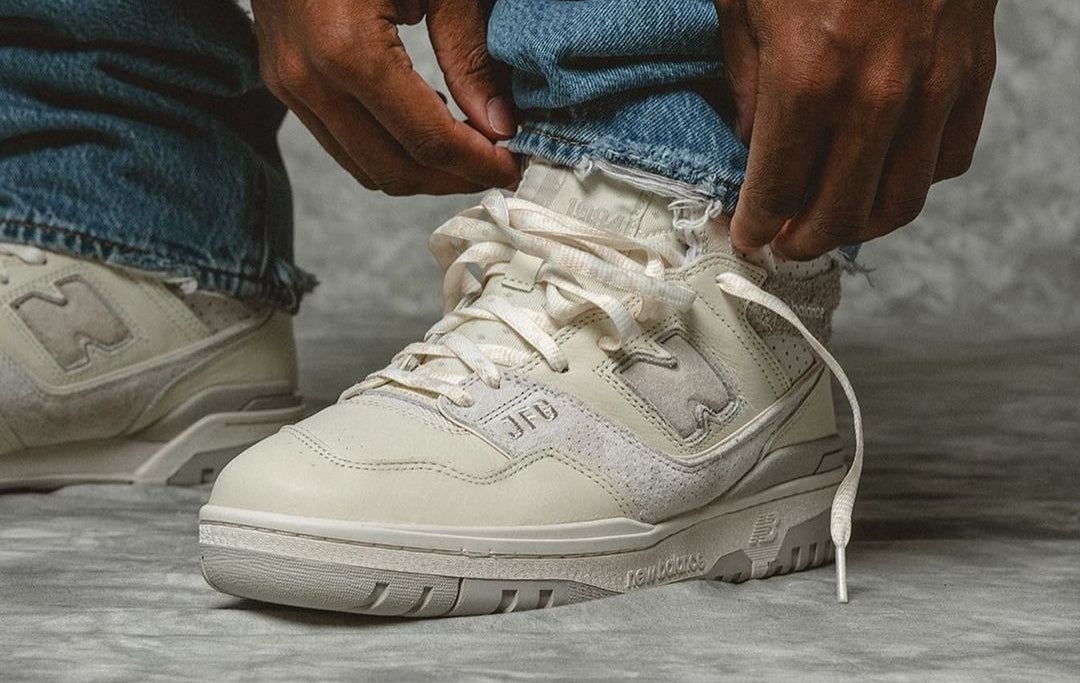 Prolific New Balance collaborator Joe Freshgoods used the Life photo shoot as inspiration for a limited-edition version of the New Balance 650 he designed that was released this past week. Joe announced the shoe on his Instagram account, posting images of the white colorway packaged with a bag that imagined, "What if the story was different?" In the accompanying caption, the designer alluded to the story of Jordan in New Balances without explicitly mentioning it, no doubt out of consideration for any potential legal issues that could stem from linking his shoe to Nike, Jordan, or Rentmeester.
"A few years ago, while going through old magazines for reference material, I stumbled upon a photograph of someone 'special' wearing a pair of NBs in a photoshoot," Joe wrote.
The shoes were limited to just 500 pairs, each of them hand-numbered, and released on Saturday, Sept. 9, exclusively at Joe's concept store in Chicago.
Joe Freshgoods and New Balance went so far as to take out an ad on a billboard in Chicago featuring the sneaker on the foot of a midair leg that looks like it could be borrowed from Jordan's jumpman pose. They stopped short of calling out the Chicago Bulls legend too directly, though. Joe introduced the shoe as the "Stuntman" New Balance 650; by the time it was released, he'd been compelled to change the name to the slightly more vague but definitely cheekier "Photoshoot for A Special Person" New Balance 650.
Jordan's history in New Balance sneakers isn't rich, but it is significant. What looked like a bit of obscure sneaker trivia frozen on film in 1984 is still reverberating decades later, animated by litigation and imagination. There's no record of Michael Jordan ever entertaining a deal with New Balance or even so much as thinking about the sneakers after that day on the UNC campus (and he's got several billion reasons to have forgotten about them), but for one brief occasion, Jordan and New Balance had their moment in the sun.