Now that we've ranked the year's Best New Sneaker Designs, Most Expensive Sneakers, and Best Sneakers overall, it's time for one more: the Best Air Jordans.
There was one Jordan in particular that had people in a frenzy: the Air Jordan 1 "Chicago" a.k.a. "Lost and Found." But it wasn't the only big retro story this year. 
Travis Scott continued his popular collaboration with multiple Air Jordan 1 Lows, while brand partners A Ma Maniere and DJ Khaled dropped pairs that had the internet talking for months. 2022 also saw a big emphasis on the Air Jordan 2, a model that's been largely overlooked and got some much-needed energy. You can't count out certain colors of shoes like the Air Jordan 4 or Air Jordan 11, either. 
Before you get ahead of yourself by thinking about all the pairs you're after next year ("White/Cement" 3s, anyone?), take a look back on The Best Air Jordans of 2022.
10.
Air Jordan 1 High '85 'Georgetown'
Release Date: April 2

Price: $200
In today's day and age, it's tough to get excited over another Air Jordan 1. Unless you're a person who gets excited for another Air Jordan 1. The brand has pretty much rinsed the silhouette over the past few years, creating meaningless colorway after colorway. There's clearly a market for those shoes (although I'm not in that bucket), but the brand is still creating Air Jordan 1s that also elicit the original feeling of the shoe, too, way before it took over TikTok. One of these examples is the Georgetown colorway from earlier this year. It was never an original version of the sneaker back in 1985, but it looks like it could have been. Back then the Hoyas and Patrick Ewing were wearing the Terminator, a shoe that also made a comeback this year in the school's colorway, but this Air Jordan 1 looks like something they would have hit the hardwood with. It was the perfect antidote for those who love the Air Jordan 1 but have been less than enthused with some of the makeups lately, save for the Lost and Found. — Matt Welty
9.
Air Jordan 4 'Military Black'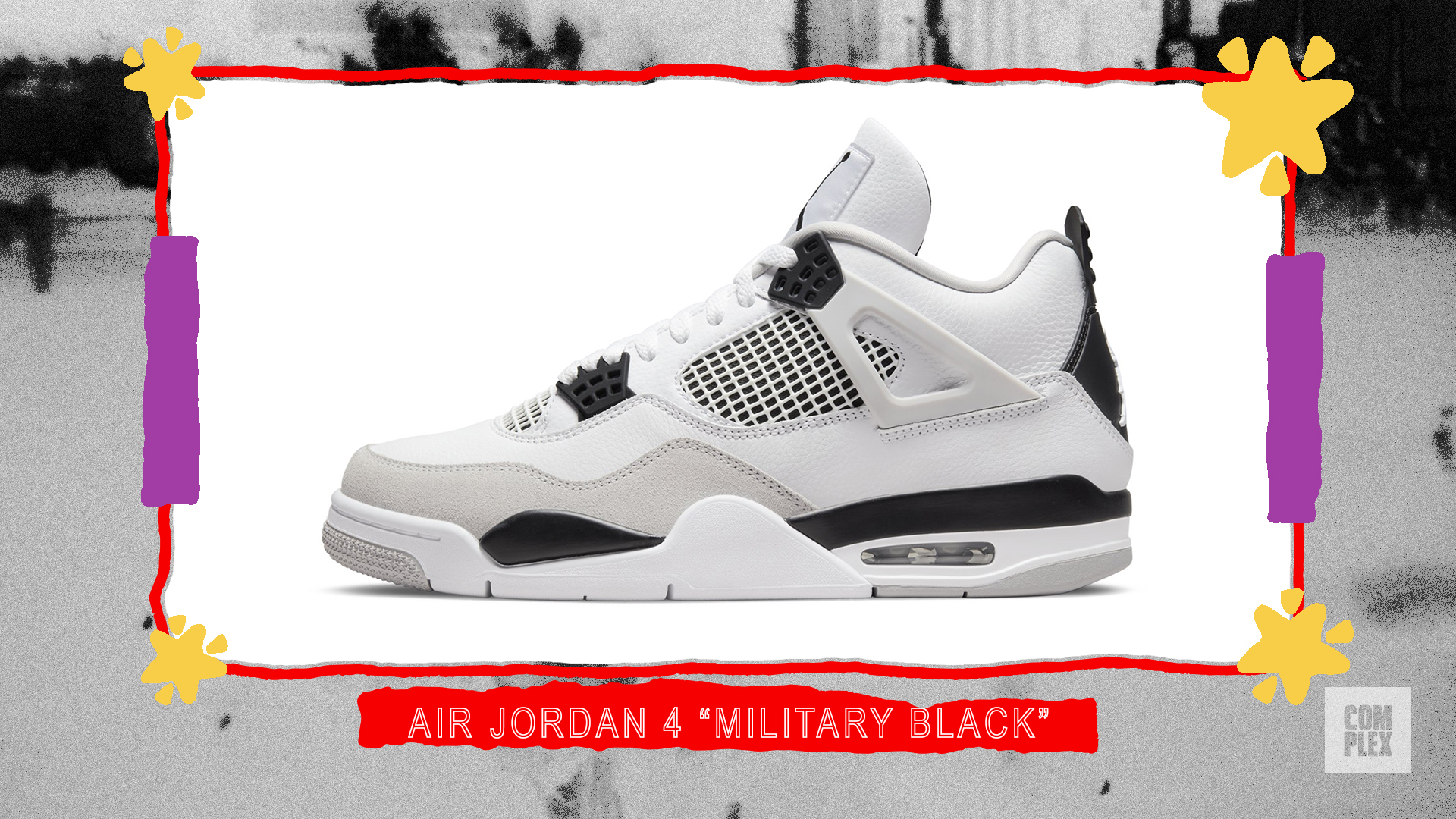 Release Date: May 21

Price: $210
Is this the "Panda" Dunk of the Air Jordan line? Is that even a bad thing? Maybe the comparisons aren't quite warranted as this shoe hasn't been trotted out nearly as many times as Nike's basic black and white Dunk, but still, it feels situated in the same line of solid inoffensive colorways on classic models. Nobody was really asking for a greyscale flip on the original "Military Blue," but this one works surprisingly well. It's the type of Air Jordan release that isn't going to break many necks but also isn't going to offend anyone, conservative but still cool. Even the Jumpman logo on the back works just fine—remember, we don't need "Nike Air" hits on every single retro release. — Brendan Dunne
8.
Travis Scott x Air Jordan 1 Low 'Black/Phantom'
Release Date: December 15

Price: $150
It's rare that a Travis Scott sneaker is widely panned after leaking, but that's what happened with the "Black/Phantom" Air Jordan 1 Low. Whether you chalk it up to Cactus Jack fatigue or the colorway just not being the most exciting, these didn't quite connect the way Travis Scott collabs usually do.
With its black suede upper and white contrast stitching, this Travis Scott x Air Jordan 1 Low could pass as a Vans shoe from a distance. Reverse Swoosh and heel bee emblem aside, it almost blends in—something that can't be said about other Cactus Jack shoes that scream "collab." By omitting the pre-yellowed midsoles and cream colors that have become commonplace on his line and beyond, it's sort of like the anti-hype Travis shoe. 
It's understandable that these aren't everyone's cup of tea, but that doesn't make them a bad shoe. Travis is going to have to switch it up every now and then to keep the formula fresh, and this is a step in the right direction. — Riley Jones
7.
Air Jordan 3 'Fire Red'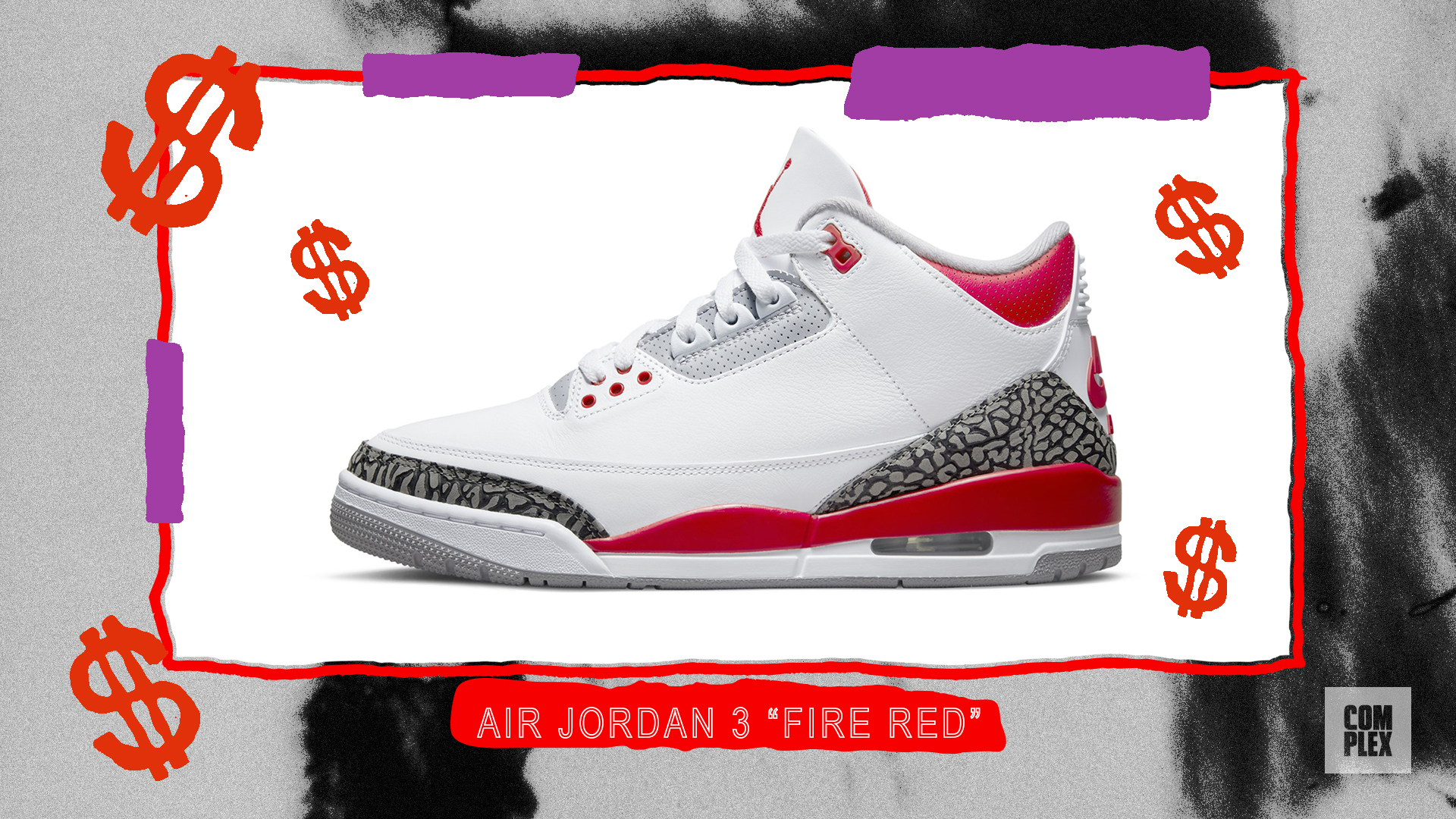 Release Date: September 10

Price: $210
I really wanted these when they retroed in 2007. I remember seeing the last pair in a Finish Line in Manchester, New Hampshire, on a drive home from college. Sadly, there was a pen mark across the shoe that wouldn't come out, so I passed. If you know anything about sneakers in New Hampshire at that time, you'd know how hard it was to come across good retro product. So it hurt, bad. It was nice to see the shoe finally come back this year in its OG form with the Nike Air on the back, much better than the Jumpman version from '07. I know there tends to be a bias in black colorway Jordans amongst collectors and the public, so you'll never see the Fire Reds usurp the Black Cements in popularity, but it's good to see one of the original models get special treatment and be well received in today's era. — Matt Welty
6.
Air Jordan 11 'Cherry'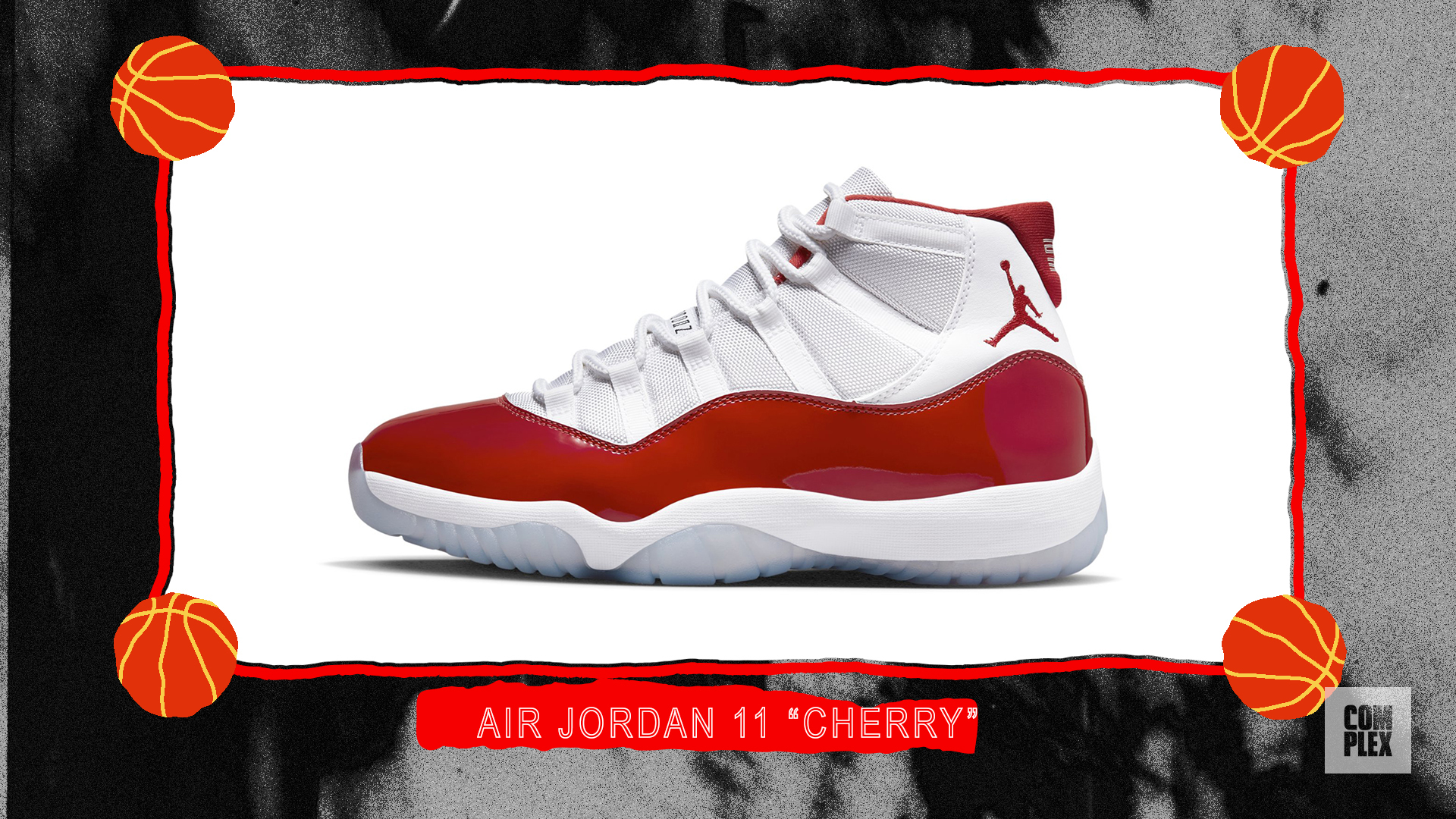 Release Date: December 10

Price: $225
The Air Jordan 11 is an interesting sneaker. It holds the same fan-favorite status as other Air Jordans like the 1, 3, and 4. Plenty of people even call it the best sneaker that Michael Jordan ever played in. But unlike the other pairs mentioned that seem to release in dozens of colorways every year as their popularity grows, the Air Jordan 11 has always been treated a bit differently. Sure, over a million pairs of them are released each time now, but they still have been largely limited to an annual event on the calendar every December. 
This year's "Cherry" 11 may not have excited people the same way an original color scheme like the "Concord" or "Playoff" would have, but the non-OG white and red makeup still had no issues selling out on drop day. Longtime Jordan fans will love it because it feels like something he would have laced up with the Chicago Bulls (and also sort of looks like the Oklahoma Sooners PE from 2018) despite being brand-new. For others, there's just something about that shiny patent leather shroud. A lot of releases these days rely on a big name collaborator to get everyone's attention. But not the 11. It's always been perfect on its own. — Mike DeStefano
5.
DJ Khaled x Air Jordan 5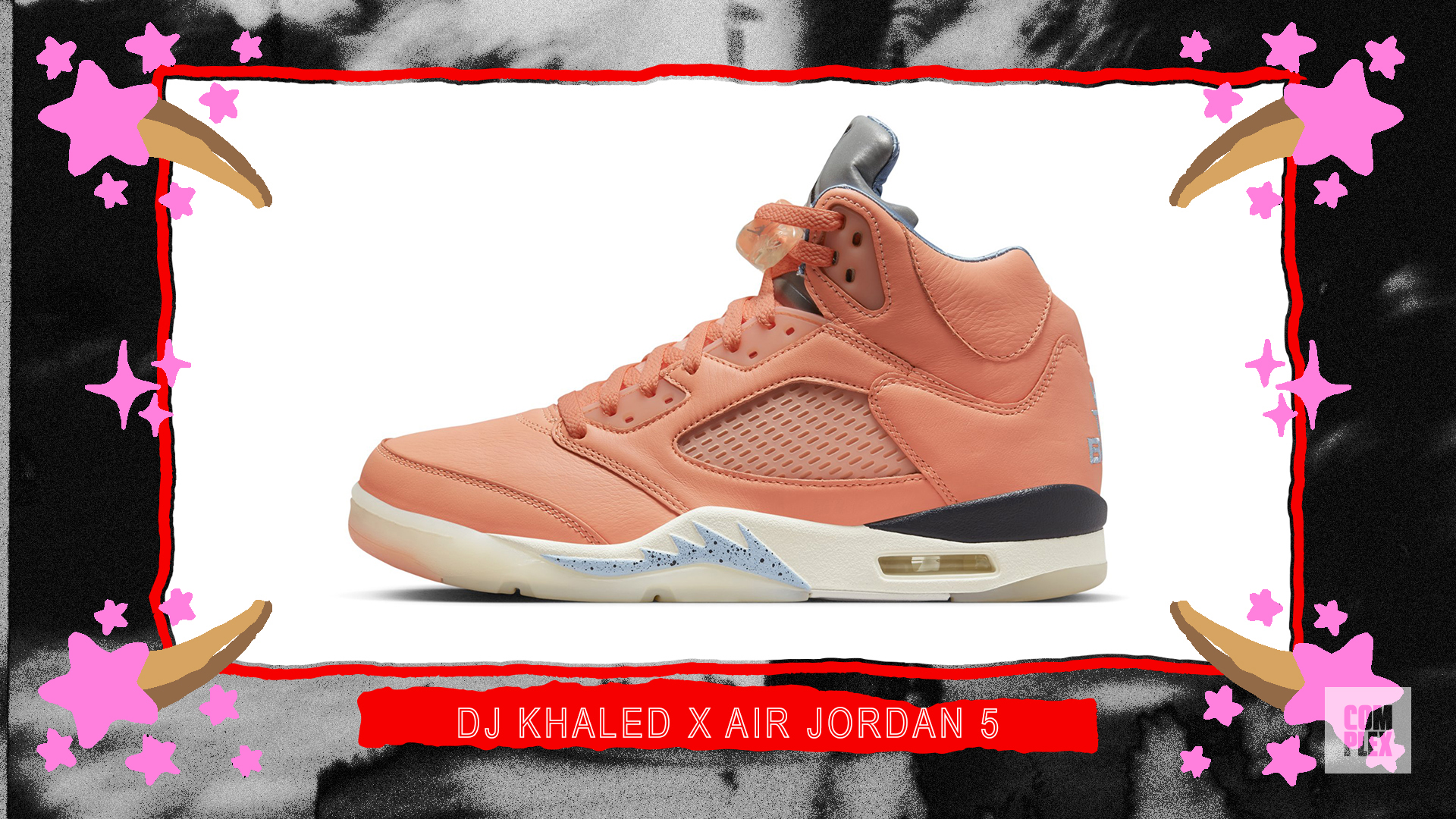 Release Date: November 28

Price: $225
DJ Khaled's brazen personal style and eternal optimism came to life in sneaker form in 2022 with his first Air Jordan collaboration to hit retail. The DJ Khaled x Air Jordan 5 was created in four different variations: two friends and family and two general releases.
Rather than simply being a flip of new colorways, the project took things a step further and actually reworked one of the Air Jordan 5's signature features by removing the molded padding from the collar. It created a more streamlined, modern, and wearable silhouette. 
In typical DJ Khaled fashion, the entertainer dialed his promotion of the shoes up to 1,000, wearing them courtside with a matching foot pillow at a Miami Heat game and flying via private jet to personally give pairs away across continents. The general release colorways—Crimson Bliss and Sail—didn't sell out on SNKRS in seconds like so many hyped releases, but disappeared at a steady pace. With resale prices hovering slightly over retail, that may speak to the fact that they were widely available, allowing more fans the chance to get their hands on a pair. — Zac Dubasik
4.
Air Jordan 2 'Chicago'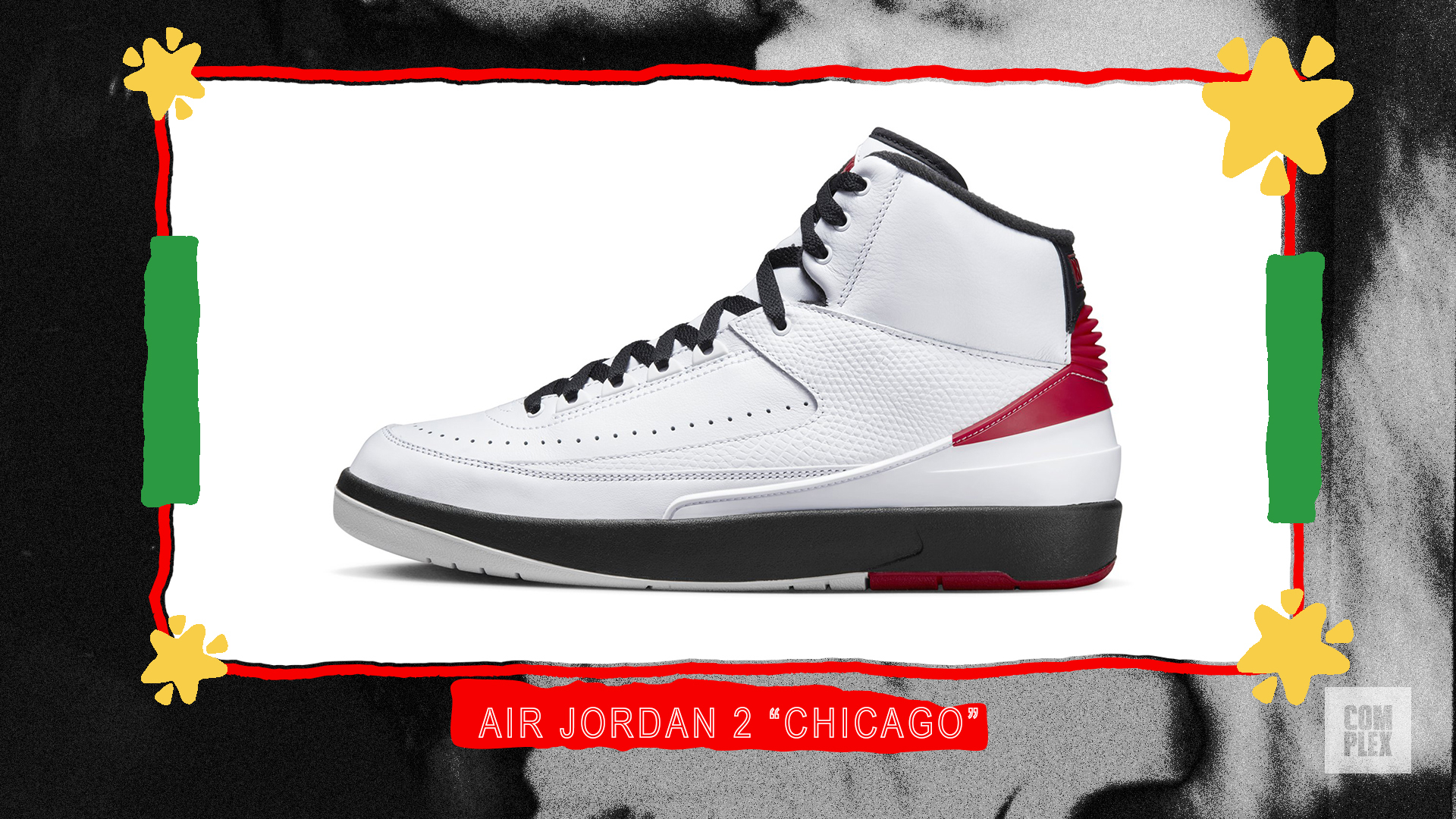 Release Date: December 30

Price: $200
Of all the Air Jordans that were actually worn on court by Michael Jordan, the Air Jordan 2 may be the most polarizing—even MJ himself wasn't crazy about it. It may be the ugly duckling of the Air Jordan line, but it's not without merit. Originally produced in Italy, the sneaker has always had an elegant feel to it. With its predominantly leather and relatively sparse upper, it sits comfortably alongside other sneakers from its late '80s era including designer footwear from Gucci and the recently revitalized New Balance 550. 
For its most recent retro push, Jordan Brand has led by leaning heavily into collaborations, letting partners like Virgil Abloh's Off-White and J Balvin create energy around the silhouette. But to finish the year off, the brand is going OG with the return of the "Chicago'' high. No, it's not made in Italy, but the pair has been reproduced with the attention to detail it has long needed. For purists, the shape is looking better than it has in a long time, and this is actually the first time since the 1994 retro that the "Chicago" colorway has been released without a contrast stripe around the side panel. For newcomers, this is a great opportunity to pick up a historic Air Jordan that doesn't come around as frequently as some of the more popular models. — Riley Jones
3.
Travis Scott x Air Jordan 1 Low 'Reverse Mocha'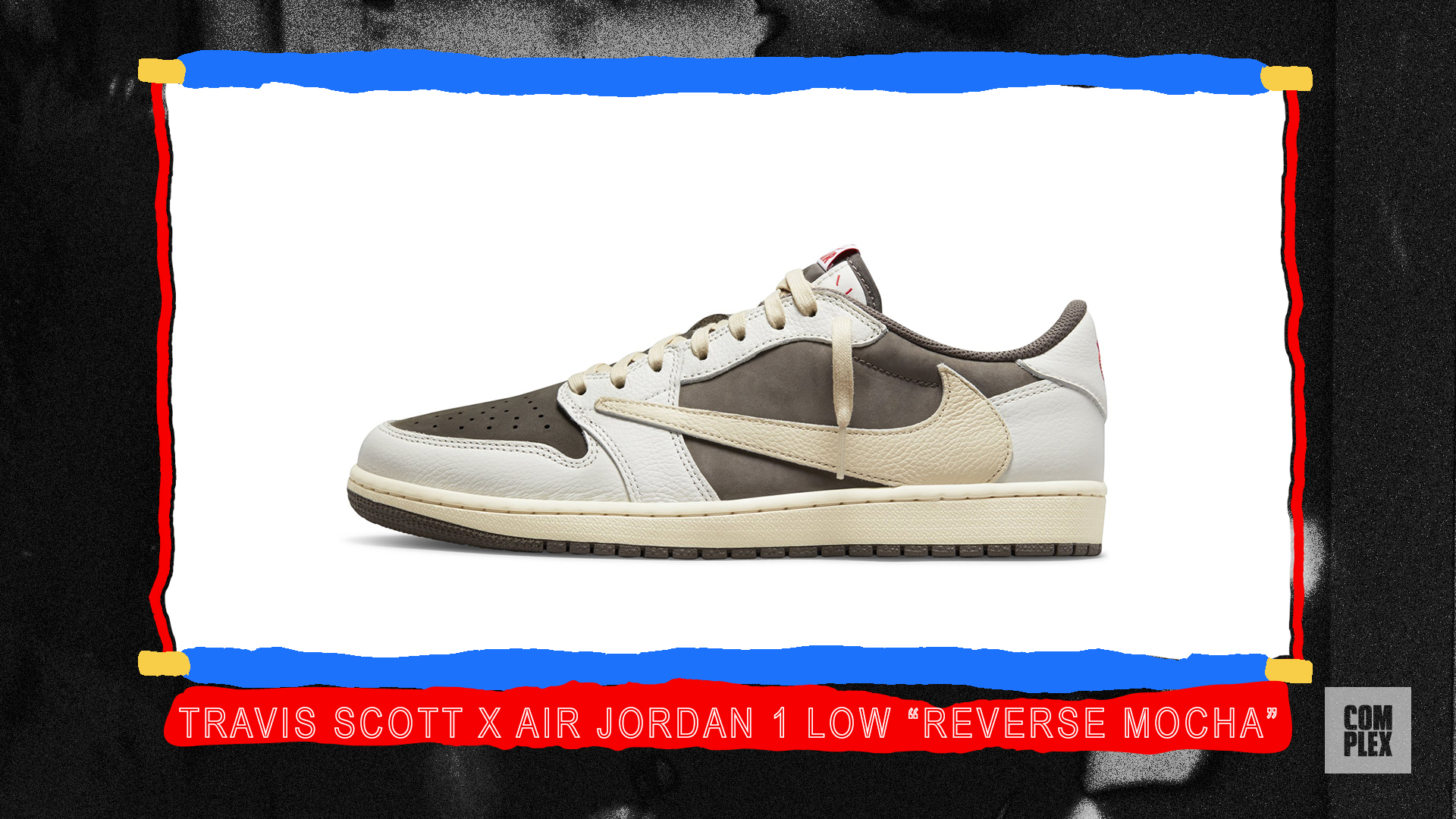 Release Date: July 21

Price: $150
Following the tragic events of Travis Scott's Astroworld Festival in 2021, his exit from the spotlight for months in its aftermath, and his official reintroduction in the sneaker world marked by a string of sub-par collaborations in the first half of 2022, some people may have thought the the rapper's hype train had come to a screeching halt. It was a completely fair assumption to make. But then July rolled around and the "Reverse Mocha" Air Jordan 1 Low released. It turns out people still love the combination of an earthy color palette and a reverse Swoosh, the signature elements of most of Travis Scott's sneakers, after all. 
To some, the "Reverse Mocha" is the best Air Jordan 1 Low that Travis Scott has ever stamped his name on. It doesn't do anything we haven't seen before. But sometimes it's all about great execution. And you don't need to be a huge Travis Scott fan to appreciate how this pair looks. It proves that not every collaboration needs an elaborate story or wild mix of materials to work. Yes, Travis Scott's attachment obviously means a lot. But at the end of the day, a big name can't be all a sneaker brings to the table. It still has to look good when you wear it. As anyone lucky enough to own these knows, this pair certainly does. — Mike DeStefano
2.
A Ma Maniere x Air Jordan 4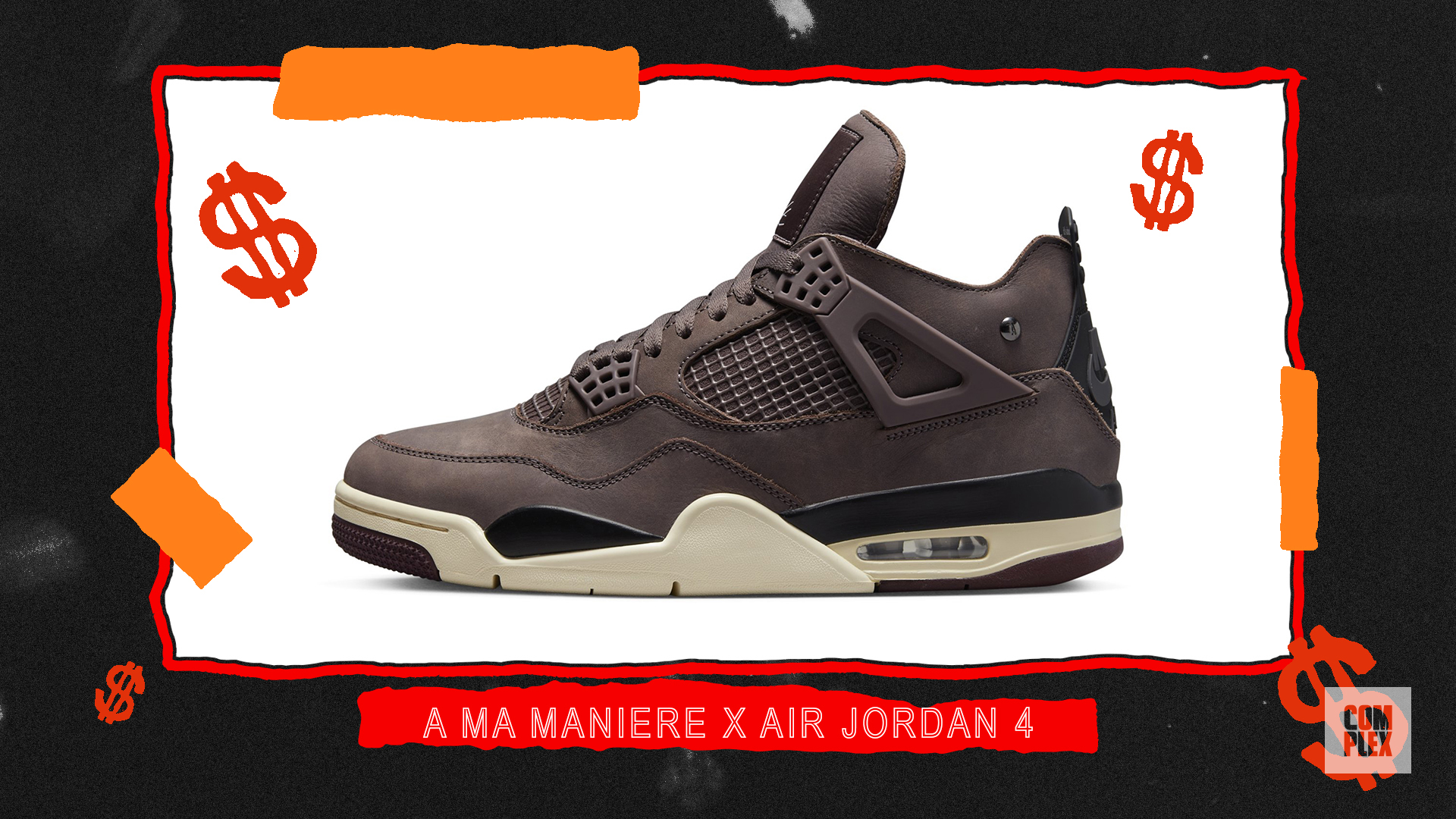 Release Date: November 17

Price: $225
A Ma Maniere and founder James Whitner had a near-unanimous hit with their 2021 Air Jordan 3 collaboration. It topped many Sneakers of the Year lists, including our own. The project was praised for its storytelling and for being instantly recognizable as something special without compromising wearability. 
The pairing's follow-up collabs on the Air Jordan 1 and 2 were well received, but didn't quite generate the interest of the initial project. It appeared an Air Jordan 12 might be next for the brands after Whitner debuted the sneaker on an episode of The Complex Sneakers Podcast, but it turned out to be an AJ4 that dropped late in the year.
Rich maroon tones cover the upper of this Air Jordan 4, combined with a luxurious quilted lining—a palette and materials combo that is nothing new for A Ma Maniere. It translated well to the retro-tech aesthetic of the Air Jordan 4's design, elevating the model in a way that felt more exciting than the 1 and 2 that preceded it. And the shoe's launch, while a bit convoluted as a method of winning the opportunity to purchase a pair of sneakers, had good intentions in raising awareness for November's midterm elections. — Zac Dubasik
1.
Air Jordan 1 High 'Lost and Found'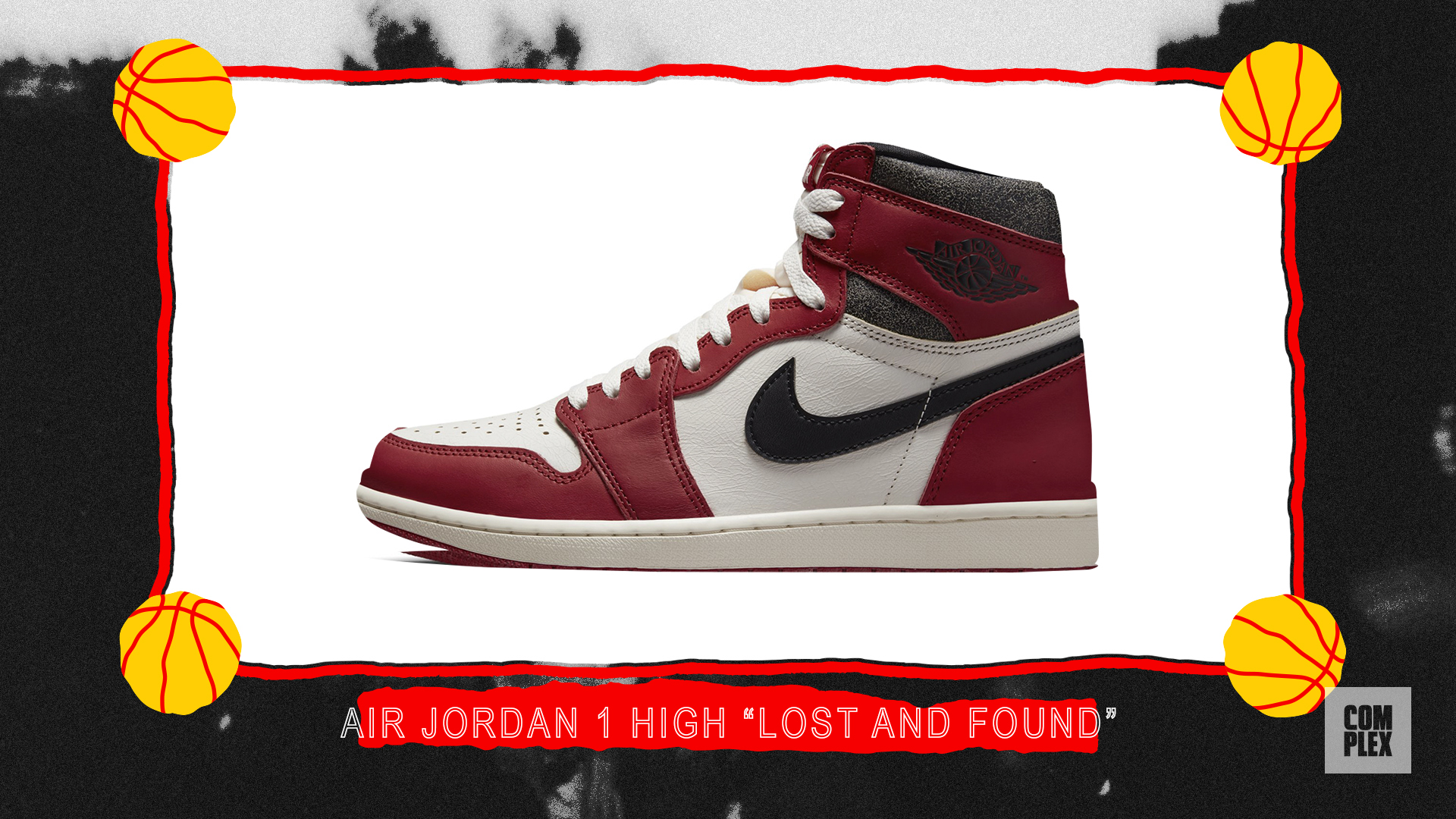 Release Date: November 19

Price: $180
The Air Jordan 1 "Lost and Found" is one of those shoes that did almost everything right. It let longtime collectors relive the original "Chicago" colorway of the Air Jordan 1 in one of its best retro forms yet. Yes, this sneaker has been re-released before, but the last pair happened midway through the last decade, and a return was due given how much the Jordan 1 has risen since then. It let a whole new generation, who may have only become acquainted with the sneaker through The Last Dance, understand the fresh of Jordan's first signature shoe in his original colors.
On top of all that, the sneaker does just enough to sprinkle in some new storytelling without spoiling the shoe. (OK, aside from the small minority who cracked open their boxes only to see their shoes ruined by mold.) This is still very much the "Chicago" Air Jordan 1, but with a tasteful amount of vintage touches that evoke the feeling of scoring a deadstock pair out of a dusty mom and pop sportswear store. Those details help set the shoe apart from the last go round in 2015. Also making the difference, and making it an easier shoe to celebrate, is the fact that this Air Jordan 1 was produced in mass quantities—one source tells Complex there were around 800,000 produced. (OK, they still crashed the SNKRS app, but worst case scenario you can get them for relatively cheap on the secondary market.) 
The Air Jordan 1 "Lost and Found" represents the best of Jordan Brand: sharp retros that look like they did decades ago, original colorways that Jordan himself actually played in, and the right amount of story to make shoes that we've seen so many times before feel fresh again. — Brendan Dunne