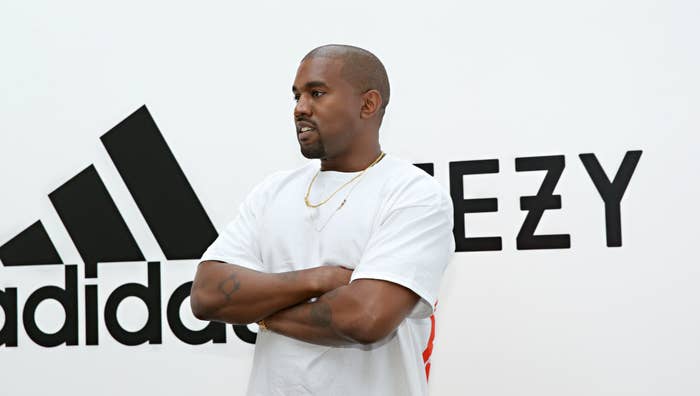 Adidas is ending its collaboration with Ye, the brand confirmed in a statement on Tuesday. The termination of the deal with the artist formerly known as Kanye West comes after months of him publicly challenging the brand, which makes his popular Yeezy Boost sneakers, and expressing antisemitic views in interviews and on social media.
"Adidas does not tolerate antisemitism and any other sort of hate speech," the statement reads. "Ye's recent comments and actions have been unacceptable, hateful, and dangerous, and they violate the company's values of diversity and inclusion, mutual respect, and fairness."
Ye signed to Adidas at the end of 2013, connecting with the German sneaker maker after his relationship with Nike soured. He later signed a long-term deal with Adidas in 2016 that was meant to run into 2026.
His line of Yeezy sneakers, which includes coveted models like the Yeezy Boost 350 and the Yeezy Slide, represent several billion dollars of revenue for Adidas. In its statement announcing the deal's end, Adidas noted that it anticipates taking a hit on income.
"This is expected to have a short-term negative impact of up to €250 million on the company's net income in 2022 given the high seasonality of the fourth quarter," the statement says.
While Adidas says that it's immediately stopping the Yeezy business, the announcement suggests the brand has the ability to continue to sell Ye's sneaker designs without being formally partnered with him. The statement says Adidas "is the sole owner of all design rights to existing products as well as previous and new colorways under the partnership." Still, Adidas says that it's ending all production of Yeezy-branded product.
Ownership over designs was central to Ye's battles with Adidas. Earlier this year, he launched a war on the brand, complaining that it had knocked off his sneakers by making inline Yeezy lookalikes that were generating significant revenue. The artist blasted Adidas execs on social media and even posted contents of a bizarre meeting with them to YouTube.
While Adidas stood by Ye during those attacks, the brand announced that it was placing his partnership "under review" after he wore a "white lives matter" shirt at his Paris fashion show this month. In the following weeks, Adidas faced new pressure to sever ties with Ye, who was taken off Instagram and Twitter after making antisemitic comments. He went even further, proudly laying out his disdain for Jewish people in long interviews.
"I can say antisemetic things and Adidas can't drop me," Ye said in a since-removed interview with the Drink Champs podcast. In the same interview, he mentioned the death of George Floyd, referencing a false claim that Floyd had died from fentanyl.
His comments prompted several businesses to end their relationship with Ye, among them Balenciaga, talent agency CAA, and Vogue magazine. They also sparked concern among Adidas employees, who voiced their disdain on social media and in messages within the company. One Adidas director called the brand out on LinkedIn for continuing to work with Ye, saying that "we need to do better as a brand."
Per Adidas' statement on Tuesday, the company will provide more information on its ending the Ye deal on Nov. 9 when it posts its Q3 earnings statement.