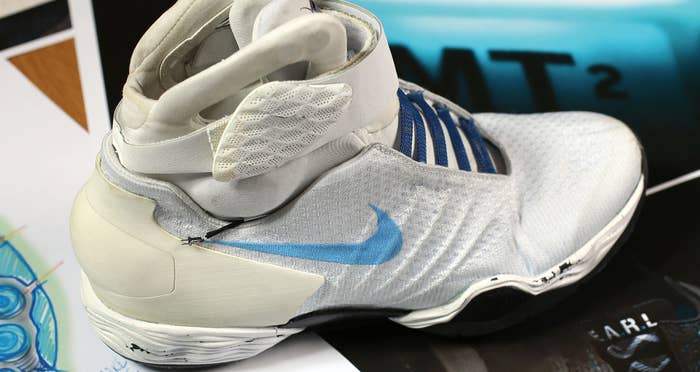 Earlier this month Nike debuted its self-lacing sneaker, the HyperAdapt 1.0. The sneakers feature Nike's state-of-the-art Electro Adaptive Reactive Lacing system and, aside from the 2016 Nike Mag, it is the only sneaker to use the technology. Multiple prototypes were made before coming to the final design and Nike is giving us a look at it.
Designed by Tinker Hatfield and Tiffany Beers, the idea took years to full come together—going through a series of tests and refinement. "The white pair is the first underfoot prototype, which matches Tinker's first round of sketching," said Beers. "This shoe was a completely new mechanism. We tried some different things, and all five laces were being pulled at the same time in this version." 
The second version moved even further away from the original Nike Mag design. "This was our first time trying to make multiple mechanisms based on the new tech we built," said Beers. "Only two laces were being pulled, unlike the five in the first prototype."
While the first two prototypes feature high-top designs, the third prototype, and ultimately the final design, was a low-top. Check out the three designs that lead up the Nike HyperAdapt 1.0 below.