Ibn Jasper tells me cutting hair is actually the same as designing sneakers. I wasn't sure if I believed this until I remembered he remarkably cut a Keith Haring art design onto Kanye West's head for the 2009 MTV awards. He delved further into this thought explaining, "I wanted to know exactly how they make vulcanized shoes, so I started looking at videos and it's just rubber tape and people cut it to make the certain shapes. And I'm thinking, "I'm a barber—that's what I do, I cut shapes."
Hailing from Chicago as West's longtime childhood friend and barber, as well as Kid Cudi's barber, it's hardly a surprise that Ibn Jasper is making the full leap into the design world. First West along with Virgil Abloh, then Don C, and now Ibn Jasper—the south side Chicago kids appear to be taking the design world fully by storm. "I'ma let this be known right here, me as a designer, I went to Kanye University," Jasper says. "That's the university I went to. And the graduate school I went to was Diamond Supply Co. to learn my specific design skills. And my main tutor was Virgil. Ye, Nick [Tershay], and Virgil are responsible for me being a designer. And if you think about it, that's my 300 percent right there. Nick is the skate, Virgil is the high design architect luxury life, and Ye is the rap/street shit."
Ibn will debut his first collection with two vibrant vulcanized skate shoes. As it stands there will be four other silhouettes added to the collection later as well. First seen at this past Paris Fashion Week, the first two are the Broadway Trainer in a white colorway, and the Wilshire in a red colorway will release sometime in late November via the brand's website. The rest will show at Paris fashion week and Tokyo showrooms early 2019.
The shoes are going to be priced between $300-$500. When I ask why, Jasper is quick to explain. "When Virgil did his Pyrex 23 shirts, everybody was like, 'Why these costs so much?' and he was like, 'Because anything I do is luxury' and look where's he at now… The biggest luxury brand in the world [Louis Vuitton]. It's all about how you think about yourself. I said to myself, 'One day I'll be able to charge whatever I want for a haircut.' And here we are. My haircuts cost $3,000. In 2045, all of this pop culture stuff that's going on now, all of this, is going to be real history."
We got the chance to talk to Jasper about his new brand Stratica, some of his inspirations for the new shoes, and his goals for the future of the brand.
Why the name Stratica?
Strata is a latin word. I was thinking what does the word street come from, and it comes from the latin word Strata. Strata is also a term in archeology that means layers, like the layers of the Earth are called Strata. Then the layers of society are called Strata as well, like when you talk to an economist. You make shoes in layers and they're on the street. Vulcanized shoes are just layers of rubber [on the street]. I decided to make up a word for my brand after talking to my lawyer and I realized I could completely create a world around it. So it's called Stratica International, a special interest group. It could be another planet, it could be a mind state, it could be anything based on the real meaning of the word Strata, which is streets and layers.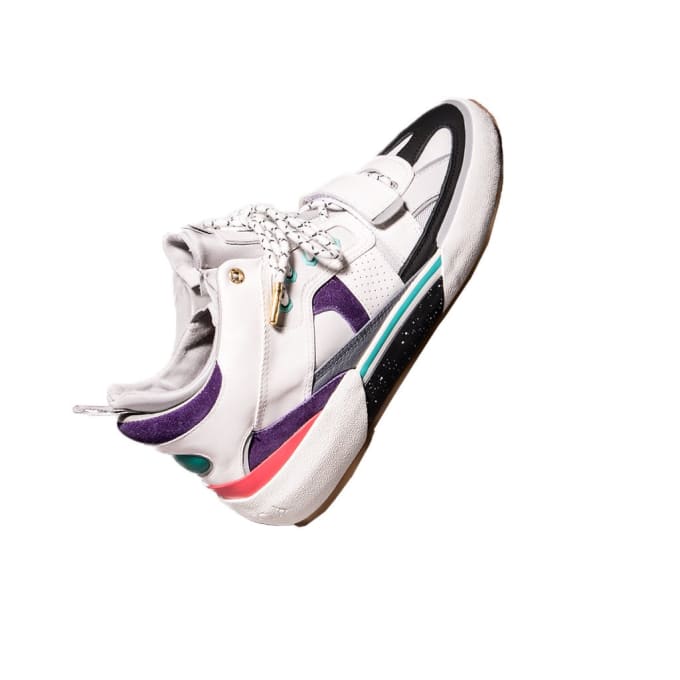 What were the steps in bringing the brand to life?
Me and Virgil [Abloh] were roommates for about six months in New York, and he taught me how to use Illustrator and Photoshop, and Mike Waxx and Mike Carson taught me how to use Final Cut Pro. I've been getting better and better at it to the point where anything I think of in my mind, I can make an image out of it. With NIKEiD and Vans Customs, kids already getting used to customizing, but the next level is designing.
Now Stratica is a luxury brand. It's expensive, because I'm using the finest materials and revolutionizing the vulcanized technique. I'm making vulcanized shoes that no one has ever seen before. My boy Sean [Apgar], who I met working at Diamond, and he calls me at eight in the morning. He's like ,"Yo, man, I've got this guy and he manufactures shoes and he wants to do a shoe brand so I hit you up because I'm wondering if you had any ideas," and I'm like, "Yeah I've got some ideas." Literally whip up six shoes, my first collection is going to be six shoes, the first two I'm showing are just like the first two singles of the EP. Out of those six, these first two, the Broadway and the Wilshire, are the complete story of what I want to do with Stratica.
Where does most of your design referencing/inspiration come from?
The Broadway Rally Trainer is based off a rally car, but the toe box is based off the toe clip on a track bike. Everything is based on the streets, it's brutalist architecture. They say that brutalist architecture is imposing, but the only people that brutalist architecture is not imposing to is skaters and graffiti writers. We look at concrete buildings, benches, and stairs like it's our bitch. It's not imposing to us, because we impose our will on that. It's all about skaters, bike messengers, graffiti artists, car clubs, and motorcycle clubs, that's what my brand is inspired by—that culture.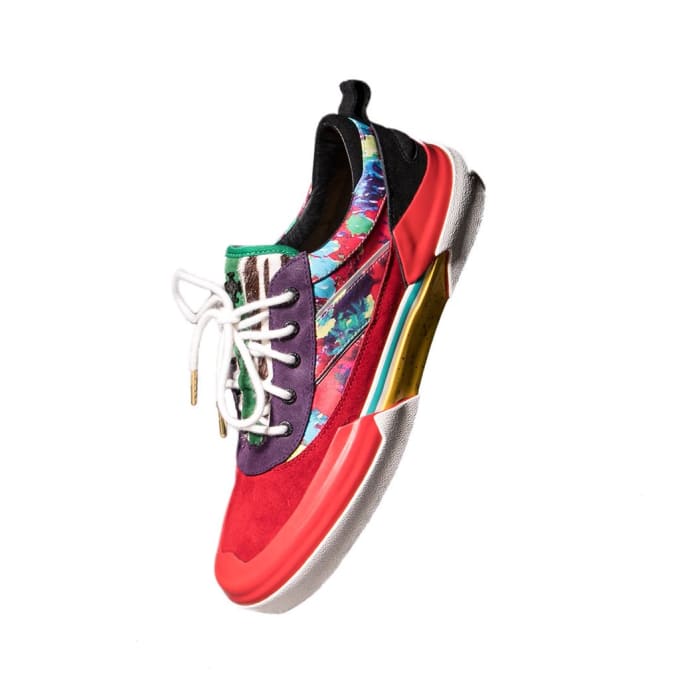 Have you always been into sneakers?
Yeah, for sure. When I was nine years old when I bought the Run DMC album, I also bought four pairs of neon fat laces from the gas station. I mean that's always been there. And again, I started skating in 1985 and 1985 is also the year the Jordan 1 came out. My father got parole when I was nine, so he comes and picks me up and we go get the Sky Jordan 1s, because I'm young at that point and the boys sneakers were called the Sky Jordans back then. He buys me a pair of Jordan 1s, and then we go downtown to this restaurant and my father orders me a bottle of Perrier. I just be thinking about that all the time like my father got out of jail and bought me a pair of Jordan 1s and had me drink Perrier for the first time [laughs].
Being some kids from Chicago, did you ever see yourself creating on this level?
Absolutely not. I started cutting hair when I was 14, I moved out my mom crib when I was 17 and had my own car; my father was locked up in federal prison from when I was five to 15. I'm supposed to be dead or in jail by 21, but I decided that was not gonna be my destiny, when I was 14. And I'm from the southside of Chicago, the murder capital. Never did I think I would be a designer, ever. I always had a sense of style and started to skate when I was 10 years old; skateboarding is what introduced me to art — punk rock music, different races of people, and what they like. My first dream was to be a pro skater. But even when I was working in the barbershop everyday, I would dress fresh all the time. This is 1995, so I'm Hilfiger, Nautica, Polo'd up in the shop. It was really just pursuing the hip-hop dreams that we had, I'm a DJ, I'm making beats. My roommate is this guy named Shawn, and he's telling me about his little brother who raps, his little brother is Bump J and I end up doing Bump J's first mixtape. I produced six beats on his joint, and we recorded the whole thing in my living room. He ends up getting a 2 million dollar at Atlantic [records].

That's one thing about me, I cut Kanye's hair and I cut Kid Cudi's hair. Those are the only people I cut. The only person I ever made music for was Bump. That's the type of person I am. The shit that I do, I do it. I'm not doing it for money or for fame, I'm doing it for my friends.
Do you plan on doing clothing/apparel too or are you just keeping it footwear?
The brand will end up becoming everything. I'm just starting with footwear and accessories right now.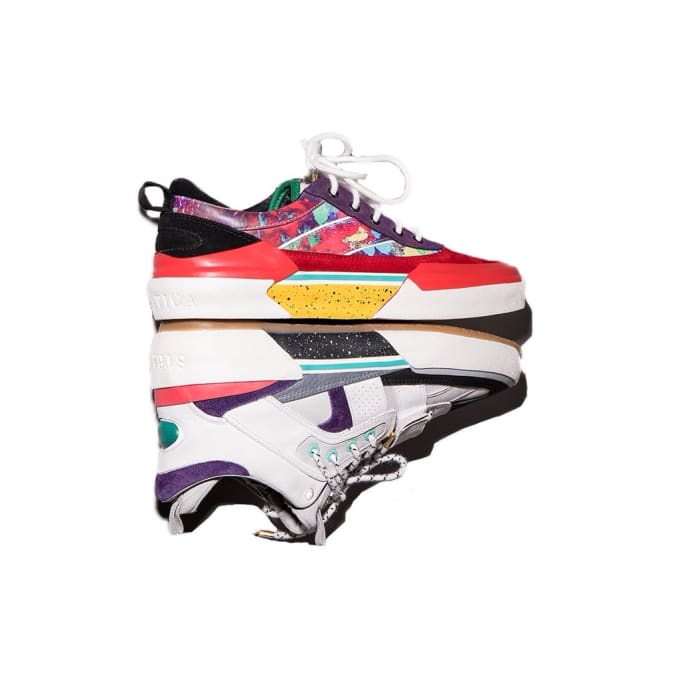 The first time I saw the sneaker at all was you sitting next to Cudi at the Dior show, they popped in that red colorway.
The vibe of the brand is inspired by Akira. If you notice, in the beginning of Akira, it is set in the beginning of 2019. My brand debuts Fall 2019. I'm like, "Oh shit, Akira is in 2019!"
The sneaker design feels like it takes cues from a skate perspective but also certainly has a lifestyle taste, too. What was the approach there?
I'm taking everything I know from my crew and what we do in the fashion and style world. I'm taking all of those codes and putting them on top of all the codes I've learned from me skating and working with Diamond for the last six years and being around some of the greatest skaters in the world. The upper of my shoe is the luxury style part and what's inside is the sole, that technical knowledge from skateboarding. My drop in insoles in the shoes are natural cork fused with foam—the shoes are super comfortable, a natural and a synthetic form fused together for cushioning. These joints are for that Yacht lifestyle.
So many moments it feels like have been happening of late that you've been apart of, too. Virgil and that Paris Louis Vuitton moment with him and Ye, recreating that 2009 fashion week photo, Kids See Ghosts, and even Don C's new sneakers. What does it all mean to be part of creating these impactful cultural moments?
It's amazing. But I was thinking about this the other day, I was like, shit, I had to make this shit happen, meaning my brand. The shit is amazing for sure, don't get me wrong. But people were like, "Yo we got to the Promise Land Virgil, we up in there." And I'm like, "Nah, now the work starts." We didn't make it, now the work starts. It's a lot of people on the outside looking in and they don't really understand what that means. Virgil is the artistic director of men's for Louis Vuitton, he's not the creative director of Louis. Like when I talk to him I'm like, "Yeah, [we got to] step one." We're trying to take over the whole thing ... with the love [laughs].
What is your goal with this brand?
My ultimate goal is to make one pair of shoes that cost a million dollars, not a million pairs of shoes that cost $1. Now I don't think that's ever going to happen, I don't want people to take that literal, but it's the philosophy of making something so good that you can charge anything for it. I want to make things as good as I possibly can with no restrictions.