Nike has unveiled its latest sneaker innovation: a running shoe featuring new technology that promises to take performance to the next level for everyday and elite runners alike.
The performance enhancing Epic React Flyknit is a first of its kind running shoe that was designed to address the most common running concerns: runners want a lightweight shoe that offers better cushioning and better energy return.
The solution came in the form of a foam, called 'Nike React,' which was first featured on the React Hyperdunk 2017 basketball sneaker. The bouncy foam technology offers extra cushioning on impact and serves as a spring-like device, giving runners energy return as they complete their stride and hit the ground. (According to Nike, the new react foam cushioning delivers 13 percent more energy return when compared to the popular Lunarlon foam)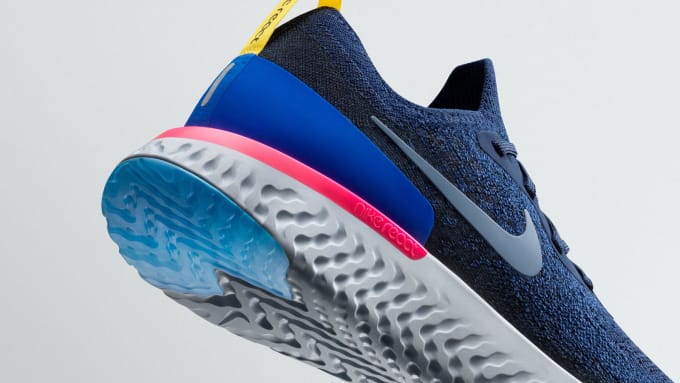 The Epic React Flyknit is the first running shoe from the brand that will feature the proprietary foam technology.
"Nike React is more durable than any other foam we've tested in Nike running, meaning it will keep up with the needs of even the most dedicated distance runners," says Ernest Kim, Director of Advanced Footwear, Nike Running.
Of course, the Epic React Flyknit combines the recently-introduced foam with the brand's fan-favorite Flyknit technology for a sleek, modern look. The shoe also features a bright yellow pull-tab, a cobalt-blue upper around the heel and a distinct, hot pink piece around the heel.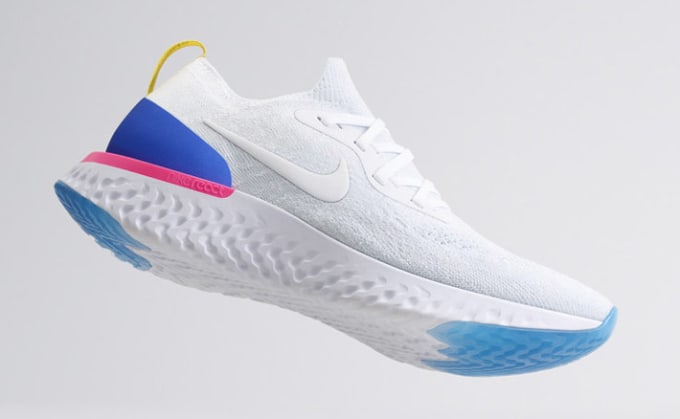 While the Epic React Flyknit offers plenty of lifestyle appeal, it's first and foremost a performance runner. Nike wear-tested the Epic React technology on runners of all levels in more than 27,300 kilometers (17,000 miles) of running.
"Over that span, our wear-testers consistently told us that Nike React made them want to run more often," says Kim. "My favorite bit of feedback came from a wear tester who said of running in the Nike Epic React: 'It felt fun — it makes you want to run.'"
The Nike Epic React is available now in two different colourways (White and Racer Blue) on nike.com and in select Nike stores.