This article was produced in partnership with New Balance, as we celebrate the release of the Concepts x New Balance 999 "Hyannis" at ComplexCon 2017.
Few shoes have as rich histories behind them as the Concepts x New Balance 999 "Hyannis," a retro runner collaboration inspired by John F. Kennedy and his Cape Cod residence. Kennedy's love for the ocean visibly defines the shoe and its color palette—a harmonious balance of neutral whites and grays accented by a royal blue heel counter, two red eyelets, and a sand-colored heel notch and vamp. The OG pair dropped in 2011, but Concepts and New Balance reunited to re-release the shoe at ComplexCon earlier this month.
"New Balance asked Concepts to relaunch the 999 because it was buzzing in Japan," says Frank the Butcher, who's now at Reebok, but was the designer of the original "Hyannis." "The team felt there was an appetite for retro running shoes in the U.S. Our thing was developing the stories, and landed on the nautical culture of Cape Cod and John F. Kennedy."
The collaboration's debut in 2011 was equally an homage to JFK as it was to Concepts' and New Balance's New England roots. The latest update hits those nodes and contains re-mastered materials, including pigskin suede, embossed nubuck foxing, and an Abzorb crash pad in the sole unit.
"It's crazy these are coming back out," DJ Clark Kent said of the shoe on a recent episode of Sneaker Shopping. "Everyone went crazy for these, and the crazy part is that it was a 999. Not a 998, not a 997, not a 576. But a 999. An off-model that they made amazing."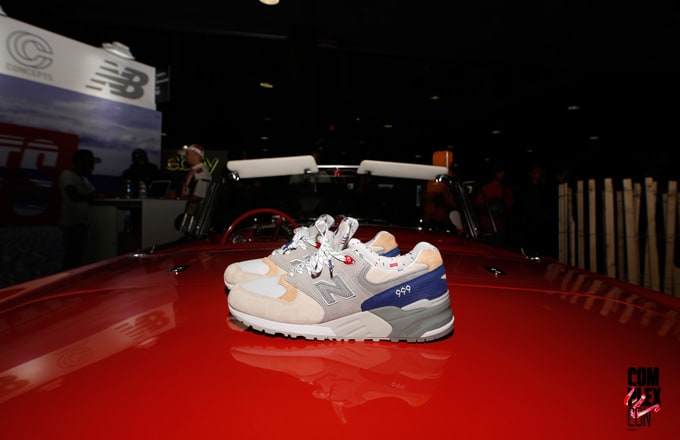 Manufactured in Skowhegan, Maine, the "Hyannis" arrived at Long Beach where longtime fans of the shoe merged with sneaker-obsessed youth. Two versions of the shoe sold out: An alternate colorway, left on the cutting room floor in 2011, was released in limited numbers on Saturday, and has a striking, red heel counter and blue eyelets; The OG colorway was released on Sunday.
"The original Concepts x New Balance 999 sold quickly, and its resell value has been high ever since," notes Richie Roxas, a prominent New Balance collector. "It was a good time to bring it back, make it USA-made, and tweak a few things to make it different than the first version. I like that there are two colorways this time. The hype is justified."
Concepts and New Balance created two installations at ComplexCon, one for each day. On Saturday, a large sand sculpture (of the shoe) sat in a tiled sandbox. Sculpted octopus tentacles tangled around the shoe next to a sign that read: "Concepts / Est. 1996." A lighthouse, visible from much of the convention center, stood tall in the middle of the booth on both days. Sunday introduced a beachy, staggered wooden fence, and a vintage red convertible replaced the sand sculpture.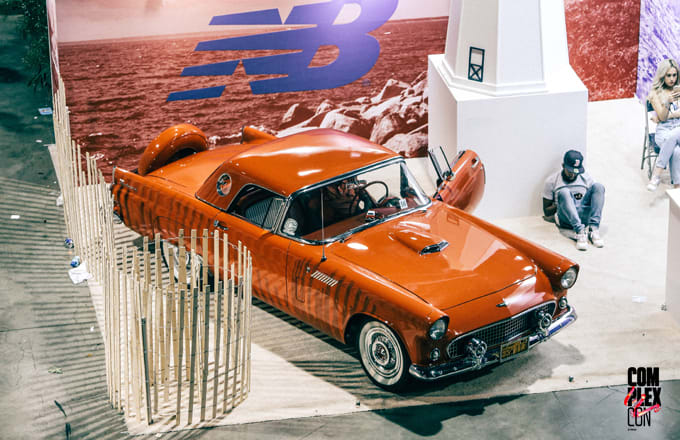 A symbolic moment celebrating the power of storytelling and collaboration, Concepts and New Balance successfully ushered the classic 999 "Hyannis" into a new era, thanks to a materials upgrade, a new colorway, and an amazing buildout at ComplexCon.
"This collaboration affirms who we are and our relationship with New Balance," says Deon Point, creative director at Concepts. "We did a New Balance 576 and a 1500 before, but the 999 really cemented who we are today. To sell out the shoe in two days and be amongst the biggest shoe releases of the year was huge for both of our brands."