Public School is the definitive product of two New York City natives and their go-getter spirits. In less than 10 years since its 2008 inception, founders Dao-Yi Chow and Maxwell Osborne —who met while working at Sean John— catapulted their own menswear brand to immense popularity with a high-fashion-meets-streetwear approach to design, racking up multiple awards in the process.
While the style and wearability of the apparel made a name for itself, Public School truly claimed its stake as leaders in the fashion industry when it teamed up with Jordan Brand. After working on exclusive friends-and-family versions of the Air Jordan 1, Air Jordan X, and Carmelo Anthony's M10, the NYC-based brand expanded its horizon and launched the PSNY x Air Jordan XII to the public — a dark-grey luxe rendition that resonated with the purest of sneakerheads and menswear enthusiasts alike. The collab was the precursor to three more Air Jordan XIIs that embodied the brand's hometown of New York City, as well as Paris and Milan.
After a small world tour with the XIIs, the Public School duo is back home for New York Fashion Week to debut their Spring/Summer 2018 collection and a brand new capsule in collaboration with Jordan Brand. Using the black sheep of the Air Jordan lineage, the XV, Public School re-imagined Tinker Hatfield's original design in ways never seen before. The collection includes Air Jordan XVs for men in black suede, an olive woven material, and for the first time ever, an Air Jordan XV boot for women.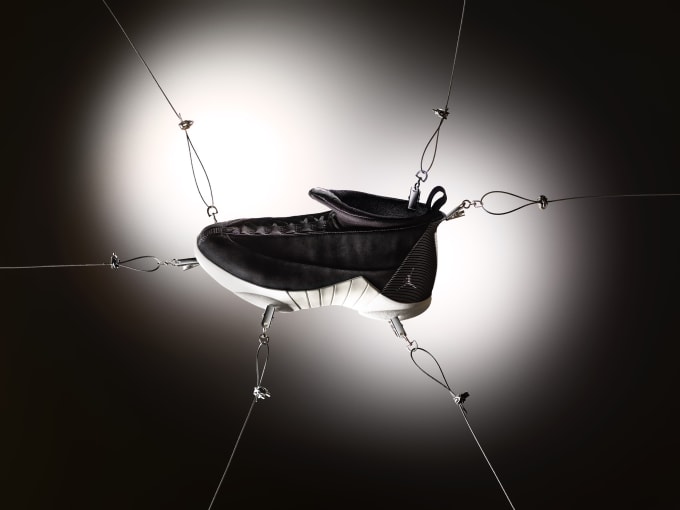 The successful runway show located in the heart of Chinatown was followed up with a nearby pop-up shop, where the footwear and apparel was available for purchase. There, Complex caught up with the PSNY founders, joined fellow Sean John alumnus and current Senior Director of Energy Projects at Jordan Brand Gemo Wong, to talk about the latest drop.
Check out out the latest episode of #LifeAtComplex for a closer look at the star-studded event, inside the pop-up shop, and interview.
How did Public School's relationship with Jordan Brand first come about?
Gemo Wong: So I've known Dao-Yi for a while, we used to work together. As his brand Public School kind of progressed, it felt like the timing was right to do something especially in the apparel space. The partnership started with apparel first and then we kind of explored footwear
After doing your first footwear collaboration, did you know it would become an ongoing partnership?
GW: We just kind of did what we felt was right. It's all about time, who we [Jordan] are as a brand and who they are as a brand.
What was the motivation behind using the Air Jordan XV for this collab?
Dao-Yi Chao: It's starts with a conversation. The great thing about working with Gemo and his team is that, there isn't a set schedule, there isn't a set plan. We only work when we feel it's right. When we a great idea, we take it to him and if he likes the idea, he'll set things into motion. With the XVs specifically, Gemo's always challenged us to work on shoes that sort of lie outside of the 1s, IIIs, IVs, Vs, VIs, XIs — the really popular ones that iterated a l lot and so we enjoy that challenge. Coming off working on the XII, changing that iconic shoe into something that was definitively Public School, was something that we wanted to carry over on the XVs. It's a love it or hate it shoe.
Yeah, even Tinker Hatfield, who designed it, has said that it's his least favorite Air Jordan.
DC: Did he say that?

GW: He's said that on paper, yeah.
He's said that on record. Were there any challenges you faced while designing these Air Jordan XVs?
Maxwell Osborne: Not really. Maybe on the women's side, trying to make the boot.
DC: That was another idea that was born just out of conversation. Like, "Yo, we wanna do it during Fashion Week during the show, but it's a women's show. It would be crazy if we turned the XV into a boot!"
It already is kind of chunky like a boot.
DC: Exactly. We wanted to accentuate the obvious things about the shoes. The fold back on the tongue I guess is what you would call it — all of those things we wanted to really build on top of, but make it feel like our own shoe. That's the point of any good collaboration. You gotta add something to it. It's already great in its own realm, but how do you add to it and make it something better?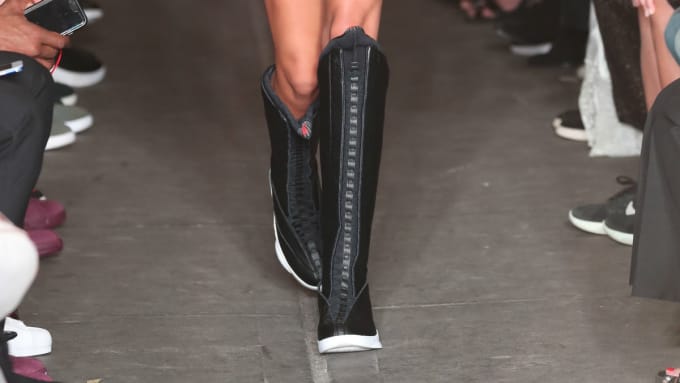 The tongue of the sneakers feature a "WNL" logo. What does the "We Need Leaders" motto specifically mean to Public School as a brand?
MO: "We Need Leaders" for us, was really a call to action. It was for everybody to step up. Us, our team, everybody around the world, just to step up and be better. It also mean when no one's looking. So, are you the same type of person when the lights turn off and you go home? Are you the same type of person you show face to when you step out of that? WNL mean a lot to us in terms of special leadership and people stepping up to the plate.
When you first released the first grey PSNY XIIs did you expect such a big reaction?
DC: I don't know, I didn't know what to expect.
GW: You always have your fingers crossed. You always go in wishing the best. We took a different approach to it, so we were hoping for a good response, especially in [Public School's] space, the fashion space, it was good overall.

Did the response play a part in following up with the city series or was it already in the works?
GW: Again it all comes down to what we felt was right timing wise, what these guys are into, and making sure the brands are in tune, so as a evolution as the grey we felt like doing the City pack was a good addition.
DC: We say that thing and always felt it was almost boot-like, the way we molded it out, so we just sampled it in a wheat colorway because it felt like a boot. So from there, again, just from the conversation, they put it into work. We it came back we were like, "What if we flip three colors — the Wheat is so New York— what if we created a colorway for Paris and a colorway for Milan?" That's how it goes, then we try it out. If it don't feel right then we keep it moving, but if we're onto something, I think it all clicks with us and we push it forward.
When that release happened launching the collection over multiple cities, it really changed the way retail works. Do you guys plan to do that again, say with this release?
GW: It all depends on the project, the time, how we feel when we all get together.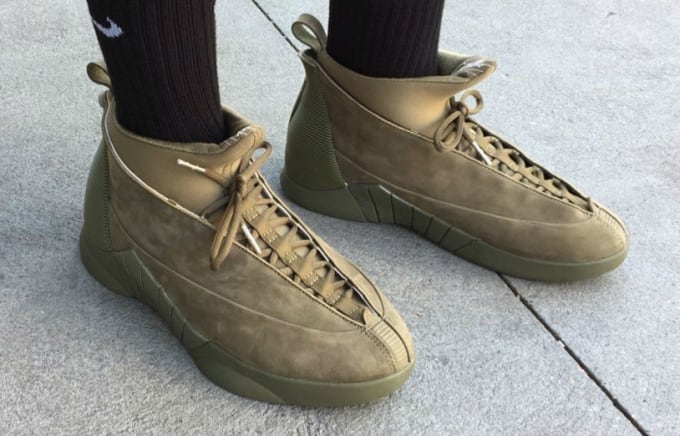 Gemo, can you explain your role as head of Energy Projects at Jordan Brand?
GW: I'm Senior Director of Energy Projects. That's everything from what you see here — footwear, apparel, to anything limited and sought after within the brand.
How do you decide on which people to work with like KAWS, Drake, or Travis Scott?
GW: It just all depends on where the brand is at. I don't want to feel like we have to do collabs. I feel like we should let collabs enhance the brand, rather than we need them for the brand. It takes the pressure off. There is no, "Oh man, I gotta do a collab this month, next month." As with this project, it's just timing, where we are as a brand and if it feels right, then we do it.
Why is it important for Jordan Brand to focus on fashion and lifestyle versus just sports?
GW: We concentrate a lot on sports as well. It just so happens that we do some fashion stuff. You look at our portfolio, we still do a lot in the basketball space with athletes like Russ and all their signature shoes, but we also do stuff in the fashion space. Our brand means a lot to everyone, which could be a gift and a curse. As result, we just try to balance it out.
What was it like working with Diddy back during your time at Sean John?
MO: All three of us met at Sean John actually. How did it feel? It felt great! [Laughs] You got Puff's son behind you.
DC: That brand, that moment in time sort of represented this idea of aspiration. Everything about Puff, even outside of fashion was you should aspire for something better. I think that really stuck with us. That idea of aspiration, doing something unexpected, but always presenting this idea of aspiration to do something better or to make something better. We all went different routes, but that definitely stuck with us.