It's 6 p.m. outside of Barclays Center in Brooklyn and Joey Badass is running late for our interview before his New York City tour stop with Logic. But he's got a lot of things on his mind. Not only is he set to perform in front of his hometown crowd, but he's also telling people about his new sneaker collaboration for the first time -- a collection releasing later this year with PONY.
Joey's always been a sneaker guy, but this is the first time he's getting his own line. For now, he's modeling the relaunch of the brand's Topstar sneaker, which first came out in 1972. It's 45 years later, and Joey's hoping he can help the brand catch on again.
As Logic performs for a small crowd before the show and fields questions, Joey's answering inquiries, too, but his are coming from an array of footwear, music, and fashion media. It's a new look for him, and he wants the city feels the same way he does about the product. 
How did your collaboration with PONY come about?
It's synergy. Take a brand that stands for "Product of New York," and take an O.G. New York rapper like Joey Badass and you have a match made in heaven. I don't want it to sound cheesy, but the shit just goes hand in hand. So, like, word, duh. That makes sense. You don't second-think that. It's like, word, I like that. It came together off of both brands knowing and identifying off that. So it was like, let's make it make sense.
How does it feel to have your own shoes?
It feels good. I guess I didn't think of it like that, like, "Oh shit, this is my own sneaker." I haven't seen them in hand yet, so it will feel differently at that moment.
How did you design your collection with PONY?
It was a fun process. I brought in my design team, and we traded ideas. I'm excited to get it out and see what else we can do.
How's the tour with Logic going so far?
It's great. I'm looking forward to tonight's show.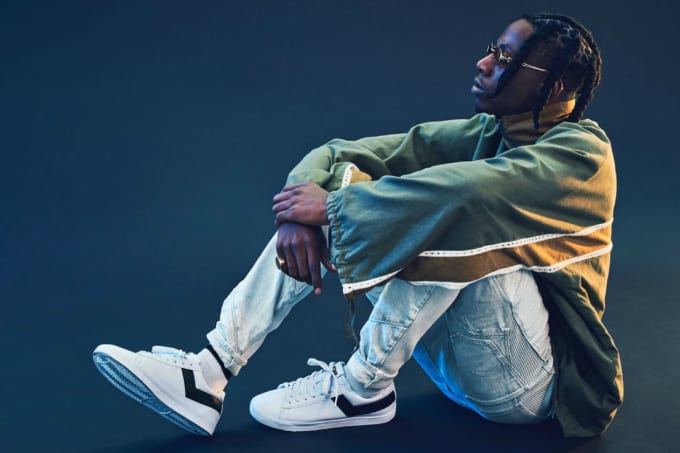 The two of you posted a freestyle together. Who would win in a battle?
Are you really going to ask me that question? Like, what am I gonna say, he's gonna win? That's a rhetorical question.
In your opinion, who are some of the best freestyles nowadays?
Vince [Staples] can really freestyle really good. Vic [Mensa] can really freestyle really good. I don't know who's the best right now, though. There are a couple that are really good. You have a lot of people doing dumb freestyles now, too. Freestyle art isn't as appreciated as it once used to be. To be honest, all these dudes is freestyling on their tracks. All these tracks you hear on the radio, you think they're writing that shit? If they are writing that shit, I'm embarrassed for them. There are a lot of good freestylers these days. They can just come with that shit off the top of their heads.
What's your song of the summer?
I said "Magnolia" was my song of the summer, but, I ain't gonna lie, I've been bumping that new Tyler [The Creator] album A LOT. "9/11 Mr. Lonely," that song. That's probably my song of the summer, or Steve Lacy's "Ryd/Dark Red." Those two songs. I see Cardi B's "Bodak Yellow" coming in hot. It could take that spot. So we're gonna see.
Do you think New York is having a moment right now?
New York is always having a moment. Even when you think it's not, someone relatively new is going to have a big moment. I mean, look at Jay. It's the longest-standing big moment city in hip-hop. So we're going to continue to have big moments. I like where it's at today. I like the current climate. New York is always going to breed stars.
Tyler just got a shoe with Converse, too. Why do you think rappers are getting shoes so much lately?
Let me tell you what it is: Hip-hop, more than a lot of other genres, is not only a music, it's a lifestyle. Lifestyle goes hand-in-hand with style. I'll put it to you like this: Sometimes I like to take walks in the street alone, and sometimes I might see a group of kids, and I might cross the street. You know why I crossed the street? Because of what they were wearing. I can tell if they're hip-hop, they're gonna recognize me. So to maintain being incognito, I might cross the street with them. That's how strong the influence of hip-hop is. It makes sense for rappers to have sneakers, duh, if we wear this shit, half of the world's gonna wear it. We're the entrepreneurs of style. We're the pioneers of what people are wearing and what's cool. It makes sense for us to have sneakers, jeans, clothes. Whatever it is, we are creators.
How do you pick your sneakers to perform in?
To be honest, I don't even know what sneakers I'm going to wear tonight. I just hope they're the right size, god dammit. It's a different day, different mood. It's New York, I want to do something special. I want to wear new shoes on stage. Any other night, I wouldn't give a fuck. I'd wear the same beat-up shoes that I'd wear any other day. I'm like, this is a special moment. But I still might end up wearing my beat-up shoes [laughs].