Before putting my vintage Nike All Englands up on the Centre Court seat, I looked around to make sure nobody was watching. Nobody was in the row in front of me and nothing in the Wimbledon literature explicitly prohibited feet on the seats—at least that I saw—but I still wasn't taking any chances. When you travel 3,500 miles to undeadstock a pair of 30-year old tennis shoes, it's important it be done right.
To be fair, I hadn't come to England just to undeadstock a pair of All Englands. I was there as a guest of Hertz Europe to spend a few days in London and then drive around the countryside, first to Bristol, then to Cardiff, Wales, in order to see what else there was outside of the city proper. I'd driven a right-hand drive car before, but never in a city like London, whose narrow lanes can be completely filled by buses or lorries. We walked the deck of the SS Great Britain, drove through Abbey Road's famous crosswalk and checked out an under-roadway DIY skatepark in Bristol. On the way from Cardiff back to London, a detour past Stonehenge led through a medieval-era village complete with a one-lane bridge, toll collectors deftly directing two-way traffic.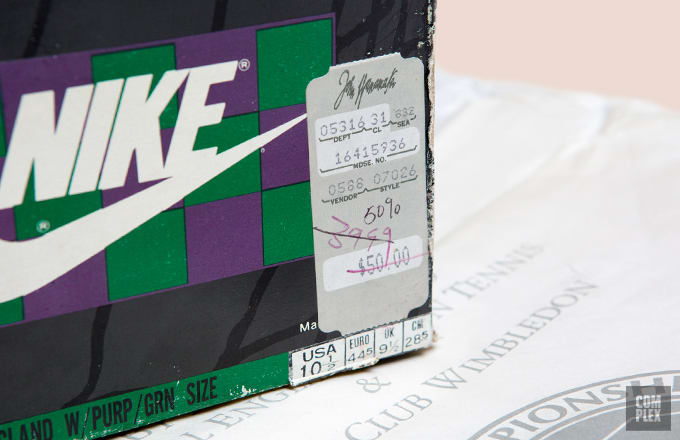 But Wimbledon was the pinnacle. A whirlwind first afternoon of Palaces (Buckingham as well as the Soho skate shop) and a walk over the Thames was capped off by a magnificent dinner at Dinner by Heston Blumenthal, the menu of which is sourced from ancient British recipes found in the British Library, and a relatively early bedtime. The following day was for tennis.
I hadn't bought the All Englands with the intent of wearing them to Wimbledon, or even considered the possibility at all. Mid-'80s Nikes have always been a passion, and the 1986 All England tennis shoes—named after the Wimbledon location and complete with their official Wimbledon box and foil seal on the insoles, along with their quite proper white leather upper with hits of purple and green—were always something of a grail. The Nike branding on the side being a small inset purple "Nike" atop a Swoosh rather than a full-length Swoosh added a particularly elegant touch. I finally found a deadstock size 10.5 on eBay about a year ago, complete with original $50 John Wanamaker price tag, marked down in pen to $39.99 and then to 50 percent of that. I paid considerably more than the discounted $20, but no more than a new pair of Zoom Vapor 9.5 Tours.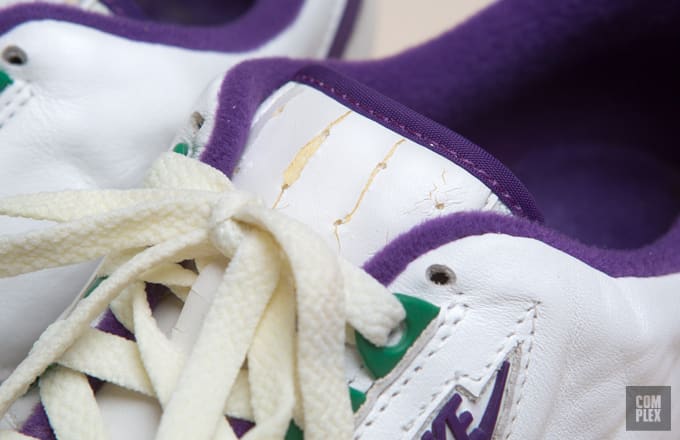 Initially, I had intended on going so far as to unbox them at Wimbledon, but with packing space at a premium, the box stayed at home. Upon arrival at my hotel, the Cheval Knightsbridge apartments near Harrods, I pulled them from the suitcase to recheck their wearability, only to find the original foam insoles crumbling. Save for some cracking and peeling on the synthetic leather tongue, all else seemed well, though. I carefully laced them up and headed off to the tube, en route to Southfields.
The All England Club is a bit of a walk from the station, it was a hot day, and the alchemy of heat and pressure re-molded the insoles into—well, something else. The socks I wore that day (thank God I wore socks) became tacky with 30-year old chemicals, but the shoes themselves held together for the length of the day, through a three-plus hour Johanna Konta win (English fans exhorting, "C'mon Jo!" during stoppages) and a dropped Venus Williams first set under the unforgiving sun on Court 1. It's a wonder the All Englands—let alone all of us—didn't burst into flame.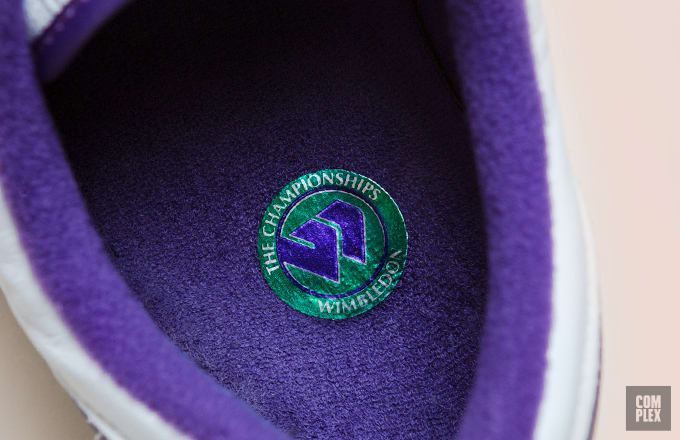 The end of my time at the All England Lawn Tennis & Croquet Club did not mean the end for the All Englands. I wore them the rest of that day, only retiring them when I retired for the night. For the rest of the trip I returned to a trusty pair of Ultra Boosts, which served as everything from driving shoes to airplane slippers.
Will I wear these All Englands again? Perhaps. It's unlikely they'll become any less wearable, and the first wear of a formerly deadstock pair of sneakers is always the hardest. The only similar thing I'd done previous to this was wear a pair of Air Jordan IIs for intros and a game of pick-up ball on the Bulls court at the United Center, and those had stayed in the rotation for quite a while. But, like in the case of those long-retired Js, it's going to be tough for the second wear to ever beat the first.