First known as the Air Max 270, due to its much-hyped 270-degree Air unit, the Air Max 93 provided more air than ever before with an entirely visible Air unit that extended to the back of the heel.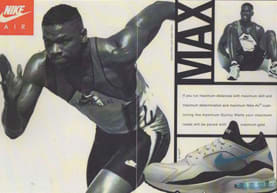 The inspiration came from the strangest of places: plastic milk jugs. Seriously. The contoured shape of the jugs led the design team—still led by Hatfield—to explore advancements in blow-molding technology which shaped Nike's latest creation. The shoe's molding evolved to create a new standard of cushioning which included Air cushions that adapted to the shape of the foot.
The Air Max 93 never really took off as an iconic style staple in the way some sneakers in the Air Max family have, but the sneaker did prove that Nike was pushing the envelope when it came to technology that offered runners a smoother ride.