The best sneaker of 2016, objectively speaking, was Acronym's collaboration with Nike on the Air Presto. The result was a mid-top version of the shoe first designed by Tobie Hatfield in 2000, which was upgraded through the addition of zippers near the Achilles of sneaker. Acronym, a Berlin-based menswear brand ran by designer Errolson Hugh, and NikeLab aren't done working together, though, and are set to release a boot-like interpretation of the Air Force 1 today at 21 Mercer in New York City at 6 p.m.
This is the second time that Acronym has reworked an Air Force 1, having done a Lunar Force 1 in 2015 that came with a zipper that ran adjacent to the tongue. But this time around is much different. The sneaker is going to come in three different colorways, and it has a height similar to last year's surprise hit, the SF-AF1. The upper is complemented with an ultra-soft shell collar that has a German mil-spec fastener on it. This year's collaboration also comes with a slimmed-down "Downtown" sole unit.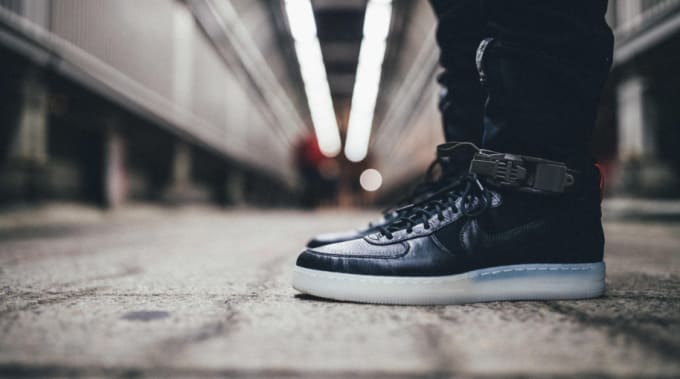 "The hope every time we come in is to make magic and a surprise for the consumer. All of our passion is to please the consumer and do something for the market and change things a bit. I think we did that with the Presto," NikeLab Senior Director Nathan Jobe told Complex in an interview. "Every time we collaborate with Errolson, we come in and come up with an idea that surprises the consumer base that loves Acronym and loves Nike, and they can say, 'Wow, you brought my two companies together,' if we do something great. But no one can look into a crystal ball and foresee magic once again. It might not be right for some people, but we're hoping for that."
The new Air Force 1 between NikeLab and Acronym is a challenging design compared to the previous Presto, but it has the same feel as last year's project and is expected to have more buzz around it this time. It's something that challenges footwear design by rethinking everyone's favorite sneakers and putting them in a context that makes them feel new in 2017. And Acronym and Nike are doing just that.