The iconic—and make no mistake, they are iconic—Air Jordan XI "Space Jam" releases this weekend for the first time since 2009 and only the third time ever. With embroidered 45s at the heels, white-edged patent leather and Dark Concord accents, they're the most accurate to the original, the ones Michael Jordan wore in the 1995 NBA Playoffs. In fact, they should almost be considered pre-Space Jams, designed more as a road counterpart to the original white/black-dark concords. If you've never owned a pair of Space Jams before, this is certainly the pair to get. But what if I told you (cue 30 for 30 music) the best Space Jam-themed Jordans already released?
The Space Jam Air Jordan XXX1 released last weekend, flipping the familiar color scheme and contrasting materials into something new. In place of the XI's ballistic mesh the XXX1 uses the new shoe's woven upper, blended into a patent leather heel area marked by a massive Concord Jumpman. While the original "Space Jams" were a top to bottom shoe, with the ballistic mesh rising out of the patent leather protective wrap, the XXX1 is a front-to-back design, the subtle fade of the weave leading into the patent leather heel. Same concept, different execution.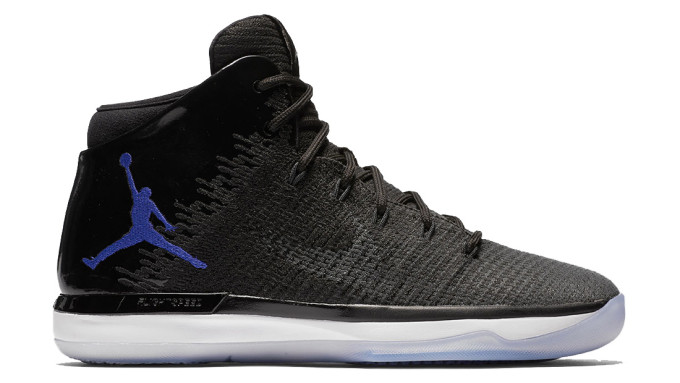 This is something I've talked about before, using the styles of the past to inform the designs of the future. It's a way to split the difference, to pay homage while still supporting the latest sneakers. And moreso than some of the earlier XXX1s, which referenced earlier Jordans with varying degrees of success, the "Space Jam" XXX1s are both immediately recognizable as a homage while still being a killer design on their own. Even disregarding the "Space Jam" heritage, these are likely the best XXX1s yet—and are both cheaper and more comfortable than their 1996 counterparts.
Want another reason to go with the XXX1s over the XIs? Take Space Jam itself as inspiration. What was the theme of the movie? Michael Jordan, teamed with a motley crew of animated Warner Bros. cohorts, playing a single game of basketball with the fate of the universe on the line. Back in 1996 he made sure to be wearing the very latest in Nike basketball technology. And while it's fairly unlikely that you get pulled through a golf hole into some alternate world where the Monstars are waiting, wouldn't it be best to be prepared? Because if Michael Jordan—or say, Russell Westbrook—had to play in that same game now, he'd be wearing XXX1s. So should you.