Back in April, Kobe Bryant stepped away from the NBA in truly legendary fashion after dropping 60 points in his final game. He's one of the greatest to ever play the game of  basketball, but when it comes to analyzing the legacy he's created for himself over a 20-year career with the Los Angeles Lakers, his influence in sneakers needs to be mentioned right alongside his Larry O'Brien trophies and MVP awards. He had an Adidas deal that went awry, the 2002-2003 NBA season that left him as a sneaker free agent and wore a handful of brands, and his current Nike deal that has produced 12 signature shoes and counting. It's been eight months since Kobe's retirement, and his newest sneaker, the Kobe A.D., is on the market. The real question is if his sneaker legacy can continue beyond his days of draining threes and hissing at opponents on the court.
This isn't a matter of Nike releasing sneakers or not, it's whether those shoes can add to what he's already established. When the Nike Kobe 11 was unveiled, Bryant had already officially announced his retirement. It was presumed that the era of Nike Kobe sneakers would be coming to an end as well. But Bryant made it clear that his name would still be on new sneakers after his final game. In an interview with Sole Collector, Bryant said, "We'll remain extremely consistent with what we've been doing, which is creating innovative products that help athletes be the best versions of themselves. That's not going to change." He went on to say that there will "absolutely" be a Nike Kobe 12, 13, and so forth.
Well, his 12th signature Nike is here and in many ways, the Kobe 11 was, in fact, the end of an era. His new sneaker, with the name "A.D.," steers clear of the of numeric order the line previously followed. The Latin term anno Domini translates to "in the year of our Lord" and signifies the birth of Jesus Christ, but, in this case, the Nike Kobe A.D. uses the term to signify the end of Kobe the player and the birth of Kobe the sneaker brand. It represents a new era of Kobe as a signature athlete, one who's getting it done from outside the arena, leaving the playing legacy of his shoes to players like DeMar DeRozan.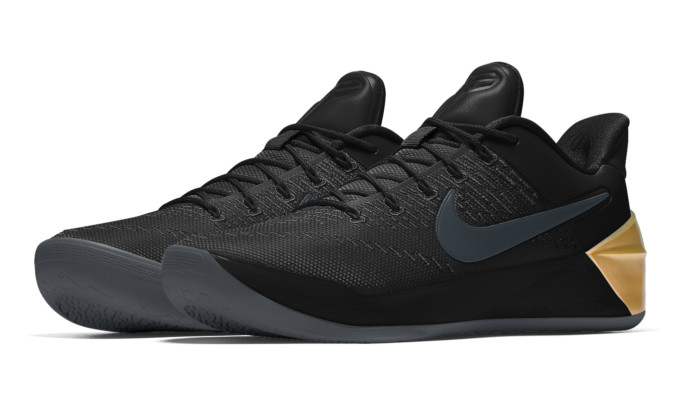 It shouldn't come as a surprise that Kobe is trying to make his sneaker legacy extend past retirement. Michael Jordan still puts out sneakers with much success and he's been retired for more than a decade. Every year, Jordan Brand adds a new signature sneaker to the line, but it's the retro Air Jordans that are the brand's bread and butter. Fortunately for Mike, retroing sneakers became a reality only nine years into his career — something Kobe couldn't do back then even if he wanted to. In 2005, nine years into Kobe's career, he was just getting settled into his new sneaker contract with the Nike Zoom Kobe 1, so there was no history to revisit.
With the exception of Kobe's "Fade to Black" Pack, no current Nike athlete has been able to really get a foot in the retro game, and he's fine with that. "The retro business is such a successful business across the industry. However, the Mamba brand is built on innovation. I want to stay true to that, so releasing a retro line just to release a retro line, doesn't make sense for the truth of what my brand stands for," he told Complex. "So, what we've been looking at is how do we take the retro and kind of add a Mamba twist to it. Continuing the innovation and truth of the brand, while bringing back some of the nostalgic products."
Year after year, model after model, Kobe's sneakers continue to be one of the bright spots for Nike Basketball. When the brand's struggling selling shoes for LeBron James or Kevin Durant, there's still anticipation for what Kobe's doing, according to Foot Locker CEO Dick Johnson. His shoes haven't changed much over the past 8 years or so, but they've been consistent -- consistently good. Nike's been able to make limited-edition colorways of Kobe sneakers, have special activations like collaborations with Eric Koston, and versions that released during international fashion weeks. It's all added to the multi-layered person that is Kobe Bean Bryant. Hell, there's even the commercials with Kanye West that everyone still talks about.
Nike has already started to capitalize on the nostalgia for Kobe's sneakers, too. This year has seen an Air Jordan IX done in Bryant's Lakers colors, similar to a pair made for him during his playing days. The shoes were met with a lukewarm reception, but Nike also gave Kobe the complete line of Air Jordans in Lakers colors for his retirement, and everyone wanted those to go into mass production. So there's certainly a market for selling old or collectible Kobe sneakers, Nike just needs to tap into it the right way.
Sticking to innovation and performance, though, is where Kobe will excel. Maintaining his extremely hands-on approach to product design will help him do that. The same way of thinking made him leave Adidas after having to play in the Adidas Kobe 2 and seeing samples of the Kobe 3. It also gives him, as a tenured Nike signee, the potential to be one of the most successful post-retirement athletes in footwear. While most athlete's signature sneakers only return after a 20-year milestone or when a designer decides to slap some Foamposite on the upper and add more bubbles on the soles, consistency and a real grasp on the scope of performance basketball sneakers will be vital for Kobe. Performance basketball sneakers that are out of touch with the market and player they're named after stick out like a sore thumb. Take the Air Jordan XIX for instance: it released one year after MJ's retirement, it wasn't well received then and it's not well received now. But the Kobe A.D., while not anything groundbreaking, still has a place in a post-Kobe NBA.
Just one season removed from the NBA, Kobe's already has extended his sneaker legacy past his days on the court, but the real test of longevity will be when he's 10 years removed from the league, at age 48, designing innovative footwear for players and consumers half his age. While he be the next Michael Jordan or just one of the many players who once had their own sneaker? We wouldn't start betting against Kobe now.