Walt "Clyde" Frazier was a Hall of Fame point guard for the Knicks who earned his nickname in the '60s via his then out-of-style wide-brim hats. He happened to wear one shortly before teammates saw the movie Bonnie and Clyde, and Frazier was "Clyde" from that moment onward. When Puma gave him a signature sneaker a few years later, that was the name that went on the side. And while his playing career ended in 1980, his style evolution never did.
Frazier is currently a color commentator for the New York Knicks, whose flamboyant vocabulary is only topped by his suits. He's known to bring materials he discovers to his tailor at New York's Mohan's, some of which were never meant to be worn at all. "When I go shopping, I ask the guy, 'Show me something you think no one would wear,'" he told GQ.  He's been known to rock just about any pattern, from paisleys and plaids to, of course, animal prints.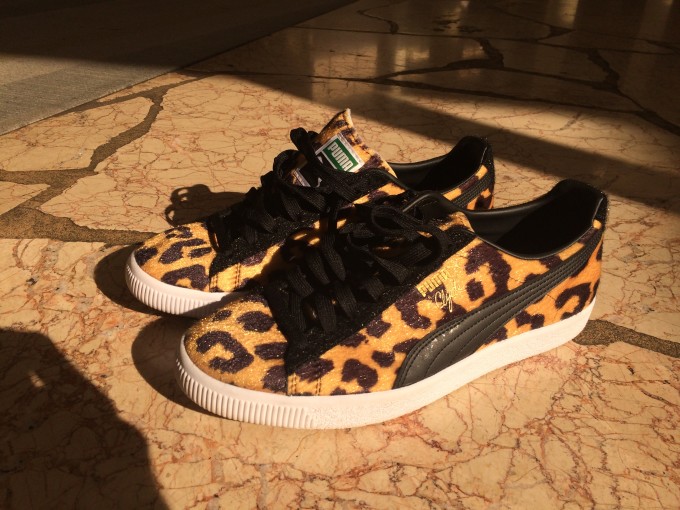 Which brings us to the latest incarnation of the Clyde, the Puma Clyde Suits, done up in cheetah- and zebra-print faux fur, which debuted at this weekend's ComplexCon in Long Beach, California.While the original Clyde was a riff off of the Puma Suede, versions of the shoe have since been done in everything from patent leather to rip-stop nylon. The Suits pay tribute to Clyde's sartotial splendor, his ability to remain the focal point on the Madison Garden floor 30-plus years after his playing career came to an end.
It seems logical that this is just the beginning for the "Suits" concept, seeing that Frazier himself would never stop with just two patterns. He's worn tiger and cow, for starters. And while the sneakers themselves come in pairs of the same style, maybe the best thing to do is cop both pairs and mix it up—leopard on the right and zebra on the left or vice-versa, something of a predator-prey thing. We're guessing Clyde himself would wholeheartedly approve.