Until a few years ago, athletes were the lone stars of footwear. But times have changed. Sure, any extraordinary basketball or football player will still get their own signature shoe, but the questions are less about which athlete gets the sponsorship, and more about which brand will tap them for it, and how awful the design will be. 
When it comes to making something sneaker fans will actually line up for, it's now all about musicians and designers. "The entertainer or the artists are the new athletes," says Yassine Saidi, global senior head of lifestyle at PUMA, who heads up creative partnerships for the brand. "They are part of the culture because they make the culture." 
Many trace PUMA's recent revitalization back to when they brought Rihanna on board as creative director at the end of 2014. Her presence had an immediate impact and resonated far beyond the FENTY line, extending into the way Puma expresses brand identity.
"The very first time we had a working session [with Rihanna], we sat down to start talking about product, and she came in extraordinarily prepared. She had a PowerPoint deck of inspirations that she wanted to talk us through, and each page had a specific theme or identity that she wanted to explore with us," says Adam Petrick, global director of brand and marketing for PUMA. "In the end, she was able to bring that to bear in the collection and make it all happen. I don't know that there was too much of what we talked about in that first meeting that didn't end up happening."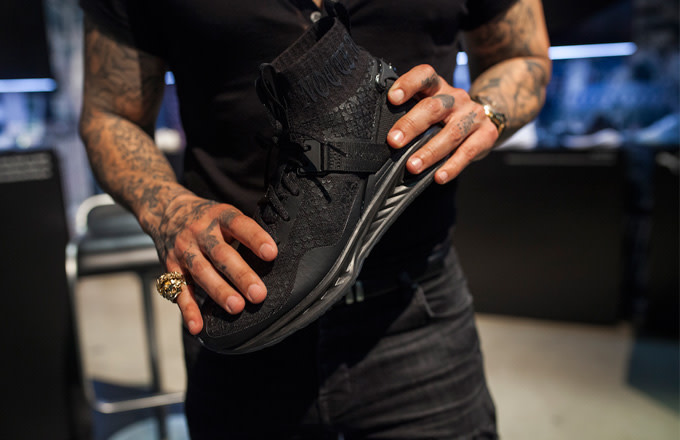 For brands, especially those that are perceived as lagging behind, an open mind and a willingness to try something new can help rejuvenate them. Before Rih came into the picture, PUMA was marching forward into a brand identity that stepped away from what made the sneaker company so great in the first place. In one meeting, Rihanna stopped PUMA from going down a road that wasn't paying off financially or socially.
"She came in and talked to us very early on about the fact that she liked the lettering in our logo," Petrick says. "And that may sound obvious, but it wasn't something that we were placing a lot of emphasis on. If anything we were de-emphasizing the 'PUMA' and placing greater emphasis on the cat itself."
Anyone who looks back just three or four years remembers shoes with huge embroidered cats that sold decently in Europe, but found no love in SoHo. The kicks represent a different brand trajectory, a far cry from what PUMA is and embodies today.
Rihanna's most famous shoe to date, the FENTY Creeper, was originally a custom that her friend made her. She wore it to a meeting with Saidi in Germany who fell head over heels in love with it, pronouncing on the spot, "Let that be our first shoe!" And so it was.
Bringing in Rihanna and Kylie Jenner as influencers was a great way to tap into (and, in effect, shape) female sneaker culture. The common wisdom had been that women aren't particularly interested in sneakers, so brands did very little to engage with them. PUMA is proving that kind of thinking is a mistake. And it's not just Rihanna and Jenner it has aligned with. PUMA invests in a number of female designers and influencers, including Sophia Chang and Careaux.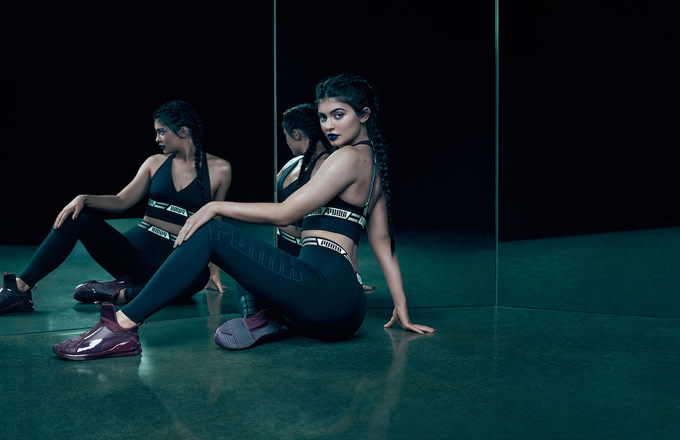 Even Matt Powell, a sneaker sales analyst and famous Kanye West influence denier, admits that the Rihanna affect is real (i.e. she's able to reach that elusive female demographic of sneaker buyers). "Rihanna single handedly turned PUMA's business around, something West did not and could not do," he tweeted in early November.
There was some drama when Kylie Jenner announced she would be joining PUMA due to her family's (more specifically, her sister Kim's) relationship to adidas icon Kanye West. Kanye attempted to intervene, but the deal went forward as planned. It was an enormous win for PUMA. "Rihanna is our muse, and Kylie best represents our customer," Petrick says. "Rihanna is a vision of the future, while Kylie is how we see ourselves in the culture today."
It's impossible to know exactly how an influencer will shift the business for any brand, but Rihanna's impact has been more acute. Her play on archive PUMA silhouettes has rippled out to raise demand on the old school mainstays.
"It's an intangible," explains Jeff Staple of Reed Space and Staple Design. "I went to a mall in Toronto in the middle of nowhere over Labor Day Weekend. That's the heart of mall land. But you know when a mall store pushes their shoe display as far out into the public area as possible? All of those were PUMA Clydes and Suedes, man. It's a trickle-down effect."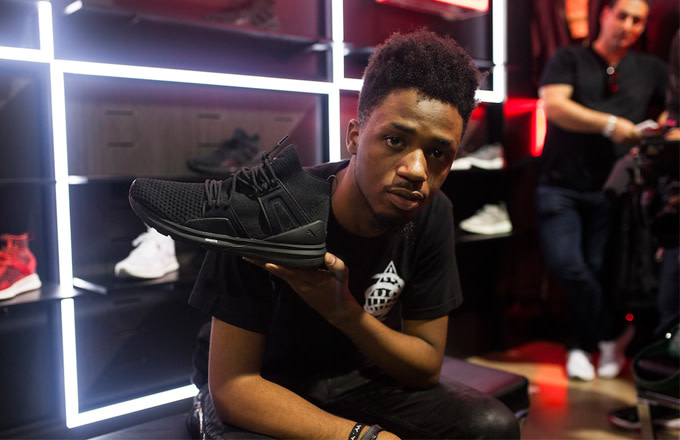 Staple has been working with PUMA for years, representing a different player in the industry: brand collaborators. Just this fall, Staple teamed with PUMA for a four-pair collection, but it was a drop in the ocean compared to what's coming next year. An entirely new line of apparel, NTRVL—a joint effort between PUMA and Staple—is set to start releasing in 2017. 
Staple believes that aligning himself with a brand like PUMA is a match made in heaven since its product nicely balances lifestyle specs and creative constructs, rather than just boasting a generic message on a funny-colored shoe. 
"They're really doing a good job because not only do they have the uber celebrities in Rihanna and Kylie, but they're also hitting the indie, bleeding-edge influencer and the TMZ influencer," Staple says. He perceives Nike's strategy (aspirational, gunning for couture talent), and adidas' strategy (tapping as many musicians as possible) as limiting. But he admires Puma for its diversity, along with its ability to reach new customer bases by spraying "little sniper pebbles all over the place."
And it's not just Staple who's bringing something new to the table for PUMA. Pink Dolphin, Coogie, Bait, Distinct Life, and En Noir are all collaborating with the sneaker brand.
Rob Garcia, founder and designer of En Noir, admits that just a few years ago, connecting with PUMA wouldn't have made much sense. It's the work PUMA has done in the last 12 months or so that convinced Garcia it was the right time (and brand) to collaborate with. "PUMA has definitely come into a really great place where they took focus off of things that they might have been investing a lot into, and really harnessed that potential and executed [the right] projects," he explains. A brand can't have its hand in everything and collab with everyone, especially a relatively smaller one like PUMA. It has to make the right choices and work with the right people.
"For new projects, you're bringing in a new DNA and new blood. You need to allow that new blood and DNA to spread and do their thing," Garcia explains. "They've opened up such an amazing platform to allow me to not do whatever I want, but to do what I need to do to give it that En Noir attitude. Then they come in with things that they do well." To make a project successful, everyone involved needs to be aligned and do what they do best. PUMA definitely has that formula in place.
But not everything is perfect for PUMA, and the brand is aware of that. We just witnessed the Rio Olympics in which Usain Bolt won his third consecutive 100m gold medal, his ninth gold overall. Bolt has been an unofficial PUMA sponsor since 2002, and ran his races in PUMAs. But they weren't "PUMA Bolts." You can grab Bolt-branded footwear and apparel from PUMA, but he doesn't have a signature shoe. It's strange that the fastest man in the world—who rocks all of PUMA's gear—doesn't have an official line. It's a mistake, Petrick admits, and one that the brand is hoping to rectify.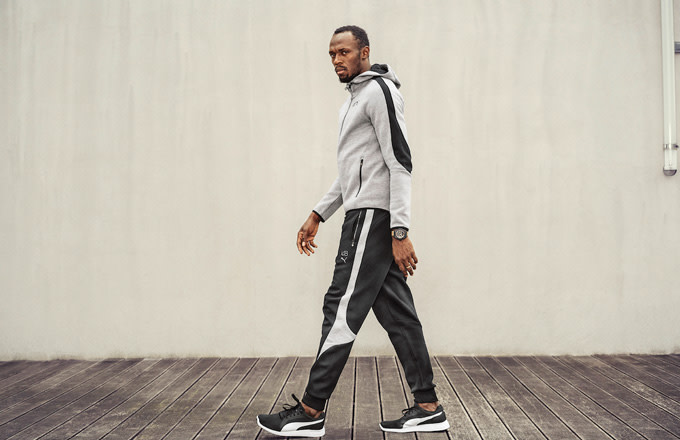 "I don't think that we maximized our partnership with Bolt through some of the middle part of that history together… I think we've done a pretty decent job over the last couple years to make up some of the lost ground," Petrick says.
Now that Bolt may be retired from Olympic competition, the brand will continue its partnership with him, and the duo will have more time to work on developing product together. "Should there be a Bolt shoe? Probably. Will there be in the future? Maybe, I hope so," Petrick says. "I think it remains to be seen, but I certainty think that he's going to have a lot more of an opportunity to focus on that partnership as we go forward." 
There's still plenty of room for PUMA to grow, and the brand is hungry for it. It has identified people the sneaker industry was ignoring—like Rihanna and Kylie Jenner—and opted to make them focal points of campaigns, which have been incredibly successful. Just this year, PUMA has seen a 40% increase in sales.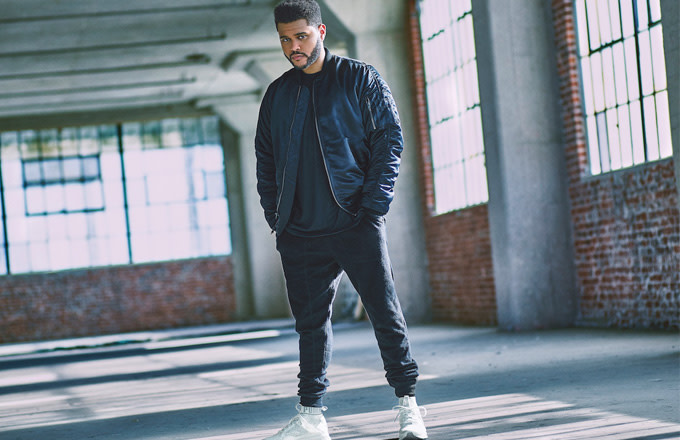 The latest pick up for PUMA is The Weeknd, a characteristically mysterious celebrity. As the brand's latest creative collaborator, The Weeknd fronts PUMA's latest lifestyle platform, "Run The Streets," representing those who aspire to own their looks, rep their city, and live for the moment. Seen strutting the new IGNITE Limitless in his latest video "Starboy," The Weeknd is set to release his very own PUMA x XO collection in fall of 2017. 
Like PUMA, much of the singer's work happens quietly behind closed doors until it's ready to be released. Both also share the same commitment to collaboration. 
"The cool and interesting thing about [The Weeknd] is the way he approaches creativity," Petrick says. 
2017 will be the year we see the product of their partnership, and the year that PUMA—along with its litany of celebrity collaborators and designers—redefines the sneaker industry.