ComplexCon returns to Long Beach Nov. 6 - 7 with hosts J. Balvin and Kristen Noel Crawley, performances by A$AP Rocky and Turnstile, and more shopping and drops.
Secure your spot while tickets last!
For 27 years now, the auto-lacing Nike Mag has been the ultimate sneakerhead grail, a sneaker that many wanted but no one could get. An equalizer of sorts, it was the one sneaker that you couldn't buy even if money was no object, because it didn't even exist. Now that it's been produced, though—even in a miniscule 89-pair run—it feels like the end of something.
Because really, it's not about the production numbers, or even the method of distribution—which, to Nike's credit, is exceedingly fair considering demand far outstrips supply. It's that the Mag has gone from completely unattainable fantasy to something that, with enough money, anybody (or 89 anybodies anyway) can add to their collections. And make no mistake, draw or no draw, most of the auto-lacing Mags will wind up the property of those willing to spend the most.
This is where sneaker "collecting" has been going ever since the dawn of the internet anyway—when eBay turned diggers into flippers—but the Mag release is the one that puts the final cap on it, where all it takes to complete a collection is cash. People will still have grails, some more unattainable than others, collectors will still seek out that odd piece to complete whatever sneaker subset it is that they collect. There will still be bargains to be found, there will still be retro releases that get people excited. But it's hard to imagine there will ever be another sneaker to spark the collective imagination of people the world over like the Mag.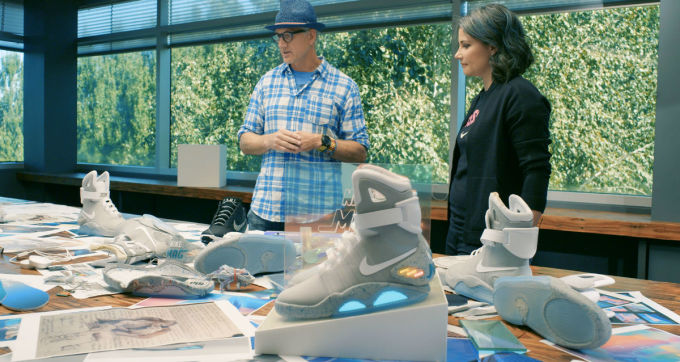 There is an entire generation of people who got into sneakers because of the Mag, there are people who work at Nike now because of the Mag. When Back to the Future Part II released, futuristic sneakers were a thing, but the Mag itself was a sneaker from the future. It sparked imaginations of would-be designers and actually wound up driving the direction of sneakers in several ways, from its clean, uncluttered design to the low-profile midsole. Only now with HyperAdapt is Nike catching up to the (admittedly imaginary at the time) tech that the Mag introduced.
And if the Mag represents the closure of that circle—real time catching up to the future—it also represents the closure of a door on the past. Retro has been in full flower since the turn of the millennium, and with the production of the Mag, virtually every significant shoe of the '80s and '90s has already been reproduced, some over and over (and over) again. Companies have sought to repeat the success of retro re-launches over and over again with, in some cases, better and better returns. What started as a gift of sorts to obsessives went mainstream. The Mag brought that full circle as well.
There will still be enormously successful retro projects—"Space Jam" Air Jordan XIs, for one—and retro as a whole isn't going away. One suspects that Air Force 1s and Adidas Superstars and Reebok Classic Leathers will be available in some form or another until we stop wearing sneakers entirely. The ultimate, universal grail, though—that's gone. There won't be another.