ComplexCon is right around the corner, kicking off from November 5-6 in Long Beach, California, and there's going to be plenty for everyone who reads this website on a daily basis, especially those who love Complex Sneakers (*wink wink*). We all know how big of a role sneakers play in the Complex Universe, and brands such as Puma, Adidas, and Nike all have something planned for the attendees of this event. There will also be big things from retailers like Undefeated, RSVP Gallery, Extra Butter, Nice Kicks, and more.
Here's what's going down for anything with an interest in sneakers.
Puma is the official sneaker sponsor of ComplexCon. On Saturday the brand will rollout exclusive product at the event, including a new colorway of IGNITE Evoknit. The  IGNITE Limitless Hi Tech and Extreme Hi Tech Will also make its debut at that weekend. On Sunday, attendees will be able to purchase the IGNITE evoKNIT Lo in black and oatmeal-vintage khaki at 10 a.m., along with the IGNITE Limitless in vintage khaki and Blaze of Glory Limitless in black at 2 p.m. The brand will also unveil a collaboration with Jeff Staple as well as having Yes Julz in attendance to show off the Puma Fierce Strap, which releases next year.
Nike will have a massive presence at ComplexCon, and it will be centered around the SF AF1, where an all-white version of the sneakerboot will be debuted at the event. There will also be other Air Force 1-related news that we'll share in the upcoming days.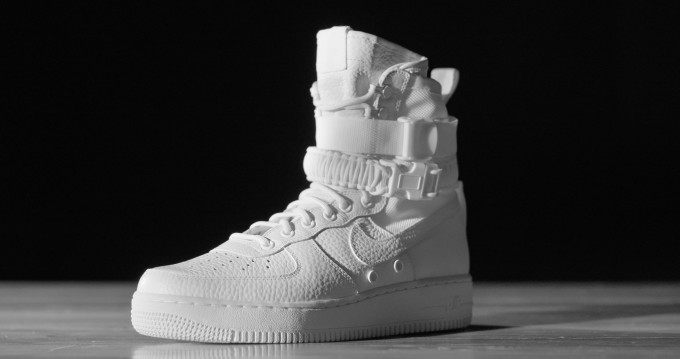 Adidas will also be present at ComplexCon, as well as Ronnie Fieg, the man behind your favorite sneaker collaborations and Kith.
Undefeated, Los Angeles's most legendary sneaker boutique, will bring a special collaboration to the event. We can't reveal exactly the details of the project just yet, but it's going to be insane. Keep that in mind.
Nice Kicks, the sneaker blog turned retailer, will also be in attendance at ComplexCon. We're not able to confirm what they're cooking up, but take our word for it: It will be good.
Extra Butter, who are based in New York, will release a project with Saucony at ComplexCon. Could it be the crowdsourced collaboration they had put together last year? Wait and see.
Stance might as well be the official sock brand of sneaker connoisseurs, and the brand's Anthem collection is built for "sophisticated artists and curators who shape street style." At ComplexCon this year, special collaborations will be revealed.
Allen Iverson has been a big selling point for Reebok lately, and why wouldn't he be? He's single-handedly the brand's most important signature athlete over the years. A collaboration between streetwear brand Hall of Fame -- not to be confused with the place that Iverson now calls home -- and Reebok will be shown to the public.
Bodega is much more than a store with a door that poses as a Snapple machine: It's one of the sneaker collaborators over the past 10 years that the shop's been around. This time around, the folks at the Boston boutique are working with Vans for a collaboration at ComplexCon.
Nothing can kill your buzz like scuffing up a pair of new, fresh-out-the-box sneakers. Thankfully Jason Markk makes a premium cleaning solution that can make a pair of beaters look brand new. The brand has teamed up with Project Blitz, the aftermarket sneaker store ran by legendary collector Croatian Style, to share, possibly, the best sneaker collection of all-time. Expect there to be rarities you'll never see again.
11 years ago the "Pigeon" Dunk, a collaboration between Jeff Staple and Nike SB, ripped open the idea of sneakes being a niche subculture and turned it into something of greater public interest. Staple will be at ComplexCon, showcasing this sneaker as well as other projects he's recently worked on.
Want to experience Complex IRL? Check out ComplexCon, a festival and exhibition on Nov. 5-6, 2016 in Long Beach, Calif., featuring performances, panels, and more. For ticket info, click here.