Few skateboarders have a legacy like Paul Rodriguez and even fewer have had as many signature sneakers as him. He's on his ninth shoe with Nike, and it doesn't appear that he's going to slow down anytime soon. P-Rod was recently in Newark, N.J., for the Street League Skateboarding Nike SB World Tour and we got the chance to talk to him about one thing: sneakers.
In 2005, Rodriguez became the first skateboarder to receive a signature sneaker from Nike. With Michael Jordan as a huge influence on his sneakers and nine signature sneakers of his own, P-Rod is just as much a part of the sneaker industry as he is in the skateboarding industry. He's also had the chance to skate in nearly everything that Nike has thrown at him, including very expensive sneakers, and there's one pair that he wishes he had kept on ice.
Here's what Rodriguez told Complex about picking the right sneakers for the competition, skating in Air Jordans, and more.
Would you consider yourself a sneakerhead?
No, I wouldn't. I love sneakers and I like dressing and looking cool, but I don't know anything when it comes numbers of all the Jordans or "these are the 'Dream Team' editions." I don't know all that stuff. I just know that when I see them, I like them. Of course I know what Air Maxes, Air Force 1s, Dunks and all that are. I'm just not geeked out about all sneakers.
Even though you don't know all the numbers, it's known that you're a fan of Air Jordans with your Air Jordan inspired P-Rod 1s and the more recent P-Rod 9 Elites. You were also featured in the Nike SB x Air Jordan 1 ad. Is there any other Air Jordan that you'd like to see get the Nike SB treatment?
I want to say that I think the IIIs could be modified into a good skate shoe if they were slimmed down. I think that'd be cool to try and make those a skate shoe. Definitely the IIIs.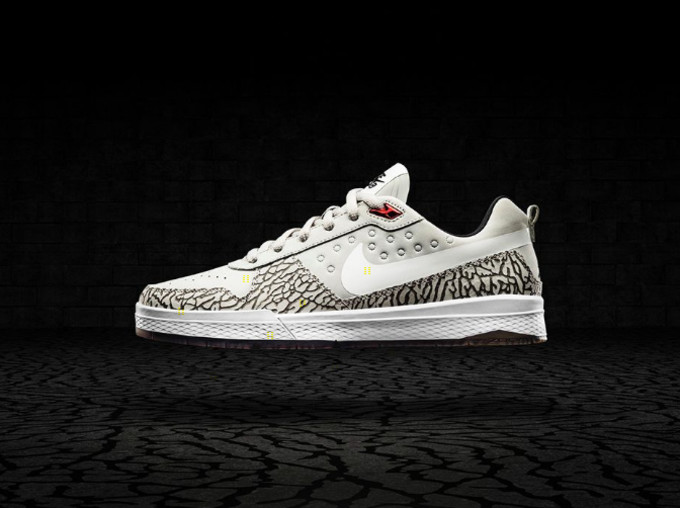 Some people like to skate in expensive sneakers like the adidas Yeezy Boosts or the Supreme x Air Jordan Vs just for recognition on the Internet, how do you feel about the trend?
I feel fine about it. If you got it like that, cool. If you got the hook up or if you get them for free from a plug or you got money like that and that's what you want to skate in, respect. Especially if you love to skate and that's what you really do, skate in whatever the hell you want! As long as you're having a good time, you feel good, you like the way you look and you feel confident, I'm cool with that.
As a Nike SB athlete you get seeded a lot of pairs, but what's the craziest or most expensive sneakers you've ever skated in?
I wish I would've kept them, had I known how expensive they are. There's actually a couple. There's the high-top "Tiffany" Dunks. Then there was a pair with money all over them.
"For the Love or Money" Dunks from the Silver Box era?
Yeah, the FLOMs. I had those and skated those. What else? The first Nike ad I had back in the day, I skated these Supreme Dunk Highs. They were orange and white with the stars on them. Those are probably the three, looking back I was like, "Damn, I wish I would've kept those fresh in the box."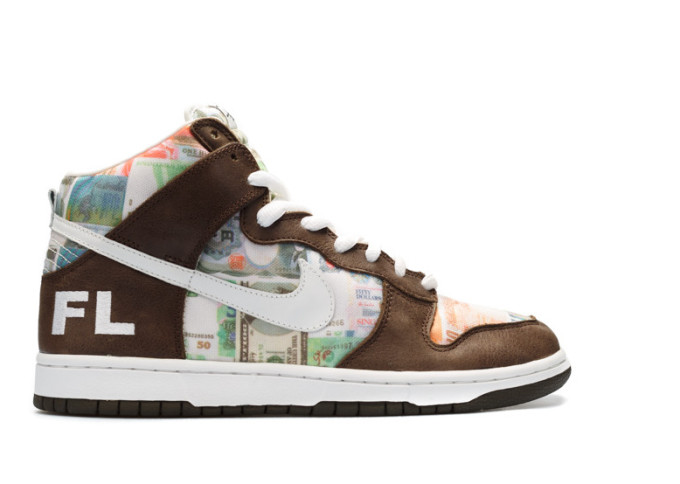 What's your favorite non-skateboarding sneaker of all time?
Man, that's a tough one. There's a lot of really cool sneakers out there. It's funny because I don't even have a pair right now. I haven't worn these in a really long time, but I like the Cortezes. Those have a lot of heritage within Nike. It's the first Nike, pretty much. I have a lot of good memories with those.
What sneakers are you wearing right now?
These are the Paul Rodriguez 9 CS (Cup Sole). It's just a good skate shoe— suede toe, nice good Cup Sole, with a simple black and white color. I've been skating these a lot lately. I feel good just breaking a fresh pair in today, to get them ready for tomorrow.
What goes into picking the right sneaker for a competition like that?
Well, I already knew the shoe was good because I had a hand in designing it, so I've been skating it for a little while. Really, for me, it comes down to being broken in the perfect amount. Usually, by the second day is where they feel the best for me. Today, these were brand new out the box. I came here, skated them and broken in, so tomorrow they're going to feel just right. The second or third day is the sweet spot.
How long do you usually skate a pair before you trash them?
Probably about a week.
Again, you're a fan of Air Jordans. The "Banned" Air Jordan 1s are dropping this weekend, Saturday September 3, will you be picking up a pair?
Really? I'll probably have to make some phone calls to see if I can get a pair. I definitely won't be standing in line anywhere for anything like that but, good thing you let me know. That's also why I don't consider myself a sneakerhead. I didn't even know that. Now that I do, I'm going to have to see if the homie I got over at Jordan can hook your boy up. Hopefully I'll get a pair.