StockX was born in two different minds at the same time hundreds of miles away from each other.
For Dan Gilbert, the billionaire owner of the Cleveland Cavaliers and creator of Quicken Loans, the idea came to him as he watched his kids deal with the sneaker community through outlets like eBay. It was riddled with risk and inaccuracy. You never knew who you were dealing with and they weren't vetted. You might never receive the shoe you paid for, and there was no way to check if you were paying a fair price, unlike the stock market. He knew there had to be a better way.
For eventual StockX CEO Josh Luber, he was sitting in Philadelphia, spending uncountable hours working on his pet project, Campless. The IBM consultant had his own sneaker obsession and was the first to bring real data analysis to the sneaker trade. Campless algorithms followed eBay sales creating a sort of Kelley Blue Book for sneakers who values change over time. It was a ton of information, but he knew there was an effective way to use it; he just needed to implement it.
Without knowing it, both this billionaire in Detroit and a Philly passion project were going to come together to try to change the industry.
"One day I get a call from two guys who say they work for Dan Gilbert," Luber says. "Dan is not from within the sneaker industry, so I didn't really give it too much thought." But Gilbert wanted to meet with him, so Luber flew out to catch a Cavaliers game and was generally wooed by Gilbert's organization before they even had their meeting. When they met face to face, Luber told Gilbert his big idea about how to use this incredible amount of data for something totally new: a stock market for sneakers. Gilbert asked why it had to stop at sneakers, why couldn't it be anything: a stock market for all things?
In that meeting StockX was born. Gilbert placed Luber as the CEO of StockX and absorbed Campless. Eight months later the site launched.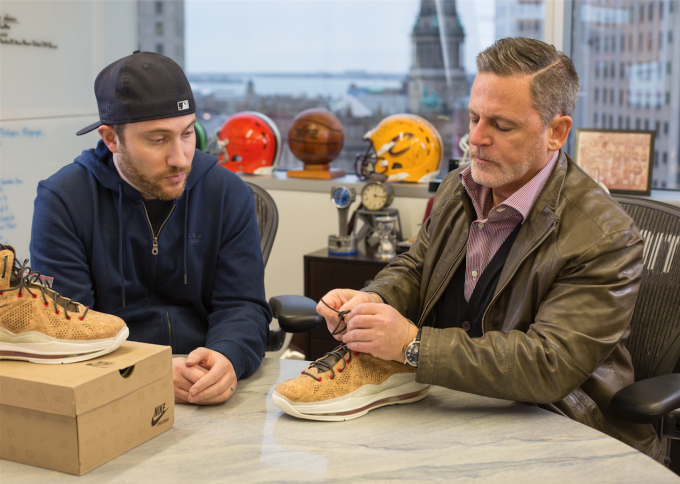 Here's how it works.
A seller posts their sneakers on the site. All sneakers on StockX are deadstock and unworn, so there's no need to take photos: just select the size you're posting and how much you want for it. StockX has all the rest of the information the buyer needs, including the current and historical value of the shoe. That information is an aggregate of sales with the entire available history of sales associated with that shoe, using the information from Campless and now StockX's sales.
If a buyer wants the shoes for what the seller is asking, all they have to do is click "buy." That's as simple as it has to be. If a buyer doesn't see a price they like, they put in an offer for what they're willing to pay and if a seller like that offer they can accept it. Or if no one sees exactly the deal they want they can wait until the right terms come along.
Once a deal is struck, the seller ships the pair to StockX in Detroit who verifies the legitimacy of the shoe and sends the shoe along to the seller. If there's a problem with the legitimacy of the shoe, the seller is penalized and the buyer is refunded. StockX takes a percentage of the sale, which is factored into the buyer's invoice when they're checking out. There's no artificial price gouging or mis-priced sneakers. There are no hidden fees. Everything is based on information and actual trends. It's all above board.
They're borrowing directly from the stock market, providing the information needed so that buyers and seller are transacting based entirely on the market value of products, and everything is anonymous. Because StockX effectively acts as escrow for both the money and the product, buyers and sellers not only never come into one another, they never know who each other are. "Even if you don't understand what a stock market is or why it works this way, you can get to the functions that you want to do, buying and selling, fairly easily without much confusion," Luber says.
"This takes what has been a truly big part of the growth of America through capitalism, the stock market, and puts it into the secondary market for things," Gilbert says. "That's the theory. We're going to start with sneakers, which is a great place to start, but eventually move into other products that are viable in this kind of environment."
Just like with the stock market, users are offered the opportunity to create "Portfolios" where you can watch the value of your sneaker collection change over time, like a stock portfolio.
"It's an incredible system in the way that it shows historical data, so you don't have to go back and look," says international DJ and StockX user DJ Skee, whose portfolio is worth a lot (like, A LOT a lot). "[StockX] has it all at your fingertips."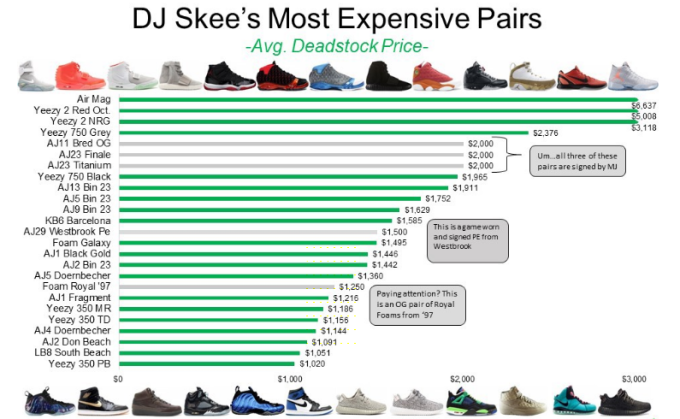 It took them a while to get it right, and five months after launch they're still working on getting it perfect. But StockX filled a hole in the industry that no one realized was there. The site has been running since February, and Luber says it's been successful, more successful than they anticipated. Since the initial launch, they've created videos with Wale and Foamer Simpson as well as running promotions for a pair of Eminem x Carhartt x Air Jordan IVs, which are worth more than $20,000, and pairs from NE-YO's collection for charity.
But with any new company comes unexpected challenges.
Part of what makes StockX work is users actually putting their shoes in the mail. Luber says they didn't expect sellers to take as long as they do to ship the pairs, and it's creating an unanticipated slowdown in the process. Sellers don't get their money until StockX determines the authenticity of the shoes, so they're incentivized to send the pairs ASAP, but they don't. "The whole bottleneck within how quickly a sneaker gets to a buyer is how quickly the seller ships," Luber says. "That rate of how quickly a seller ships is a lot worse than we thought it would be."
I can tell you that StockX is pursuing this robustly. I sold a pair through StockX and got three strongly worded emails within 36 hours reminding me to ship the shoes. They're currently working on a system to incentivize people in new ways where actions will affect users profiles.
The middle step of the sales process, StockX's authentication service, has proven wildly popular, enough that people want to use it just to check their own pairs without a sale. The team at StockX is looking at making that an a la carte service. "We're probably going to be adding that soon," Luber says.
But they're focusing on what they're doing for now.
Gilbert handed the reigns over fairly early, so he defers to Luber for most matters. But their desks are 10 feet away from each other. "I love what these guys have done," Gilbert says. "It's not something anyone can do overnight."
It might not seem obvious why Gilbert brought Luber to Detroit to make StockX a reality, but 130 companies Gilbert is involved in are based in Detroit and for good reason. Financially, Detroit is a city that was hit hard and is still working itself to stand. Living expenses are low and there's a ton of room for growth. StockX is one of many tech start-ups taking advantage of the low property valuation and common-minded community, and Gilbert himself is contributing to the infrastructure to attract even more. "It's the rebuilding of a major U.S. city from scratch," Luber says. "Every day there's a new building, there's a new restaurant, new businesses moving in. You have this phenomenal growth. It's a lot of young people, it's a lot of start-ups, a lot of tech."
The door is wide open for StockX to go beyond sneakers and enter other, similar worlds. Whether it's Star Wars memorabilia or limited-edition cars, the StockX model can be blown out to sell just about anything. They started with sneakers, but StockX may soon host everything. "Obviously we have a long way to go to be on the same size eBay or anyone else," Luber says. "But the rate of growth has been great, the response from sneakerheads has been great, and we just continue to figure out how to really make it work."