Adidas is winning. Unequivocally.
No matter which side of the sportswear fence you sit on, it's difficult to deny that within the last 18 months the brand with the three stripes has raced to the top of the pile. After snatching Kanye West from Nike and undergoing an overhaul of footwear output, apparel, and key collaborations on the Originals side of the brand, Adidas is enjoying a run of success unseen in Herzogenaurach since the early '90s.
Both in terms of sheer quality of output, and all the modern cultural tags that come with producing sneakers in 2016, Adidas Originals is dominating the global athletic footwear market in terms of brand relevance. Of course, Nike is still ahead of Adidas when it comes to dollars and cents, but the brand has started to take over the sneaker conversation globally and in the U.S. Eschewing the mistakes that saw the brand lose ground in previous decades, Adidas' new marketing approach is fresh, modern, inclusive, and personable. And it's done it all through making good shoes and pushing them on social media.
Thanks to smartly curated releases and a social media strategy that leaves rival brands in its wake, adidas has managed to tap into a market of consumers that had become tired and wary of traditional marketing techniques. Adidas Originals was Instagram's most liked sneaker account of 2015, and it's no coincidence or accident.
The incorporation of in-house influencers, a team of creatives keen to champion their own work, and campaigns that generate hype around silhouettes from the brand's rich archive, leaves the Adidas Originals brand in good health and as a yardstick to how sneakers should be marketed online.
It was over two years ago, when re-releasing the Stan Smith, that Adidas Originals' change in strategy first became apparent. A neatly balanced campaign that pitched the Stan Smith's heritage as a tennis shoe with its importance in global subcultures, streetwear, and fashion, allowed Adidas to open up its archive to a wider audience for the first time. Giving Twitter followers the chance to have their own likeness made up in the green and white of the Stan Smith tongue artwork, the brand made consumers feel as though they were part of the story and part of the campaign. Adidas Originals would then go on to give its network of creatives and collaborators, most notably Pharrell Williams, the chance to rejuvenate the silhouette.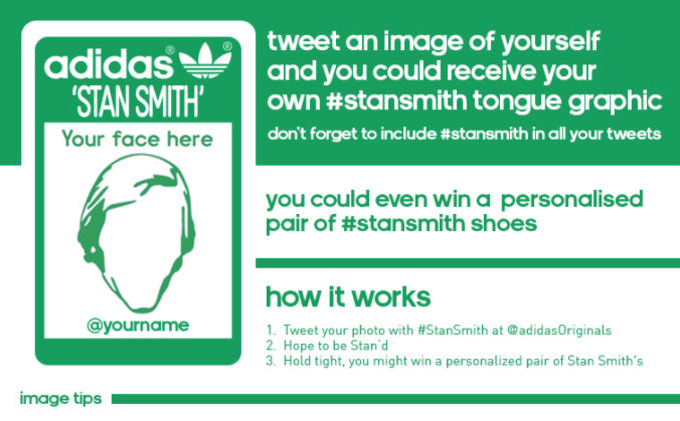 All of this began to stretch the brand's influence. Using the power of social media, they had taken a silhouette, which had been removed from an oversaturated market, and gave it instant relevance in the lives of their consumers and fans. This would be the marketing model that future archive releases would follow, with the Superstar, Tubular, and most recently the Kate Moss-endorsed Gazelle following suit in blending modern marketing and smart collaborations with heritage product.
The influence of collaborators, and the attached social followings that they provide, would place Adidas Originals in a good position in the coming months and years. Where the brand had once simply looked for basic endorsements from sports and music stars, it began to incorporate their creative talents into the process of creating, releasing, and marketing a shoe.
Pharrell's take on both the Superstar and Stan Smith sat happily alongside the creations of Raf Simons, Yohji Yamamoto, and Stella McCartney. Pusha T would follow suit with two solid, limited EQT releases, and Paul Pogba would snatch the soccer world's attention and end his long-drawn out commercial dispute by signing with adidas. (Pusha actually welcomed Pogba to Adidas, too.) Remember when they delivered a truckload of sneakers to James Harden after signing him to a $200M deal, teasing it all on social media? With all of this would come vast swathes of social media followers to be tapped into with covert adidas marketing. The stars would do the legwork, they would provide the numbers, and they would help convert the unconverted to the idea that Adidas Originals was back, in a big way.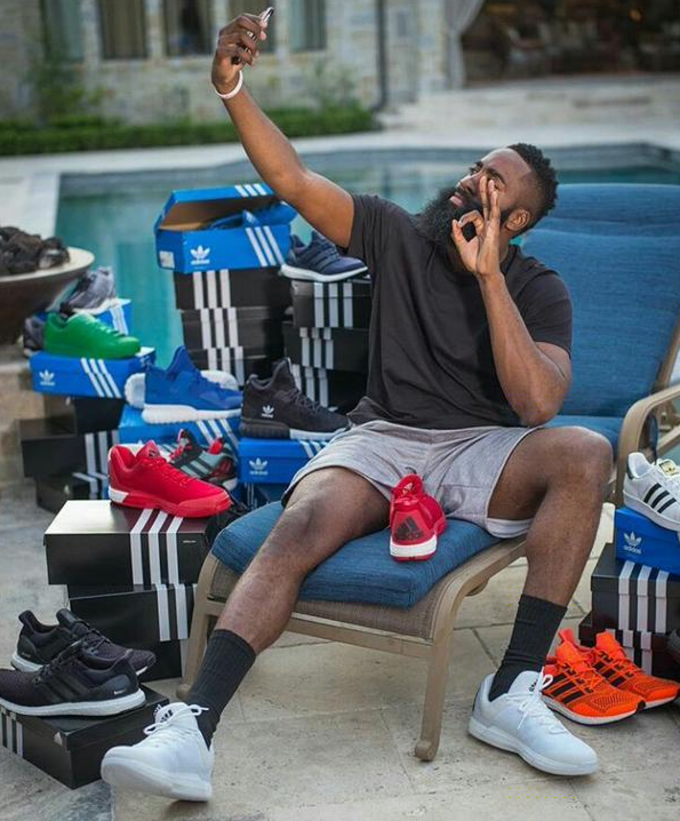 If this advertising-by-association ideal was practiced through Stan Smith, Pharrell, and Pusha, it was perfected with Yeezy. Kanye West's association with Adidas Originals is perhaps the smartest pairing of collaborators since Michael Jordan signed with Nike. West's unconventional entrepreneurial style, fervent self-promotion, and no-nonsense attitude towards detractors and rivals are the perfect tools on which Adidas can hone its new social media strategy.
While the brand itself carries out all the standard sneaker release vitals—teaser imagery, release dates, and product shots—Kanye adds the hype. Whether it be leaking imagery, colorways, and release dates through the medium of long-winded Twitter rants, utilizing his wife Kim Kardashian's huge online following to introduce new silhouettes, attacking rival companies, and heralding the domination of Adidas in tracks on his album, or simply openly reveling in the money that he is making for the German brand, Kanye is the perfect antidote to tired and outdated marketing.
Although some of West's choices and actions may leave the hierarchy in Germany scratching their heads and pulling their hair out at times, the magic of his self-promotion is that it doesn't come from the brand. It comes organically. To a consumer it is infinitely more believable, it allows them to engage with Adidas product in a way that simple advertising cannot.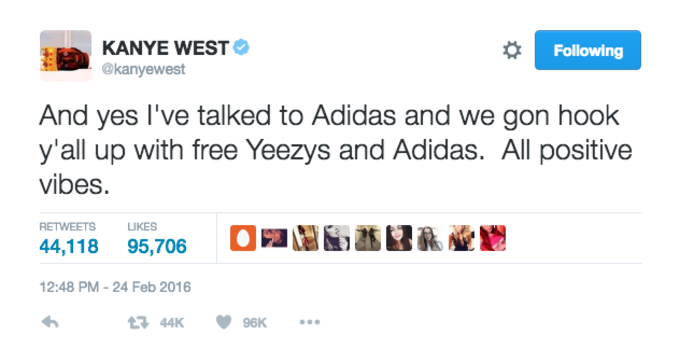 Across the board this nuanced and subtle addition of personality to its social media output has allowed the brand to outshine the clinical and sanitized output of its rivals. The brand, through not only Kanye, Pharrell, Pogba, and Pusha T, has gained a voice and consumers can often put a face to the name. Adidas employees like Jon Wexler, Nic Galway, Sam Handy, Gary Aspden (who supports his Spezial range through his Instagram account) have all forced their way into the public eye, providing context and information for releases that the modern sneakerhead craves. Wexler, in particular, has grown into the role as Originals' unofficial spokesman on Twitter. He fields queries, questions, and critiques in good humor from sneakerheads hungry for answers and a rise from Adidas' Global Director of Entertainment and Influencer Marketing.
From Tubular, through Ultra Boost, Yeezy, and NMD, to most recently the Alpha Bounce and the return of the Gazelle, fans of the brand have been allowed intimate access to the creation and release of the footwear, through personal accounts and association with personalities. Alongside traditional social media output, Adidas has given itself a series of unconventional and unhindered voices to help push its new narrative.
Much like it did with the Stan Smith re-release, Adidas continues to put its consumers at the heart of its releases, through social media. As a youthful audience becomes increasingly dependent on Instagram and Twitter, the brand continues to utilize the platforms in a way that seems organic, and delivers its footwear to people in a believable, palatable form. Nobody wants to be advertised to any more, and Adidas is doing a great job of convincing them that they aren't being sold to.